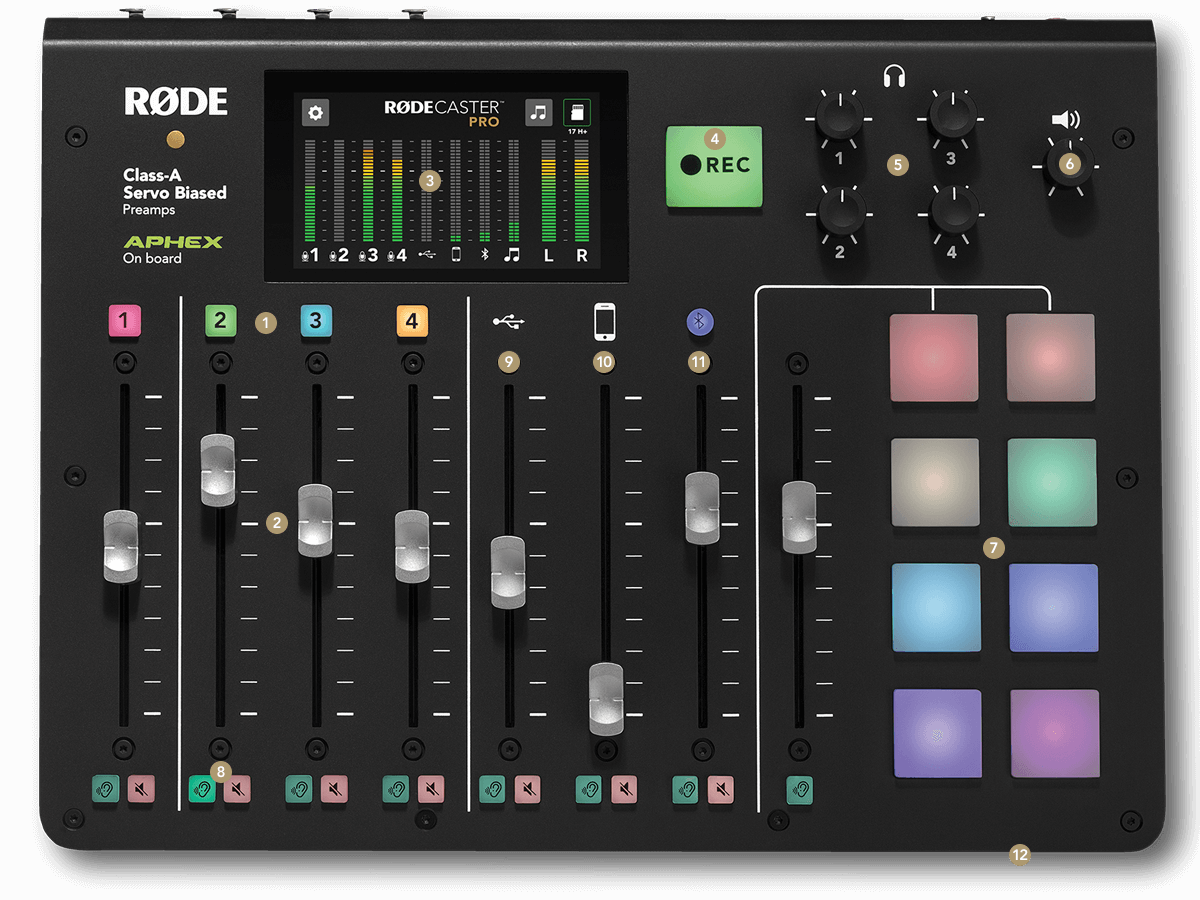 1Mic Channel Buttons
2Mic Channel Faders
3Full-colour LCD Touchscreen
4Record Button
5Headphone Output Controls
6Main Output Control
7Sound Pads
8Mute/Solo Buttons
9USB Channel
10Smartphone Channel
11Bluetooth Channel
12'Host' 3.5mm Headphone Output
1XLR Inputs
23.5mm TRRS Input
(for Smartphone Channel)
3¼" Headphone Outputs
4¼" Speaker Outputs
5MicroSD Card Slot
6USB-C Connector
(for USB Channel)
Setting up Microphone Channels
Equipped with four Class-A servo biased preamps, the RØDECaster Pro will perfectly complement any microphone and voice type for an incredible recording every time. Learn how to get your microphone channels set up for recording.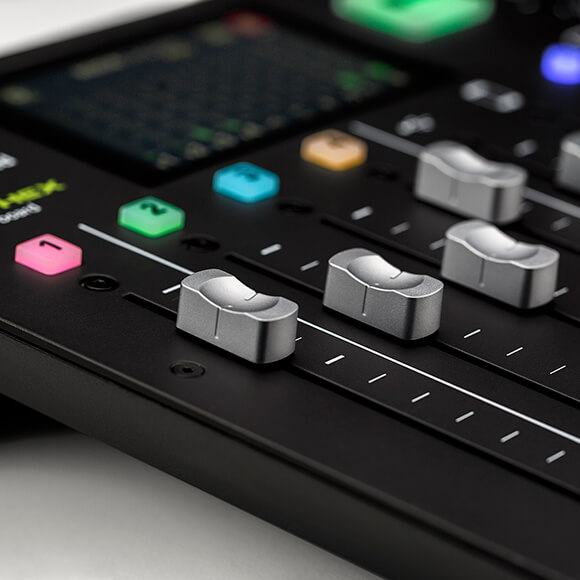 Using Headphones & Speakers
The RØDECaster Pro offers flexible options for audio playback. With high-quality headphone and monitor outputs, anyone connected to the RØDECaster Pro is ensured crystal-clear audio. Learn how to make the monitoring system work for you!


Connecting Callers and Online Guests
With dedicated channels for smartphone, Bluetooth® and USB connections, integrating phone calls and guests via communications apps is incredibly easy on the RØDECaster Pro. Explore how these remote connections work and how to get the most out of them.
Using Sound Pads
The RØDECaster Pro features eight programmable sound pads with endless options for customisability. Whether you're adding jingles or ad rolls, music beds or pre-recorded interviews, these are the key to giving your podcast a professional edge. Learn how to set up and control the sound pads.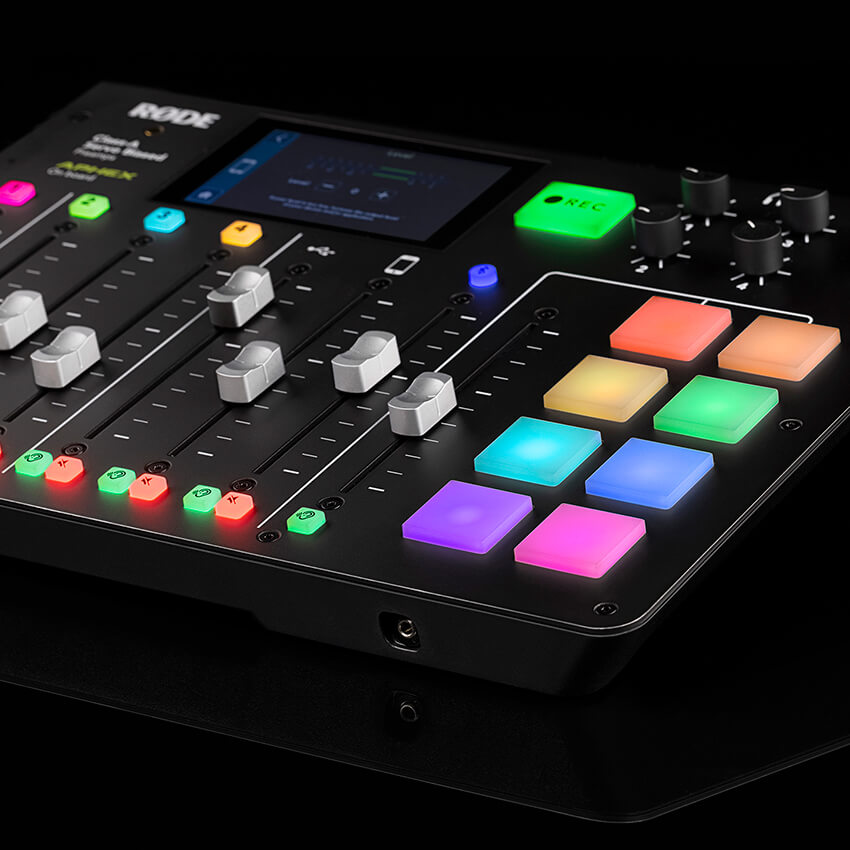 Using Advanced Processing and Effects
Offering everything from compression to legendary APHEX® studio effects, the RØDECaster Pro's powerful on-board audio processors let you craft the perfect sound for your podcasts. Learn how to control and get the most out of each processor.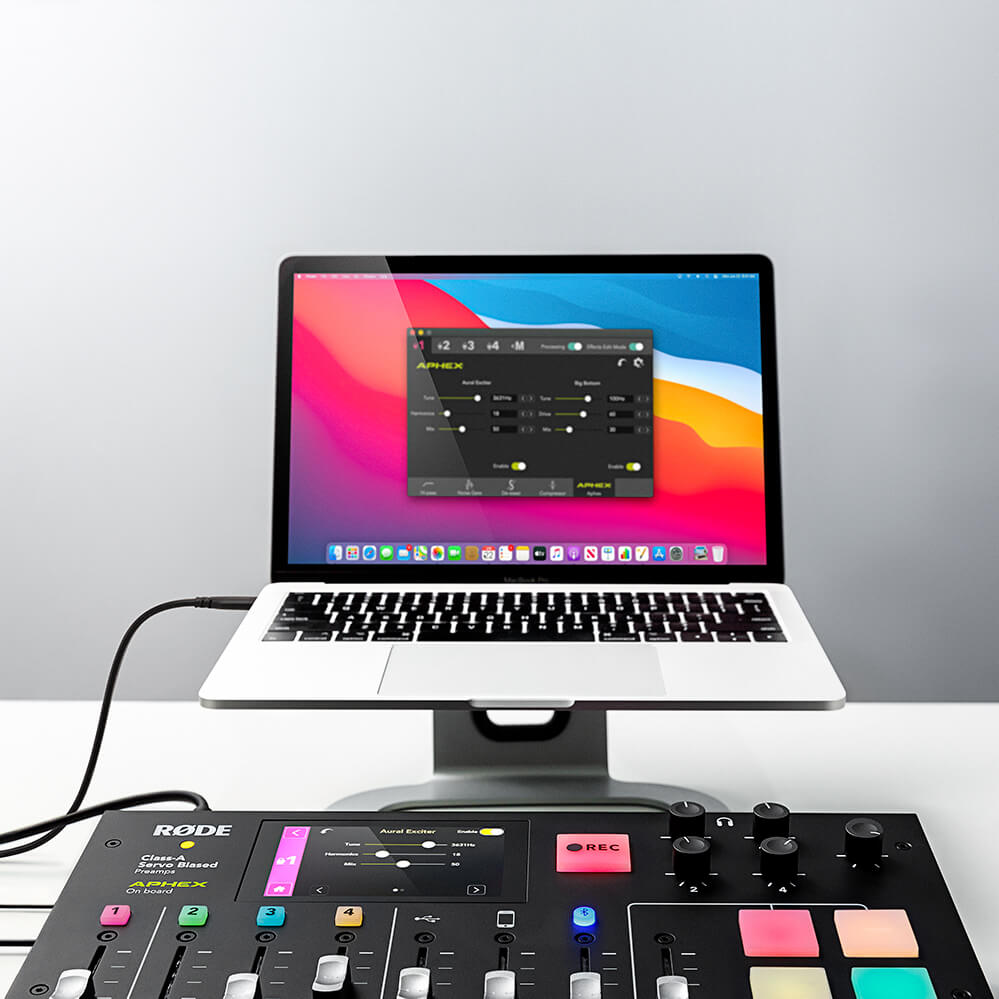 Recording to MicroSD Card
The RØDECaster Pro can operate as a standalone podcast studio straight out of the box, recording your podcasts direct to a microSD card. Learn best practice for recording to a microSD card with the RØDECaster Pro.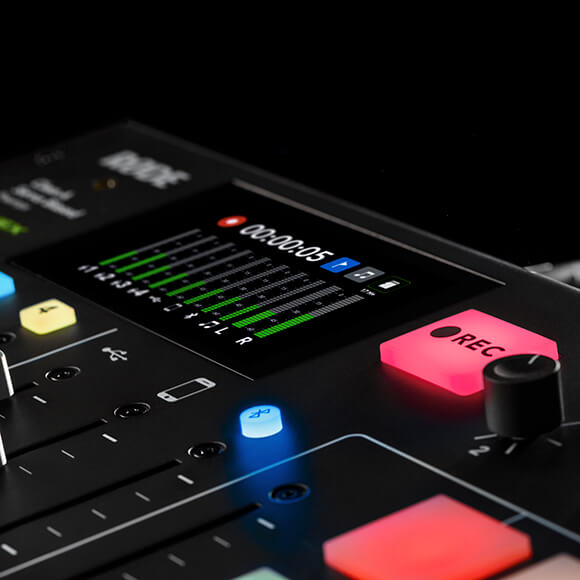 Recording to a Computer via USB
The RØDECaster Pro provides the perfect link between the digital and analog sides of your setup. Learn how to record to a computer via USB and take your podcast workflow to the next level.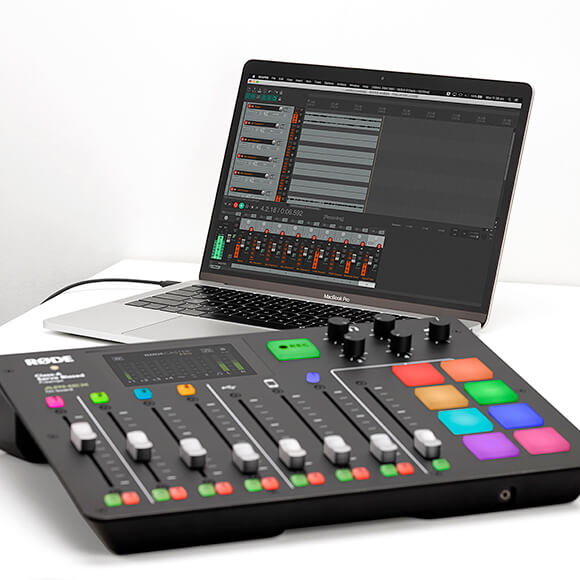 Using MIDI Control
The RØDECaster Pro offers MIDI control, unlocking even more podcasting possibilities, including real-time fader control and vision switching. Learn how to get started with MIDI and take your workflow to new heights.
Exporting Your Podcasts
Recording a podcast is one thing, exporting a professional podcast that is ready for upload is another. The RØDECaster Pro has some excellent features for optimising your podcasts; learn how to use these functions.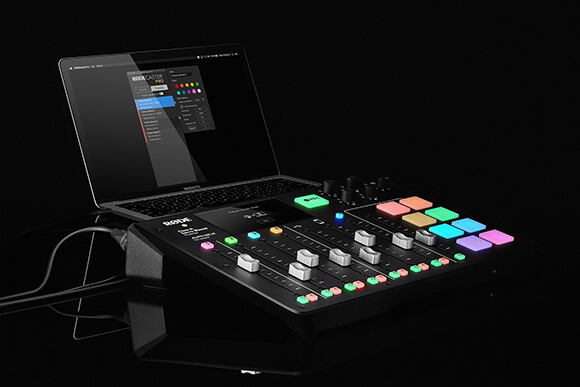 Updating Your RØDECaster Pro
The RØDECaster Pro is constantly being enhanced with new firmware. Learn how to update your unit to get the most out of these features.