NT1-A
NT1- A
L'NT1-A è un microfono a condensatore a grande diaframma standard industriale. Offre calore e chiarezza, gamma dinamica estesa, alta capacità SPL e rumore autoprodotto incredibilmente basso; è quindi un vero cavallo di battaglia in studio, perfetto per registrare tutto, dalla voce alla chitarra acustica alla batteria.
Caratteristiche principali:
Capsula a grande diaframma da 1" rivestita in oro
Diagramma polare cardioide
Rumore autoprodotto estremamente basso (5 dBA)
Ampia gamma dinamica
Supporto antiurto della capsula interna
Viene fornito con un kit di registrazione completo, un supporto RØDE SM6 antiurto, un filtro antipop e una copertura antipolvere

Large-diaphragm 1" gold-sputtered capsule
Cardioid polar pattern
Ultra-low self-noise (5dBA)
Wide dynamic range
Internal capsule shock mounting
Comes in complete recording kit, with a RØDE SM6 shock mount, pop filter and dust cover

Interprete vocale
L'NT1-A è un classico microfono a vero condensatore a grande diaframma che presenta calore e chiarezza sorprendenti ed è pertanto ideale per la registrazione di canto di tutti i tipi. Il suo carattere vellutato e armonioso rende vivida ogni performance, mentre la sua risposta in frequenza estesa assicura che ogni sfumatura sia catturata con incredibile accuratezza. L'NT1-A viene anche fornito con il supporto da studio SM6 antiurto e il filtro antipop per una registrazione pulita e senza suoni occlusivi.
Chiarezza strumentale
L'NT1-A è un vero cavallo di battaglia in studio che eccelle in una vasta gamma di applicazioni di registrazione strumentali, così come nella registrazione di canto e di parlato. La sua gamma alta scintillante dà vita a chitarre acustiche e pianoforti, mentre la sua elevata capacità SPL lo rende un eccellente microfono per batteria e percussioni.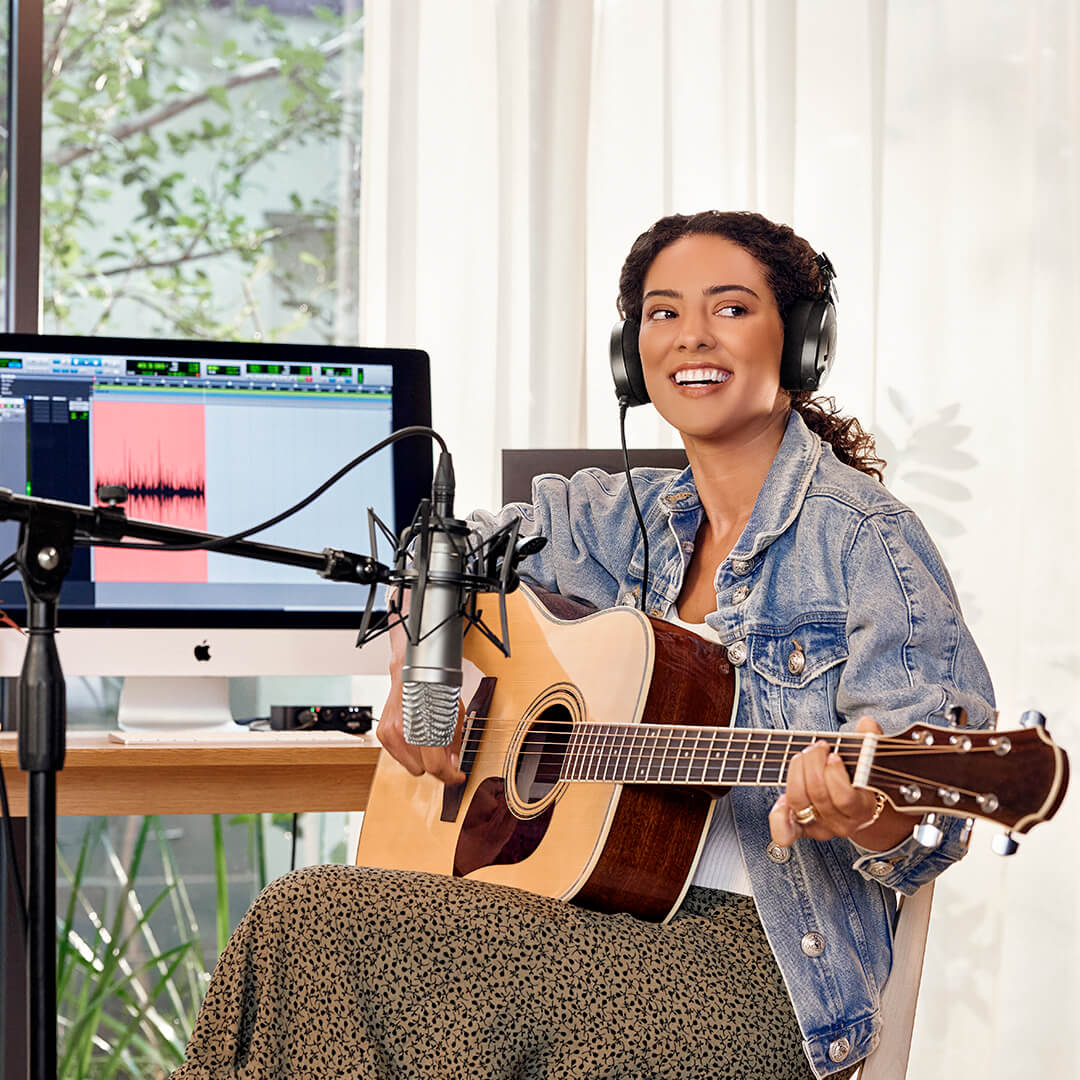 Gold-sputtered Capsule
The heart of the NT1-A is its 1-inch gold-sputtered capsule. Precision manufactured to sub-micron tolerances at RØDE's state-of-the-art facility in Sydney, Australia, it delivers the legendary warmth of classic studio microphones without compromising on frequency response or SPL handling. Its tight cardioid polar pattern helps to reject unwanted sounds and its controlled proximity effect delivers a rich, intimate sound that is always balanced.
Estremamente silenzioso per un suono superiore
L'NT1-A è uno dei microfoni da studio più silenziosi al mondo, con un rumore autoprodotto di soli 5 dB(A). Questo assicura che ogni registrazione sia eccezionalmente pulita, anche quando si catturano fonti di suono morbido.

Kit completo di registrazione vocale
L'NT1-A è venduto con il RØDE SM6, un supporto antiurto sospeso di alta qualità che fornisce l'isolamento da fattori fisici esterni che potrebbero causare rimbombi e vibrazioni indesiderati nel microfono. Include inoltre un filtro antipop rimovibile regolabile su due assi e un braccio telescopico per la massima versatilità. Viene anche fornito un cavo XLR di alta qualità.

NT1-A User Guide
Discover everything you need to know about using your NT1-A here. This comprehensive user guide covers everything you need to know from getting set up to an overview of all included features and accessories, ensuring you can get the most out of your microphone.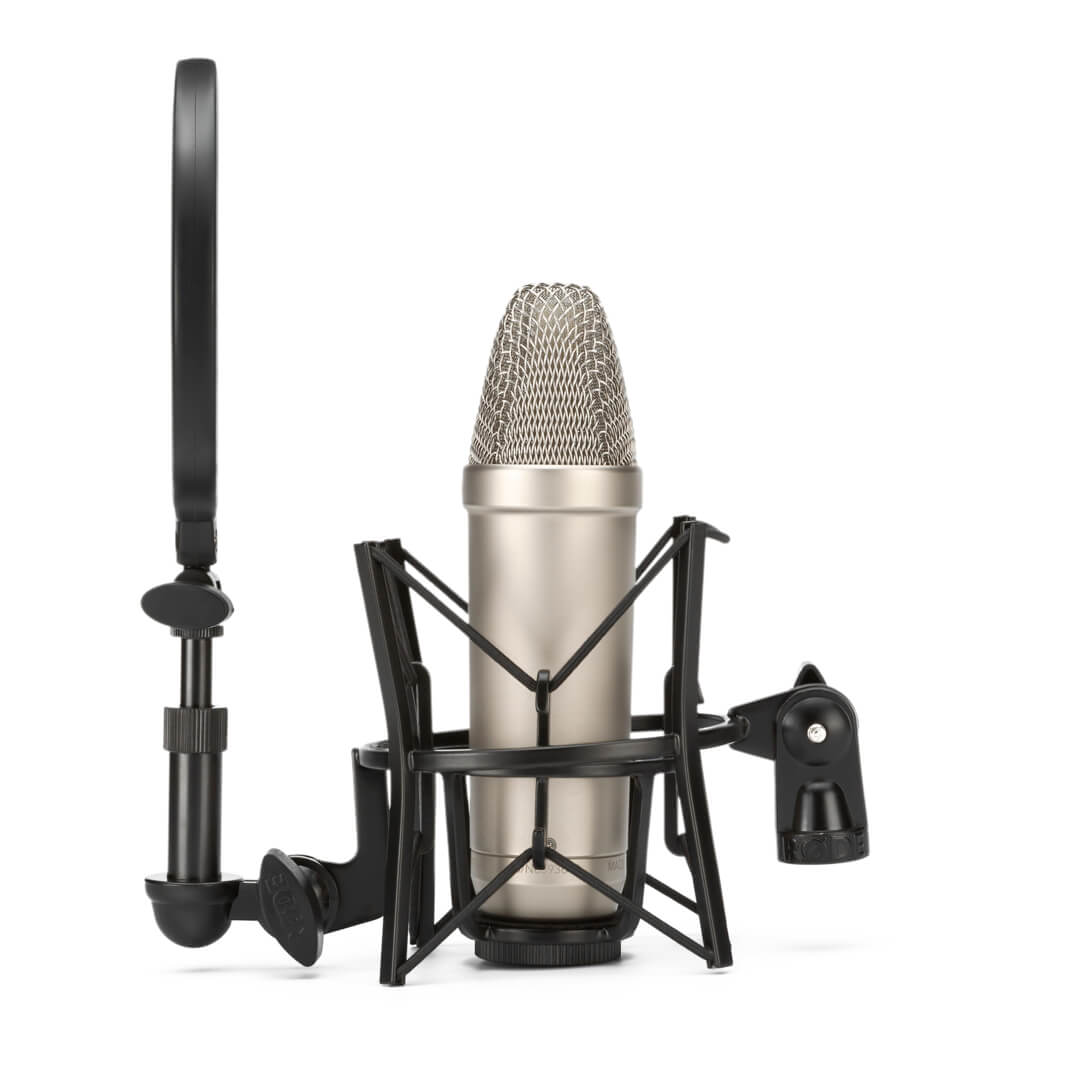 FAQ
Q.
Can the PSA1 arm handle the weight of the NT1-A microphone?
A.
Yes, the PSA1 is strong enough to handle the weight of the NT1-A and SM6.
Q.
I have what is supposed to be a matched pair, but the serial numbers aren't sequential. Is this correct?
A.
Matched pairs from RØDE aren't necessarily (and in almost every case aren't) sequentially serialised.
The serial numbers are engraved at the end of the machining process, prior to assembly of the electronics, acoustics and quality assurance. Following these processes, a certain percentage of microphones (depending on model) are matched together to make the matched pair kits. Each matched pair is supplied with a signed and dated certificate listing the two matched serial numbers.