PodMic USB
Versatile Dynamic Broadcast Microphone
Il PodMic USB è un microfono dinamico ultra-versatile ideale per podcasting, streaming, giochi, voice over e altre applicazioni vocali per la creazione di contenuti. Offre un suono ricco e corposo e dispone di un'uscita XLR e di un'uscita USB per il collegamento a un'interfaccia audio o a un mixer come un classico microfono da broadcasting, oppure direttamente a un computer per la registrazione plug-and-play. L'uscita digitale USB è dotata del Revolution Preamp™ a bassissimo rumore e alto guadagno di RØDE e della potente elaborazione digitale del segnale APHEX® per catturare facilmente un suono di qualità da studio e di un'uscita per cuffie a latenza zero completa di controllo del livello, per una registrazione senza problemi. Per una versatilità ancora maggiore, il PodMic USB è anche pienamente compatibile con i dispositivi mobili iOS e Android, così da offrire una soluzione portatile di podcasting o streaming di alta qualità.
Caratteristiche principali
Microfono dinamico di qualità da trasmissione
Connettività analogica XLR e digitale USB-C
Completamente compatibile con i computer Windows e Mac e con i dispositivi iOS e Android
DSP a bordo per l'elaborazione audio APHEX® avanzata
Uscita per cuffie integrata con controllo del volume, silenziamento e monitoraggio a latenza zero
Compatibile con la suite di software RØDE: RØDE Connect, RØDE Central, RØDE Capture e UNIFY
Supporto oscillante integrato per un riposizionamento semplice e sicuro
Filtro pop interno per ridurre al minimo i rumori di fondo e supporto antiurto interno per ridurre le vibrazioni
Filtro pop esterno di qualità da studio incluso
Struttura robusta e interamente in metallo: incredibilmente robusta e durevole
Progettato e realizzato nei centri di produzione di precisione di RØDE a Sydney, Australia
Broadcast-quality dynamic microphone
Analog XLR and digital USB-C connectivity
Fully compatible with Windows and Mac computers, and iOS and Android devices
On-board DSP for advanced APHEX® audio processing
Ultra-low-noise, high-gain Revolution Preamp™
Built-in headphone output with volume control and zero-latency monitoring
Compatible with RØDE's suite of software – RØDE Connect, RØDE Central, RØDE Capture and UNIFY
Integrated swing mount for simple and secure positioning
Internal pop filter for minimising plosives and internal shockmount to reduce vibrations
Studio-quality external pop filter included
Robust, all-metal construction – incredibly rugged and highly durable
Designed and made in RØDE's precision manufacturing facilities in Sydney, Australia
Microfono Swiss Army
Il PodMic USB è un microfono dinamico super versatile che consente di catturare un audio ricco e di qualità broadcast in qualsiasi scenario. Grazie alla doppia connettività XLR e USB, si trova a suo agio sia in uno studio di registrazione collegato a un mixer analogico che direttamente al computer, oppure può essere collegato allo smartphone per un impianto di registrazione "grab-and-go". PodMic USB è perfetto se vuoi un microfono flessibile che faccia suonare i tuoi contenuti in modo straordinario in qualsiasi contesto.
Un suono professionale quando la creatività chiama
Dotato di una capsula al neodimio ad alta potenza, il PodMic USB offre un audio caldo e dettagliato con un'incredibile chiarezza, rendendolo eccezionale nelle applicazioni vocali. È dotato di un filtro pop interno per ridurre al minimo le consonanti occlusive, di un supporto antiurto interno per ridurre le vibrazioni e di un filtro pop esterno di qualità da studio per garantire un audio sempre nitido e pulito.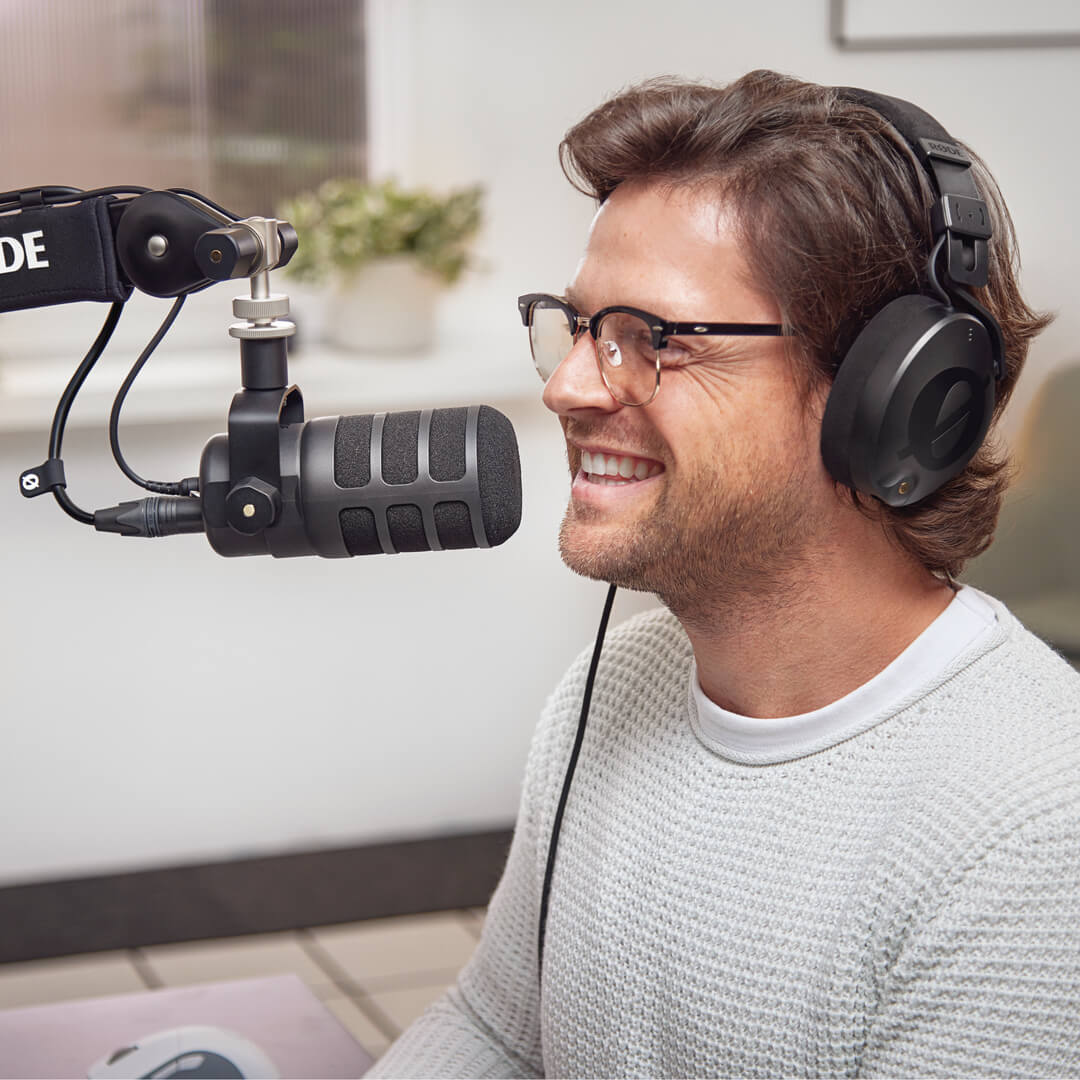 Soluzione di registrazione all-in-one
Il PodMic USB è dotato di un potente DSP (Digital Signal Processing) integrato, alimentato da APHEX®, che facilita l'acquisizione di audio dal suono professionale. Utilizza VoxLab™ per comporre rapidamente il suono perfetto, oppure immergiti nei controlli granulari del filtro passa-alto, del noise gate, del compressore e dei leggendari Aural Exciter™ e Big Bottom™. Monitora l'audio a latenza zero grazie all'uscita per cuffie, completa di controllo di livello integrato per controllare il volume dell'audio. La perfetta soluzione di registrazione all-in-one.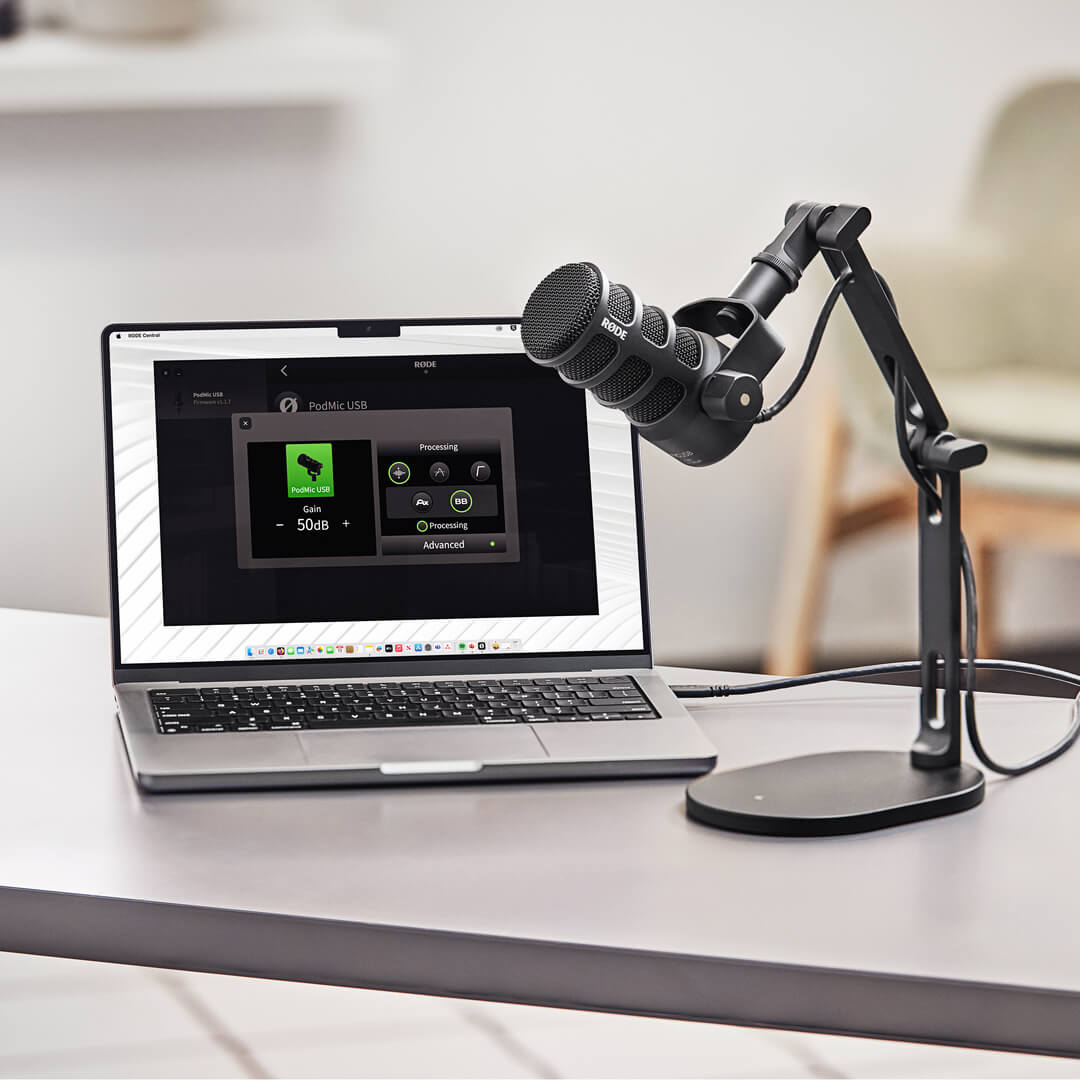 Porta il tuo studio in viaggio
Non solo è possibile collegare il PodMic USB alla tua interfaccia audio preferita, al mixer, al laptop o al computer, ma si collega senza problemi anche a smartphone e tablet iOS e Android. Questo significa che PodMic USB è lo strumento perfetto per catturare audio di livello broadcast quando sei lontano dallo studio, o semplicemente se desideri una configurazione più compatta: è un impianto di registrazione professionale e portatile.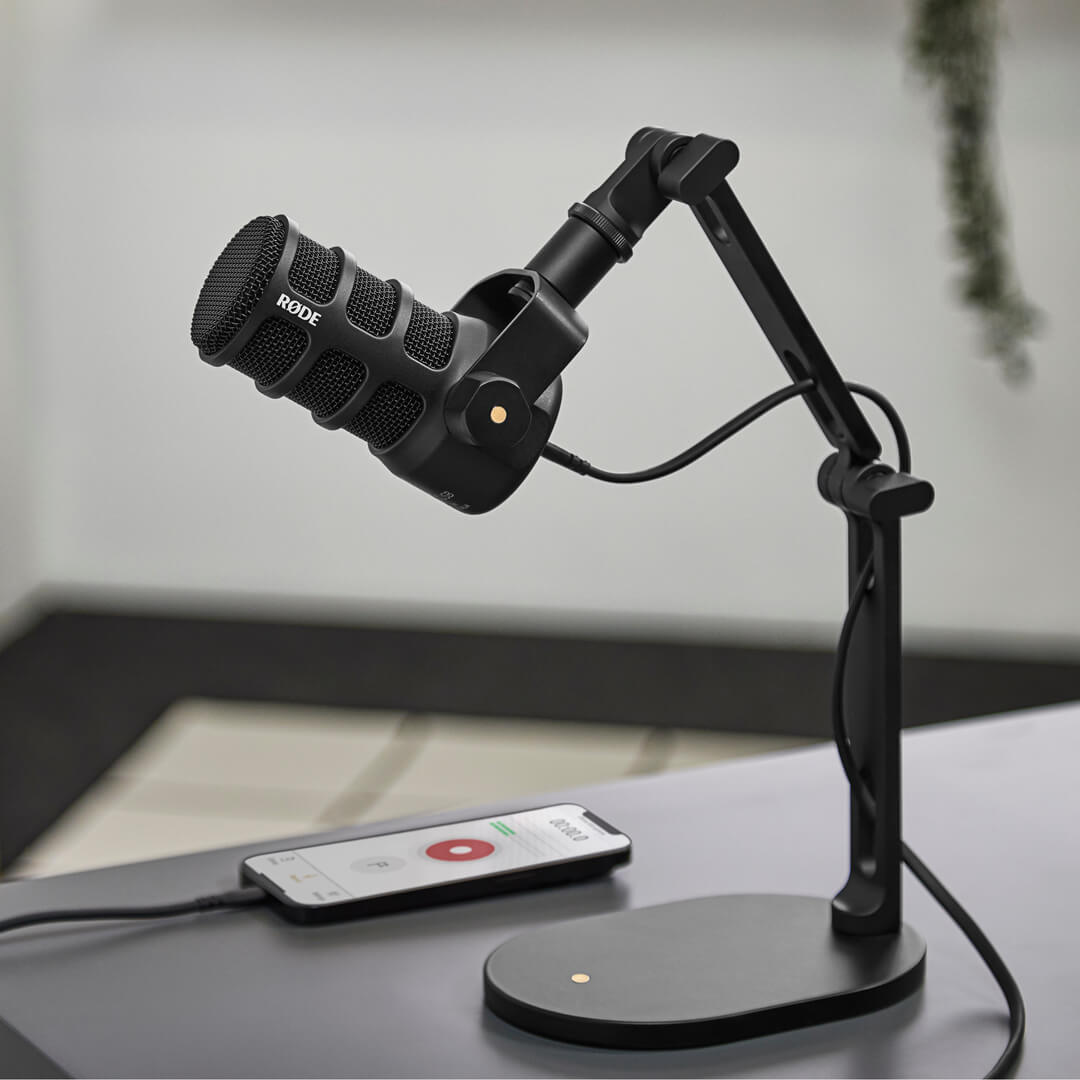 Look elegante, costruito per durare
Con la sua classica estetica da microfono broadcast e l'elegante finitura nera opaca, il PodMic USB emana classe, ma è anche incredibilmente robusto e costruito per durare. Il PodMic USB è costruito con componenti di alta qualità alloggiati in un corpo ultra resistente, più che in grado di sopravvivere ai rigori della registrazione quotidiana in casa, in studio e in viaggio, e viene fornito con una garanzia leader del settore di cinque anni.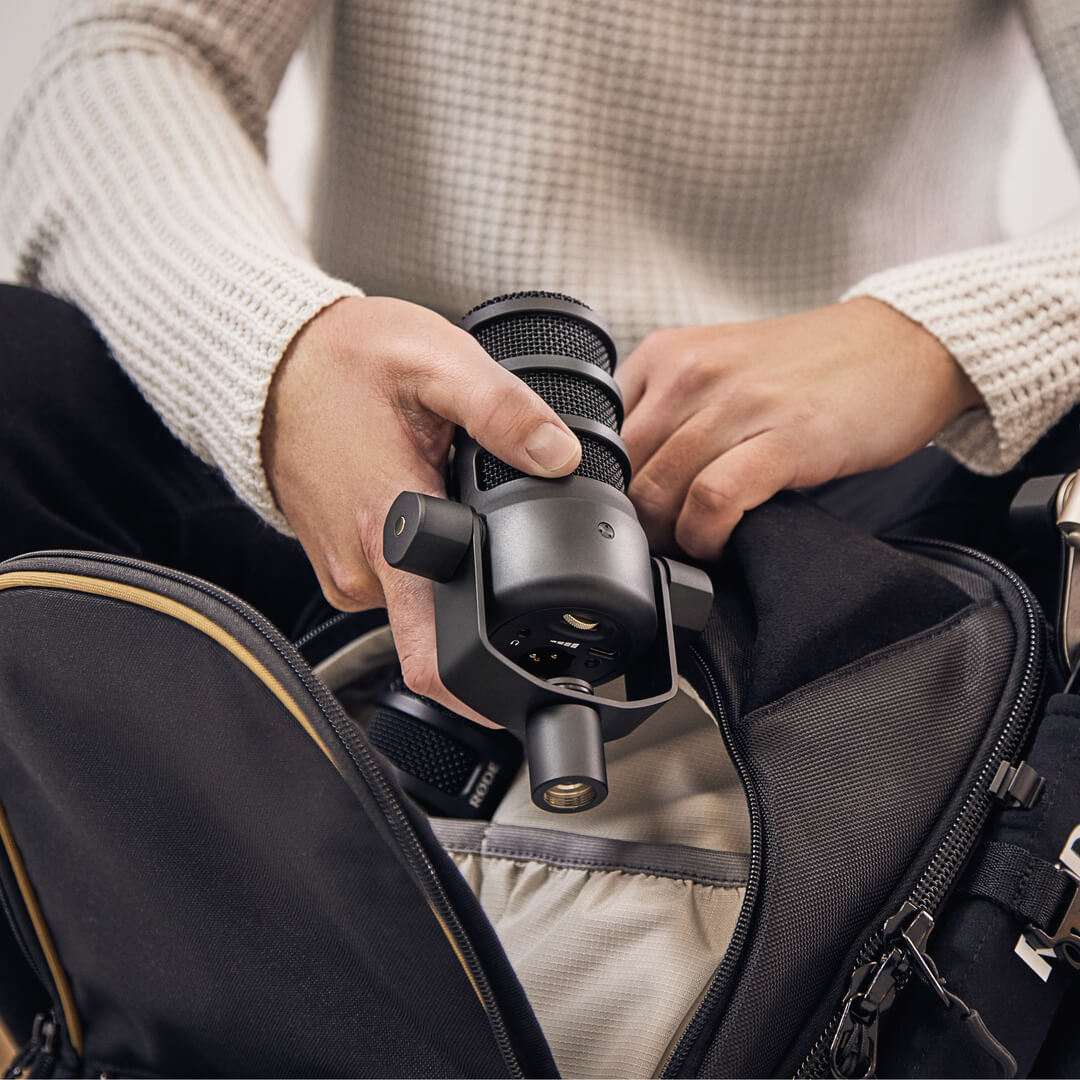 Libera ancora più potenziale creativo con la suite di app RØDE
Guida all'uso di PodMic USB
Scopri tutto quello che c'è da sapere sull'uso del PodMic USB in questa guida completa, compreso come registrare con le connessioni analogiche e digitali, usare il DSP avanzato e molto altro ancora.