How To Connect An External Microphone To A Smartphone

Smartphone video quality has seen some significant developments over the years, with most people now being able to shoot professional-grade content with the little device in their pocket. Sadly, smartphone audio hasn't received the same love. While there have been some improvements to the onboard microphones in phones over the years, the audio quality they're capable of producing still leaves much to be desired.
Using an external microphone is the single best way to improve your smartphone audio. However, there are a few things you need to consider when using a mic with any mobile device.
To help you get recording faster, we've put together this helpful guide that covers the different connection types most phones have, what mics are most suitable, and some other factors you may need to think about.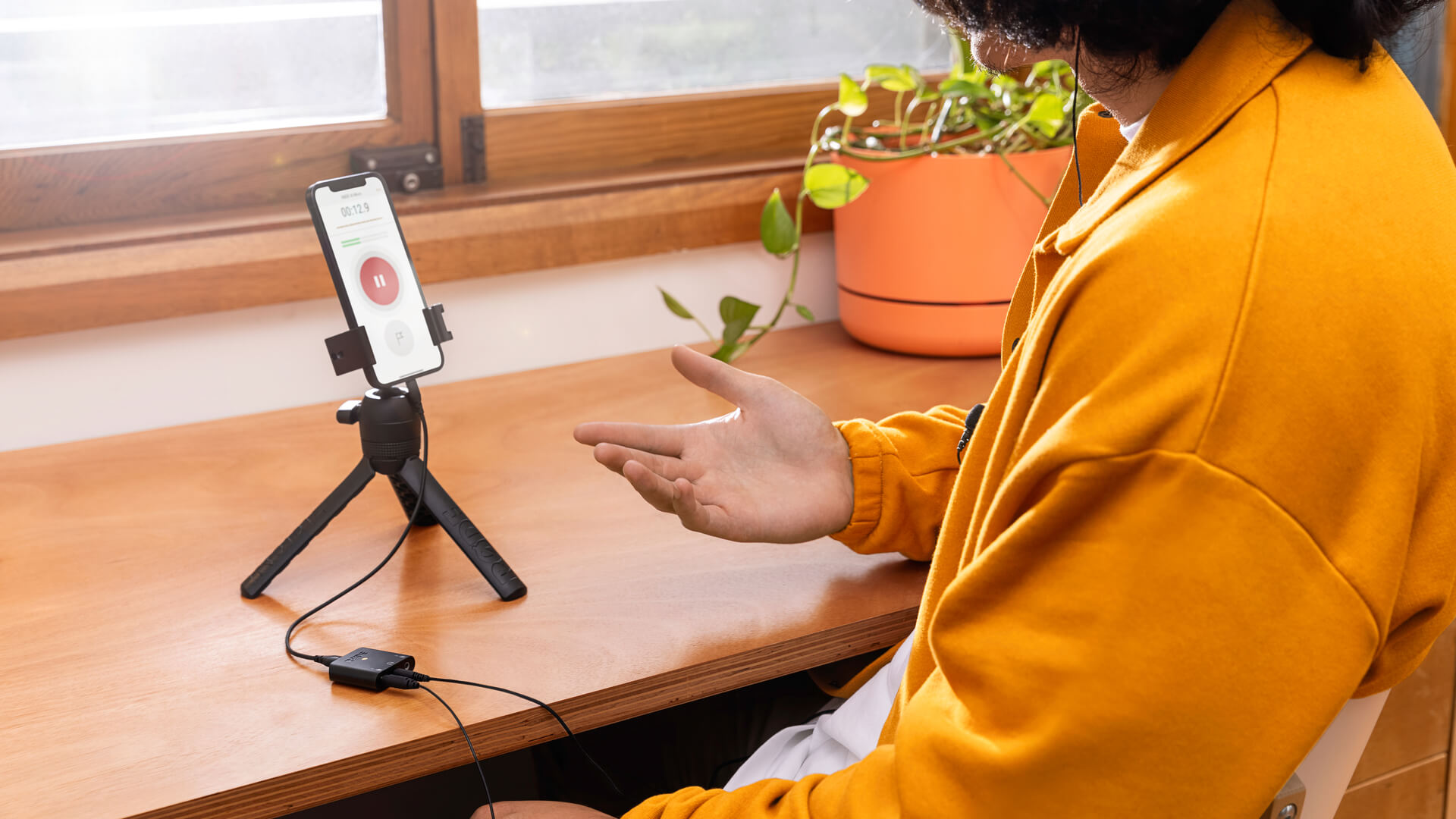 If Your Smartphone has a USB-C or Lightning Port
VideoMic GO II, VideoMic Me-C and Me-L are excellent, easy options
VideoMic NTG and NT-USB+ deliver more advanced options and pro audio
Wireless ME and Wireless GO II are immediate solutions to wireless recording
With most smartphone manufacturers moving away from utilising 3.5mm audio connections, the easiest way to connect a microphone to your device is via its USB-C or Lightning port.
There are two main ways to do this: either use a microphone that has a USB-C or Lightning output or, if you have a microphone with a 3.5mm output, use an interface or adaptor to connect it to your device.
Let's start with the former.
Using a microphone that has a USB-C or Lightning output is very simple. All you have to do is plug it into your smartphone and it will be immediately recognised as the default audio device, bypassing the internal microphone and instantly giving you much better audio quality. That's it – you're ready to record.
There are several microphones in the RØDE range that are designed to plug directly into smartphones this way.
The RØDE VideoMic GO II, VideoMic Me-C and VideoMic Me-L are good options if you're looking for a great-sounding solution that's very easy to use. These super-compact microphones plug into any smartphone with an included cable (VideoMic GO II) or directly via USB-C (Me-C) or Lightning (Me-L) port. They are directional microphones, meaning they focus on what they are pointed at while minimising surrounding sounds, and they mount directly onto the phone with no additional equipment required. They also allow you to monitor your audio via the 3.5mm output on the back of the microphone, which is a simple but hugely important feature (more on this below).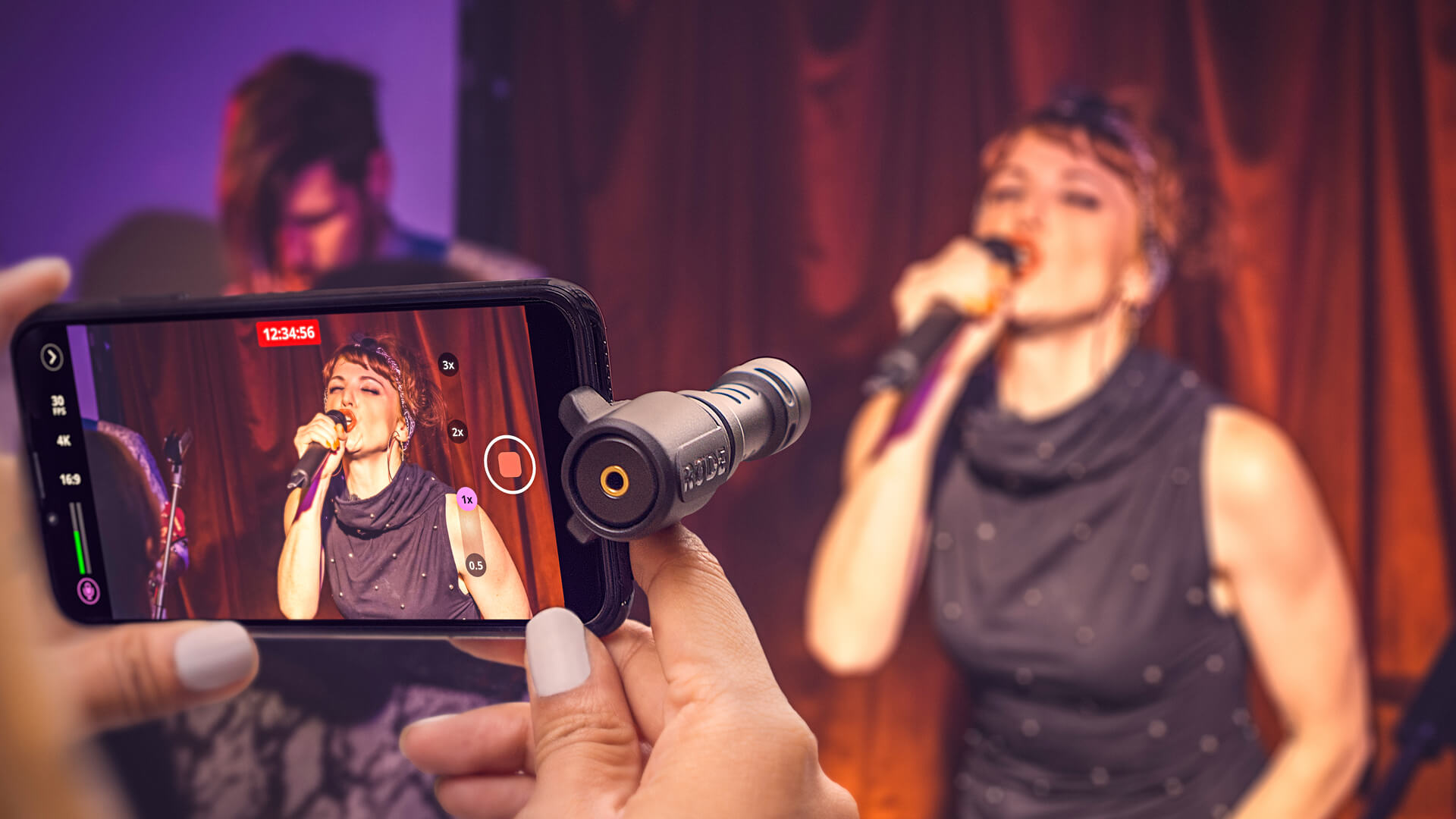 If you want to take your audio to the next level, or if you need a microphone that you can use with a camera or computer as well as a smartphone, the VideoMic NTG is perfect. This broadcast-grade microphone is loaded with features to help you adapt to any recording situation, including a pad, high-pass filter, high-frequency boost and more. The VideoMic NTG also allows you to monitor your audio with complete control over the headphone output level.
To connect it to your smartphone, you will just need the correct cable for your device – either the SC15 for iPhones with a Lightning port or SC16 for phones with a USB-C port. Unlike the VideoMic Me series, the VideoMic NTG has a shockmount, so you will need either a tripod (like our Tripod 2) or a phone case with a cold shoe in order to mount the microphone.
If you're looking for more of a desk-based setup that you can still quickly pack up and take with you, the NT-USB Mini is an excellent compact solution for recording professional sound, and the NT-USB+ is the next step up, with powerful on-board DSP and our Ultra-low-noise, high-gain Revolution Preamp™ for recording pristine audio in a huge range of applications.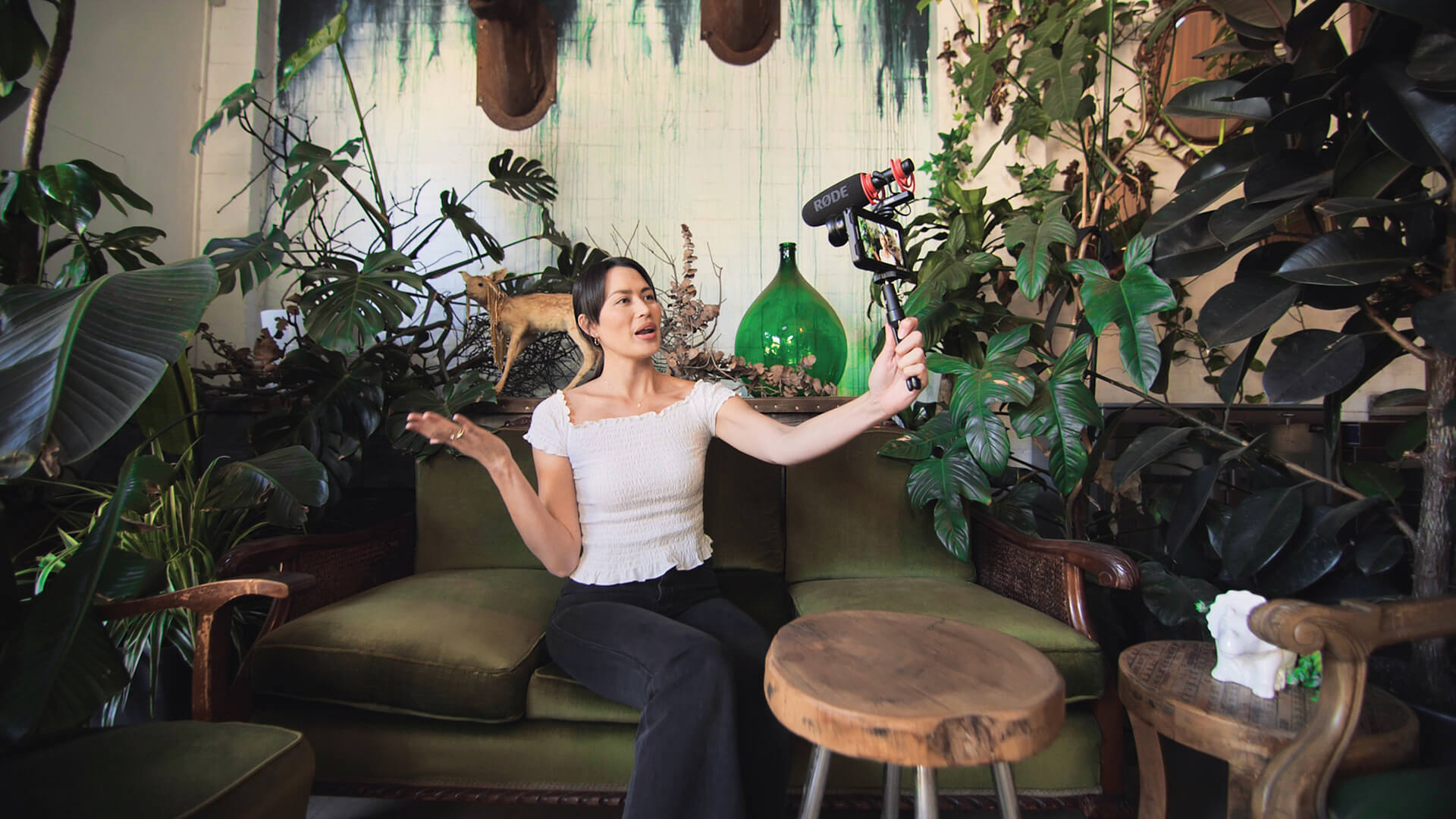 Another excellent option is the Wireless GO II or Wireless ME. These are both dual-channel wireless systems consisting of a receiver – which plugs directly into any smartphone with a USB-C or Lightning port via its USB output – and a transmitter (or pair of transmitters, in the case of Wireless GO II), which send audio wirelessly to the receiver. These are a great solution if you need a little more distance between you and the camera when recording. The Wireless GO II gives you a built-in display and more hands-on control of your audio, as well as a pair of transmitters, while the Wireless ME is a more streamlined, easy-to-use solution for quickly capturing professional wireless audio.
Connecting a 3.5mm Microphone to a USB-C or Lightning Smartphone
The AI-Micro is perfect for connecting 3.5mm microphones to a smartphone
The SC4 adaptor converts 3.5mm cables from TRS to TRRS for use with smartphones If you have a microphone with a 3.5mm connector – such as a RØDE VideoMicro II or Lavalier II – and want to connect it to your smartphone, you'll need an audio interface like the AI-Micro.
This handy little device is super easy to use and is compatible with almost any mobile device via its universal USB output. It features two inputs for connecting two microphones (more on this shortly) and a headphone output for monitoring your audio. It is also compatible with our apps, RØDE Capture, RØDE Reporter and RØDE Central, which give you full control over your microphones and more.
You can also use an adaptor such as the RØDE SC4 in conjunction with the 3.5mm to USB-C/Lightning adaptor that came with your phone to connect your 3.5mm mic. However, you will not be able to monitor your audio with headphones or control the level of your mic like you can with the AI-Micro.
Monitoring Your Audio
It's critical to monitor your audio levels with headphones like the NTH-100
A crucial factor to consider is the importance of monitoring your audio while recording. The last thing you want is to do is make a lengthy video or podcast, only to realise afterward that your levels were too high or too low, or that your microphone wasn't recording at all.
"Monitoring" your microphone's audio - i.e. listening to it in real-time through headphones – allows you to make adjustments before recording if required. Seeing as you are using your phone's headphone port (the USB-C or Lightning port) to connect your microphone, there is nowhere to plug your headphones into, unless your microphone has a headphone output. Thankfully, all of the RØDE devices mentioned above do!
It's highly recommended that you have a pair of headphones like the NTH-100 handy when recording.
Connecting Two Microphones to a Smartphone
The AI-Micro is a 2-channel audio interface purpose-built for smartphones
The simple notion of recording with more than one microphone to a smartphone has been historically fraught with complex connectivity issues and the need for multiple adaptors, cables and splitters to even get started. The AI-Micro makes this incredibly simple.
With its dual microphone inputs, universal USB output for connecting to smartphones with either USB-C or Lightning ports, and a headphone output for audio monitoring, it's the easiest way to record great-sounding two-person podcasts, interviews and video calls anywhere you like.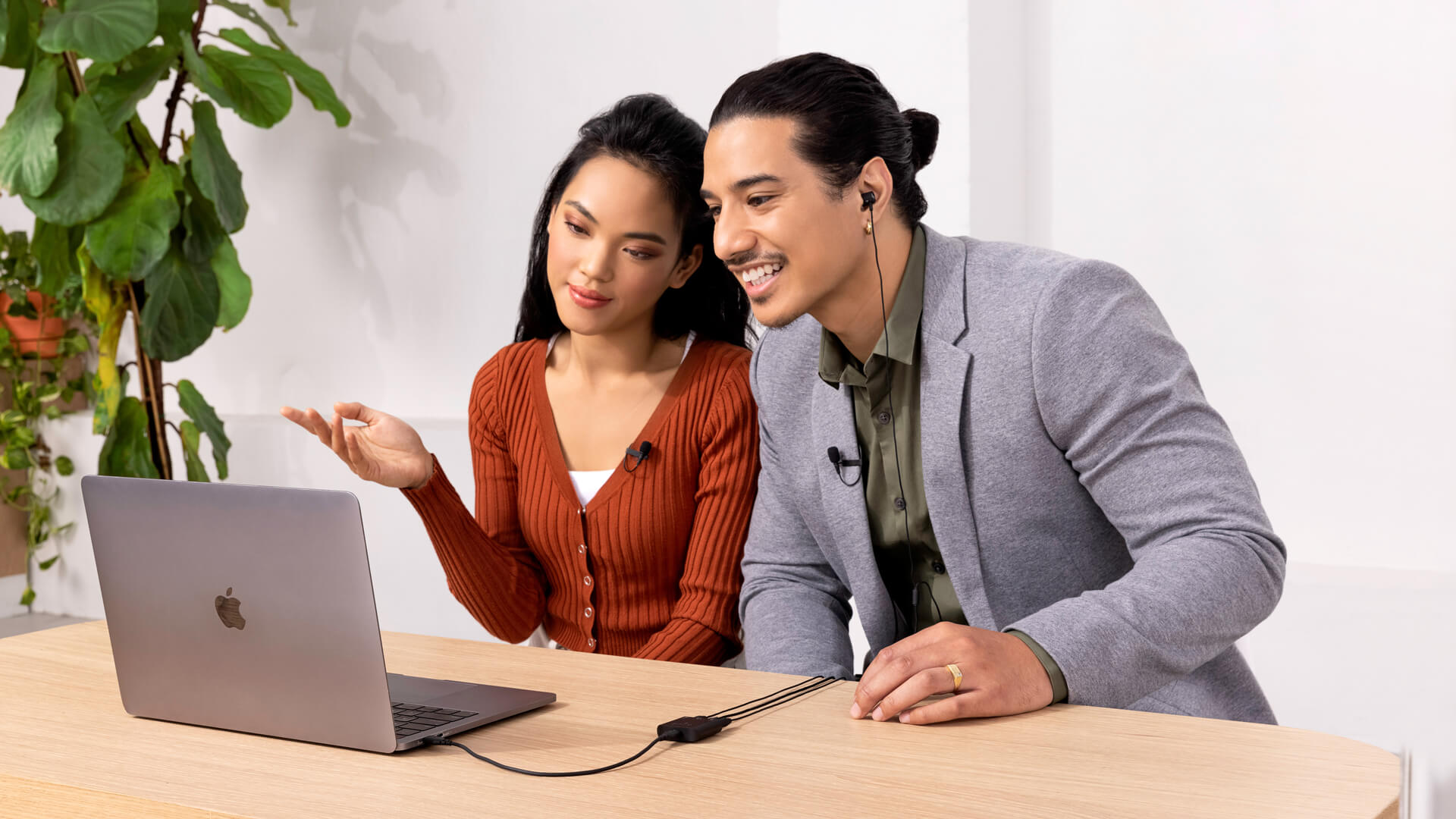 TRS vs TRRS: What is the Difference?
Smartphones typically need a TRRS cable (with three rings around the plug)
Before we move ahead, it's important to understand what TRS and TRRS mean in relation to 3.5mm connectors and how they are different.
The terms TRS and TRRS refer to the type of connector a microphone or audio cable has. TRS stands for Tip-Ring-Sleeve and TRRS stands for Tip-Ring-Ring-Sleeve, referring to the segments of the cable plug. They are easy to differentiate by the black bands on the plug: two bands = TRS, three bands = TRRS. For even faster identification, RØDE TRS connectors will have a black end while TRRS connectors will have a grey end.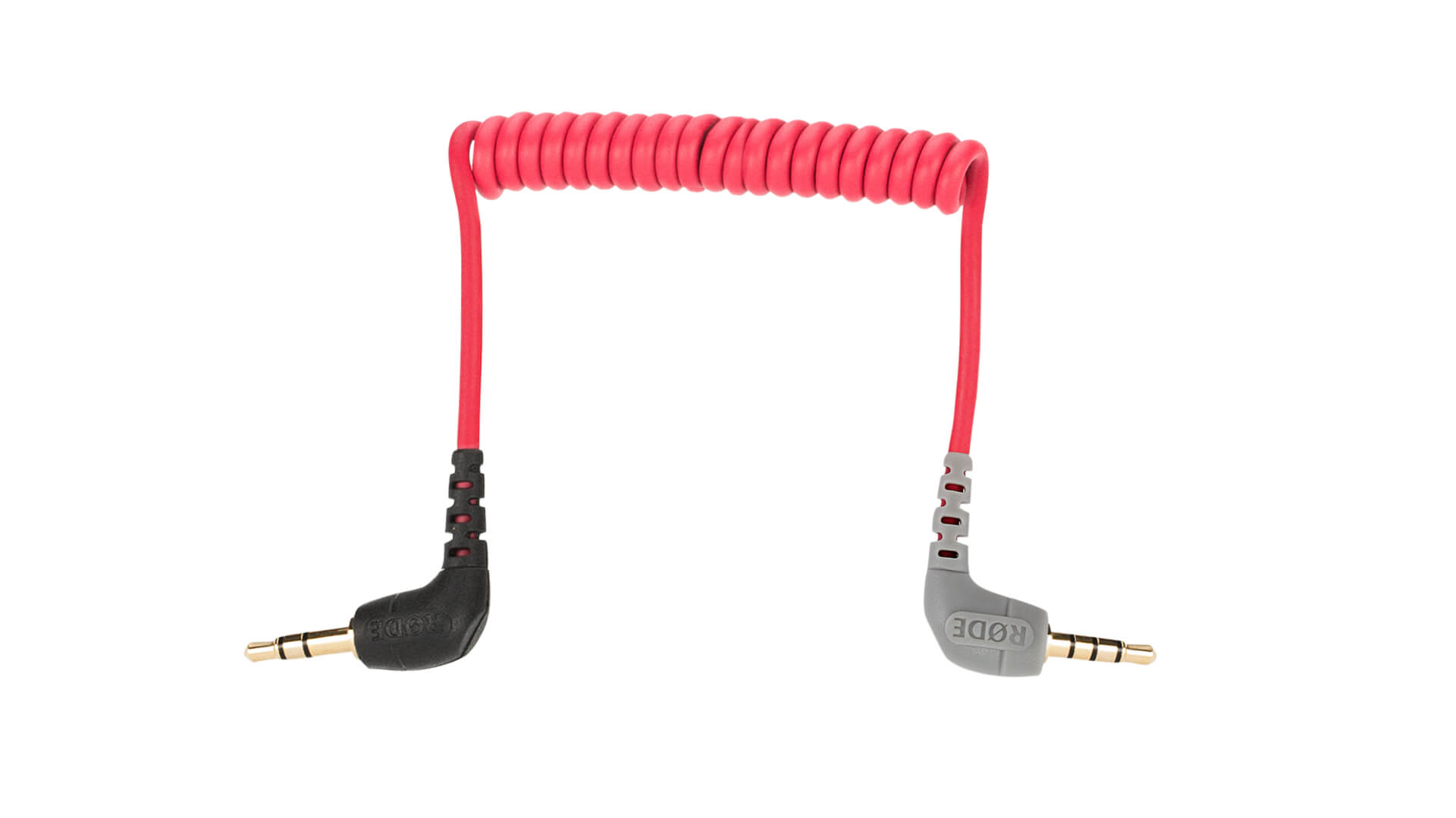 Most microphones with a 3.5mm output have a TRS connector. These will not work properly when plugged directly into a smartphone, which usually have a TRRS input. You will need a TRS to TRRS cable such as the SC7 or an adaptor like the SC4 to get your mic to work.
There are also some microphones with a TRRS output that are designed to plug directly into a smartphone, such as the smartLav+ or VideoMic NTG.
If Your Smartphone has a 3.5mm Jack
Any microphone with a 3.5mm output and a TRRS cable will work
If you have a smartphone with a 3.5mm headphone jack (and no USB-C or Lightning port), you can use any microphone with a 3.5mm output. As most smartphones have a TRRS jack, you will need to make sure your microphone either has a TRRS connector or you are using a TRS to TRRS cable or adaptor as mentioned above.
To get a better understanding of what cables and adaptors are suitable for your needs, check out our ultimate cable and adaptor guide.
The RØDE VideoMic Me is a great microphone for smartphones with a 3.5mm jack. In addition to capturing high-quality audio, it also features a headphone output so you can monitor your recording.
Connecting an external microphone to a smartphone can be somewhat complicated, but with the right equipment and understanding of what's required to get up and running, it's actually very simple.