Introducing New Wireless GO II Beta Firmware: Direct WAV Export, Record Button and More

We're excited to announce a new beta firmware update for the Wireless GO II, bringing new features and upgrades to make this powerful and compact wireless microphone system even more powerful. For those in a hurry to offload their recorded audio, we've made it possible to export WAV files directly from the Wireless GO II, and to make the recording process itself even easier, we've added the option to assign the transmitter's button to start and stop recording.
Alongside these major updates we've also added more camera models to our list of camera presets, a diagnostic tool in RØDE Central for checking the health of your Wireless GO II, and a number of system enhancements.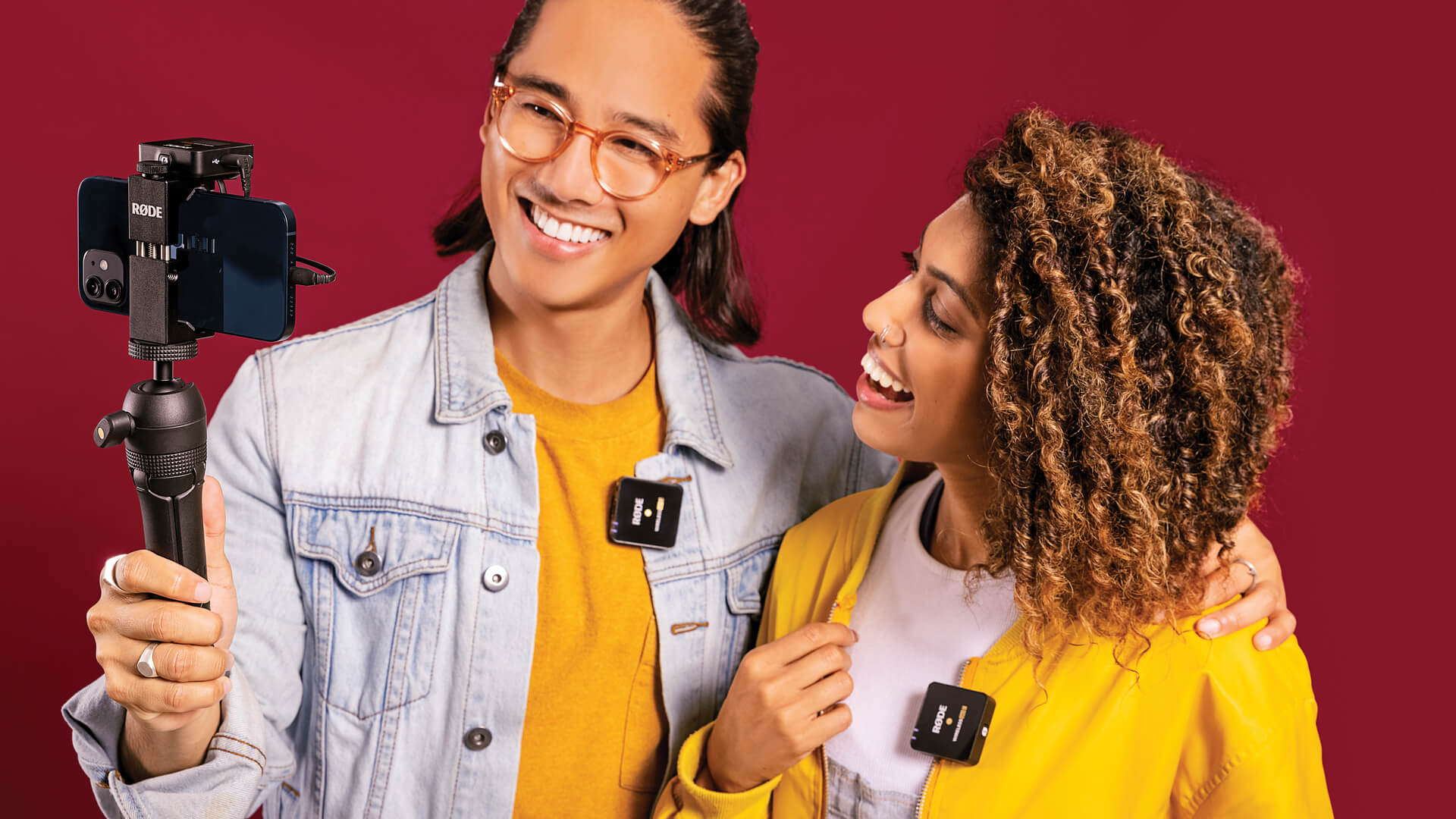 Updating Your Wireless GO II With Beta Firmware
To update your Wireless GO II to the latest firmware, start by downloading and installing the beta version of RØDE Central for desktop. Connect your Wireless GO II receiver to your computer or phone via USB-C, open RØDE Central, and follow the prompts to update its firmware. Once the receiver's updated, disconnect it and connect a transmitter and repeat the process until all of your units are updated. It's possible to update all units simultaneously on desktop if you're able to physically connect them all to your computer at once.
It's critical that you update ALL of your transmitters and receivers so that they operate correctly. Using transmitters and receivers that are running different firmware versions can result in major connectivity issues and even failure to operate entirely.
Click here to learn more about how to update your Wireless GO II firmware.
Direct WAV Export
With the latest firmware update, selecting the 'uncompressed' option for the Wireless GO II's on-board recordings will record your audio in WAV format. Previously, you needed to use RØDE Central to process and export these on-board recordings, but this update means you can simply drag them onto your desktop and they're ready to go. This is especially handy if you're on a shoot in the field and need to quickly grab your on-board recordings.
Of course, in RØDE Central you can still edit your audio, see any markers that you placed in your recording, and optimise your files for export, so if you need any of these features, make sure you use the desktop app.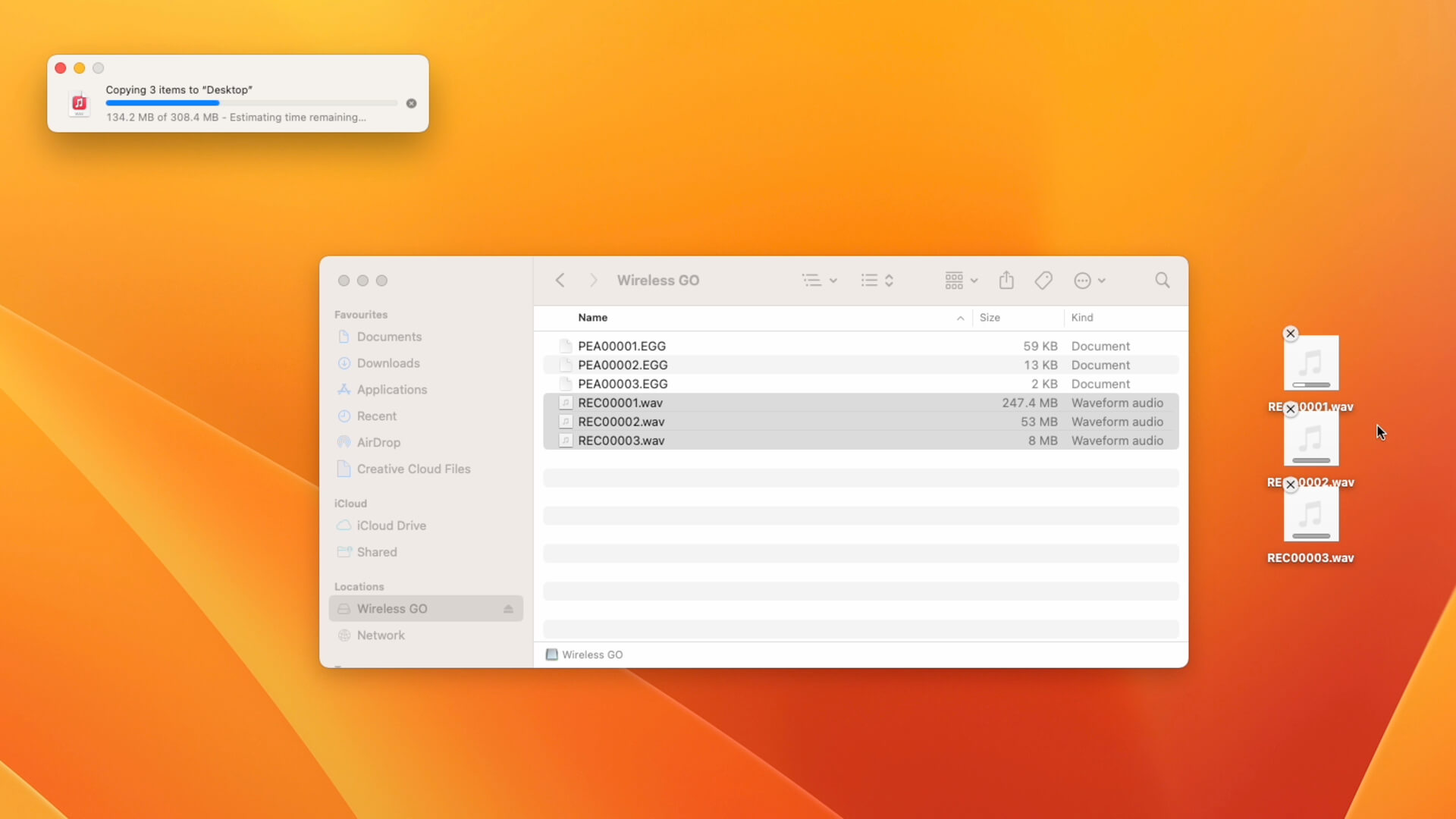 Record Button
Another new feature is the way you can trigger the on-board recording to start. Previously, recording either started when the transmitter was switched on or when the transmitter connected to the receiver.
Now you can simply trigger the recordings to start by pressing the power button on the transmitter, giving you more control and flexibility over your recordings. You can enable this mode via RØDE Central by setting the 'Record' setting to 'Button Mode' and then assign the 'Record' option to the 'Ø' button.
Camera Presets, Diagnostics Tool and More
We introduced camera presets in the previous Wireless GO II firmware update, allowing you to automatically set the perfect gain level on your Wireless GO II to match the camera you were using. In this update, we've added another bunch of popular camera models to the list of presets, bringing the total to over 75 models.
We have also added a new diagnostics tool to RØDE Central which will check up on your Wireless GO II to ensure that your system is operating smoothly and that you have the most up to date firmware.
Finally, we have made a number of system enhancements, improved the firmware update process to make it even more simple, and tweaked the battery status reporting to make it even more reliable.
How to Return Your Wireless GO II to the Full Public Release
Once the full public release version of this firmware is available, RØDE Central will automatically update to the full release the next time it's opened, allowing you to update your Wireless GO II to the full release as well. If you wish to exit the beta program early, follow the process below.
To return your Wireless GO II units to the latest public release version, you will need to first uninstall the beta version of RØDE Central on your computer. On Mac, simply navigate to the Applications folder, drag the RØDE Central Beta app to the trash and empty your trash. On Windows, navigate to 'Add/Remove Programs', click the three dots next to RØDE Central Beta and uninstall.
Next, install the latest public version of RØDE Central for desktop, connect your Wireless GO II receiver to your computer, backup any recordings you want to keep, click the settings cog in the top-right corner, click 'Factory Reset' and then follow the prompts. Be sure to do this for each of your units one at a time (both transmitters and receivers). Now, your Wireless GO II will be running the latest full release firmware.
Download RØDE Central and connect your Wireless GO II to update your firmware and unlock these incredible new features.
Please do not use this beta firmware for any critical recordings and we would love to hear your feedback here: https://tinyurl.com/yxdu7trd