Top Mics For Recording With Your iPhone
iPhones are incredibly powerful content creation tools. With onboard cameras capable of shooting pro-grade photo and video, powerful processors, and endless creative apps available at the tap of a button, most people have everything they need to create super high-quality content right in their pockets. What iPhones aren't great at is recording audio; they simply aren't capable of high-quality sound capture. Luckily, this is an easy fix.
The single best way to vastly improve the audio quality of your content is to use an external microphone. This doesn't mean you have to start lugging around tonnes of recording gear either – there are many compact microphones in the RØDE range that deliver professional-quality audio and plug directly into your phone.
Whether it's for vlogging, filmmaking, making a podcast, or recording music, let's take a look at the top RØDE mics for recording with an iPhone.
VideoMic Me-L
The VideoMic Me-L is the perfect easy-to-use, all-rounder iPhone mic. It plugs directly into the Lightning port on your phone and comes with a clip to ensure it's always secure. Much like an on-camera shotgun microphone for a DSLR camera, such as the RØDE VideoMic Pro, the VideoMic Me-L is a directional microphone, meaning it focuses on what it is pointed at while reducing background noise. It has a 3.5mm jack for plugging in headphones so you can monitor your audio as you record, and it comes with a furry windshield for recording outdoors. This kind of microphone is ideal for a wide range of uses, from vlogging, to run and gun filmmaking, to on-the-go podcasting.
Check out the VideoMic Me-L.
The VideoMic Me-L
+
The smartLav+ is what is known as a 'lavalier' or 'lapel' mic. These compact clip-on mics are used in a variety of film, TV, and broadcast scenarios, often with a wireless microphone system. The smartLav+ plugs directly into the headphone port of your iPhone (use a Lightning adaptor if you have a newer iPhone) has a 1.2m-long cable, making it perfect for recording a piece to camera where you need to stand a bit further back, for example, a lecture or presentation. Being a clip-on mic, you can get it close to your mouth, which will give you rich sound with minimal background noise even if you're a few feet away from the camera. For the best sound quality, we recommend clipping it roughly a handspan from your mouth, ideally near the chest.
Check out the smartLav+.
VideoMic GO II
The VideoMic GO II is an ultra-lightweight and compact shotgun microphone packed with innovative features for content creators of all kinds. It is extremely simple to use but has a few tricks up its sleeve that makes it extremely powerful and versatile for recording high-quality audio with your iPhone.
Its unique acoustic design delivers a rich, full-bodied sound that will instantly enhance the audio quality of your iPhone recordings. The VideoMic GO II is powered by your iPhone and features a universal USB output, meaning you can plug in a USB-C to Lightning cable such as the SC15 or SC19 and start recording, it's that simple. It's also compatible with the RØDE Central Mobile app for even more expanded features and controls, as well as the free RØDE Reporter app for recording high-quality audio for podcasts, livestreams, vlogs, films – the possibilities are endless.
Check out the VideoMic GO II.
The VideoMic GO II mounted on the SmartGrip and connected to an iPhone
i-XY
The i-XY is a broadcast-grade stereo microphone that plugs directly into an iPhone. It utilises a matched pair of ½-inch cardioid condenser capsules to capture highly detailed, true-to-life stereo recordings, much like your ears hear sounds in the real world. This kind of microphone is usually used by filmmakers to record immersive soundscapes for professional videos, but with the i-XY, anyone with an iPhone can capture true ambience anywhere. This is perfect for recording sports events, music performances – anything where you want to capture the full sonic detail of a scene.
Check out the i-XY.
AI-Micro
The AI-Micro is the perfect solution for connecting virtually any microphone with a 3.5mm output to an iPhone. This handy little audio interface features two high-quality microphone inputs and a headphone output for monitoring your audio, making it perfect for two-person interviews or podcasting on the go.
The AI-Micro pairs perfectly with the RØDE Reporter iOS app, which allows you to capture broadcast-quality audio in the field, as well as giving you complete control over the input level of each microphone, the headphone output level, and access to advanced features like a high-pass filter for each mic.
Check out the AI-Micro.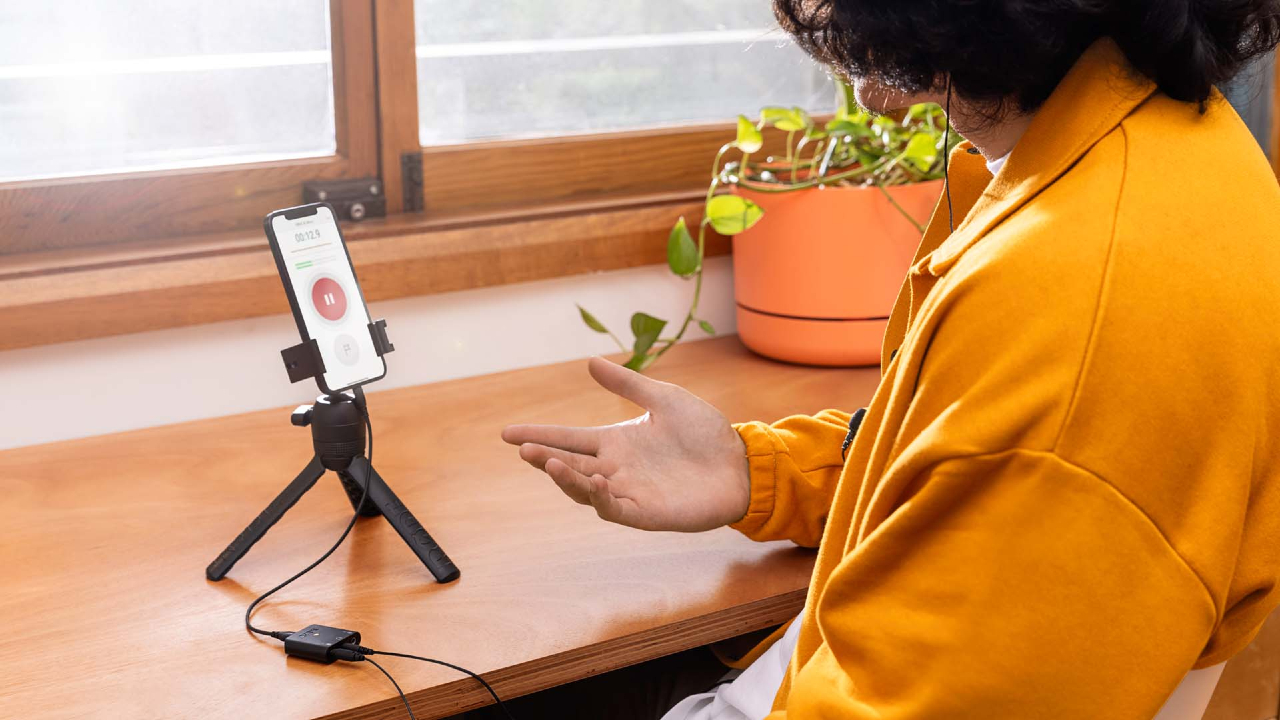 The AI-Micro with RØDE Reporter
Wireless GO II
The Wireless GO II is an ultra-compact wireless microphone system. It features a receiver and two transmitters, which you attach to what you want to record, perfect for recording two sources simultaneously, such as a two-person podcast or interview. The transmitter sends the audio to the receiver wirelessly, giving you complete freedom to move around while recording and stand much further back from the camera. All you need to do is plug the receiver into the AI-Micro connected to your phone and you're ready to start recording.
Most wireless systems require you to plug a lavalier mic into the transmitter, but the Wireless GO II features a built-in mic, making it super easy to set up and use. However, if you prefer using a lavalier mic, the Lavalier GO is the perfect companion. The Wireless GO II is the ideal mic for vlogging, filmmaking, recording interviews, or reporting – basically anything where you need the freedom of wireless audio.
Check out the Wireless GO II.
The RØDE range offers the perfect microphone for every kind of content creator, filmmaker, musician, or podcaster. Check out more here.