AI-1
Interface audio monocanale
L'AI-1 est une interface audio monocanale de qualité professionnelle qui offre une qualité audio exceptionnelle pour tout, de l'enregistrement de musique dans votre chambre au livestreaming et au podcasting. Dotée d'un préampli de qualité studio, d'une prise combo jack Neutrik™ de haute qualité pour connecter des microphones ou des instruments et d'un amplificateur de casque haute puissance pour un monitoring et une lecture audio d'une clarté cristalline, c'est l'interface parfaite pour enregistrer en qualité studio chez soi.
Principales caractéristiques :
Interface audio monocanale de qualité professionnelle
Prise combo jack Neutrik pour connecter des microphones, des guitares, des synthétiseurs et d'autres instruments
Préamplificateur de qualité studio avec indicateur de niveau
Amplificateur de casque à haute puissance
Professional-grade single-channel audio interface
Neutrik combo jack for connecting microphones, guitars, synthesisers and other instruments
Studio-grade preamp with level indicator
High-power headphone amplifier
Un son de qualité studio en toute simplicité
Avec une entrée unique et des commandes rationalisées, l'AI-1 est incroyablement simple à utiliser - il suffit de le connecter à votre ordinateur, de brancher votre microphone ou votre instrument, et d'appuyer sur le bouton d'enregistrement. Sous le capot, l'AI-1 ne manque pas de punch, avec notamment un préampli de qualité studio à gain élevé et à très faible bruit pour enregistrer un son pur, des sorties symétriques ¼ de pouce pour connecter vos enceintes préférées, et un amplificateur de casque de haute puissance capable de piloter des modèles professionnels à haute impédance pour un monitoring sans faille.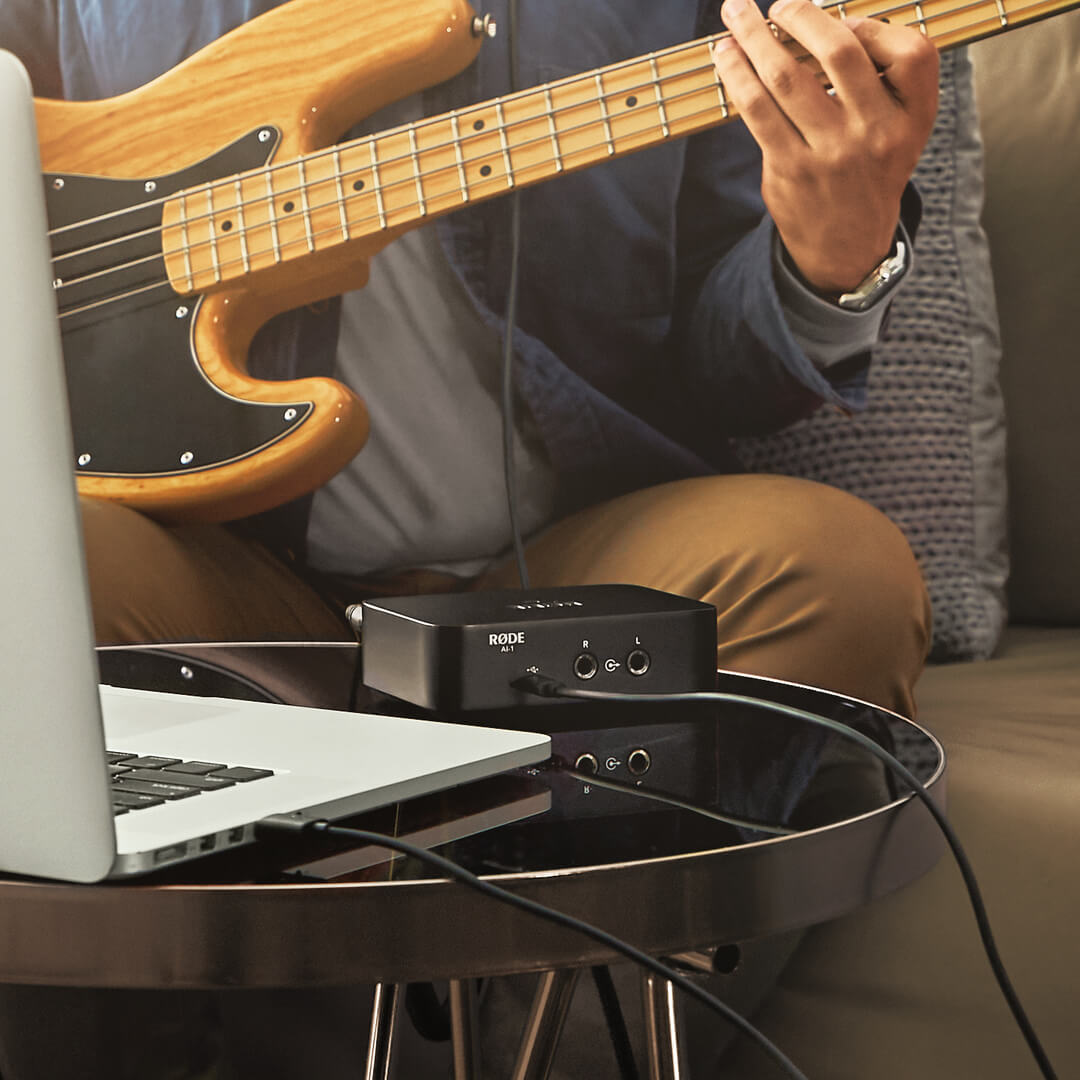 Se connecter et créer
L'AI-1 est dotée d'une prise combo jack Neutrik de haute qualité permettant de connecter à la fois des câbles XLR et ¼ de pouce, afin de brancher votre microphone, votre guitare, votre basse ou votre synthétiseur en toute simplicité. L'alimentation fantôme commutable garantit la prise en charge de n'importe quel microphone, tandis que le simple indicateur LED vous permet de surveiller le niveau d'entrée pour un son toujours cristallin. Chaque AI-1 est également livrée avec une version gratuite d'Ableton Lite, ce qui vous permet de commencer à enregistrer immédiatement. Que vous fassiez de la diffusion en live ou de la musique en multipiste, l'AI-1 capturera votre vision sonore dans les moindres détails.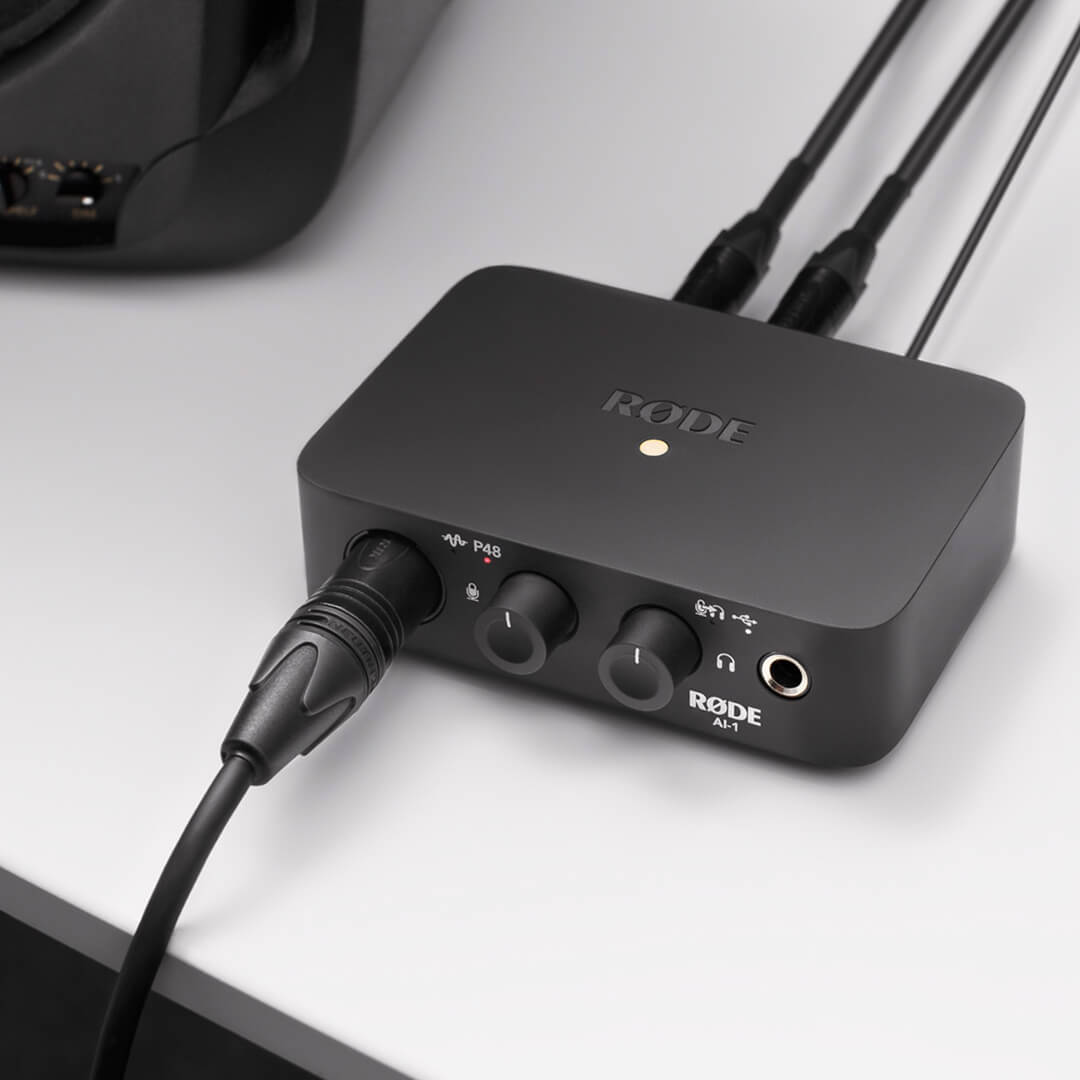 RØDE Central
RØDE Central est une application compagnon facile à utiliser pour l'AI-1 (et d'autres dispositifs RØDE) qui vous permet d'accéder à des informations sur le dispositif et de mettre à jour pour avoir la dernière version du firmware. La dernière version du firmware ajoute une plage de gain étendue pour une meilleure performance avec les microphones dynamiques à faible sortie. Pour la mise à jour, téléchargez RØDE Central ci-dessous et suivez les instructions.
Remarque : Configuration requise - MacOS 10.13 ou version ultérieure ; Windows 10 Version 1803 ou version ultérieure ; iOS 14 ou version ultérieure ; Android 9.0 ou version ultérieure.
Téléchargez RØDE Central gratuitement dès maintenant.