NT1-A
NT1-A
Le NT1-A est un microphone à condensateur à grand diaphragme standard. Avec sa chaleur et sa clarté, sa plage dynamique étendue, sa capacité à atteindre des niveaux de pression acoustique élevés et son niveau de bruit incroyablement bas, c'est un véritable monstre, parfait pour l'enregistrement de tous les types de signaux, du chant à la guitare acoustique en passant par la batterie.
Principales caractéristiques :
Capsule à grand diaphragme de 1 po à pulvérisation cathodique d'or
Directivité supercardioïde
Niveau de bruit ultra faible (5 dBA)
Plage dynamique étendue
Suspension antichoc pour capsule interne
Livré dans un kit d'enregistrement complet, avec une fixation antichoc RØDE SM6, un filtre anti-pop et une housse de protection

Large-diaphragm 1" gold-sputtered capsule
Cardioid polar pattern
Ultra-low self-noise (5dBA)
Wide dynamic range
Internal capsule shock mounting
Comes in complete recording kit, with a RØDE SM6 shock mount, pop filter and dust cover

Interprète vocal
Le NT1-A est un microphone classique à condensateur vrai et à large diaphragme qui présente une chaleur et une clarté étonnantes, ce qui le rend idéal pour l'enregistrement de voix de tous types. Son caractère doux et soyeux donne vie à chaque performance, tandis que sa réponse en fréquence étendue garantit que chaque nuance est capturée avec une précision incroyable. Le NT1-A est également livré avec la fixation antichoc SM6 de qualité studio et un filtre anti-pop pour un enregistrement propre et sans plosives.
Clarté instrumentale
Le NT1-A est un véritable monstre en studio qui excelle dans une large gamme d'applications d'enregistrement d'instruments, ainsi que dans l'enregistrement de voix et de paroles. Ses aigus étincelants donnent vie aux guitares acoustiques et aux pianos, tandis que sa capacité SPL élevée en fait un excellent microphone de batterie et de percussion.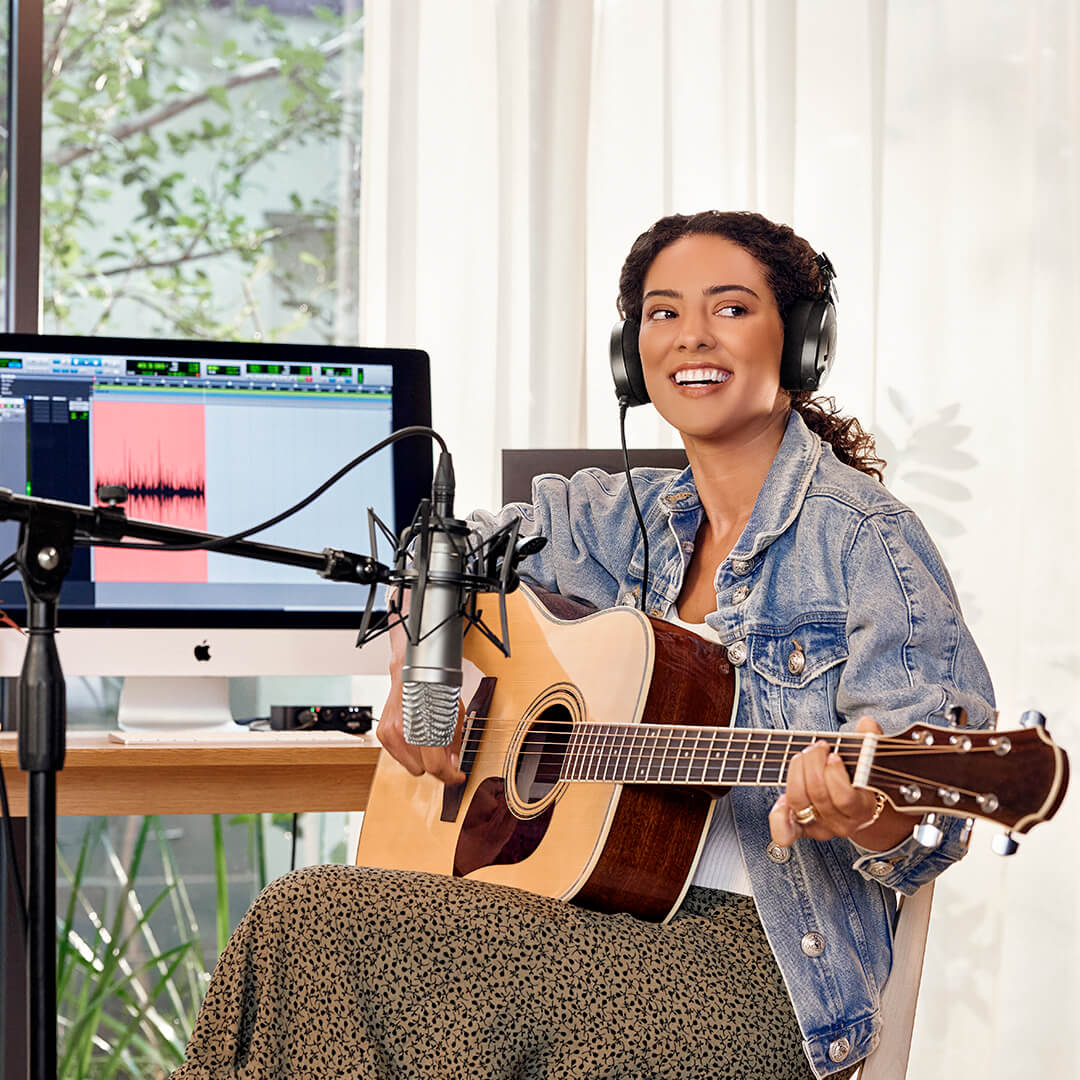 Gold-sputtered Capsule
The heart of the NT1-A is its 1-inch gold-sputtered capsule. Precision manufactured to sub-micron tolerances at RØDE's state-of-the-art facility in Sydney, Australia, it delivers the legendary warmth of classic studio microphones without compromising on frequency response or SPL handling. Its tight cardioid polar pattern helps to reject unwanted sounds and its controlled proximity effect delivers a rich, intimate sound that is always balanced.
Extrêmement silencieux pour un son de qualité supérieure
Le NT1-A est l'un des microphones de studio les plus silencieux au monde, générant des niveaux de bruits de 5 dB(A) seulement. Cela garantit que chaque enregistrement est exceptionnellement propre, même lors de la capture de sources sonores faibles.

Kit d'enregistrement vocal complet
Le NT1-A est accompagné du SM6, un support antichoc à suspension haute qualité qui offre une isolation contre les facteurs physiques externes pouvant causer des grondements et des vibrations indésirables dans le microphone. Il inclut un filtre anti-pop détachable avec deux axes d'ajustement et un bras télescopique pour une polyvalence d'utilisation parfaite. Un câble XLR de haute qualité est également fourni.

NT1-A User Guide
Discover everything you need to know about using your NT1-A here. This comprehensive user guide covers everything you need to know from getting set up to an overview of all included features and accessories, ensuring you can get the most out of your microphone.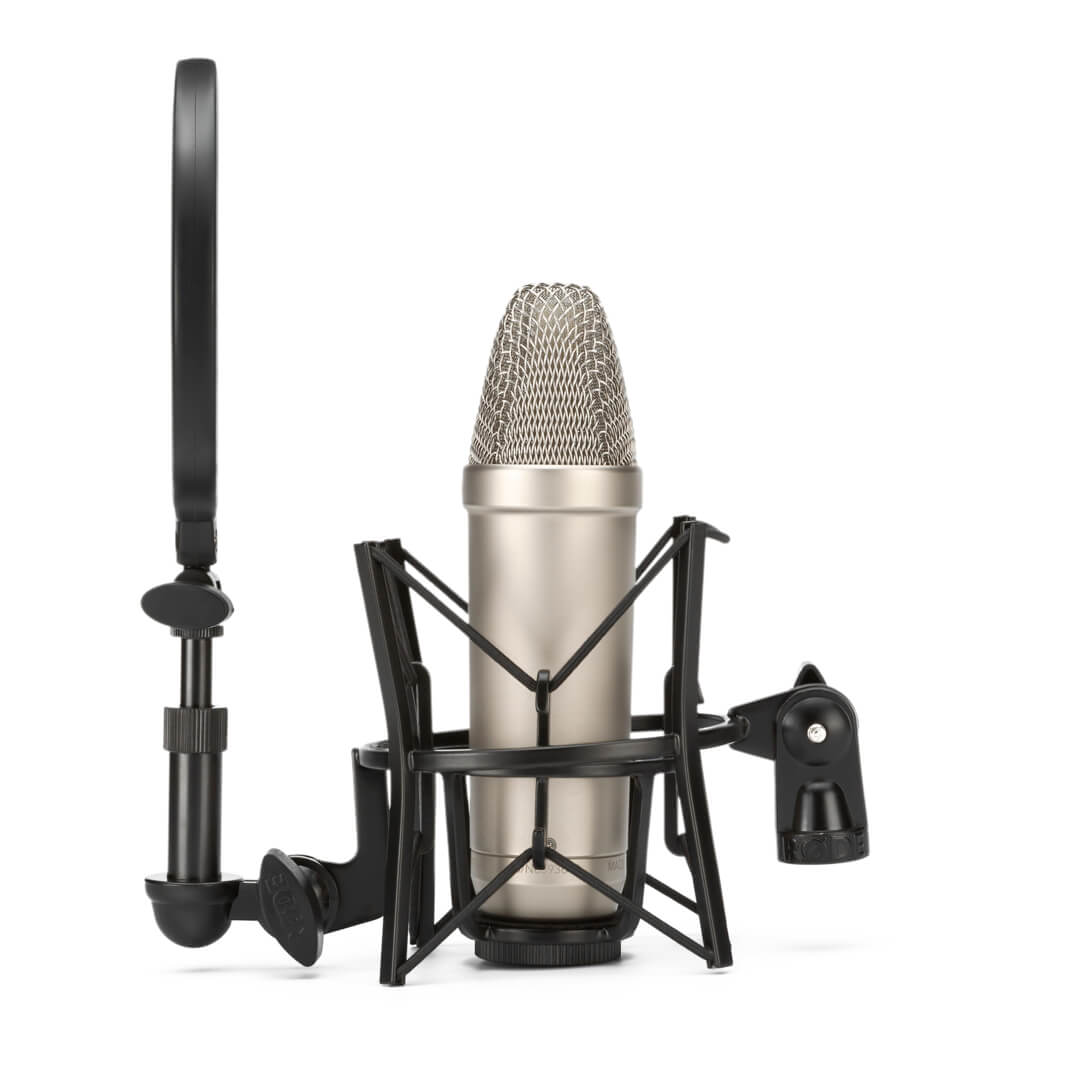 Foire aux questions
Q.
Can the PSA1 arm handle the weight of the NT1-A microphone?
A.
Yes, the PSA1 is strong enough to handle the weight of the NT1-A and SM6.
Q.
I have what is supposed to be a matched pair, but the serial numbers aren't sequential. Is this correct?
A.
Matched pairs from RØDE aren't necessarily (and in almost every case aren't) sequentially serialised.
The serial numbers are engraved at the end of the machining process, prior to assembly of the electronics, acoustics and quality assurance. Following these processes, a certain percentage of microphones (depending on model) are matched together to make the matched pair kits. Each matched pair is supplied with a signed and dated certificate listing the two matched serial numbers.