Wireless GO
超小型ワイヤレスマイクロフォンシステム
Wireless GO は、非常にコンパクトなワイヤレスマイクシステムで、比類ないクリップアンドゴーの汎用性と、驚くほどコンパクトなフォームファクタが特徴です。RØDE 送信機には無指向性コンデンサーカプセルが内蔵されており、クリップオンマイクとして、またはラベリアと併用して、2.4 GHz デジタル伝送を介して非常にクリアなブロードキャストクオリティのオーディオを、オンカメラ受信機に送信できます。これは映画製作者、映像クリエーター、ニュースリポーター、ビデオブロガーなど、あらゆる分野のコンテンツ製作者のための完璧なワイヤレスマイクソリューションです。 主な特徴: • 送信機は、ラベリア/ヘッドセットマイクのクリップオンマイクまたはベルトパック送信機として機能します。 • 超コンパクトなフォームファクタ送信機と受信機の重量はそれぞれわずか 31 g です。 • 128 ビット暗号化を使用する、シリーズ III 2.4GHz デジタルワイヤレス通信は、あらゆる条件下で非常にクリアなオーディオを実現し、高密度の Wi-Fi および Bluetooth 環境 (ショッピングモール、コンベンションセンター、ホテルなど) での使用にも優れています。 • 見通しの良い場所であれば最大 70 m の範囲まで作動しますが、混雑した無線周波数 (RF) 環境での短距離での使用向けに最適化されています。 • USB-C 経由で充電し、最大 7 時間使用できる、内蔵型再充電式バッテリー。 • 非常に使いやすく、3 秒以内で送信機と受信機が自動ペアリングが可能。 • 3 段階出力パッド (0 dB、-12 dB、-24 dB) とバッテリーセーバーモード。 • 1 つの場所に最大 8 つのシステムを配置可能。 • 黒または白。 • オーストラリアのシドニーにある RØDE の精密製造施設で設計・製造されています。
Transmitter operates as a clip-on microphone or beltpack for a lavalier/headset microphone
Ultra-compact form-factor – transmitter and receiver weigh a minuscule 31g each
Series III 2.4GHz digital wireless transmission with 128-bit encryption delivers crystal-clear audio under any conditions and excels in dense Wi-Fi and Bluetooth environments (shopping malls, conventions, hotels etc)
Up to 70m range (line-of-sight), optimised for short-range operation in congested RF environments.
In-built rechargeable batteries that last up to 7 hours, charged via USB-C
Super easy to use – transmitter and receiver auto-pair in under three seconds
3-stage output pad (0dB, -12dB and -24dB) and battery saver mode
Use up to eight systems in one location
Comes in either black or white
Designed and made in RØDE's precision manufacturing facilities in Sydney, Australia
超小型優れたサウンド
Wireless GO システムは典型的な「小型ワイヤレスマイク」です。送信機 (TX) と受信機 (RX) の重さはそれぞれ僅か 31 gとなっています。送信機は、目立たないクリップオンマイク、もしくは RØDE ラベリアマイク用の世界最小のベルトパックとして機能し、コンテンツ作り、映画制作、映像や舞台などで行われるプレゼン、ビデオブログ、YouTube動画制作、ライブストリーミングなどの用途に最適です。
プロフェッショナルなサウンド。使いやすさ
Wireless GO のシステムは 3 秒以内で自動ペアリングし、RØDE のシリーズIII 2.4GHz デジタル通信で伝送します。この伝送システムは高密度 RF・Wi-Fi 環境における比較的短い範囲での使用に最適化されていますが、見通しの良い場所であれば最大 70 m の範囲まで機能します。カメラまたは録音デバイスに合わせて出力を正確に調整する 3 段階のゲインコントロールと、便利なバッテリーセーバーモードがあります。内蔵型リチウムイオンバッテリーは、USB-C 経由で充電が可能で、最大 7 時間使用できます。
ランアンドガン (速攻) のためのオールインワン設計
無指向性コンデンサーマイクが内蔵された TX は、ブロードキャストグレードのオーディオを提供し、また 3.5 mm TRS 入力を通じてどのラベリアマイクとも併用できます。RX は、衣服やカメラのストラップにクリップで留めるか、またはカメラのコールドシューズに差し込んで固定できる、デュアルパーパスクリップが付いています。超コンパクト、超軽量で、驚くほどの汎用性があります。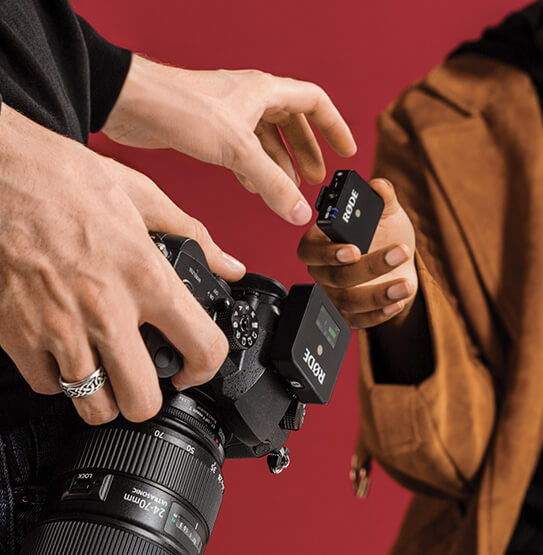 よくある質問
Q.
How do I connect the receiver to my smartphone?
A.
The receiver will connect to a smartphones' 3.5mm TRRS input with the SC7 cable. This also applies to tablets. Additional adaptors are likely to be required in the newer smartphone models to allow a 3.5mm input. iPhones with a Lightning input will require a Lightning to 3.5mm adaptor or an external interface like the SC6-L 3.5mm to Lightning adapter in combination with the SC7 cable. Alternatively, you can use the AI-Micro which has auto-sensing inputs for connecting TRS or TRRS microphones.
Q.
Which lapel microphones are compatible with the Wireless GO?
A.
The Wireless GO is compatible with all of RØDE's lavalier microphones. The Lavalier GO and RØDELink Lav will connect directly to the Wireless GO transmitters TRS input.
The Lavalier and PinMic will require the MiCon-2 connector.
Q.
Can I pair more than one transmitter to a receiver?
A.
No, the Wireless GO uses a 1-to-1 connection. You can only pair one transmitter per receiver at a time.
Q.
How do I mic up more than one person?
A.
If you need to mic up a second person you will need an additional Wireless GO system. You can attach both receivers to the cold shoe of your camera using the DCS-1 dual cold shoe mount. Then use the SC11 splitter cable to connect both receivers to the single mic input of your camera. If you want to connect the Wireless GOs to your phone you will also need the SC4 adapter cable – simply plug the SC11 single input into the SC4 and then into your mobile device.
Q.
Can I connect the Wireless GO to a mixing desk or XLR input?
Q.
How do I connect the Wireless GO to my computer/laptop?