Wireless GO
Système de microphone sans fil compact
Le Wireless GO est un système de microphone sans fil ultra-compact qui se distingue par les possibilités de son support clipsable et son format incroyablement compact. L'émetteur est doté d'une capsule à condensateur omnidirectionnelle intégrée et peut être utilisé comme micro à pince ou avec un micro-cravate RØDE pour transmettre un son cristallin de qualité broadcast via une transmission numérique de 2,4 GHz au récepteur de la caméra. C'est la solution de micro sans fil parfaite pour les créateurs de contenu en tout genre : cinéastes, présentateurs devant caméra, journalistes, vloggeurs et plus encore.


Caractéristiques principales :

L'émetteur fonctionne comme un microphone à pince ou un boitier ceinture pour un microphone cravate/casque.

Format ultra-compact - l'émetteur et le récepteur pèsent seulement 31 g chacun.

La transmission sans fil numérique Series III 2,4 GHz avec cryptage 128 bits offre un son cristallin dans toutes les conditions et excelle dans les environnements Wi-Fi et Bluetooth denses (centres commerciaux, congrès, hôtels, etc.).

Portée jusqu'à 70 m (ligne de visée), optimisée pour un fonctionnement à courte portée dans des environnements RF encombrés.

Batterie rechargeable intégrée qui dure jusqu'à 7 heures, chargée via USB-C.

Très simple à utiliser - appairage automatique de l'émetteur et du récepteur en moins de trois secondes.

Pad de sortie à 3 niveaux (0dB, -12dB et -24dB) et mode économiseur de batterie.

Utilisez jusqu'à huit systèmes au même endroit.

Existe en noir ou blanc.

Conçu et fabriqué dans les installations de fabrication de précision de RØDE à Sydney, en Australie.
Transmitter operates as a clip-on microphone or beltpack for a lavalier/headset microphone
Ultra-compact form-factor – transmitter and receiver weigh a minuscule 31g each
Series III 2.4GHz digital wireless transmission with 128-bit encryption delivers crystal-clear audio under any conditions and excels in dense Wi-Fi and Bluetooth environments (shopping malls, conventions, hotels etc)
Up to 70m range (line-of-sight), optimised for short-range operation in congested RF environments.
In-built rechargeable batteries that last up to 7 hours, charged via USB-C
Super easy to use – transmitter and receiver auto-pair in under three seconds
3-stage output pad (0dB, -12dB and -24dB) and battery saver mode
Use up to eight systems in one location
Comes in either black or white
Designed and made in RØDE's precision manufacturing facilities in Sydney, Australia
Un petit format pour de grands résultats
Le système Wireless GO est la quintessence d'un "petit microphone sans fil". L'émetteur (TX) et le récepteur (RX) ne pèsent que 31 g chacun. Le TX fonctionne comme un microphone à pince discret ou comme le plus petit boitier ceinture au monde pour un micro-cravate RØDE - l'idéal pour la création de contenu, la réalisation de films, la présentation sur caméra ou sur scène, le vlog, YouTube, la diffusion en direct et plus encore.
Un son professionnel et une utilisation facile
Le système Wireless GO s'apparie automatiquement en moins de trois secondes et offre une transmission numérique 2,4 GHz Series III de RØDE, qui est optimisée pour un fonctionnement à plus courte portée dans des environnements denses en RF et Wi-Fi, mais offre également une portée impressionnante de 70 m en ligne de visée. Il y a un contrôle de gain en 3 étapes pour adapter précisément votre sortie à votre appareil photo ou appareil d'enregistrement, et un mode d'économie de batterie pratique. Les batteries lithium-ion intégrées durent jusqu'à 7 heures et sont chargées via USB-C.
Tout-en-un pour tourner à la volée
Le TX dispose d'un microphone à condensateur omnidirectionnel intégré qui offre un son de qualité broadcast et peut également être utilisé avec n'importe quel micro-cravate via l'entrée TRS 3,5 mm. Le RX dispose d'un clip à double usage qui peut soit se clipser sur des vêtements ou une sangle d'appareil photo, soit se glisser en toute sécurité dans le support cold shoe de votre appareil photo. Ultra-compact, super léger et incroyablement polyvalent.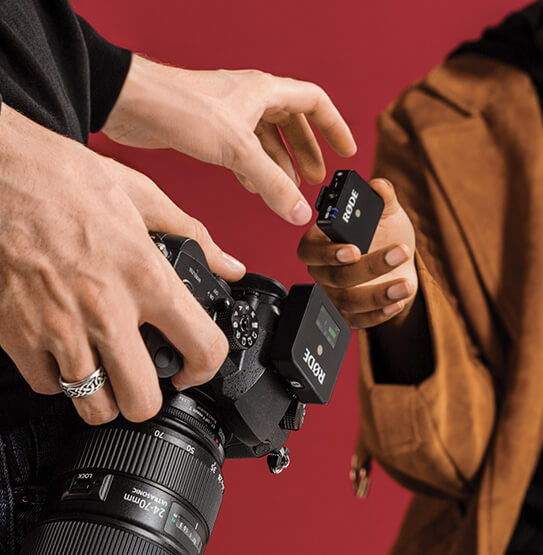 Foire aux questions
Q.
How do I connect the receiver to my smartphone?
A.
The receiver will connect to a smartphones' 3.5mm TRRS input with the SC7 cable. This also applies to tablets. Additional adaptors are likely to be required in the newer smartphone models to allow a 3.5mm input. iPhones with a Lightning input will require a Lightning to 3.5mm adaptor or an external interface like the SC6-L 3.5mm to Lightning adapter in combination with the SC7 cable. Alternatively, you can use the AI-Micro which has auto-sensing inputs for connecting TRS or TRRS microphones.
Q.
Which lapel microphones are compatible with the Wireless GO?
A.
The Wireless GO is compatible with all of RØDE's lavalier microphones. The Lavalier GO and RØDELink Lav will connect directly to the Wireless GO transmitters TRS input.
The Lavalier and PinMic will require the MiCon-2 connector.
Q.
Can I pair more than one transmitter to a receiver?
A.
No, the Wireless GO uses a 1-to-1 connection. You can only pair one transmitter per receiver at a time.
Q.
How do I mic up more than one person?
A.
If you need to mic up a second person you will need an additional Wireless GO system. You can attach both receivers to the cold shoe of your camera using the DCS-1 dual cold shoe mount. Then use the SC11 splitter cable to connect both receivers to the single mic input of your camera. If you want to connect the Wireless GOs to your phone you will also need the SC4 adapter cable – simply plug the SC11 single input into the SC4 and then into your mobile device.
Q.
Can I connect the Wireless GO to a mixing desk or XLR input?
Q.
How do I connect the Wireless GO to my computer/laptop?