Wireless GO
Kompaktes drahtloses Mikrofonsystem
Wireless GO ist ein ultrakompaktes, drahtloses Mikrofonsystem, das über einzigartige "Clip-and-go"-Vielseitigkeit verfügt und mit einem unglaublich kompakten Formfaktor aufwartet. Der Sender besitzt eine eingebaute Allrichtungs-Kondensatorkapsel und er kann entweder als Ansteckmikrofon verwendet werden, oder mit einem RØDE Lavalier, um über einen digitalen 2,4-GHz-Kanal kristallklaren Sound in Broadcast-Qualität an den auf die Kamera aufgesetzten Empfänger zu übertragen. Es ist die perfekte drahtlose Mikrofonlösung für Inhaltsersteller aller Bereiche: Filmemacher, Moderatoren vor der Kamera, Nachrichtensammler, Vlogger und andere. Hauptmerkmale: • Der Sender kann entweder als Ansteckmikrofon verwendet werden, oder als Gürtelpack für ein Lavalier/Headset-Mikrofon. • Ultrakompakter Formfaktor – Sender und Empfänger wiegen jeweils nur 31 g! • Dank der digitalen, drahtlosen 2,4-GHz-Übertragung der Serie III sowie der 128-Bit-Verschlüsselung erhalten Sie unter allen Bedingungen kristallklaren Sound, der sich sogar in Umgebungen auszeichnet, in denen es von Funksignalen (WLAN, Bluetooth) nur so wimmelt (Einkaufszentren, Versammlungen, Hotels usw.). • Reichweite bis 70 m (Sichtkontakt), optimiert für kurze Reichweiten in überfüllten HF-Umgebungen. • Eingebaute Akkus mit bis zu 7 Stunden Betriebsdauer; Ladung über USB-C. • Kinderleicht zu benutzen – Sender und Empfänger verbinden sich in weniger als 3 Sekunden miteinander. • 3-stufiges Ausgangs-Dämpfungsglied (0 dB, –12 dB und –24 dB) und Energiesparmodus. • Einsatz von bis zu 8 Systemen an einem Standort möglich. • Wahlweise in Schwarz oder Weiß lieferbar. • Entwickelt und hergestellt in RØDEs Präzisionsfertigung in Sydney, Australien.
Transmitter operates as a clip-on microphone or beltpack for a lavalier/headset microphone
Ultra-compact form-factor – transmitter and receiver weigh a minuscule 31g each
Series III 2.4GHz digital wireless transmission with 128-bit encryption delivers crystal-clear audio under any conditions and excels in dense Wi-Fi and Bluetooth environments (shopping malls, conventions, hotels etc)
Up to 70m range (line-of-sight), optimised for short-range operation in congested RF environments.
In-built rechargeable batteries that last up to 7 hours, charged via USB-C
Super easy to use – transmitter and receiver auto-pair in under three seconds
3-stage output pad (0dB, -12dB and -24dB) and battery saver mode
Use up to eight systems in one location
Comes in either black or white
Designed and made in RØDE's precision manufacturing facilities in Sydney, Australia
Kleines Paket. Großes Ergebnis
Das Wireless GO-System ist der Inbegriff eines "kleinen drahtlosen Mikrofons". Sowohl Sender (TX) als auch Empfänger (RX) wiegen jeweils nur 31 g. Der Sender kann als diskretes Ansteckmikrofon oder als weltweit kleinstes Gürtelpack-Lavalier-Mikrofon von RØDE verwendet werden – perfekt für die Erstellung von Inhalten, Filmen, Präsentationen vor der Kamera oder auf der Bühne, Vlogging, YouTubing, Streaming und mehr.
Professioneller Sound. Bedienungsfreundlich
Das Wireless GO-System koppelt sich automatisch in 3 Sekunden und sendet mittels der 2,4-GHz-Übertragung der Serie III von RØDE, die zwar für den Betrieb mit kürzerer Reichweite in Umgebungen mit vielen HF- und WLAN-Signalen optimiert ist, jedoch bei Sichtkontakt sogar bis zu einer Entfernung von 70 m funktioniert! Dank der dreistufigen Verstärkungseinstellung können Sie Ihr Ausgangssignal genau an Ihre Kamera oder Ihr Aufzeichnungsgerät anpassen, und ein Energiesparmodus ist ebenfalls mit an Bord. Der eingebaute Lithium-Ionen-Akku ermöglicht bis zu 7 Stunden Betrieb und wird über USB-C geladen.
Alles in Einem für ... Action!
Der Sender hat ein Allrichtungs-Kondensatormikrofon eingebaut, das Ihr Audiosignal in Broadcast-Qualität überträgt, er kann aber auch über den 3,5-mm-TRS-Eingang mit jedem beliebigen Lavalier-Mikro verwendet werden. Der Empfänger ist mit einer Doppelfunktions-Ansteckhalterung ausgestattet, so dass Sie ihn entweder an ein Kleidungsstück oder einen Kameragurt befestigen oder ihn sicher in den Blitzschuh-Adapter Ihrer Kamera schieben können. Ultrakompakt, superleicht und unglaublich vielseitig.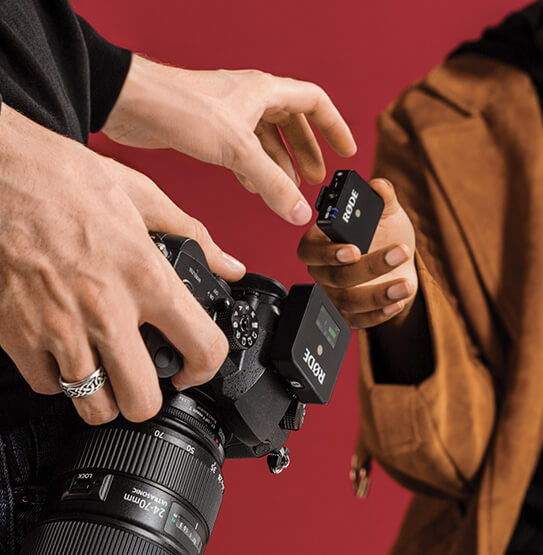 Häufig gestellte Fragen
Q.
How do I connect the receiver to my smartphone?
A.
The receiver will connect to a smartphones' 3.5mm TRRS input with the SC7 cable. This also applies to tablets. Additional adaptors are likely to be required in the newer smartphone models to allow a 3.5mm input. iPhones with a Lightning input will require a Lightning to 3.5mm adaptor or an external interface like the SC6-L 3.5mm to Lightning adapter in combination with the SC7 cable. Alternatively, you can use the AI-Micro which has auto-sensing inputs for connecting TRS or TRRS microphones.
Q.
Which lapel microphones are compatible with the Wireless GO?
A.
The Wireless GO is compatible with all of RØDE's lavalier microphones. The Lavalier GO and RØDELink Lav will connect directly to the Wireless GO transmitters TRS input.
The Lavalier and PinMic will require the MiCon-2 connector.
Q.
Can I pair more than one transmitter to a receiver?
A.
No, the Wireless GO uses a 1-to-1 connection. You can only pair one transmitter per receiver at a time.
Q.
How do I mic up more than one person?
A.
If you need to mic up a second person you will need an additional Wireless GO system. You can attach both receivers to the cold shoe of your camera using the DCS-1 dual cold shoe mount. Then use the SC11 splitter cable to connect both receivers to the single mic input of your camera. If you want to connect the Wireless GOs to your phone you will also need the SC4 adapter cable – simply plug the SC11 single input into the SC4 and then into your mobile device.
Q.
Can I connect the Wireless GO to a mixing desk or XLR input?
Q.
How do I connect the Wireless GO to my computer/laptop?