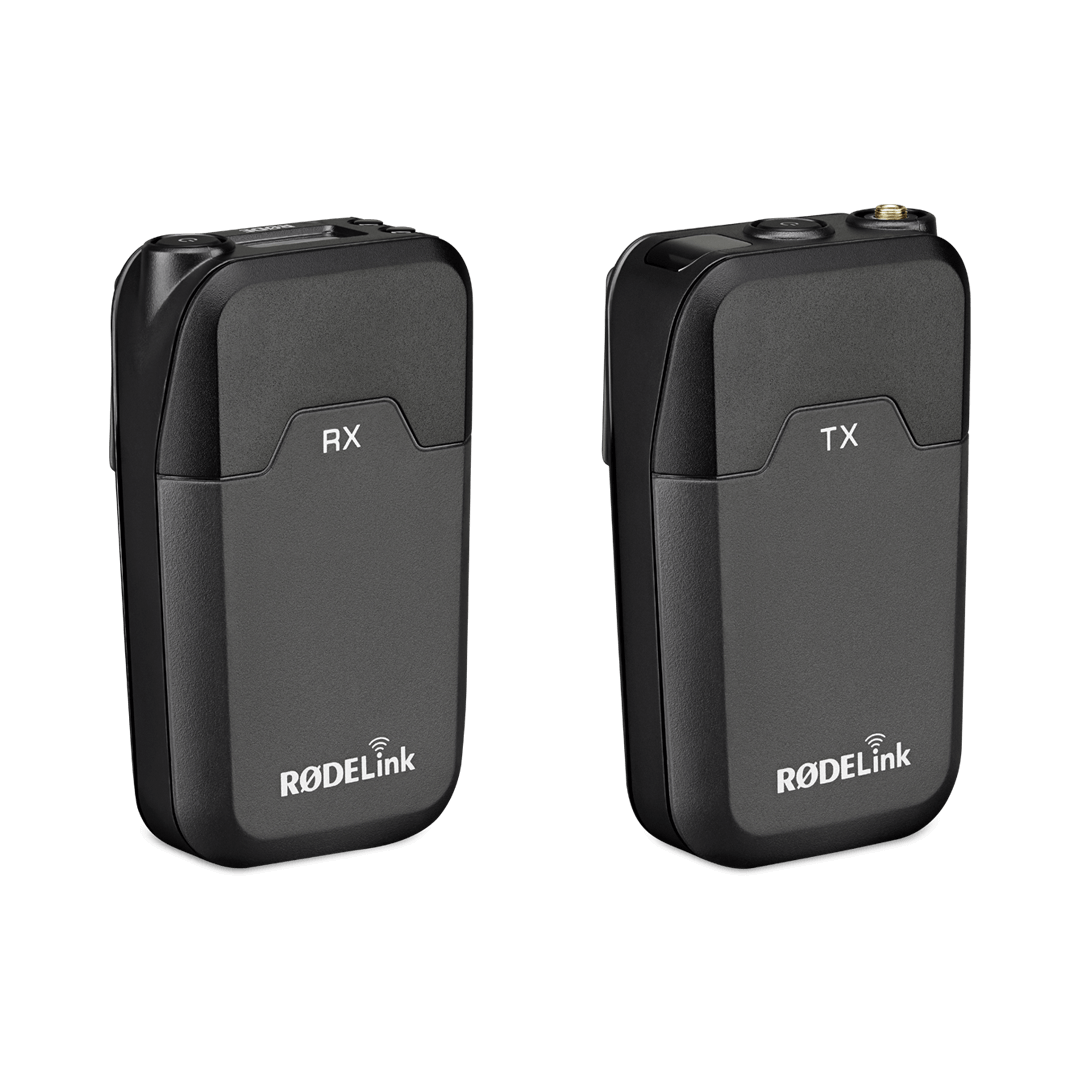 RØDELink Filmmaker Kit
Digitales Funksystem für Filmemacher
RØDELink steht für eine Reihe von digitalen Funksystemen. Durch die Verwendung einer digitalen 2,4-GHz-Datenübertragung der Klasse II mit 128-Bit-Verschlüsselung ist es in der Lage, ständig zu überwachen und zwischen den Frequenzen zu wechseln, wodurch das stärkstmögliche Signal in einer Reichweite von bis zu 100 Metern* aufrechterhalten wird. Das RØDELink Filmmaker Kit enthält alles, was Sie für kabellose Videoaufnahmen benötigen, darunter einen Empfänger, einen Sender und ein sendefähiges Lavaliermikrofon. Der Empfänger (RX-CAM) verfügt über ein OLED-Display mit Informationen zu Pegel, Batteriestatus (Empfänger und Sender), Stummschaltung und Kanalauswahl. Das Gerät kann an einer standardmäßigen Kameraschuhhalterung, einem 3/8-Zoll-Gewinde oder einer Gürtelklammer befestigt werden. Für zusätzliche Flexibilität kann die Schuhhalterung in einer von zwei Positionen angebracht werden. Der leichte Sender (TX-BELT) kann an einem Gürtel oder an der Kleidung befestigt werden und verfügt über ein Feststellgewinde, um ein möglichst sicheres Anstecken des Mikrofons zu gewährleisten. RØDE liefert ein Lavaliermikrofon mit Kugelausrichtung für die bestmögliche Qualität der Audiowiedergabe mit.
Häufig gestellte Fragen
Q.
Is the lavalier microphone supplied with the Filmmaker Kit the same as RØDE's Lavalier microphone?
A.
No, the lav mic included is a different microphone and does not have a removable adaptor but rather a fixed 3.5mm connector with locking thread. While both are broadcast-grade in performance, the Lavalier supports the MiCon adaptor system for a wide range of compatibility with popular audio devices.
Q.
Can I connect the output of the RØDELink Filmmaker Kit receiver (RX-CAM) to an XLR input?
A.
Yes you can, using a 3.5mm to XLR adaptor such as the RØDE VXLR Pro.