PodMic USB
Versatile Dynamic Broadcast Microphone
Das PodMic USB ist ein äußerst vielseitiges dynamisches Mikrofon, das sich ideal für Podcasting, Streaming, Spiele und andere Sprachanwendungen eignet. Es liefert einen satten, vollen Klang und verfügt sowohl über einen XLR- als auch einen USB-Ausgang für den Anschluss an eine Audioschnittstelle oder Mischpult als klassisches Rundfunkmikrofon, lässt sich für die Plug-and-Play-Aufnahme aber auch direkt an einen Computer anschließen. Der digitale USB-Ausgang verfügt über den Revolution Preamp™ mit extrem niedrigem Rauschen und hoher Verstärkung und eine leistungsstarke digitale APHEX®-Signalverarbeitung von RØDE für die mühelose Aufnahme von Tonmaterial in Studioqualität und einen latenzfreien Kopfhörerausgang mit Pegelregler, der eine problemlose Aufnahme ermöglicht. Für noch mehr Vielseitigkeit ist das PodMic USB auch vollständig kompatibel mit iOS- und Android-Mobilgeräten und bietet eine hochwertige portable Podcasting- oder Streaming-Lösung.
Wichtigste Merkmale
Dynamisches Mikrofon mit Sendequalität
Analoge XLR- und digitale USB-C-Konnektivität
Vollständig kompatibel mit Windows- und Mac-Computern sowie iOS- und Android-Geräten
Integrierter DSP für moderne Audioverarbeitung mit APHEX®
Integrierter Kopfhörerausgang mit Lautstärkeregler, Stummschaltung und Zero-Latency-Monitoring
Kompatibel mit der Software-Suite von RØDE – RØDE Connect, RØDE Central, RØDE Capture und UNIFY
Integrierte Schwenkhalterung für einfache und sichere Neupositionierung
Integrierter Popschutzfilter zur Minimierung von Plosivlauten und interne Stoßdämpfer zur Reduzierung von Vibrationen
Inklusive externem Popschutzfilter in Studioqualität
Robuste Ganzmetallkonstruktion – unglaublich widerstandsfähig und äußerst langlebig
Entwickelt und hergestellt in den Einrichtungen von RØDE für die Präzisionsfertigung in Sydney, Australien
Broadcast-quality dynamic microphone
Analog XLR and digital USB-C connectivity
Fully compatible with Windows and Mac computers, and iOS and Android devices
On-board DSP for advanced APHEX® audio processing
Ultra-low-noise, high-gain Revolution Preamp™
Built-in headphone output with volume control and zero-latency monitoring
Compatible with RØDE's suite of software – RØDE Connect, RØDE Central, RØDE Capture and UNIFY
Integrated swing mount for simple and secure positioning
Internal pop filter for minimising plosives and internal shockmount to reduce vibrations
Studio-quality external pop filter included
Robust, all-metal construction – incredibly rugged and highly durable
Designed and made in RØDE's precision manufacturing facilities in Sydney, Australia
Ein Mikrofon wie ein Schweizer Taschenmesser
Das PodMic USB ist ein äußerst vielseitiges dynamisches Mikrofon für die Aufnahme von satten, sendefähigen Audiosignalen in allen erdenklichen Situationen. Dank seiner dualen XLR- und USB-Anschlüsse lässt es sich in einem Aufnahmestudio an ein analoges Mischpult anschließen, aber auch direkt an Ihren Computer. Sie können es sogar mit Ihrem Smartphone verbinden, um sofort loszulegen. Das PodMic USB ist perfekt, wenn Sie ein flexibles Mikrofon suchen, mit dem Ihre Inhalte in jedem Kontext hervorragend klingen.
Profi-Sound, wann und wo auch immer die Kreativität ruft
Das PodMic USB ist mit einer leistungsstarken Neodym-Kapsel ausgestattet und liefert einen warmen, detailreichen Klang mit unglaublicher Klarheit, wodurch es sich hervorragend für Sprachanwendungen eignet. Es verfügt über einen integrierten Popschutzfilter zur Minimierung von Plosivlauten, eine interne Aufhängung zur Verringerung von Vibrationen und wird mit einem zusätzlichen externen Popschutzfilter in Studioqualität geliefert, um sicherzustellen, dass Sie jederzeit klares, sauberes Audio aufnehmen können.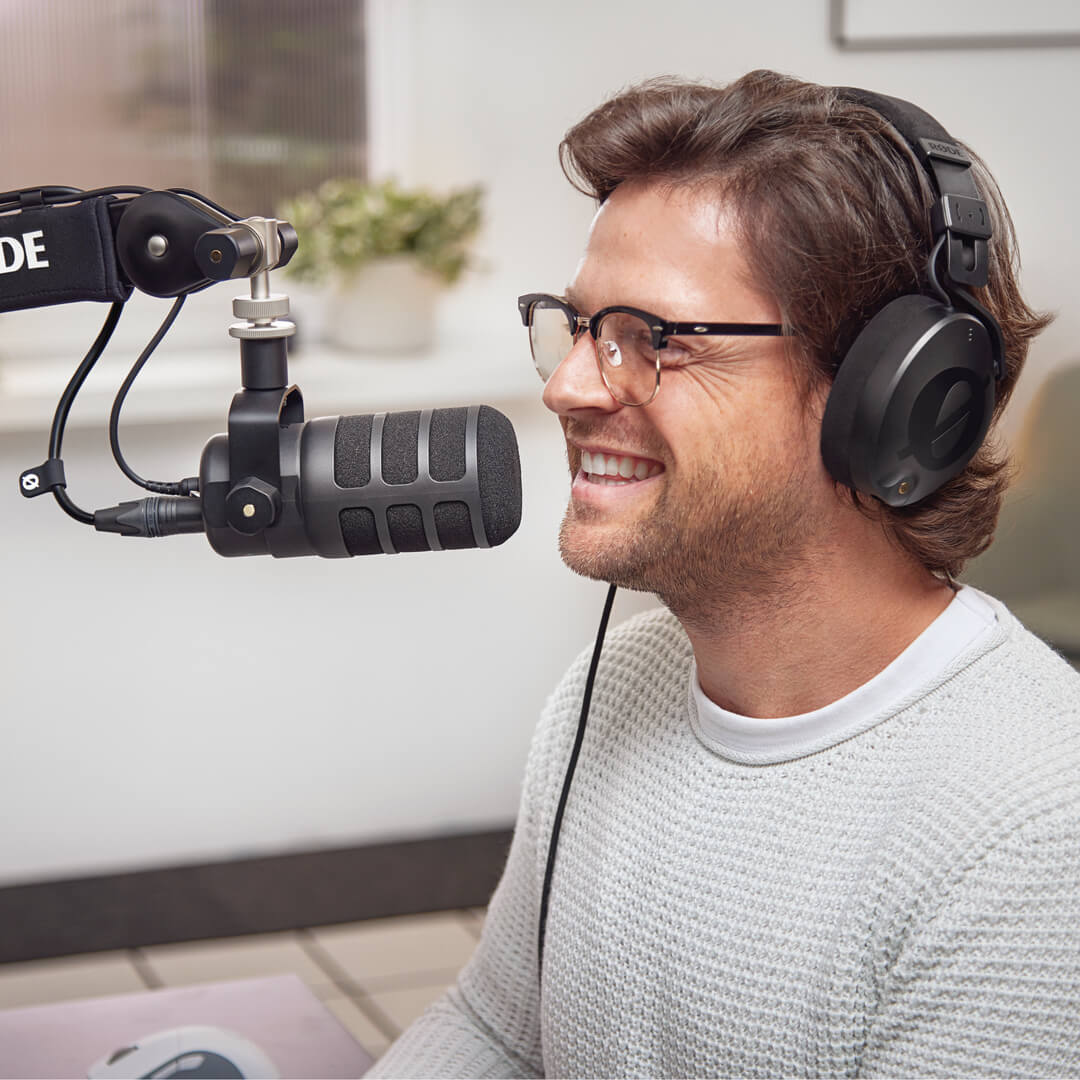 Umfassende Aufnahmelösung
Das PodMic USB verfügt über einen leistungsstarken integrierten DSP (Digital Signal Processing) von APHEX®, der die Aufnahme professionell klingender Audiosignale erleichtert. Verwenden Sie VoxLab™, um schnell den perfekten Sound einzustellen, oder tauchen Sie tief in die Feineinstellung für Hochpassfilter, Noise Gate, Kompressor und die legendären Aural Exciter™ und Big Bottom™ ein. Dank des Kopfhörerausgangs mit integriertem Pegelregler für die Lautstärkeregelung können Sie Ihr Audiomaterial ohne Latenz abhören. Die perfekte Komplettlösung für die Aufnahme.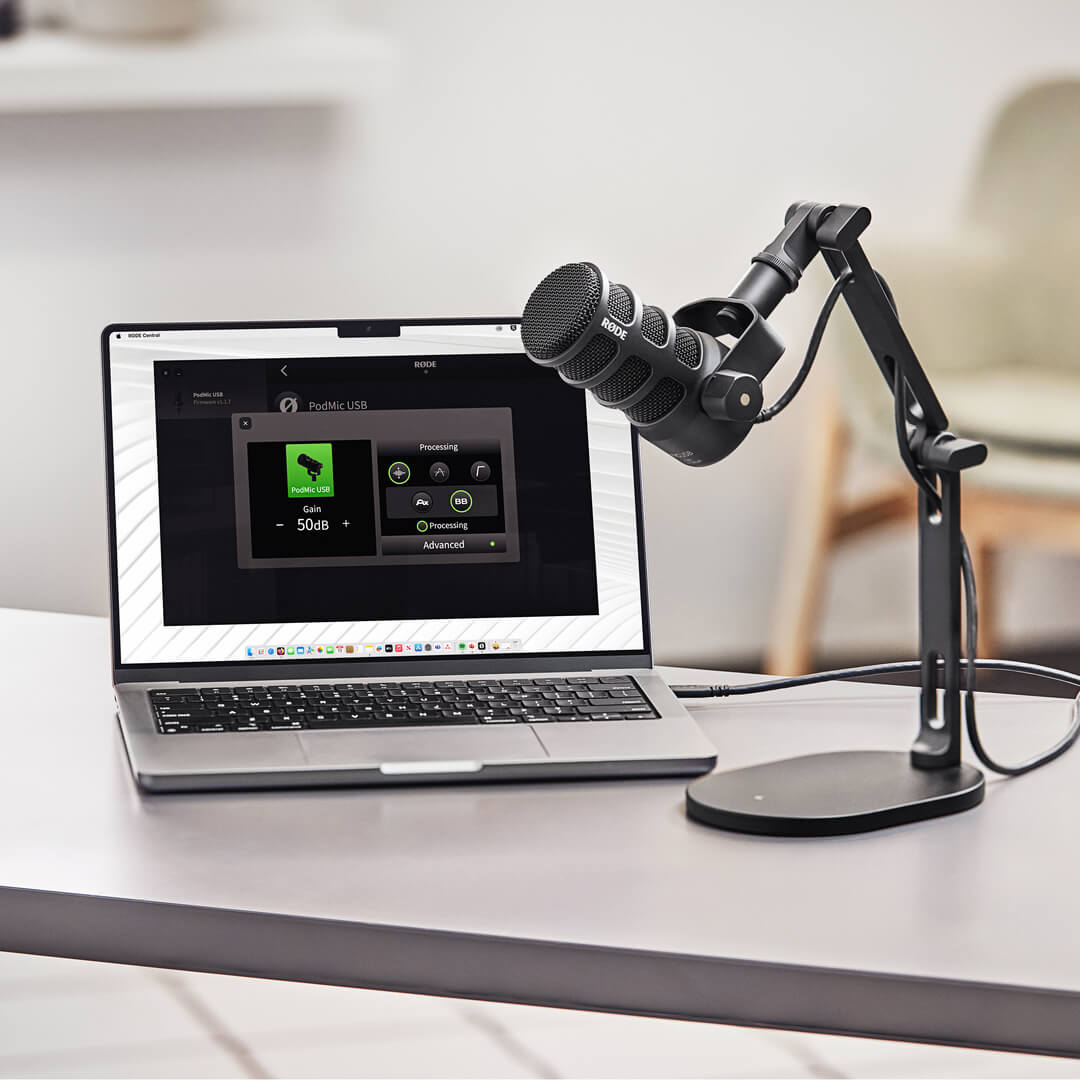 Nehmen Sie Ihr Studio mit auf Reisen
Sie können das PodMic USB nicht nur an Ihr bevorzugtes Audio-Interface, Mischpult, Laptop oder Computer anschließen, sondern es lässt sich auch nahtlos mit iOS- und Android-Smartphones und -Tablets verbinden. Das bedeutet, dass das PodMic USB das perfekte Werkzeug für die Aufnahme von Audio in Sendequalität ist, wenn Sie nicht im Studio sind oder einfach nur ein kompakteres Setup wünschen – denn es ist ein professionelles und tragbares Aufnahmegerät für unterwegs.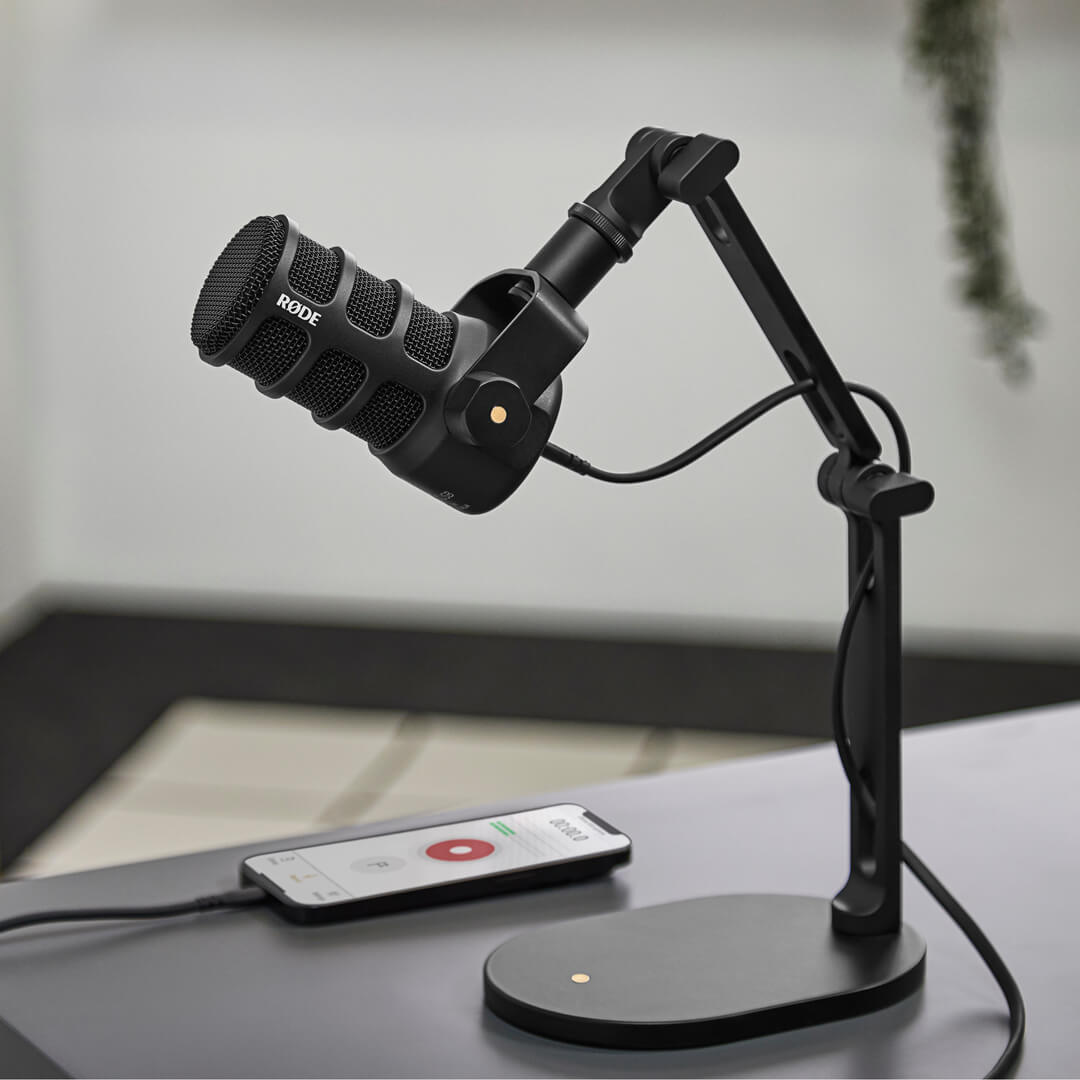 Elegantes Aussehen, langlebige Bauweise
Mit seiner klassischen Ästhetik eines Rundfunkmikrofons und dem eleganten, mattschwarzen Finish strahlt das PodMic USB Klasse aus, ist aber auch unglaublich robust und langlebig. Das PodMic USB besteht aus hochwertigen Komponenten, die in einem äußerst robusten Gehäuse untergebracht sind. Es ist für den harten Aufnahmealltag zu Hause, im Studio und unterwegs bestens gerüstet und wird mit einer branchenweit führenden Fünfjahresgarantie geliefert.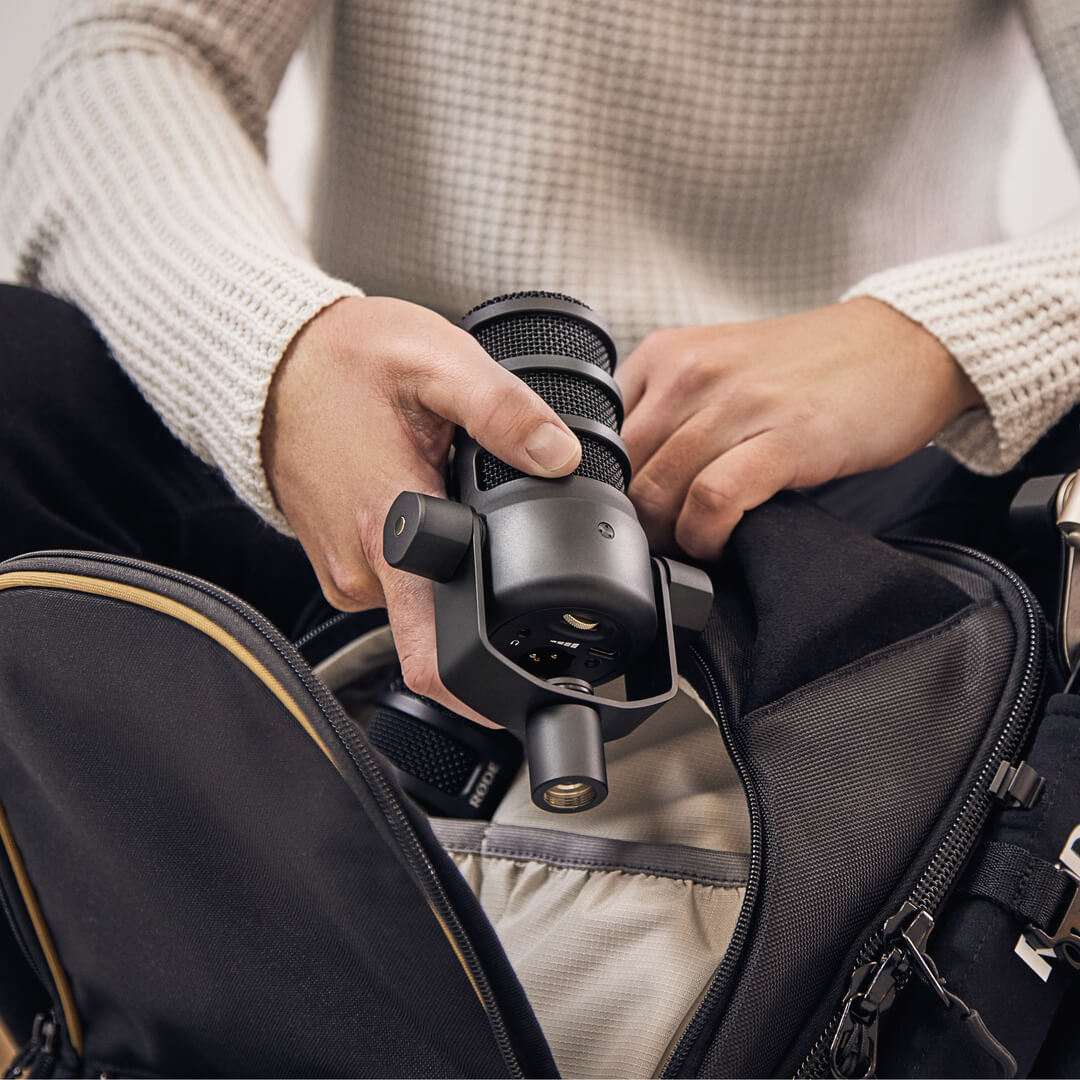 Setzen Sie Ihr kreatives Potenzial frei – mit der RØDE App Suite
PodMic USB Benutzerhandbuch
In diesem umfassenden Benutzerhandbuch erfahren Sie alles, was Sie über die Verwendung Ihres PodMic USB wissen müssen, z. B. wie Sie über die analogen und digitalen Anschlüsse aufnehmen, den erweiterten DSP verwenden und vieles mehr.