AI-1
Einkanaliges Audiointerface
Das AI-1 ist ein professionelles Einkanal-Audiointerface, das eine außergewöhnliche Audioqualität für alles bietet, von Musikaufnahmen im Schlafzimmer bis hin zu Livestreaming und Podcasts. Ausgestattet mit einem Vorverstärker in Studioqualität, einer hochwertigen Neutrik™-Kombibuchse zum Anschließen von Mikrofonen oder Instrumenten und einem Hochleistungs-Kopfhörerverstärker für kristallklares Audio-Monitoring und -Wiedergabe, ist es die perfekte Schnittstelle für die Aufnahme von Audio in Studioqualität zu Hause.
Schlüsselfunktionen:
Einkanaliges Audio-Interface in Profiqualität
Neutrik Combo-Buchse zum Anschluss von Mikrofonen, Gitarren, Synthesizern und anderen Instrumenten
Studiotauglicher Vorverstärker mit Pegelanzeige
Hochleistungs-Kopfhörerverstärker
Professional-grade single-channel audio interface
Neutrik combo jack for connecting microphones, guitars, synthesisers and other instruments
Studio-grade preamp with level indicator
High-power headphone amplifier
Klang in Studioqualität mit Leichtigkeit
Mit einem einzigen Eingang und optimierten Steuerelementen ist das AI-1 unglaublich bedienungsfreundlich – schließen Sie es einfach an Ihren Computer an, schließen Sie Ihr Mikrofon oder Instrument an und drücken Sie auf Aufnahme. Unter der Haube hat das AI-1 einiges zu bieten: einen extrem rauscharmen Vorverstärker in Studioqualität für unverfälschte Audioaufnahmen, symmetrische ¼-Zoll-Ausgänge für den Anschluss Ihrer Lieblingslautsprecher und einen leistungsstarken Kopfhörerverstärker, der professionelle Modelle mit hoher Impedanz für einwandfreies Monitoring ansteuern kann.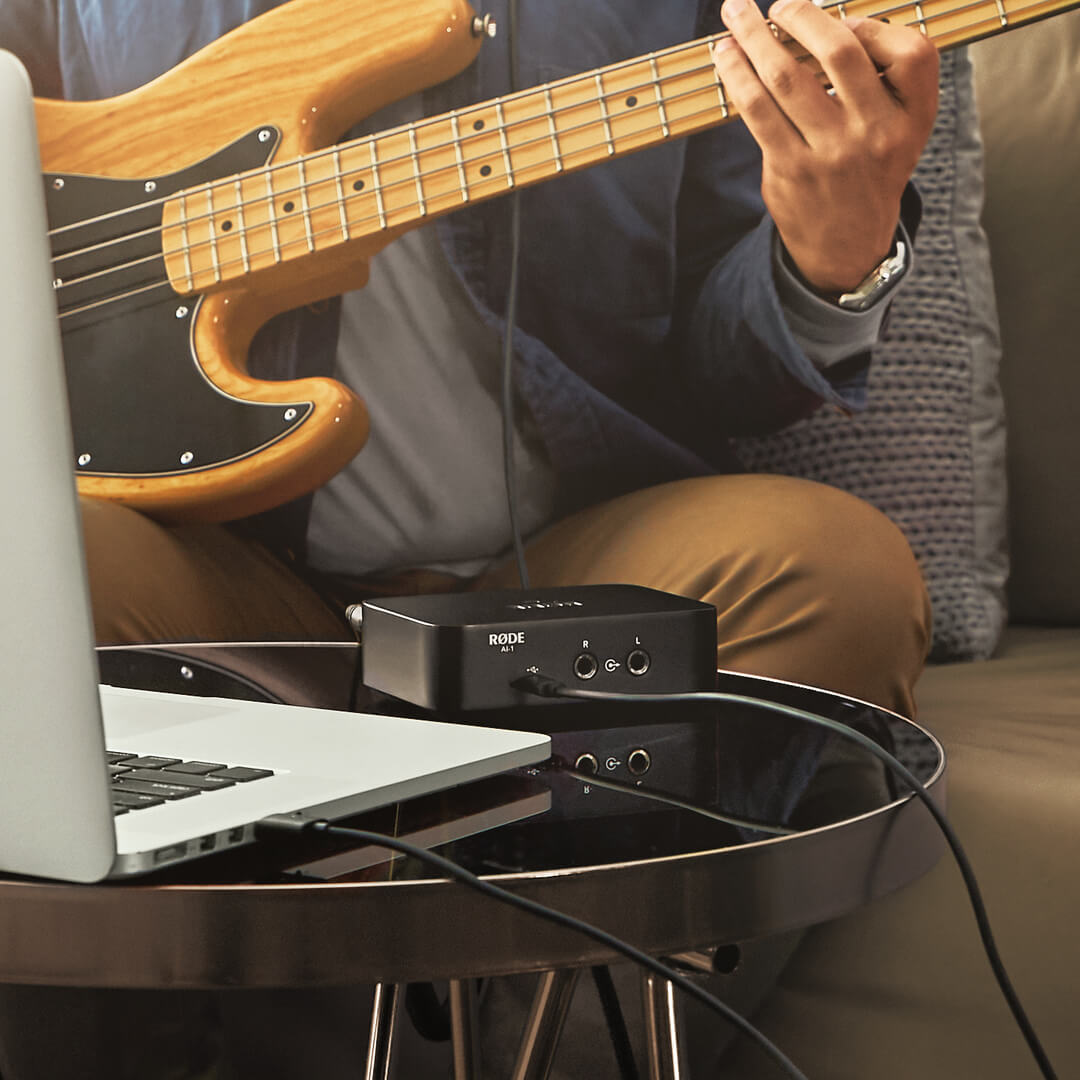 Verbinden Sie sich und seien Sie kreativ
Das AI-1 verfügt über eine hochwertige Neutrik-Kombinationsbuchse für den Anschluss von XLR- und ¼-Zoll-Kabeln, so dass Sie Ihr Mikrofon, Ihre Gitarre, Ihren Bass oder Ihren Synthesizer mühelos anschließen können. Die schaltbare Phantomspeisung stellt sicher, dass jedes Mikrofon unterstützt wird, während die einfache LED-Anzeige es Ihnen ermöglicht, den Eingangspegel zu überwachen, um jederzeit kristallklaren Klang zu erhalten. Jedes AI-1 wird mit einer kostenlosen Version von Ableton Lite ausgeliefert, sodass Sie sofort mit der Aufnahme beginnen können. Egal, ob Sie Livestreaming betreiben oder vielschichtige Musik schaffen, das AI-1 fängt Ihre Klangvorstellungen in jedem Detail ein.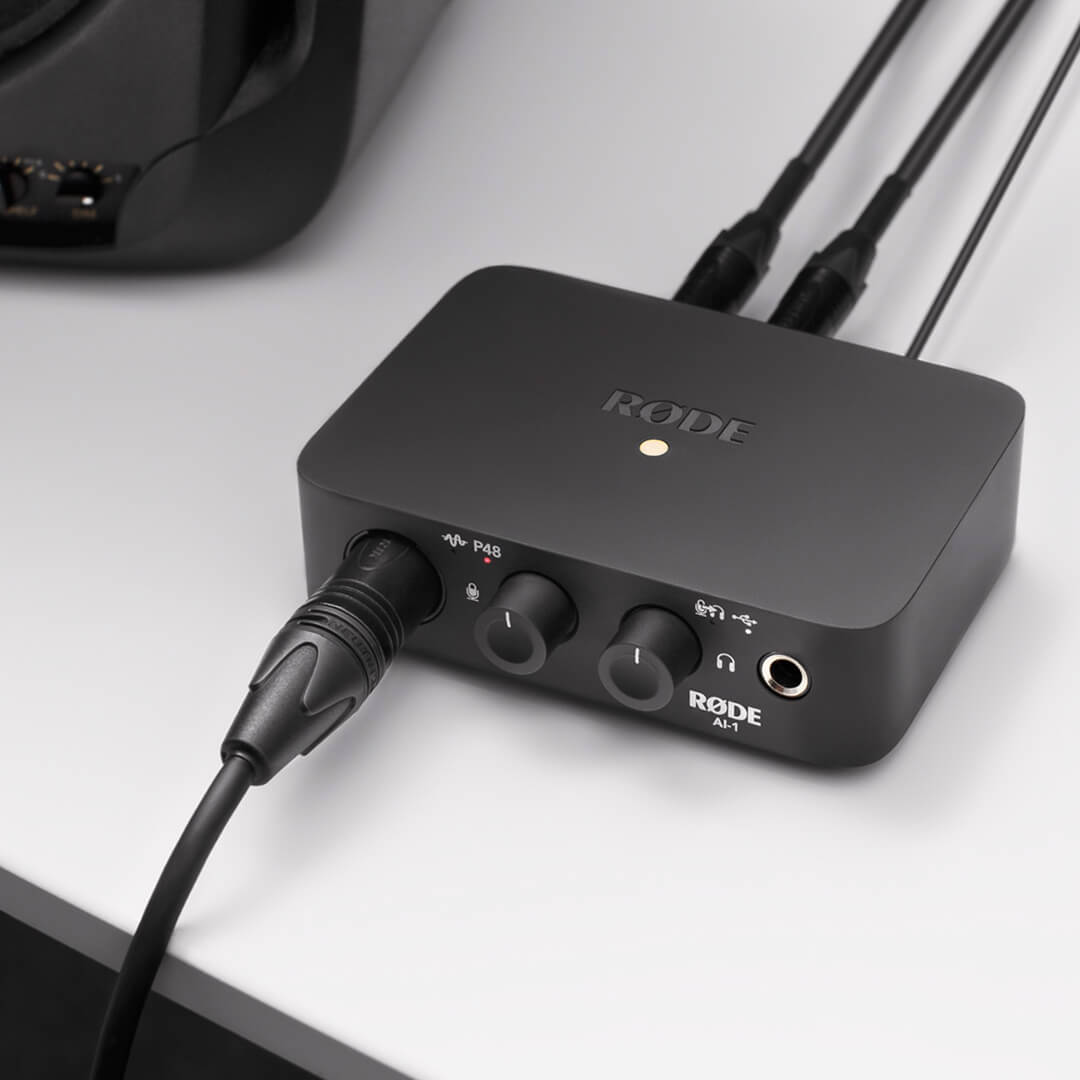 RØDE Central
RØDE Central ist eine benutzerfreundliche Begleit-App für das AI-1 (und andere RØDE-Geräte), mit der Sie auf Geräteinformationen zugreifen und auf die neueste Firmware aktualisieren können. Die neueste Firmware-Version bietet einen erweiterten Verstärkungsbereich für eine verbesserte Leistung bei dynamischen Mikrofonen mit geringer Ausgangsleistung. Zum Aktualisieren laden Sie RØDE Central herunter und folgen den Anweisungen.
Anmerkung: Systemanforderungen: MacOS 10.13 oder höher; Windows 10 Version 1803 oder höher; iOS 14 oder höher; Android 9.0 oder höher.
RØDE Central jetzt kostenlos herunterladen.