NTG5
VOR-ORT-AUFNAHMESET
Das NTG5 ist ein kurzes, ultraleichtes Richtrohrmikrofon, das sich für die meisten anspruchsvollen Aufnahmeanwendungen perfekt eignet. Mit einem revolutionären akustischen Design, dem genau geregelten Frequenzgang, einem gleichmäßigen seitlichen Ansprechverhalten und dem äußerst geringen Eigenrauschen (nur 10 dBA) überträgt das NTG5 in einer breiten Palette von Anwendungen spektakulären Klang – insbesondere bei Vor-Ort-Aufnahmen und Filmaufnahmen, bei denen hochwertiger Sound das A und O ist.
Revolutionäres Akustikdesign für beispiellose akustische Transparenz und einen natürlichen, unverfärbten Klang.
Extrem leicht (nur 76 g) und kurz (nur 203 mm)
Streng kontrollierter Frequenzgang und sehr geringes Eigenrauschen
Ausgeprägte Supernieren-Richtcharakteristik
HF-Vorspannungs-Technologie und entsprechende Schutzschicht sorgen auch unter widrigen Bedingungen für herausragende Leistung
Lieferung im kompletten Außenaufnahmeset mit WS10-Windschutz, PG2-R-Pistolengriff und Zubehör

Revolutionary acoustic design with unmatched acoustic transparency and a natural, uncoloured sound
Extremely lightweight (just 76g) and short in length (just 203mm)
Tightly controlled frequency response and very low self-noise
Highly directional supercardioid polar pattern
RF-bias technology and conformal coating ensure superior performance in adverse conditions
Comes in a complete location recording kit with WS10 windshield, PG2-R pistol grip and accessories

Revolutionäres Akustikdesign
Das NTG5 zeichnet sich durch ein revolutionäres akustisches Design aus, das mit keinem anderen Richtmikrofon vergleichbar ist. Anstelle von linearen Schlitzen werden kreisförmige akustische Perforierungen verwendet, die eine größere akustische Transparenz und einen natürlichen, unverfärbten Klang für eine hervorragende Leistung bei einer Vielzahl von Aufnahmeanwendungen bieten.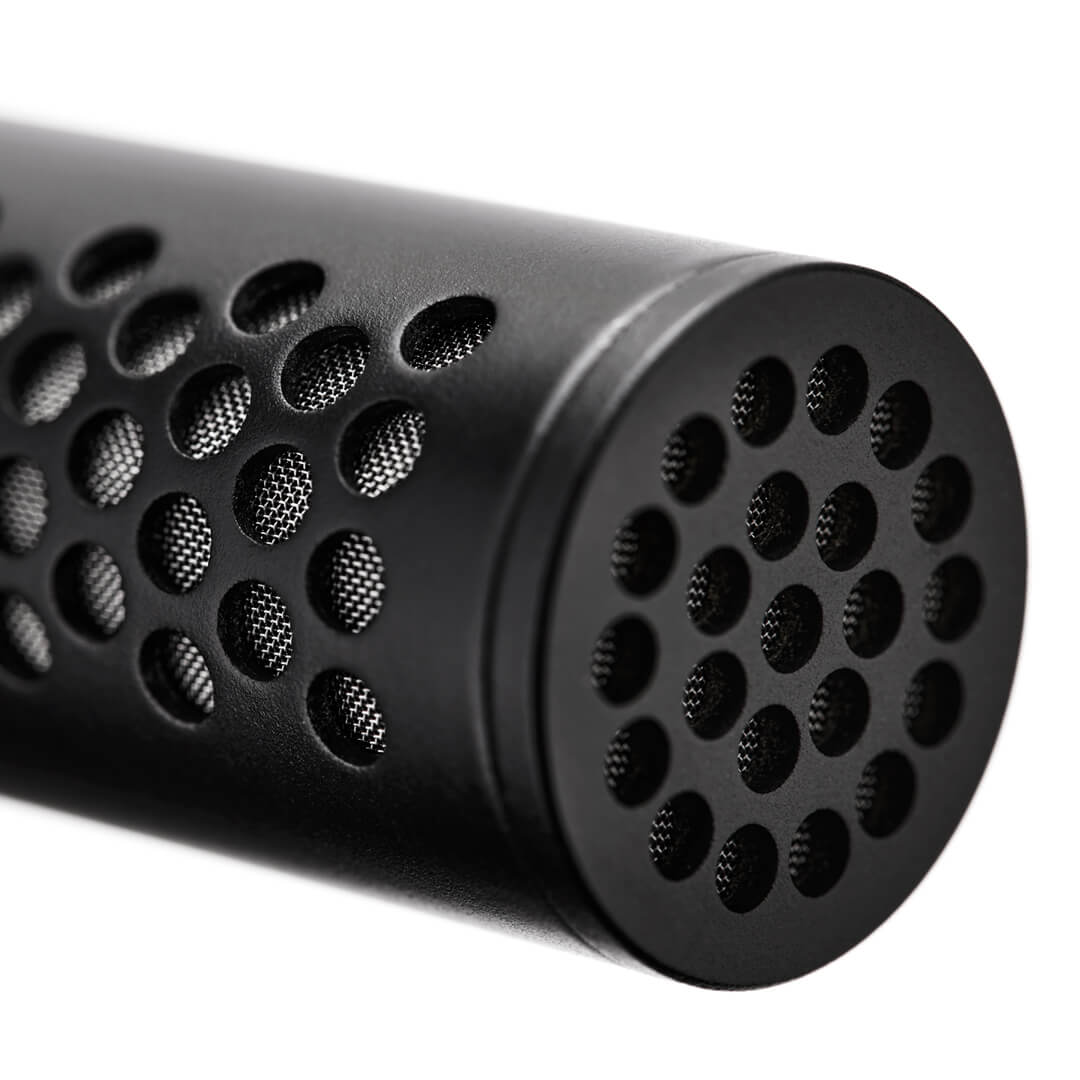 Der Traum jedes Tonassistenten
Das NTG5 besitzt ein kurzes, superleichtes Alugehäuse (nur 76 g!), was es zu einem der kompaktesten professionellen Richtrohrmikrofone des Marktes macht – etwas, wonach sich Tonassistenten auf langen Drehs sowie Filmemacher und Tontechniker sehnen, die stets auf der Suche nach tragbarer und leichter Ausrüstung mit Audio in spektakulärer Broadcast-Qualität sind.

Das perfekte Mikro für Außenaufnahmen
Mit seinem genau geregelten Frequenzgang, geringem Eigenrauschen, punktgenau ausgeprägter Supernieren-Richtcharakteristik und gleichmäßigem seitlichem Ansprechverhalten liefert das NTG5 in einer Vielzahl von Anwendungen spektakulären Sound. Außerdem verfügt es über eine HF-Vorspannungstechnologie und eine konforme Beschichtung der Elektronik, die das Mikrofon vor Feuchtigkeit und Nässe schützt und auch unter rauen Umgebungsbedingungen eine hohe Zuverlässigkeit gewährleistet. Das NTG5 ist das perfekte Mikro für Außenaufnahmen und anspruchsvolle Filmszenen, bei denen makelloser Klang ein Muss ist. Keine Ausreden!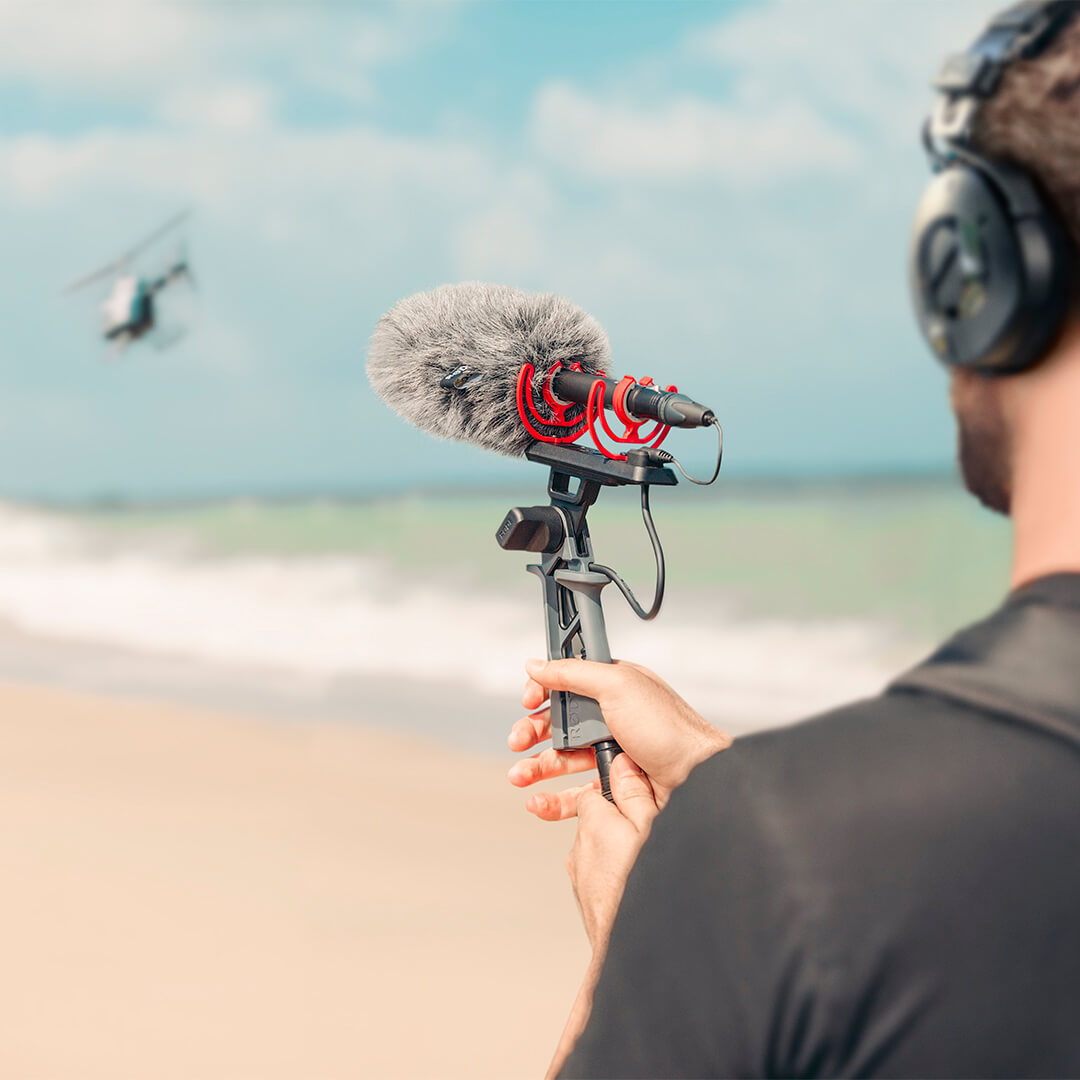 Downloads
Regulatory and Safety Guide
---
Häufig gestellte Fragen
Q.
What is the difference between the NTG3 and the NTG5?
A.
The NTG5 builds on the ground-breaking technology of the NTG3 (namely the RF-bias technology, which ensures better immunity to moisture and other environmental factors that can affect performance) with a focus on making it the ideal location recording microphone.
First of all, it is much shorter and lighter than the NTG3, which makes it easier to handle on a boom pole. It also features a revolutionary new acoustic design, which delivers a beautifully natural and uncoloured sound; and it has a less pronounced low end response than the NTG3, which is preferable when recording on-location. Lastly, the electronics have been redesigned, resulting in lower self-noise than the NTG3 (10dBA vs 13dBA).
They are both great microphones that can be used interchangeably in many scenarios. However, the NTG5 excels as a location recording mic, whereas the NTG3's pronounced low end is ideal for recording indoors, voiceovers and other applications where rich bottom end is desired.
Q.
Why would I use the NTG5 on location instead of another shotgun mic?
A.
The NTG5 is incredibly light at just 76 grams, making it a dream for boom operators or filmmakers looking for a compact shotgun that delivers broadcast-grade audio. It has a flatter low end, making it ideal for recording outdoors and on-location. This also effectively provides the preamp with more headroom. Finally, the RF-bias circuitry and conformal coating improve the resilience of all electronic components.
Q.
Can the NTG5 be used as a voiceover microphone like the NTG3?
A.
Absolutely! The NTG3 is a legendary voiceover mic, which is largely due to the extended low end but also its natural high frequencies. The NTG5 has a flatter low end, but a very similar high frequency response to the NTG3 and will sound fantastic as a voiceover mic.
Q.
Does the shorter length of the NTG5 make it less directional?
A.
The active part of the line tube of the NTG5 is the same length as the NTG3, maintaining the directional characteristics of shotgun-style mics.
Q.
How resilient is the NTG5 in extreme weather?
A.
The NTG5's conformal coating is a thin layer of protective material that shields the active electronics from any moisture or particles, and the RF-biased circuitry is very resistant to moisture. This makes the NTG5 perfect for use in harsh weather conditions.