NT1 & AI-1 Complete Studio Kit
Komplettes Studio-Set
Das komplette Studio-Set von RØDE enthält alles, was Sie für professionelles Recording in Studioqualität zu Hause brauchen. Ausgestattet mit unserem Audiointerface AI-1, dem unvergleichlichen Großmembran-Kondensatormikrofon NT1 sowie einer SM6-Halterung und einem XLR-Kabel ist es der perfekte Einstieg ins Recording.
Hauptmerkmale:
Das Großmembran-Kondensatormikrofon NT1 sorgt für eine hervorragende Detailtreue und Klangwärme sowie ein äußerst geringes Eigenrauschen (nur 4,5 dB(A)).
Das AI-1 verfügt über einen äußerst rauscharmen XLR-Eingang und einen unaufdringlichen, leistungsstarken Kopfhörerverstärker für Recording, Monitoring und Mixdown in Studioqualität.
Der Neutrik™ Kombibuchseneingang erleichtert für ultimative Flexibilität das Anschließen von Mikrofonen, Gitarren, Synthesizern und anderen Instrumenten.
Inklusive SM6-Halterung und Popschutz in Studioqualität sowie einem XLR-Kabel, damit Sie sofort mit dem Recording beginnen können.
Ableton Live Lite kostenfrei bei jedem Kauf enthalten.

NT1 large-diaphragm condenser microphone delivers superb detail and warmth, and extremely low self-noise (just 4.5dBA).
AI-1 features an ultra-low-noise XLR input and a discreet, high-power headphone amplifier for studio-quality recording, monitoring and mixdown.
The Neutrik™ combi-jack input facilitates the connection of microphones, guitars, synthesisers and other instruments for ultimate flexibility.
Includes the studio-grade SM6 shock mount and pop filter, and an XLR cable so you can get recording right away.
Ableton Live Lite free with every purchase.

Der perfekte Einstieg ins Recording zu Hause
Der Name ist Programm. Das komplette Studio-Set bringt alles mit, was Sie für professionelles Recording in Studioqualität zu Hause benötigen. Dazu gehören das Audiointerface AI-1 von RØDE, das Großmembran-Kondensatormikrofon NT1, die SM6-Halterung mitsamt Popschutz sowie alle Kabel für den Anschluss. Jedem kompletten Studio-Set liegt außerdem eine kostenfreie Version der Aufnahmesoftware Ableton Live Lite bei, damit Sie sofort mit der Musik beginnen können.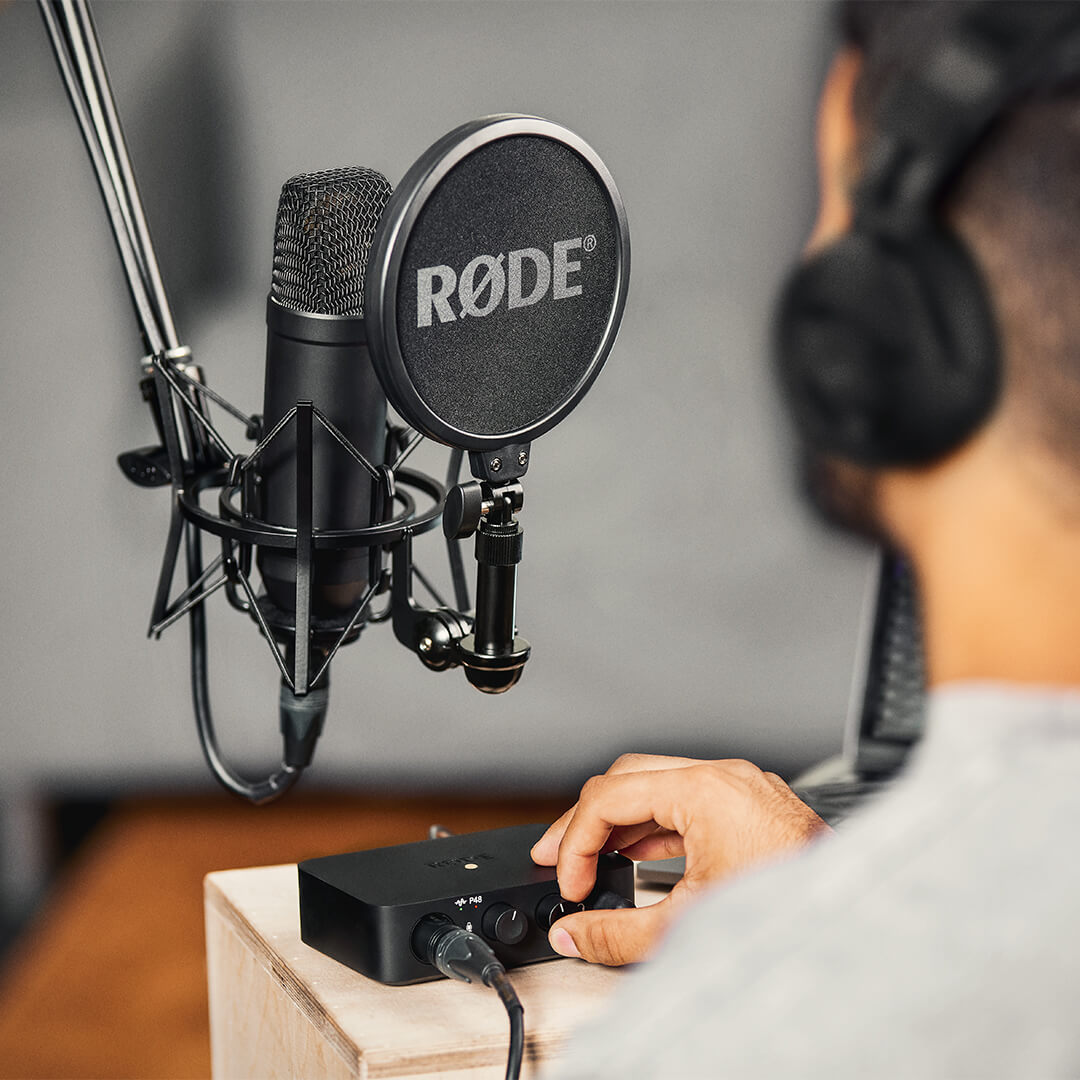 Einfach zu bedienen. Hervorragender Klang.
Der schlanke Formfaktor des AI-1 erlaubt eine wirklich einfache Einrichtung: Anschließen, Einstellen der Pegel und Loslegen. Der einzige Eingang ist eine hochwertige Neutrik Kombibuchse, die sowohl XLR- als auch ¼-Zoll-Kabel aufnehmen kann, damit Sie Ihr Mikrofon, Ihre Gitarre, Ihren Bass oder Ihren Synthesizer ohne weiteres anschließen können. Das AI-1 liefert eine Phantomspeisung mit 48 V und verfügt über eine Pegelanzeige, die sicherstellt, dass Sie den Vorverstärker nicht überlasten. Zusammen mit dem NT1 liefert das AI-1 kristallklaren Klang für jede Anwendung, egal, ob Sie Sprache für einen Podcast oder komplexe, vielschichtige Musik aufzeichnen.

Überlegenes Audio-Monitoring
Das AI-1 sendet nicht nur kristallklare Audiosignale an Ihre Computersoftware, sondern auch der Kopfhörerklang ist unerreicht – dank des diskreten, leistungsstarken Kopfhörerverstärkers. Die Audiowiedergabe ist dank eines einzigen Pegelreglers und des umschaltbaren, latenzfreien Monitorings, das für die Beseitigung von Echo bei der Aufnahme von Sprache oder Instrumenten sorgt, völlig einfach. Das AI-1 verfügt außerdem über symmetrische ¼-Zoll-Ausgänge zum Anschließen Ihrer Lieblingslautsprecher.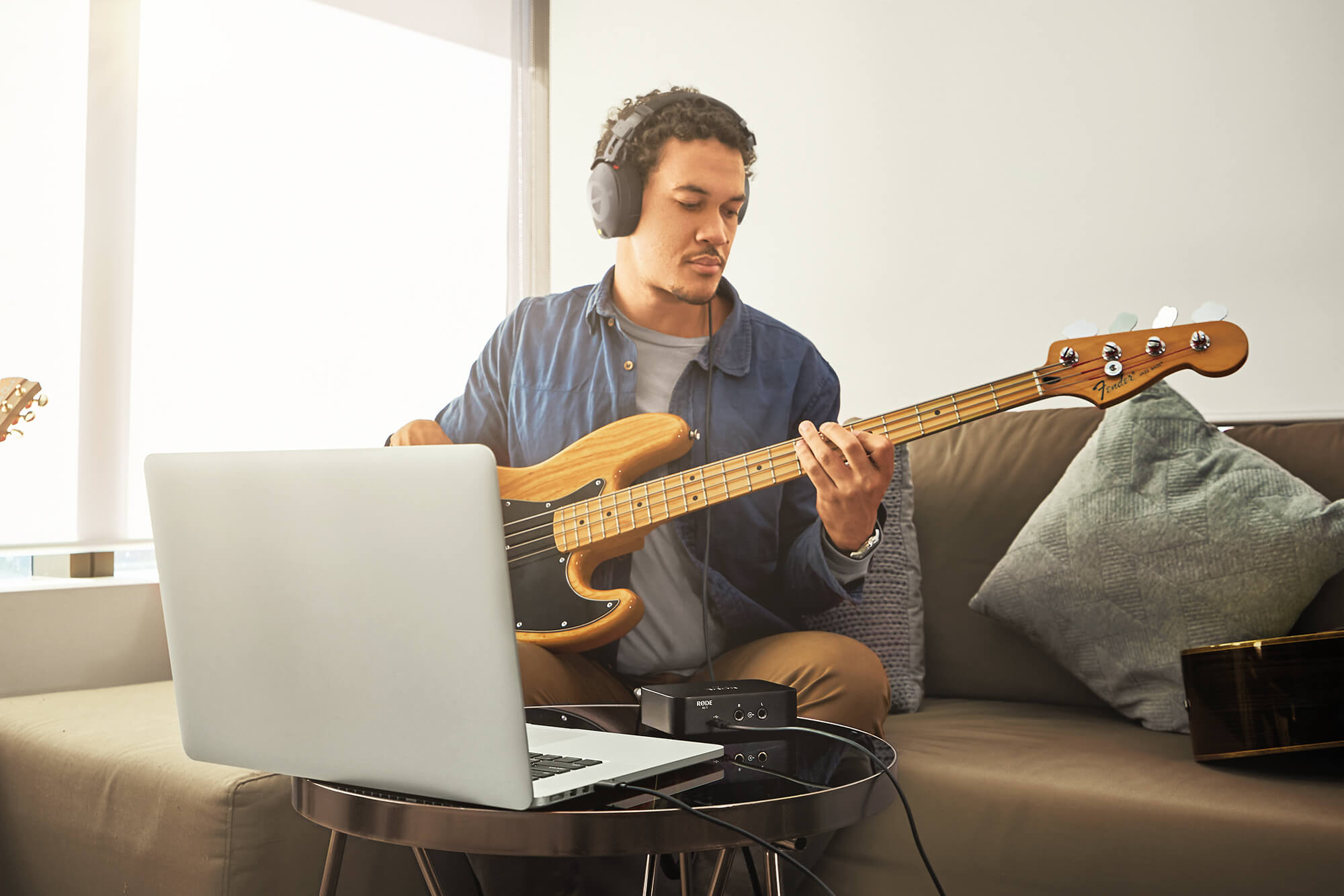 Häufig gestellte Fragen
Q.
Can I use this kit with my tablet or smartphone?
A.
Compatibility can vary, but generally speaking, the AI-1 can be powered by and used with a device which has a USB-C input (as USB-C generally provides more power, combined with the AI-1 being a class-compliant device). Notably, the AI-1 can be powered by and used with any iPad which has a USB-C input.
Q.
Does the NT1 & AI-1 Complete Studio Kit need a power supply?
A.
No, the AI-1 only needs power USB power from a computer, no external power supply is needed. USB power will allow the AI-1 to fully function, and this includes the ability to provide phantom power to the RØDE NT1, as well as other condenser microphones which rely on 48V phantom power.
Q.
How do I redeem Ableton Live 10 Lite?
A.
Once you've registered the AI-1 for extended warranty, a claim for the Ableton Live 10 Lite software is automatically generated to then be manually approved by our team (this can take up to 2 business days).
Q.
The AI-1 is on and I can hear audio from my computer, but my computer isn't detecting any signal from the NT1 microphone?
A.
Please ensure that 48V Phantom Power is enabled from your AI-1, as this will power the NT1. Simply press the left, front dial on the AI-1, and a red light will appear next to that dial, underneath where it says 'P48'. This indicates that 48V Phantom Power is now being provided. This will allow your NT1 microphone to be detected by the computer. To increase the microphone signal, simply adjust the same front, left dial.
Q.
The AI-1 is on, and I can hear audio from my computer, but I can't hear any audio from my NT1 microphone?
A.
If you wish to hear your microphone signal live, simply press the front, right dial of the AI-1. A light will then appear underneath the Microphone/Headphones symbol, indicating Live Monitoring has been enabled.
Q.
Which 1/4" to 3.5mm adaptor would you recommend for the headphone jack?
A.
You can use any standard 1/4" to 3.5mm adaptor for the headphone jack. We recommend the RØDE HJA-4 adaptor.
Q.
Which stand is recommended for this kit?
A.
The RØDE PSA1+ is great for using the NT1 with the RØDE SM6 Shock Mount. This allows for easy, on-the-fly adjustment, and provide the perfect professional touch for your studio setup. Learn more about the PSA1+ here.
Q.
Why am I hearing myself on repeat sometimes?
A.
Most often this is because a monitoring option is already enabled within a program or platform being used. You can turn off the Live Monitoring from your AI-1, and this will fix the issue. If you are wishing to monitor your audio rather than listen back, this method can introduce a slight audio delay. Alternatively, you can disable the monitoring option within the program or platform.