NT-USB+
Professional USB Microphone
Das NT-USB+ ist ein professionelles USB-Mikrofon, mit dem die Aufnahme von Ton in Studioqualität ganz einfach ist. Das Gerät basiert auf dem legendären NT-USB und bietet Funktionen der nächsten Generation. Es eignet sich für eine Vielzahl von Anwendungen, von Musikaufnahmen bis hin zu Podcasting und Streaming. Das NT-USB+ bietet erstklassige Audioqualität, ist unglaublich benutzerfreundlich und verfügt über erstklassige Funktionen, mit denen Sie in Sekundenschnelle wie ein Profi klingen.
Hauptmerkmale
Professionelles USB-Mikrofon
Kondensatorkapsel in Studioqualität mit enger Nieren-Richtcharakteristik
Revolution Preamp™ mit extrem niedrigem Rauschen und hoher Verstärkung
Leistungsstarker Kopfhörerausgang mit latenzfreiem Monitoring und vielseitigen Kontrollen
Leistungsstarke APHEX®-Audioverarbeitung, zugänglich über RØDE Connect
USB-C-Konnektivität mit hochauflösender Analog-Digital-Wandlung
Inklusive abnehmbarem Popschutzfilter und Tischstativ
Klasse-kompatibler USB-C-Ausgang, der nahtlos mit Computern, Smartphones und Tablets funktioniert
Entworfen und hergestellt in den hochmodernen Einrichtungen von RØDE in Sydney, Australien
Professional USB microphone

Studio-grade condenser capsule with tight cardioid polar pattern

Ultra-low-noise, high-gain Revolution Preamp™

Powerful APHEX® audio processing accessible via RØDE Connect, RØDE Central and RØDE Reporter

High-power headphone output with zero-latency monitoring and versatile controls

USB-C connectivity with high-resolution analog-digital conversion

Detachable pop filter and desktop stand included 

Class-compliant USB output that works seamlessly with computers, smartphones and tablets (iOS and Android)

Designed and made in RØDE's state-of-the-art facilities in Sydney, Australia



Studioklang zu Hause
Das NT-USB+ vereint die hervorragende Audioqualität eines professionellen Kondensatormikrofons mit dem Komfort eines USB-Anschlusses und ist damit die perfekte Lösung für Studioaufnahmen zu Hause. Es verfügt über eine Kondensatorkapsel in Studioqualität mit enger Nieren-Richtcharakteristik, so dass Ihre Aufnahmen immer satt und fokussiert sind. Der extrem rauscharme Revolution Preamp™ mit hoher Verstärkung und die hochauflösende Analog-Digital-Wandlung liefern einen unglaublich klaren Klang.
Vielseitig und tragbar
Wie alle guten Studiomikrofone eignet sich das NT-USB+ hervorragend für alle Arten von Aufnahmen, von Gesang über Voiceover bis hin zu Gitarren und Podcasts. Egal, ob Sie Musiker, Streamer, Podcaster, Gamer oder ein Profi sind, der von zu Hause aus arbeitet – das NT-USB+ liefert High-Definition-Audio in jeder Anwendung. Es ist außerdem Plug-and-Play-kompatibel mit Smartphones und Tablets, sodass Sie eine hochwertige Aufnahmelösung erhalten, die Sie überallhin mitnehmen können.
Einfach einstecken für professionelles Audio
Die Aufnahme von Audiodaten in professioneller Qualität mit dem NT-USB+ ist denkbar einfach: Schließen Sie es einfach an Ihren Computer, Ihr Smartphone oder Ihr Tablet an und schon können Sie loslegen. Möchten Sie Ihre Aufnahmen auf die nächste Stufe heben? Das NT-USB+ verfügt über einen leistungsstarken internen DSP, mit dem Sie Ihrer Stimme fortschrittliche Audioverarbeitung und -effekte hinzufügen können, die mit der kostenlosen Podcasting- und Streaming-Software RØDE Connect oder UNIFY (Abonnement erforderlich) freigeschaltet werden.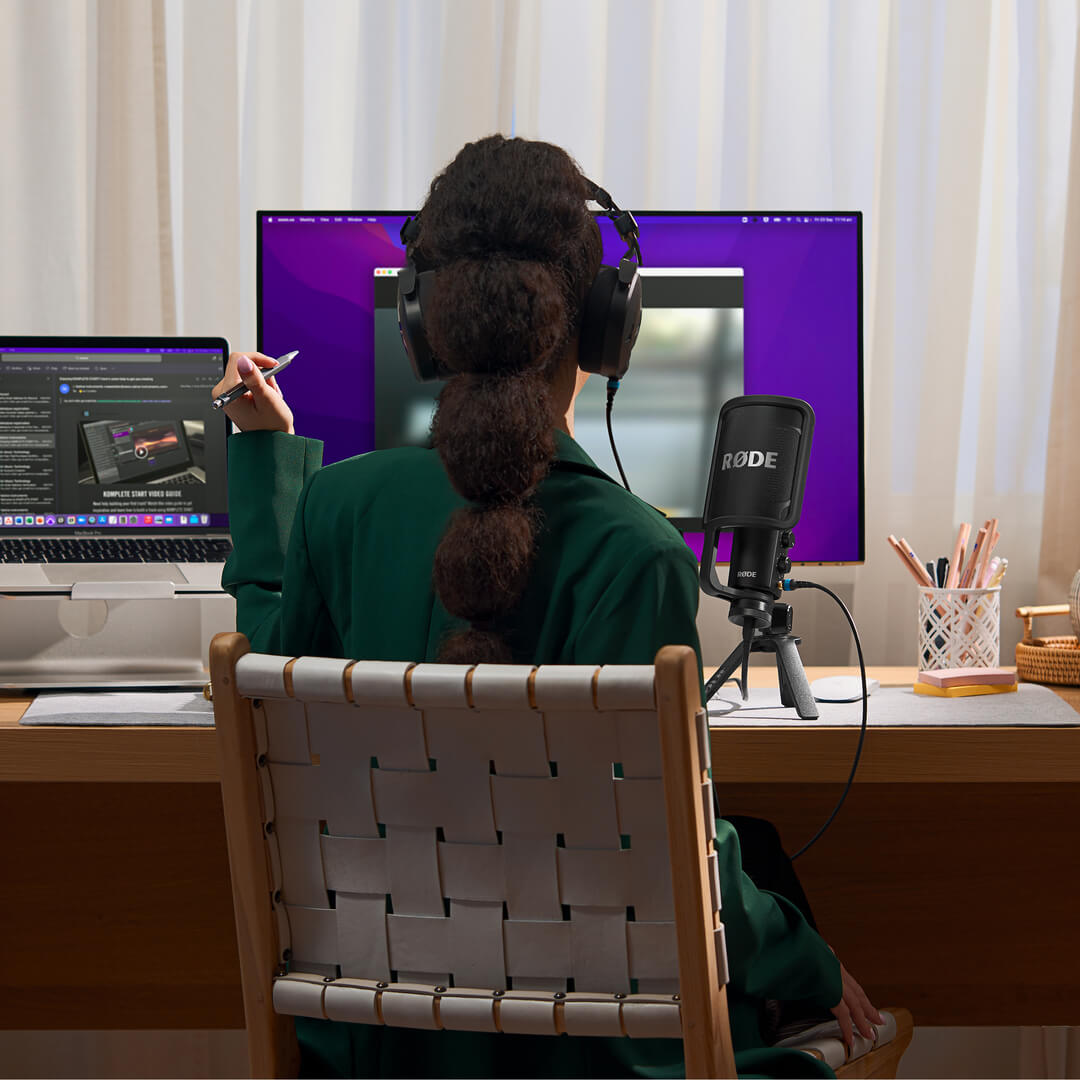 Komplettes Schreibtischstudio
Das NT-USB+ wird mit allem geliefert, was Sie brauchen, um sofort mit der Aufnahme zu beginnen, einschließlich eines Tischstativs für die perfekte Positionierung und eines hochwertigen Popschutzfilters, der Ihre Aufnahmen sauber hält. Außerdem verfügt es über einen latenzfreien Kopfhörerausgang mit dedizierten Lautstärke- und Mix-Reglern, so dass Sie Ihre Audiosignale laut und deutlich, ohne Echo oder Verzögerung, abhören können.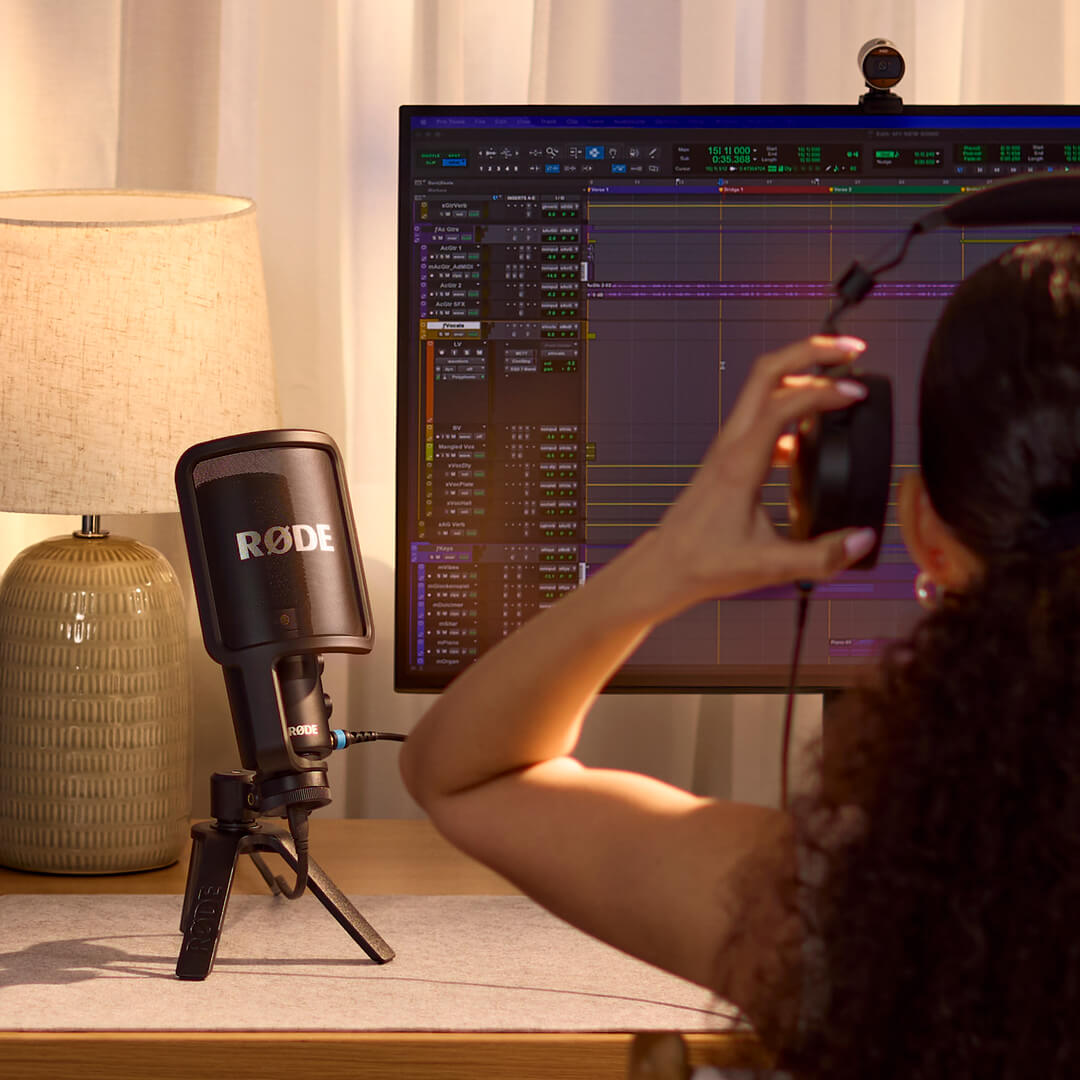 RØDE Central
RØDE Central ist eine einfach zu bedienende Desktop- und Mobil-App für das NT-USB+, mit der Sie die integrierten Funktionen wie Kompressor, Noise Gate, Hochpassfilter und die legendären APHEX® Aural Exciter™- und Big Bottom™-Prozessoren freischalten können. Sie können auch die Geräte-Firmware aktualisieren.
Anmerkung: Systemanforderungen: MacOS 10.14 oder höher; Windows 10 Version 1803 oder höher; iOS 14 oder höher; Android 9.0 oder höher.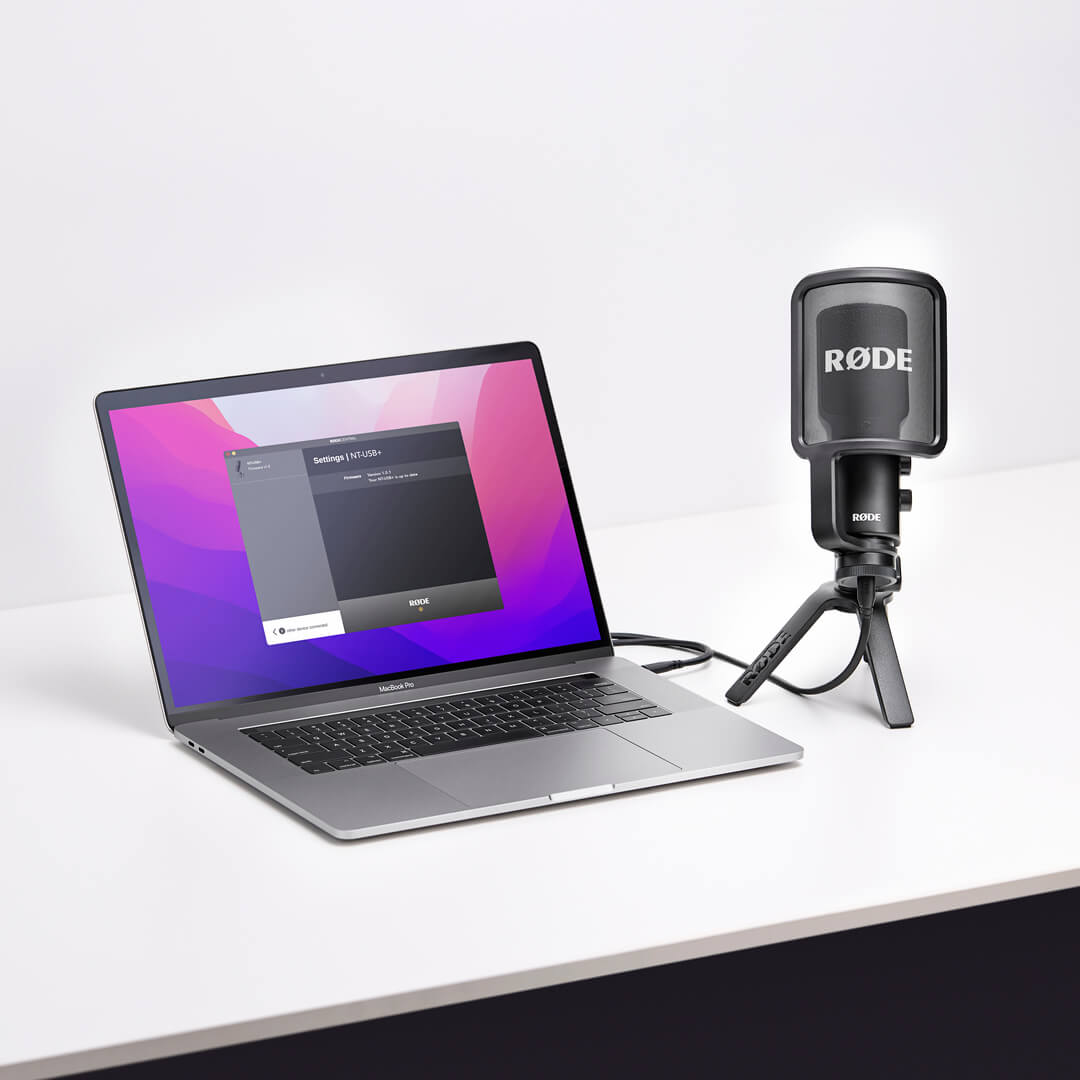 RØDE Connect
RØDE Connect ist eine kostenlose Podcasting- und Streaming-Software, die vollständig mit dem NT-USB+ kompatibel ist. RØDE Connect vereinfacht die Aufnahme oder das Streaming von Audio in professioneller Qualität über Ihren Computer. Bis zu vier Gäste können sich mit einer Kombination von Geräten – einschließlich NT-USB+, NT-USB Mini, Wireless GO II und VideoMic GO II – über einen Computer verbinden, Aufnahmen in Studioqualität erstellen und vieles mehr.
Anmerkung: Systemanforderungen: MacOS 10.13 oder höher; Windows 10 Version 1803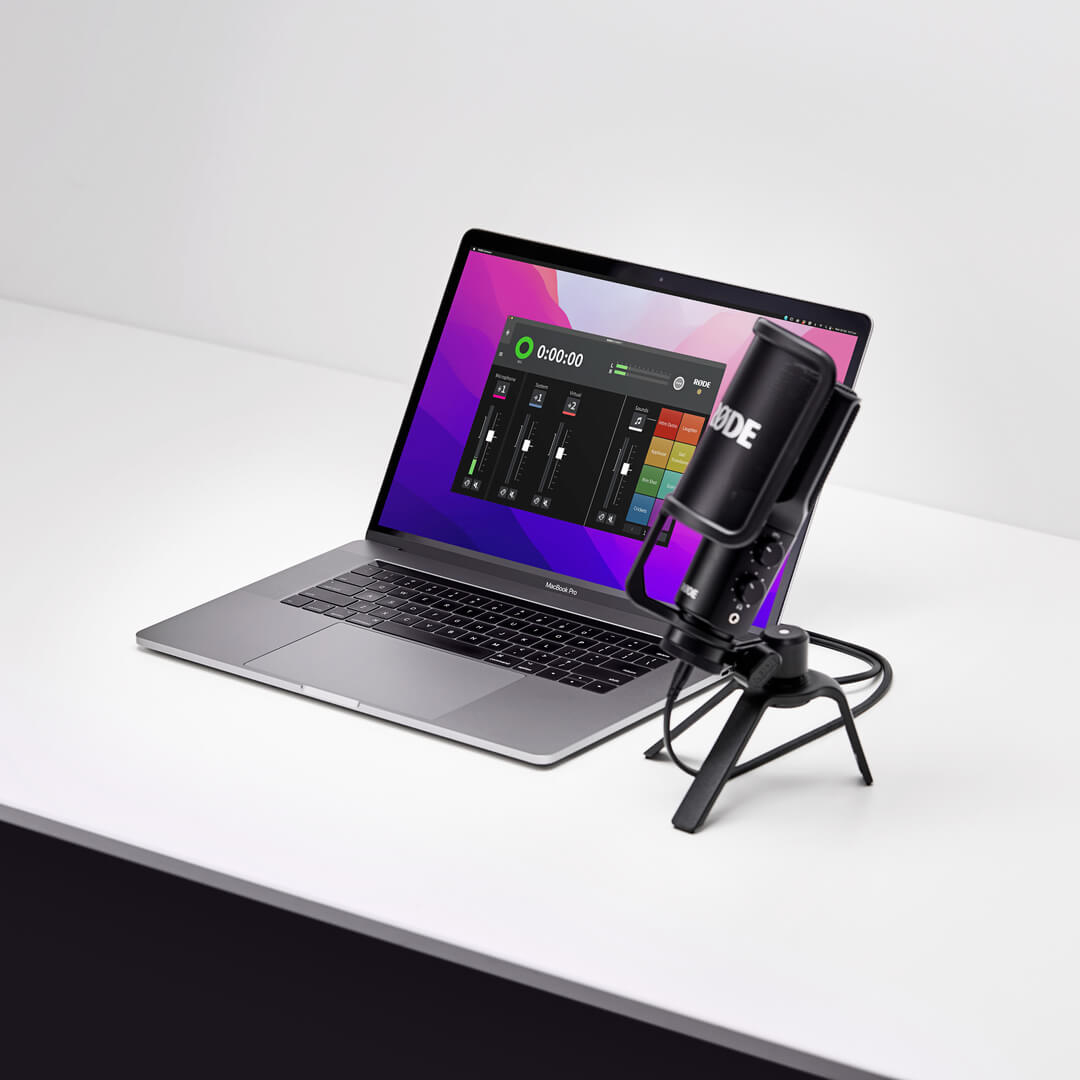 RØDE Reporter
RØDE Reporter ist eine mobile Aufnahme-App für iOS und Android mit einer einfachen und intuitiven Benutzeroberfläche für die Aufnahme von Audio in Rundfunkqualität. Er ist vollständig kompatibel mit dem NT-USB+ und kann verwendet werden, um die integrierten Verarbeitungsfunktionen des Mikrofons freizuschalten, darunter Kompressor, Noise Gate, Hochpassfilter und die legendären APHEX® Aural Exciter™- und Big Bottom™-Prozessoren. Genau wie bei RØDE Central können Sie diese Einstellungen auf dem NT-USB+ speichern, so dass sie auch nach dem Trennen des Mikrofons erhalten bleiben.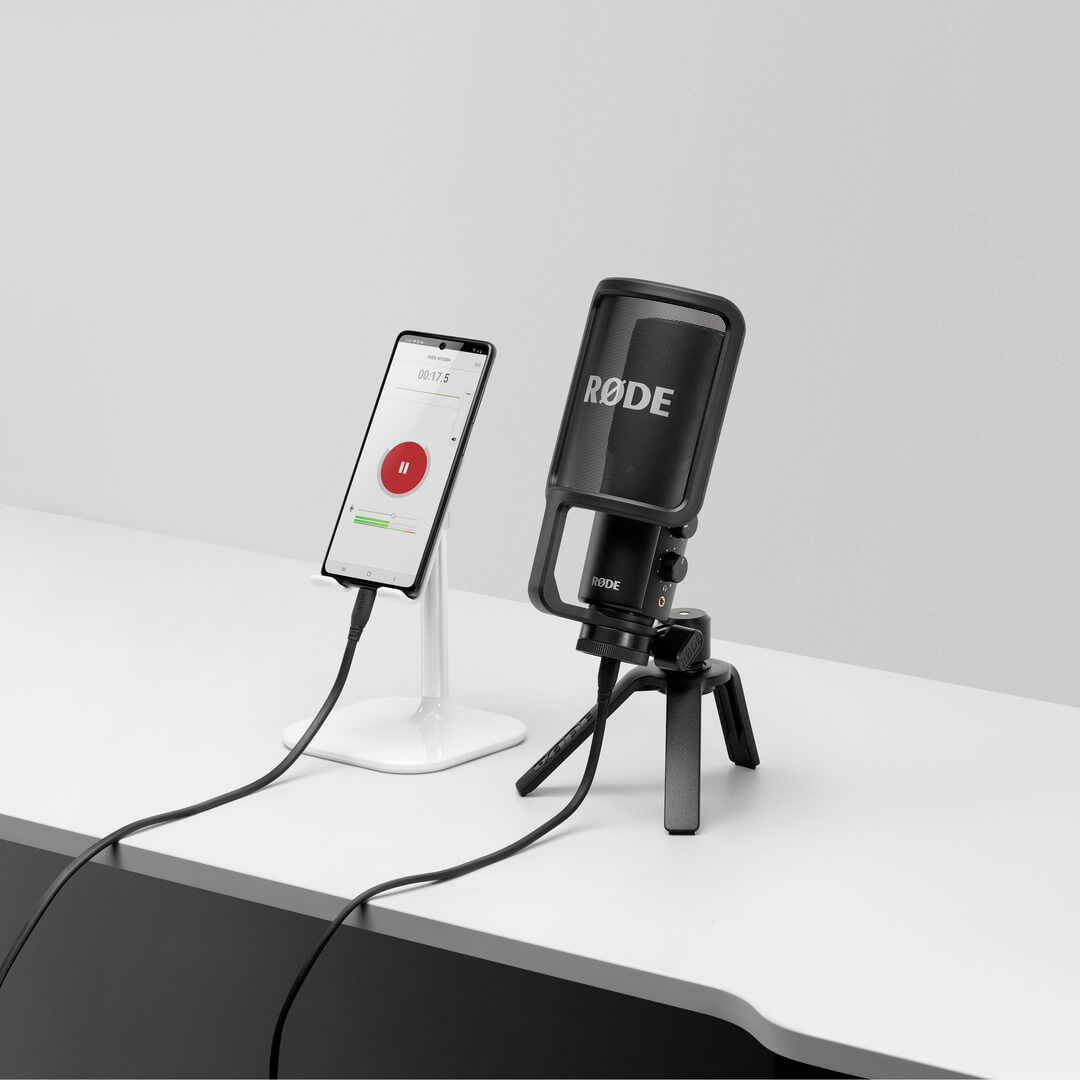 NT-USB+ Benutzerhandbuch
Hier erfahren Sie alles, was Sie über Ihr professionelles USB-Mikrofon NT-USB+ wissen müssen. Dieses umfassende Benutzerhandbuch enthält alle Schritte, die für die Aufnahme auf Ihrem Computer, Tablet oder Smartphone erforderlich sind.