Wireless GO
Compact Wireless Microphone System
The Wireless GO is an ultra-compact wireless microphone system that is unique in its clip'n'go versatility and incredibly compact form-factor. The transmitter features an in-built omnidirectional condenser capsule and can be used as a clip-on mic or with a RØDE lavalier, sending crystal-clear, broadcast-grade audio via 2.4GHz digital transmission to the on-camera receiver. It's the perfect wireless mic solution for content creators in all disciplines: filmmakers, on-camera presenters, newsgatherers, vloggers and more.
Key Features:
Transmitter operates as a clip-on microphone or beltpack for a lavalier/headset microphone
Ultra-compact form-factor – transmitter and receiver weigh a minuscule 31g each
Series III 2.4GHz digital wireless transmission with 128-bit encryption delivers crystal-clear audio under any conditions and excels in dense Wi-Fi and Bluetooth environments (shopping malls, conventions, hotels etc)
Up to 70m range (line-of-sight), optimised for short-range operation in congested RF environments.
In-built rechargeable batteries that last up to 7 hours, charged via USB-C
Super easy to use – transmitter and receiver auto-pair in under three seconds
3-stage output pad (0dB, -12dB and -24dB) and battery saver mode
Use up to eight systems in one location
Comes in either black or white
Designed and made in RØDE's precision manufacturing facilities in Sydney, Australia
Small Package. Big Result
The Wireless GO system is the epitome of a 'small wireless microphone'. Both the transmitter (TX) and receiver (RX) weigh only 31g each. The TX works as a discreet clip-on microphone or as the world's smallest beltpack for a RØDE lavalier microphone – perfect for content creation, filmmaking, on-camera or onstage presentation, vlogging, YouTubing, livestreaming and more.
Professional Sound. Easy to Use
The Wireless GO system auto-pairs in under three seconds and transmits via RØDE's Series III digital 2.4GHz transmission, which is optimised for shorter range operation in dense RF and Wi-Fi environments, but also offers an impressive line-of-sight range of 70m. There is a 3-stage gain control to tailor your output precisely to your camera or recording device and a handy battery-saver mode. The in-built lithium-ion batteries last up to 7 hours and are charged via USB-C.
All-In-One For Run 'n' Gun
The TX features an in-built omnidirectional condenser microphone that delivers broadcast-grade audio and can also be used with any lavalier mic via the 3.5mm TRS input. The RX features a dual-purpose clip that can either clip onto clothes or a camera strap or slide securely into your camera's cold shoe. Ultra-compact, super-lightweight and incredibly versatile.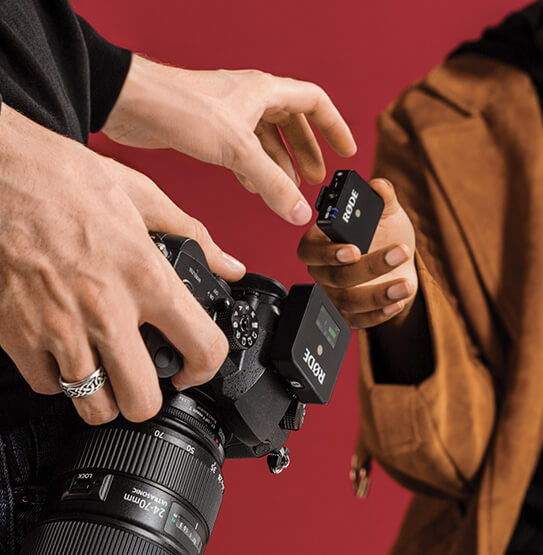 FAQs
Q.
How do I connect the receiver to my smartphone?
A.
The receiver will connect to a smartphones' 3.5mm TRRS input with the SC7 cable. This also applies to tablets. Additional adaptors are likely to be required in the newer smartphone models to allow a 3.5mm input. iPhones with a Lightning input will require a Lightning to 3.5mm adaptor or an external interface like the SC6-L 3.5mm to Lightning adapter in combination with the SC7 cable. Alternatively, you can use the AI-Micro which has auto-sensing inputs for connecting TRS or TRRS microphones.
Q.
Which lapel microphones are compatible with the Wireless GO?
A.
The Wireless GO is compatible with all of RØDE's lavalier microphones. The Lavalier GO and RØDELink Lav will connect directly to the Wireless GO transmitters TRS input.
The Lavalier and PinMic will require the MiCon-2 connector.
Q.
Can I pair more than one transmitter to a receiver?
A.
No, the Wireless GO uses a 1-to-1 connection. You can only pair one transmitter per receiver at a time.
Q.
How do I mic up more than one person?
A.
If you need to mic up a second person you will need an additional Wireless GO system. You can attach both receivers to the cold shoe of your camera using the DCS-1 dual cold shoe mount. Then use the SC11 splitter cable to connect both receivers to the single mic input of your camera. If you want to connect the Wireless GOs to your phone you will also need the SC4 adapter cable – simply plug the SC11 single input into the SC4 and then into your mobile device.
Q.
Can I connect the Wireless GO to a mixing desk or XLR input?
Q.
How do I connect the Wireless GO to my computer/laptop?