VideoMicro II
Ultra-compact On-camera Microphone
Das VideoMicro II ist ein Mikrofon in Profiqualität, das den Sound Ihrer Kamera oder Ihres Smartphones im Handumdrehen aufwertet. Das ultrakompakte, leichte und benutzerfreundliche Aufnahmegerät eignet sich perfekt für die Erstellung von Filmen und Inhalten oder wenn Sie einfach nur bessere Aufnahmen für Ihre Videos erstellen möchten.
Hauptmerkmale
Professionelles Richtmikrofon für Kameras
Ultrakompakt und leicht – nur 39 g
Supernieren-Richtcharakteristik für stark gerichteten, fokussierten Klang
Keine Batterie erforderlich und keine komplizierten Schaltvorgänge – unglaublich bedienungsfreundlich
HELIX™-Isolationshalterungssystem für hervorragenden Schutz vor Stößen, Schlägen und Geräuschen bei der Handhabung
Inklusive hochwertigem Windschutz aus Schaumstoff und Fell-Windschutz sowie Kabeln für den Anschluss an Kameras und Smartphones
Robuste Ganzmetallkonstruktion
Entworfen und hergestellt in den hochmodernen Produktionseinrichtungen von RØDE in Sydney, Australien
Professional-quality on-camera shotgun microphone
Ultra-compact and lightweight – just 39g
Annular line tube technology for natural, full-bodied audio
Supercardioid polar pattern for highly directional, focused sound
No battery required and no complicated switching – incredibly easy to use
HELIX™ isolation mount system for superior protection from knocks, bumps and handling noise
Deluxe foam and furry windshields and cables for connecting to cameras and smartphones included
Rugged all-metal construction
Designed and made in RØDE's state-of-the-art manufacturing facilities in Sydney, Australia
Beeindruckender Klang einfach gemacht
Geben Sie sich nicht mit minderwertigem Klang zufrieden. Durch die Kombination aus professioneller Audioqualität und einfacher Bedienung bietet das VideoMicro II das Beste aus beiden Welten. VideoMicro II benötigt keine Batterien – schließen Sie es einfach an und drücken Sie die Aufnahmetaste auf Ihrer Kamera oder Ihrem Smartphone. Es ist perfekt darauf abgestimmt, eine kristallklare Audioaufnahme zu liefern, ohne komplizierte Schalter oder Steuerelemente.
Superscharfes und superklares Audio
Das VideoMicro II ist ein echtes Supernieren-Richtrohrmikro und der revolutionären Ringröhrentechnologie von RØDE, die für einen natürlichen, vollen Klang sorgt, wie Sie ihn noch nie zuvor in einem so kompakten Format gehört haben. Es ist ein hochgradig gerichtetes Mikrofon, das Geräusche von vorne klar aufnimmt und Hintergrundgeräusche von den Seiten und von hinten unterdrückt. Perfekt für Filmaufnahmen, Vlogging oder die Erstellung von Inhalten mit Ihrem Smartphone.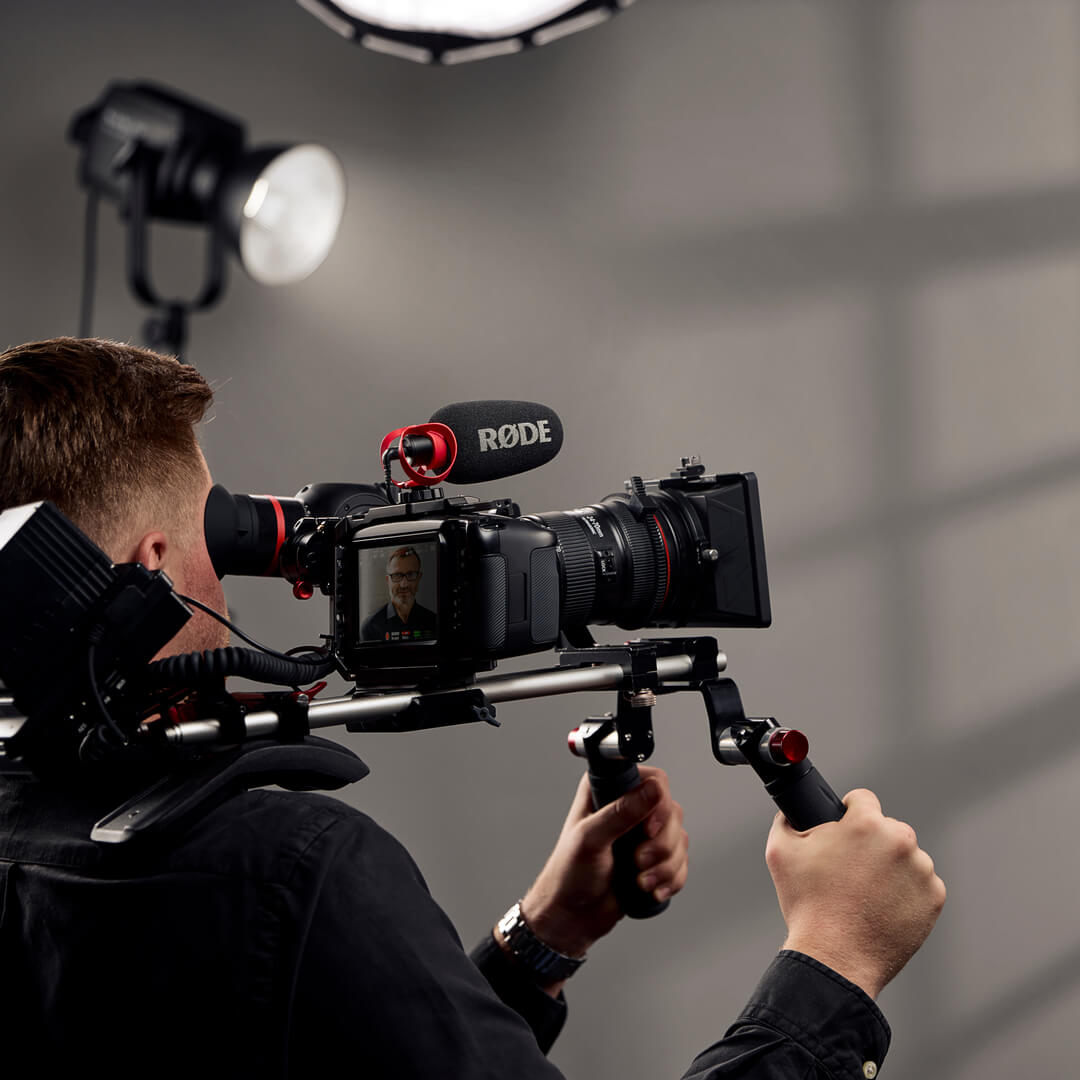 Innovative HELIX™-Isolationshalterung
HELIX™ ist eine bahnbrechende Isolationshalterung, die vom RØDE-Team speziell für das VideoMicro II entwickelt wurde. Mit ihrer innovativen Bauweise, die genau auf die Spezifikationen des Mikrofons abgestimmt ist, bietet sie hervorragenden Schutz vor Stößen, Schlägen und allgemeiner Handhabung, die zu unangenehmen Nebengeräuschen bei Ihren Aufnahmen führen können. Außerdem ist sie superflach, sodass Ihre Einrichtung elegant bleibt und gleichzeitig eine optimale akustische Leistung bietet. Die Halterung verfügt über praktische Aussparungen für die Kabelführung sowie eine Halterung für Ihre Kamera und ein Gewinde für die Befestigung an einer Teleskopangel und sonstigen Zubehör.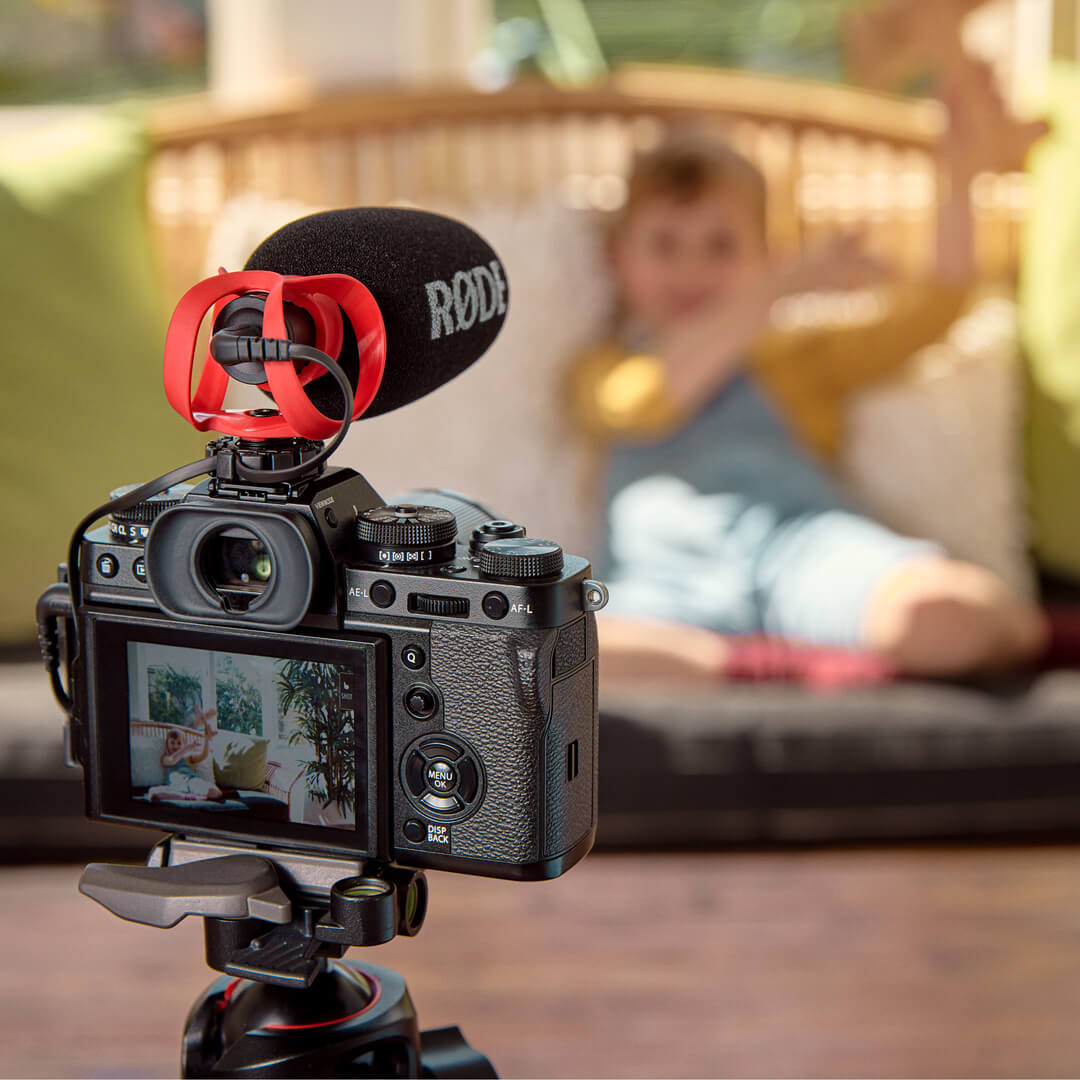 Ultrakompakt. Extrem robust.
Mit einer Länge von nur 80 mm und einem Gewicht von nur 39 Gramm ist das VideoMicro II unglaublich kompakt und leicht. Damit ist es die perfekte Ergänzung für jedes Set für Ersteller von Inhalten oder die Kameratasche – oder sogar für einen Rucksack oder eine Handtasche. Trotz seiner kleinen Größe ist es unglaublich widerstandsfähig, mit einem robusten Ganzmetallgehäuse und hochwertigen Komponenten. Nehmen Sie es überall mit hin.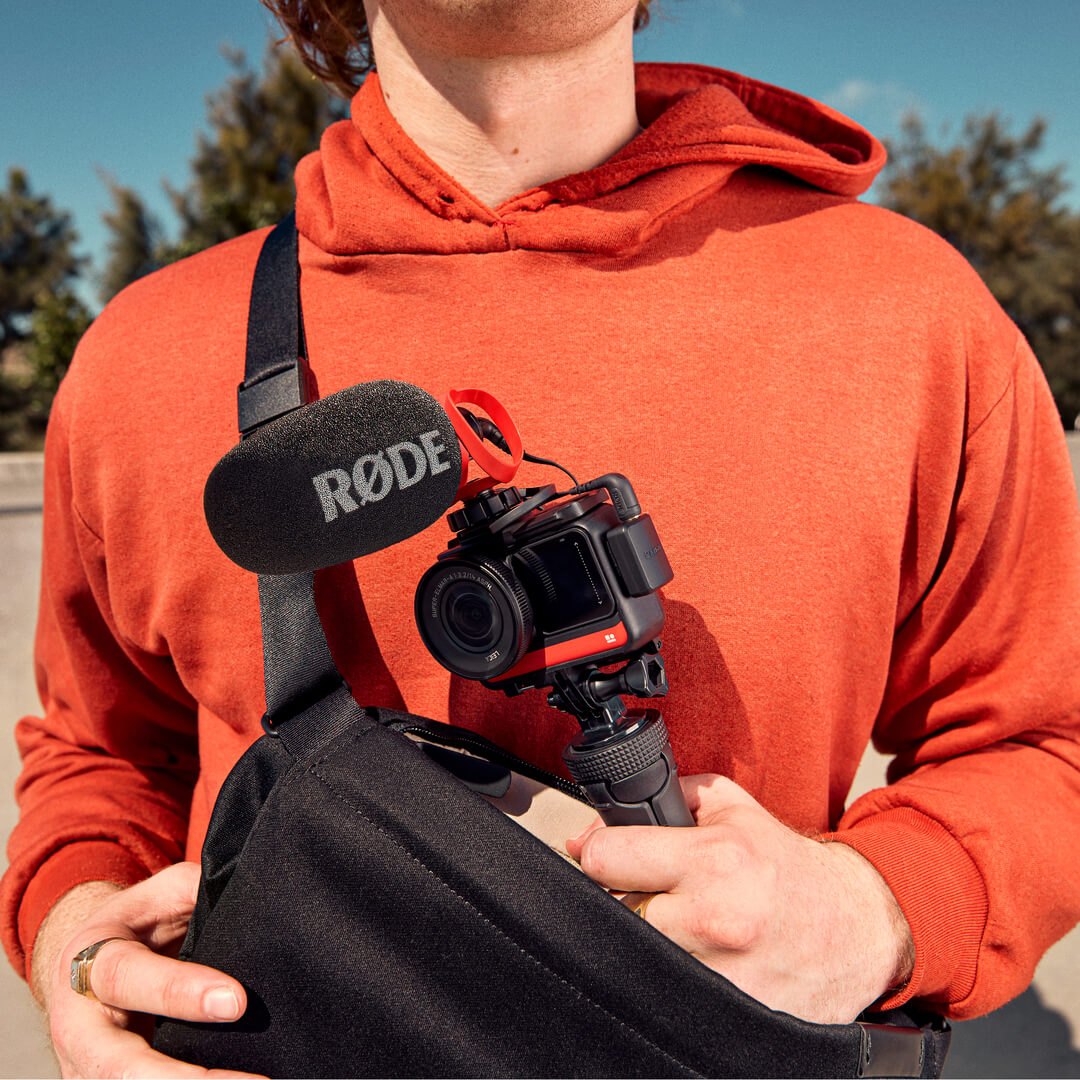 Ein komplettes Set für unglaubliche Aufnahmen
Das VideoMicro II wird mit einem hochwertigen Windschutz aus Schaumstoff und Fell-Windschutz geliefert, sodass Sie überall kristallklare Audioaufnahmen machen können – egal ob in Innenräumen oder bei Wind und Regen. Im Lieferumfang enthalten sind außerdem ein 3,5-mm-TRS-auf-TRS-Kabel für den Anschluss an Kameras und ein 3,5-mm-TRS-auf-TRRS-Kabel für den Anschluss an Smartphones, sodass Sie mit all Ihren Geräten unglaubliche Audioaufnahmen erstellen können.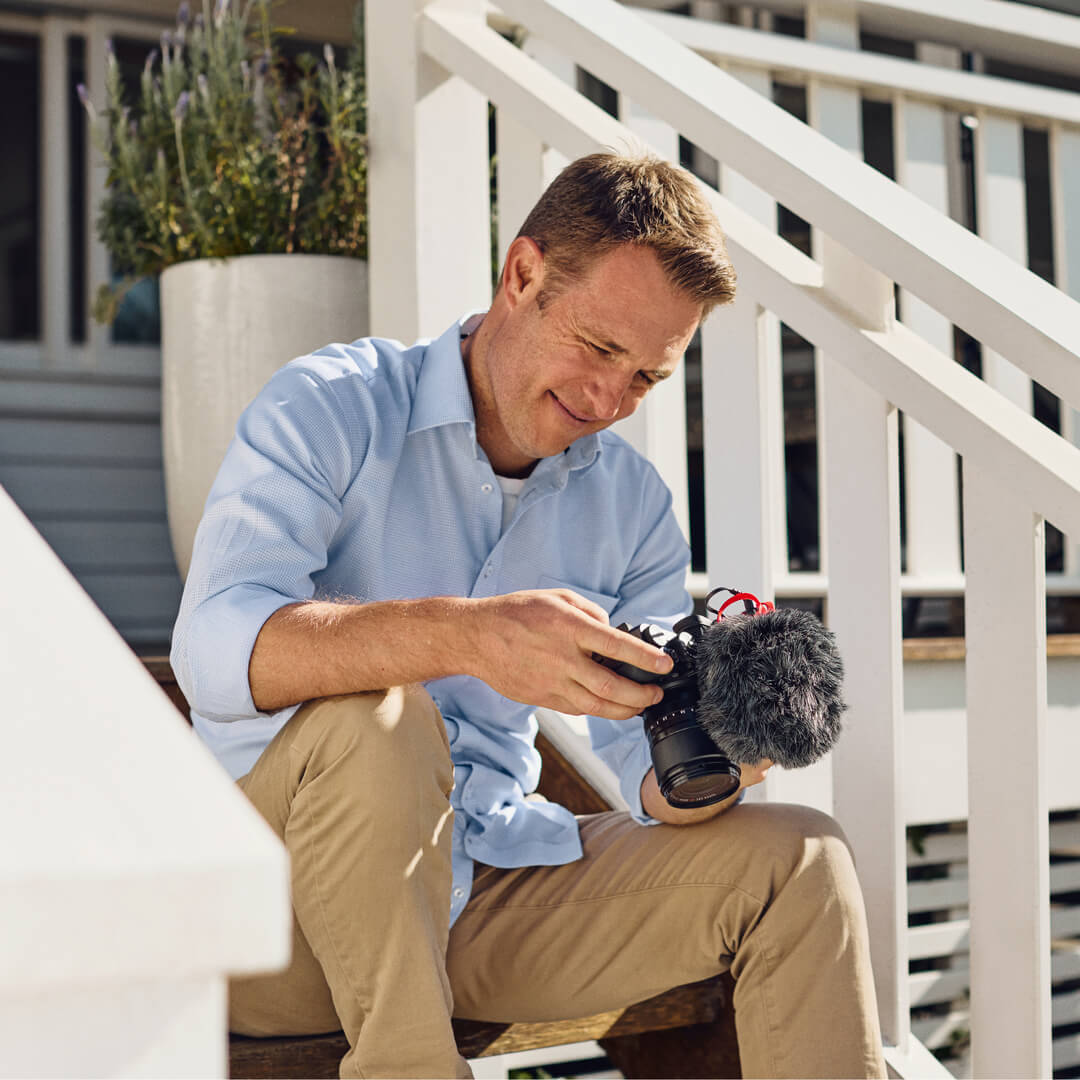 Benutzerhandbuch für VideoMicro II
Entdecken Sie hier alles, was Sie über Ihr ultrakompaktes Kameramikrofon VideoMicro II wissen müssen. Dieses umfassende Benutzerhandbuch enthält alles, was Sie für die Aufnahme mit Ihrer Kamera, Ihrem Smartphone oder einem anderen Gerät wissen müssen.