How To Record Excellent Audio and Video on iPhone
When it comes to shooting top-notch video content, one of the most powerful tools for the job is right in your pocket. iPhones now have immense video capabilities and are often able to record up to 4K and with multiple dedicated cameras for wide, standard and telephoto shots. With that said, the microphones built into most smartphones aren't necessarily the best, so here we'll show you how to transform your phone into a pro audio and video recording powerhouse.
RØDE Capture Pro Video and Audio App
First off, we recommend downloading our free pro video and audio iOS app, RØDE Capture. It's designed specifically with content creators in mind and brings your video and audio control into one neat app. It features an intuitive interface that gives you quick access to all your iPhone's critical video settings such as resolution, frame rate and aspect ratio, as well as other features like a countdown timer for delaying the start of your recording.
The app also features a super unique dual camera mode, which offers a great deal of creative freedom by allowing you to record both the primary and selfie camera simultaneously. This mode has both split screen and picture-in-picture configuration options, and allows you to save each video as a separate file for editing in post, or a combined file for uploading directly to Tik Tok.
Learn more about RØDE Capture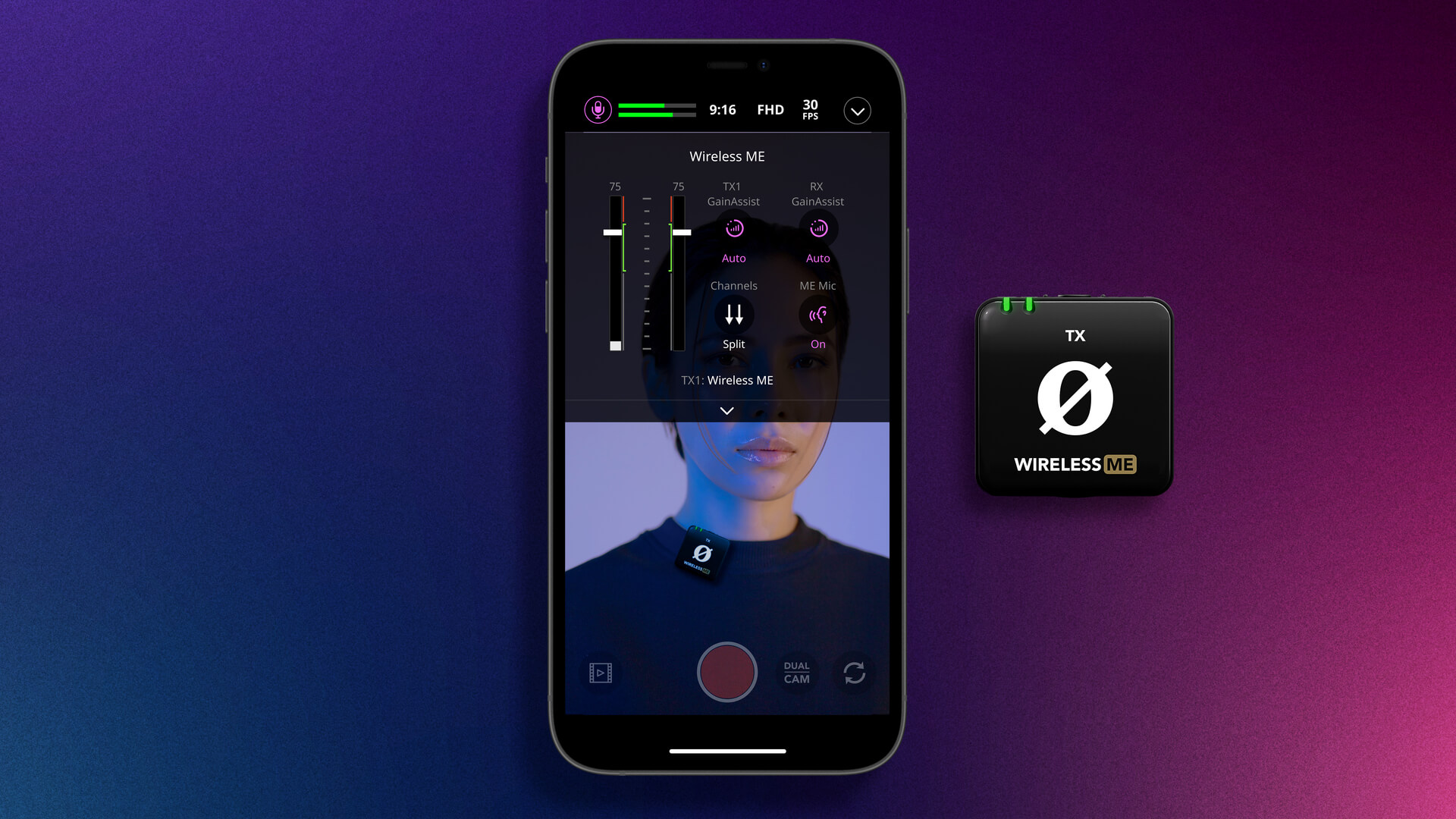 RØDE Capture gives you control over a number of settings for your compatible RØDE microphone.
Another star feature of RØDE Capture is its seamless integration with compatible RØDE microphones – let's take a look at a few ways you can overcome the average built-in iPhone microphone by pairing a RØDE mic with RØDE Capture.
Upgrade Your iPhone's Audio With an External Mic
We offer a wide range of microphones that can connect directly to your iPhone via USB, allowing you to capture studio-grade audio directly into your phone, transforming it into a compact and accessible setup that will help take your content to the next level. RØDE Capture also allows you to access settings such as input gain, audio processing and operation modes for your microphone from directly within the app.
Wireless Microphone Systems
Our Wireless ME and Wireless GO II microphone systems are an excellent solution for capturing audio from afar, making them ideal for street interviews, video podcasts and all forms of content creation where you or your subject is a little further from the camera. With the transmitter and its built-in microphone clipped to your subject, you'll have consistent and clear audio even when they move closer to, or further away from your phone, and the ability to separate different audio sources (such as a two-person interview) gives you way more flexibility when editing in post.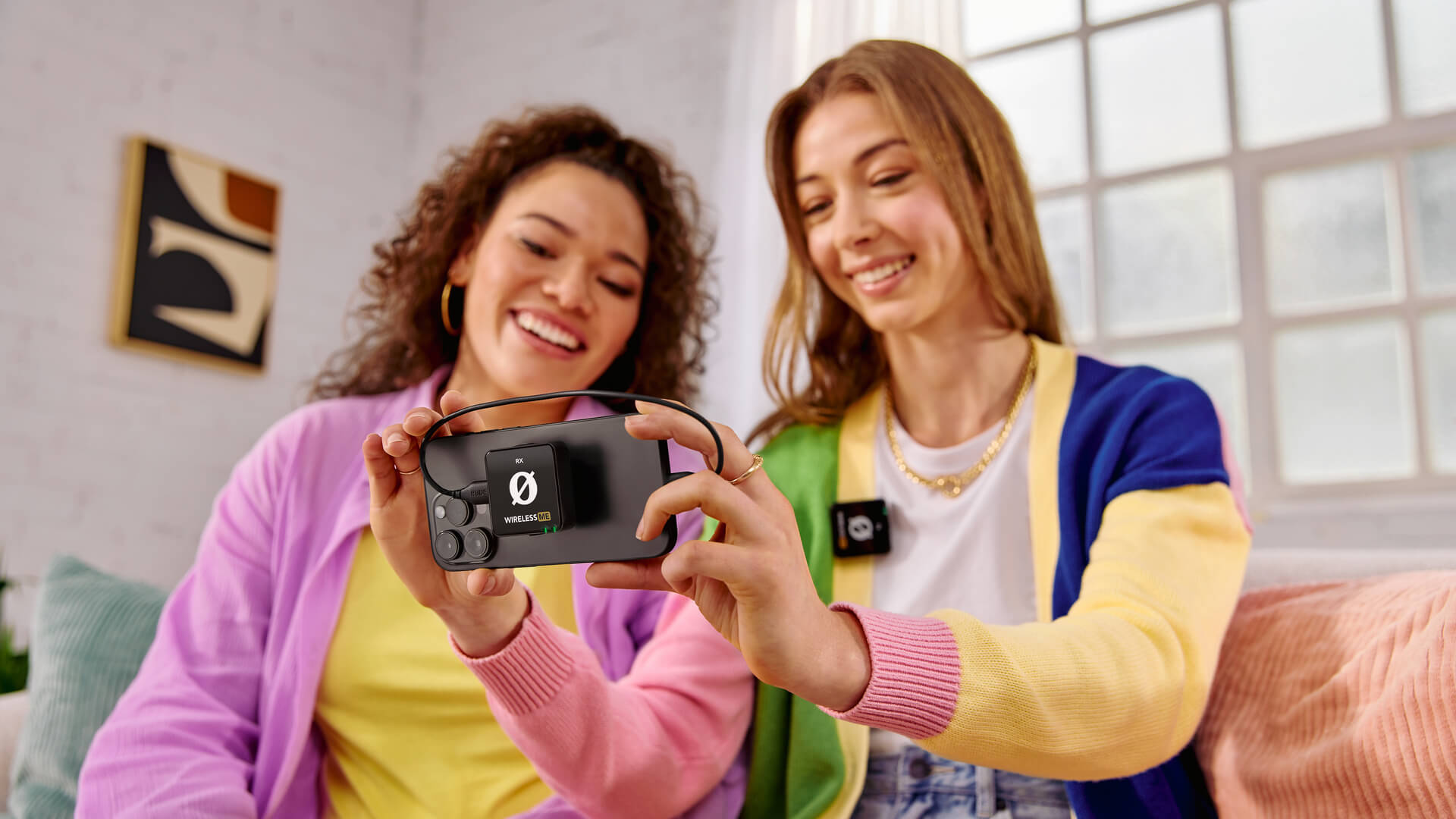 The Wireless ME has a microphone built into the receiver as well as the transmitter, so you can record audio from in front of, and behind the camera.
The Wireless ME complements RØDE Capture's dual camera mode especially well as the receiver that you connect to your iPhone (via the included SC21 Lightning Accessory Cable) also has a microphone built into it, allowing you to record both video and audio from in front of and behind the camera at once – either as separate video files for post-production, or a combined file ready for uploading.
Find out more about the Wireless ME.
The Wireless GO II system offers a number of professional features, including a pair of transmitters for recording two distant subjects at once, fine gain control, a safety channel and on-board recording on each transmitter, ensuring that you never lose your work.
Find out more about the Wireless GO II.
Shotgun Microphones
If you want to record audio in the direction your iPhone's camera is facing while excluding sounds from the sides and rear, then go with a directional (or 'shotgun') microphone like the VideoMic GO II.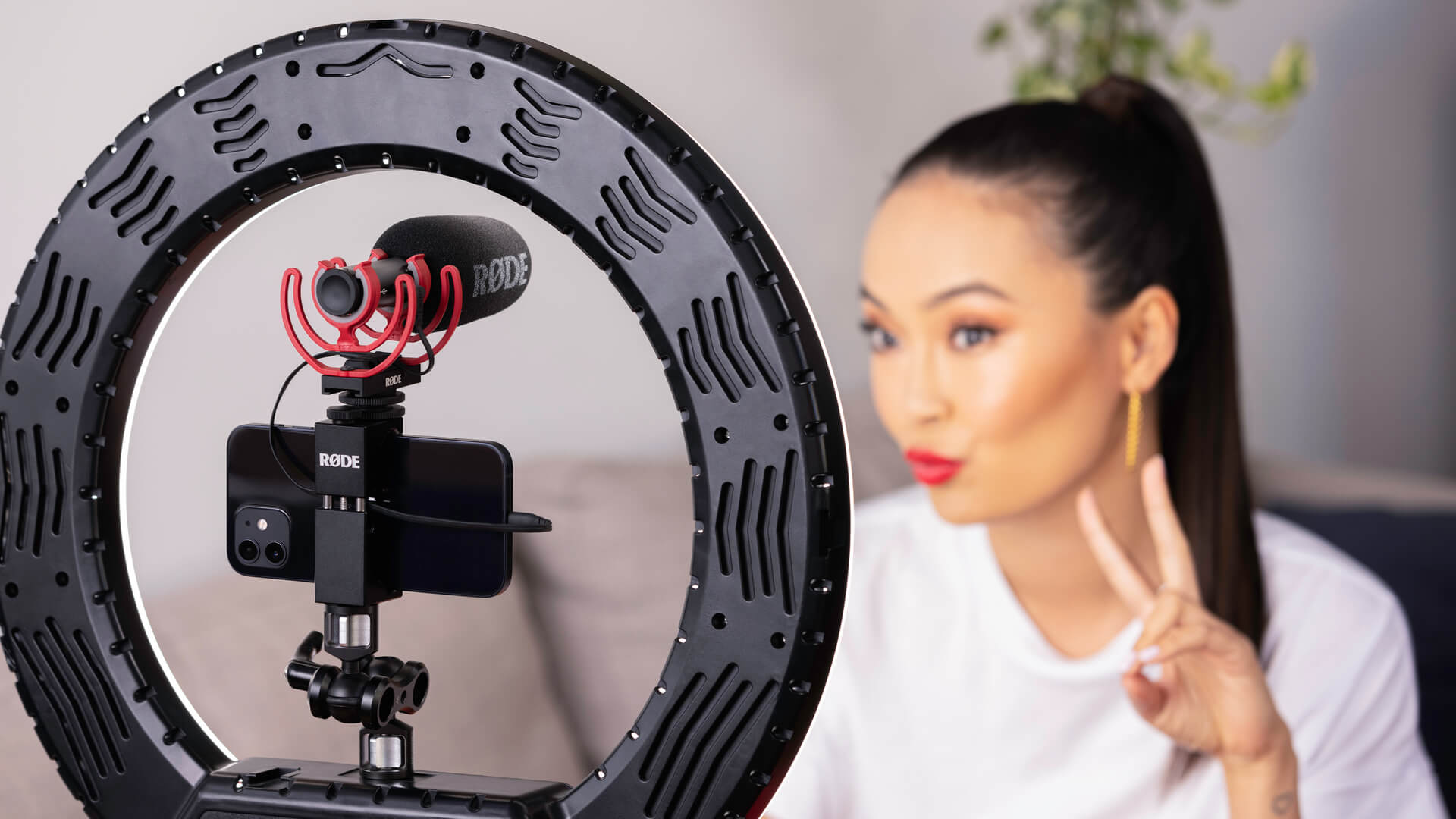 The VideoMic GO II captures focused audio in the direction you aim it and has a USB output for connecting straight to your phone.
The VideoMic GO II is the perfect mic for capturing focused audio and is super lightweight, compact and simple to use. You can connect the mic to your phone with an SC21 Lightning Accessory Cable, monitor your audio with headphones connected to the 3.5mm output, and adjust a number of settings (such as a high-pass filter and pad) via RØDE Capture.

Find out more about the VideoMic GO II.
To get the best audio and video quality from your iPhone, get yourself the free RØDE Capture app and pair it with one of our compatible RØDE microphones to transform your phone into a compact filmmaking powerhouse.