Thread Adaptor
Universalgewinde-Adaptersatz
Der Thread Adaptor ist ein hochwertiges, universelles Adaptersatz für die Befestigung einer Reihe von Geräten an allen Mikrofonstativen, Teleskopangeln, Dreibeinstativen oder Armstativen. Es verfügt über 1/4-, 3/8- und 5/8-Zoll-Adapter in einem einzigartigen integrierten Set mit einem Karabiner zur sicheren Aufbewahrung. Diese können so konfiguriert werden, dass jedes Standardgewinde mit jeder Standardhalterung verbunden werden kann – ein Lebensretter am Set, im Studio oder im Außendienst – und es verfügt über einen praktischen Werkzeug zum Anziehen und Lösen der Adapter.
Der Gewindeadapter zeichnet sich durch ein maßgeschneidertes Design mit hochwertiger Haptik und Verarbeitung aus – ein unverzichtbares Accessoire für Tontechniker, Filmemacher und Fotografen, das man immer dabei haben muss.
Hauptmerkmale:
Universalgewinde-Adaptersatz zur Befestigung von Mikrofonen und anderen Geräten an jedem Mikrofonständer, Teleskopangel, Stativ oder Studioarm
1/4-, 3/8- und 5/8-Zoll-Adapter in einem einzigartigen integrierten Set
Karabinerklammer zur Befestigung an Kamera-/Tontaschen oder Kleidung
Integriertes Werkzeug zum Festziehen und Lösen von Adaptern oder Kameraplatten
Hergestellt aus langlebigem Edelstahl und Messing
Universal thread adaptor kit for mounting microphones and other devices onto any mic stand, boompole, tripod or studio arm
1/4, 3/8, and 5/8-inch adaptors in a unique integrated set
Carabiner clip for attaching to camera/sound bags or clothing
Integrated driver for tightening and loosening adaptors or camera plates
Made from durable stainless steel and brass
Anpassung an jede Situation
Es gibt nichts Frustrierenderes, als wenn man am Set oder im Studio feststellt, dass die Gewindegröße der Mikrofonklammer und des Ständers nicht zusammenpassen, oder wenn man sein Mikrofon befestigen muss, aber nur leichte Ständer zur Verfügung hat. Der Gewindeadapter ist in solchen Momenten ein Lebensretter. Hauptmerkmale:
Ein Karabinerclip zum Befestigen an Schlüsseln, Kleidung oder einer Kamera-/Audio-Tasche, damit Sie ihn immer zur Hand haben, sowie ein integrierter Treiber zum Festziehen oder Lösen der Adapter.

Ein Adapter von 1/4"-Außengewinde auf 5/8"-Buchse für den Anschluss von Zubehör mit 1/4"-Gewinde an jedes Standard-Mikrofonstativ oder -halterung.



Ein Adapter von 5/8"-Außengewinde auf 3/8"-Buchse zum Anschluss von Zubehör wie Mikrofonklammern oder Dämpferhalterungen an Stative mit 5/8"-Gewinde.
Ein 3/8"-Adapter auf 1/4"-Buchse zur Befestigung von Mikrofonen und Zubehör an der Kameraausrüstung.
Verschiedene Kombinationen der oben genannten Gewinde können verwendet werden, um eine breite Palette von Gewindeumwandlungen zu schaffen, so dass Sie sich an jede Situation anpassen können. Der Gewindeadapter ist aus haltbarem Edelstahl und Messing gefertigt und wird ein Leben lang halten.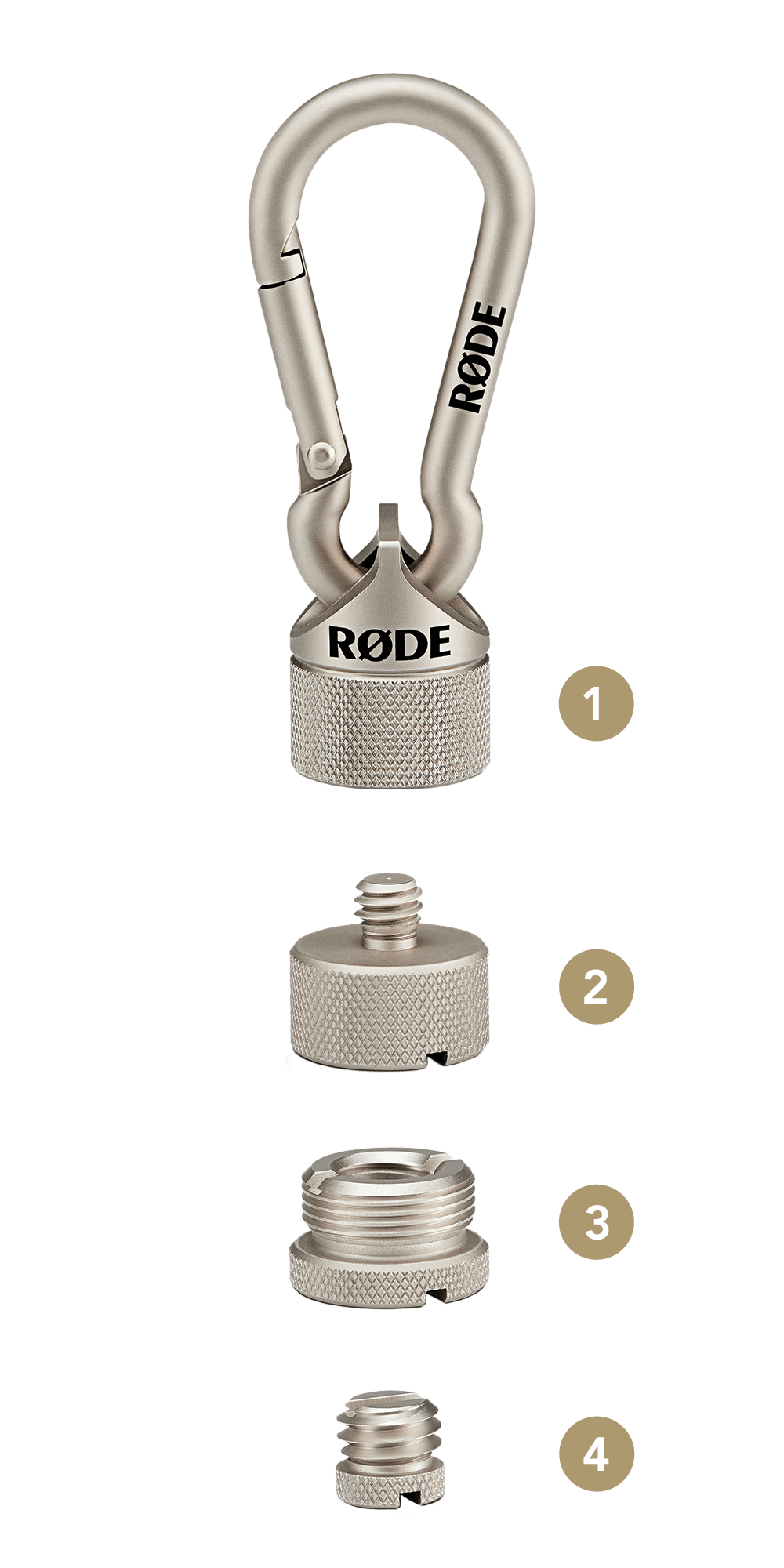 Häufig gestellte Fragen
Q.
How can I remove an Adaptor that is stuck on a thread?
A.
The Thread Adaptor features machined edges, making it easier to grip and twist the adaptors free. If loosening by hand fails, simply insert the integrated driver head into the adaptor grooves and turn.