NT1-A
NT1-A
Das NT1-A ist ein Großmembran-Kondensatormikrofon nach Industriestandard. Er bietet Wärme und Klarheit, einen erweiterten Dynamikbereich, hohe Schalldruckpegel und ein unglaublich geringes Eigenrauschen und ist damit ein echtes Arbeitstier im Studio, das sich perfekt für Aufnahmen von Gesang über Akustikgitarre bis hin zu Schlagzeug eignet.
Hauptmerkmale:
1-Zoll-Großmembrankapsel mit Goldspritzguss
Nieren-Richtcharakteristik
Extrem niedriges Eigenrauschen (5 dBA)
Weiter Dynamikbereich
Interne Kapseldämpfung
Lieferung als komplettes Aufnahme-Set mit RØDE SM6-Stoßdämpferhalterung, Popschutzfilter und Staubschutzhülle

Large-diaphragm 1" gold-sputtered capsule
Cardioid polar pattern
Ultra-low self-noise (5dBA)
Wide dynamic range
Internal capsule shock mounting
Comes in complete recording kit, with a RØDE SM6 shock mount, pop filter and dust cover

Gesangsdarsteller
Das NT1-A ist ein klassisches Großmembran-Echtkondensatormikrofon, das sich durch eine erstaunliche Wärme und Klarheit auszeichnet und damit ideal für Gesangsaufnahmen aller Art ist. Sein weicher, seidiger Charakter erweckt jede Darbietung zum Leben, während sein erweiterter Frequenzgang dafür sorgt, dass jede Nuance mit unglaublicher Präzision erfasst wird. Das NT1-A wird außerdem mit dem studiotauglichen SM6-Stoßdämpferhalterung und Popschutzfilter für saubere Aufnahmen ohne Plosivlaute geliefert.
Instrumentale Klarheit
Das NT1-A ist ein echtes Arbeitstier im Studio, das sich für eine Vielzahl von Instrumentenaufnahmen sowie für Gesangs- und Sprachaufnahmen eignet. Seine glänzende Top-End erweckt akustische Gitarren und Pianos zum Leben, während sein hoher Schalldruckpegel es zu einem ausgezeichneten Mikrofon für Schlagzeug und Percussion macht.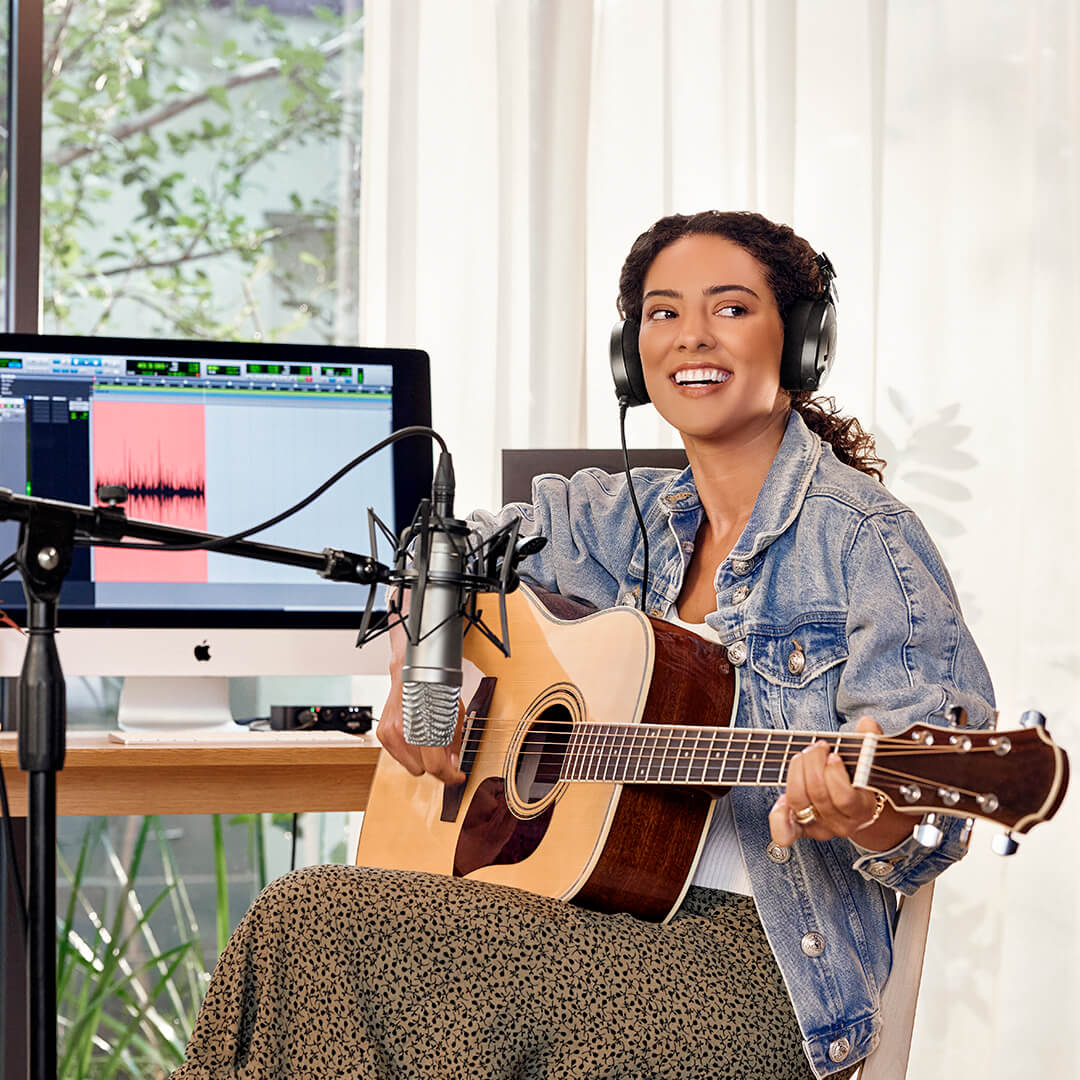 Gold-sputtered Capsule
The heart of the NT1-A is its 1-inch gold-sputtered capsule. Precision manufactured to sub-micron tolerances at RØDE's state-of-the-art facility in Sydney, Australia, it delivers the legendary warmth of classic studio microphones without compromising on frequency response or SPL handling. Its tight cardioid polar pattern helps to reject unwanted sounds and its controlled proximity effect delivers a rich, intimate sound that is always balanced.
Äußerst leise für erstklassigen Klang
Das NT1-A ist eines der leisesten Studiomikrofone der Welt mit einem Eigenrauschen von nur 5 dB(A). Dadurch wird sichergestellt, dass jede Aufnahme außergewöhnlich sauber ist, selbst bei der Aufnahme von leisen Klangquellen.

Komplettes Gesangsaufnahme-Set
Das NT1 wird mit dem RØDE SM6 geliefert, einer hochwertigen Stoßdämpferhalterung, die eine Isolierung von externen physikalischen Faktoren bietet, die unerwünschten Trittschall und Vibrationen im Mikrofon verursachen können. Es verfügt über einen abnehmbaren Mikrofonschutz mit zwei Verstellachsen und einen Teleskoparm für ultimative Anwendungsvielfalt. Ein hochwertiges XLR-Kabel wird ebenfalls mitgeliefert.

NT1-A User Guide
Discover everything you need to know about using your NT1-A here. This comprehensive user guide covers everything you need to know from getting set up to an overview of all included features and accessories, ensuring you can get the most out of your microphone.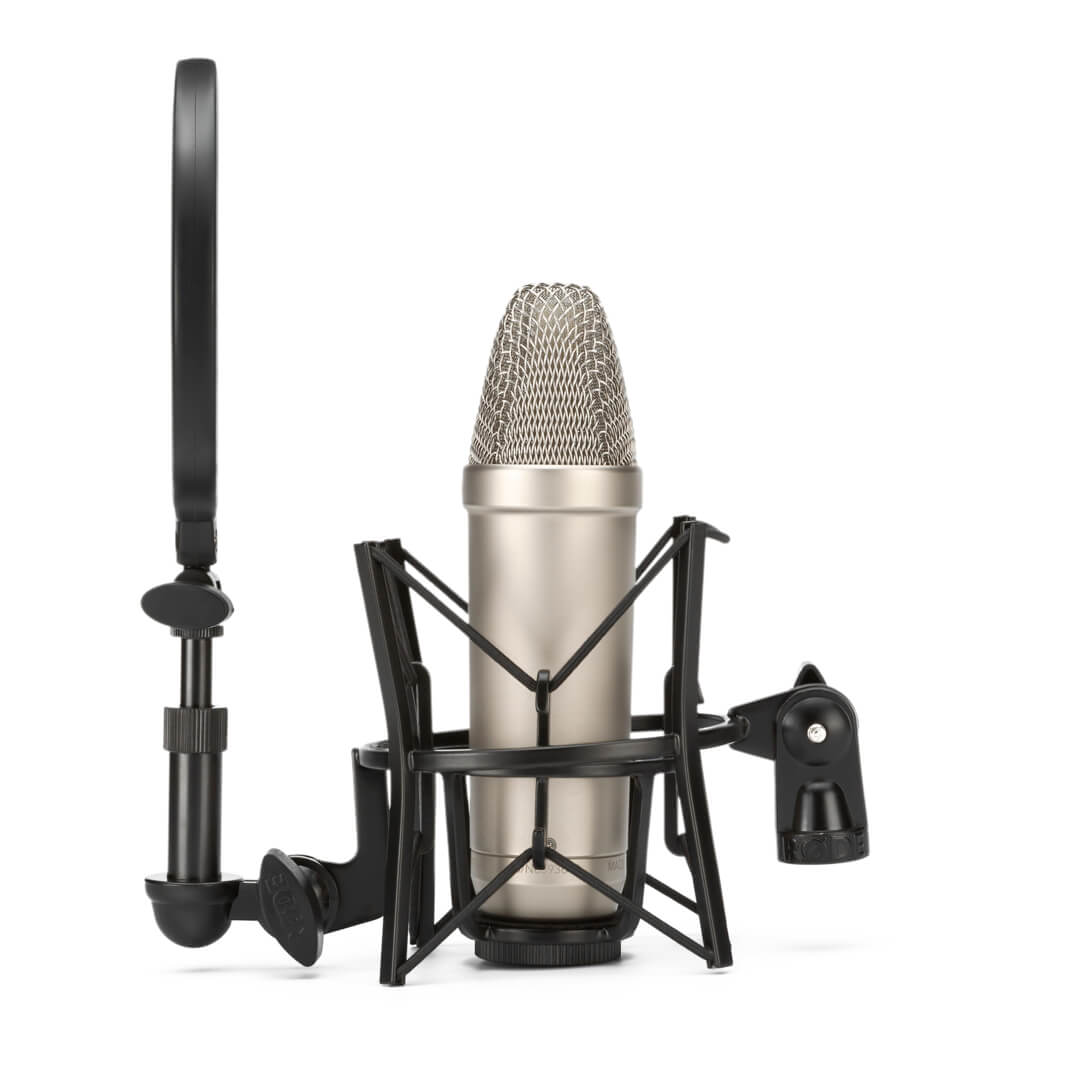 Häufig gestellte Fragen
Q.
Can the PSA1 arm handle the weight of the NT1-A microphone?
A.
Yes, the PSA1 is strong enough to handle the weight of the NT1-A and SM6.
Q.
I have what is supposed to be a matched pair, but the serial numbers aren't sequential. Is this correct?
A.
Matched pairs from RØDE aren't necessarily (and in almost every case aren't) sequentially serialised.
The serial numbers are engraved at the end of the machining process, prior to assembly of the electronics, acoustics and quality assurance. Following these processes, a certain percentage of microphones (depending on model) are matched together to make the matched pair kits. Each matched pair is supplied with a signed and dated certificate listing the two matched serial numbers.