The RØDECaster Pro II is regularly enhanced with new features, functionality improvements, bug fixes and more via firmware updates. These can be downloaded directly from your unit or via RØDE Central.
Downloading Firmware Directly to Your Unit
To download firmware directly to your unit, you must be connected to the internet via Wi-Fi or ethernet (settings > 'System' > 'Network' > then select either a Wi-Fi or ethernet/wired connection and follow the prompts to connect). When you are connected to a network and new firmware is available, a message will appear on the settings menu prompting you to update. Alternatively, you can go to settings > 'System' > 'Information' and tap 'Check for Update' to check if new firmware is available.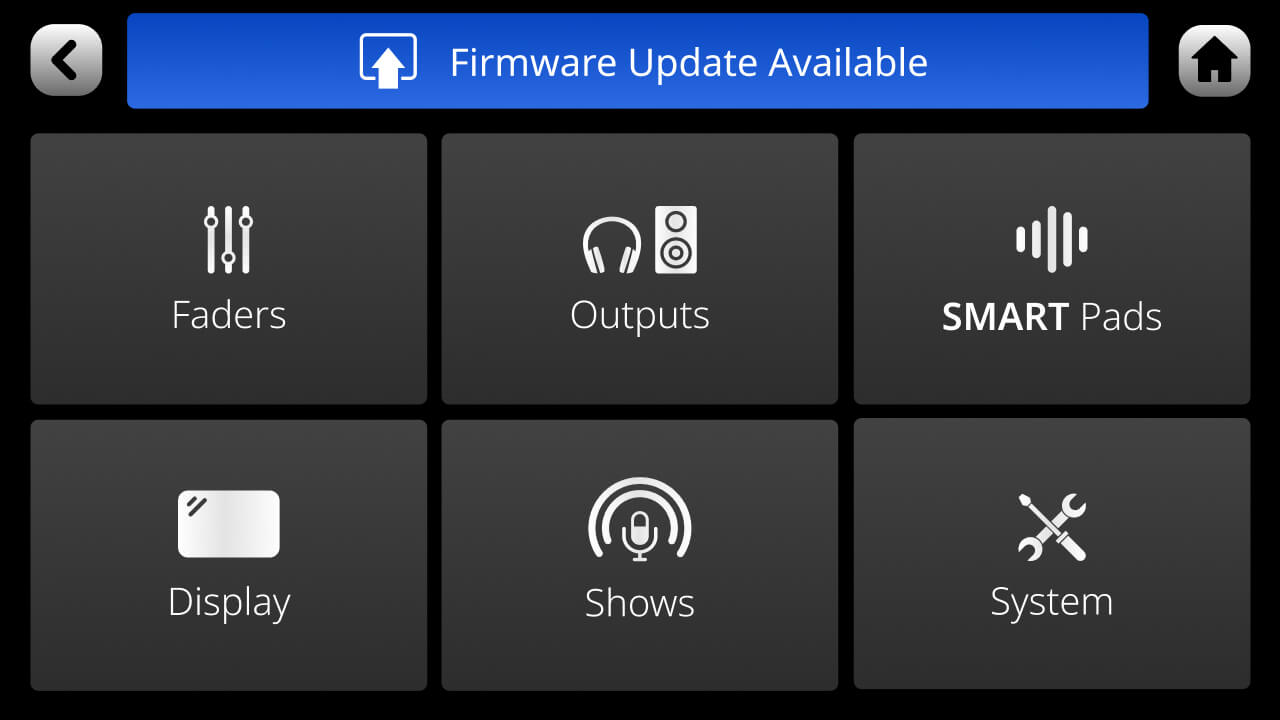 Downloading Firmware via RØDE Central
When a firmware update is available, and you connect RØDECaster Pro II to a computer and open RØDE Central, you will automatically be prompted to update. Click 'Update' to download the firmware.
Note: After updating your firmware, your settings will remain in the previously known state.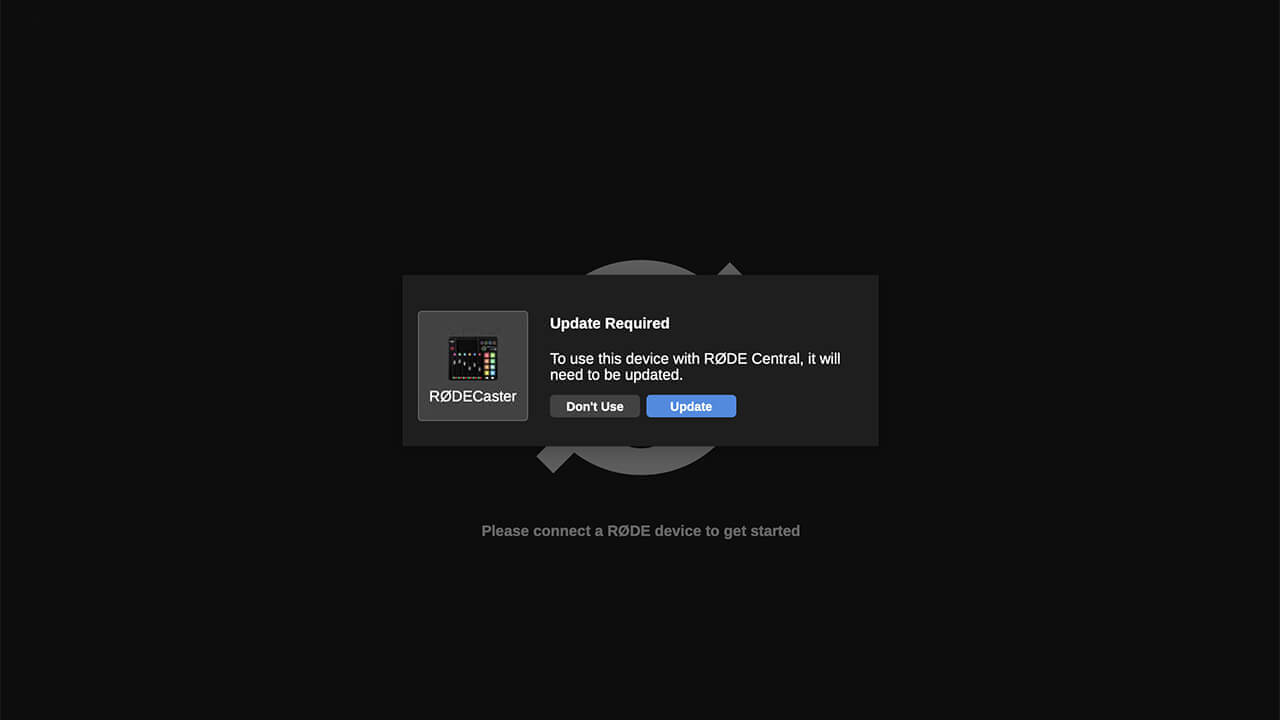 Why Update to the Latest Firmware
It is recommended that you keep your RØDECaster Pro II up to date with the latest firmware to ensure optimal performance. We're also constantly working to introduce new features and enhancements based on your feedback, so if you have a suggestion, please let us know at info@rode.com. You can find the firmware release notes for below.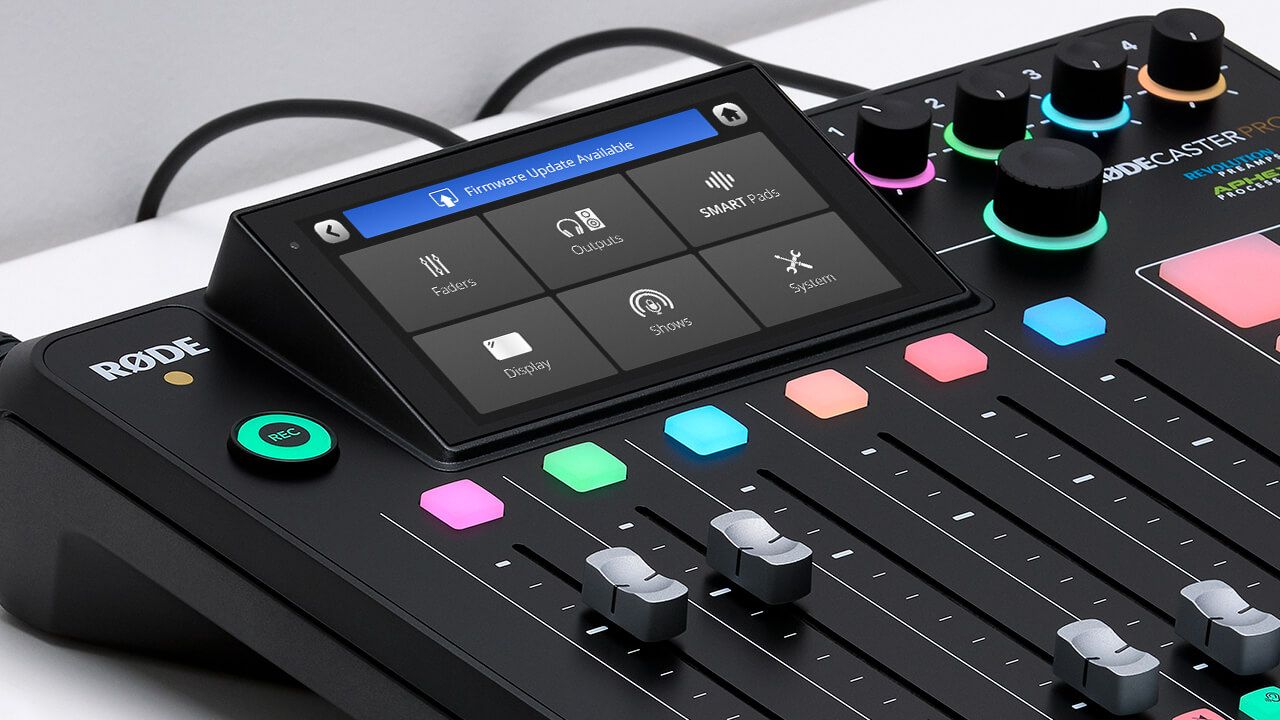 Access Beta Firmware
Beta Mode
To access the beta mode on your RØDECaster Pro II, navigate to Settings > System > Information > View Device Information and then tap anywhere in the black box about a dozen times. If your RØDECaster Pro II is connected to the internet and a new beta firmware version is available, you will see a prompt to update to this beta version. If you don't update to a new beta version, you can exit the beta mode by restarting your RØDECaster Pro II and repeating the above process.
Beta Testing Program
If you would like to be a part of the RØDECaster Pro II beta firmware testing program and be the first to hear about new features and updates, you can sign up here. Joining the program will give you the opportunity to provide feedback directly to the RØDE product development team.
Click here to see release notes for all firmware updates.
How to Revert Back to Stable Firmware
To revert back to stable firmware, you will need to factory reset your device using the latest version of RØDE Central using the steps below:
Download RØDE Central (if you have not done so already)
Open RØDE Central and connect your RØDECaster Pro II to your computer via USB
Your RØDECaster Pro II should appear on the left column among other RØDE Central compatible devices. Click it.
Click the settings cog in the top right of the window, then click the 'Factory Reset' option. You will be prompted to disconnect all RØDE devices from your computer. Disconnect, then reconnect and turn on your RØDECaster Pro II.
After rebooting your RØDECaster Pro II, you will be able to click 'Factory Reset'. This will reinstall the latest firmware to your device.
If you have any issues reverting back to stable firmware, please contact service@rode.com