NT1-A
NT1-A
El NT1-A es un micrófono de condensador de gran diafragma que es un estándar en la industria. Con su calidez y claridad, su rango dinámico ampliado, su capacidad de alto nivel de presión sonora y su ruido propio increíblemente bajo, es una verdadera herramienta de trabajo en el estudio, perfecto para grabar todo tipo de música, desde voces hasta guitarras acústicas y baterías.
Características principales:
Cápsula de gran diafragma de 1 pulgada con pulverización de oro.
Patrón polar cardioide.
Ruido propio ultra bajo (5 dBA).
Amplio rango dinámico.
Amplio rango dinámico.
Se presenta como un completo kit de grabación, con un soporte antivibraciones SM6 de RØDE, un filtro antipop y una cubierta antipolvo.

Large-diaphragm 1" gold-sputtered capsule
Cardioid polar pattern
Ultra-low self-noise (5dBA)
Wide dynamic range
Internal capsule shock mounting
Comes in complete recording kit, with a RØDE SM6 shock mount, pop filter and dust cover

Interpretaciones vocales
El NT1-A es un micrófono clásico de condensador auténtico y gran diafragma que presenta una calidez y claridad impresionantes, por lo que es ideal para grabar voces de todo tipo. Su carácter suave y sedoso da vida a todas las interpretaciones, mientras que su respuesta de frecuencias ampliada garantiza la captación de todos los matices con una precisión increíble. El NT1-A también incluye el soporte antivibraciones SM6 de calidad de estudio y el filtro antipop para una grabación limpia y sin sonidos oclusivos o explosivos.
Claridad instrumental
El NT1-A es una verdadera herramienta de trabajo en el estudio que destaca en una amplia gama de aplicaciones de grabación de instrumentos, así como en la grabación de voces y palabras habladas. Sus brillantes agudos dan vida a las guitarras acústicas y a los pianos, mientras que su alta capacidad de NPS lo convierte en un excelente micrófono para batería y percusión.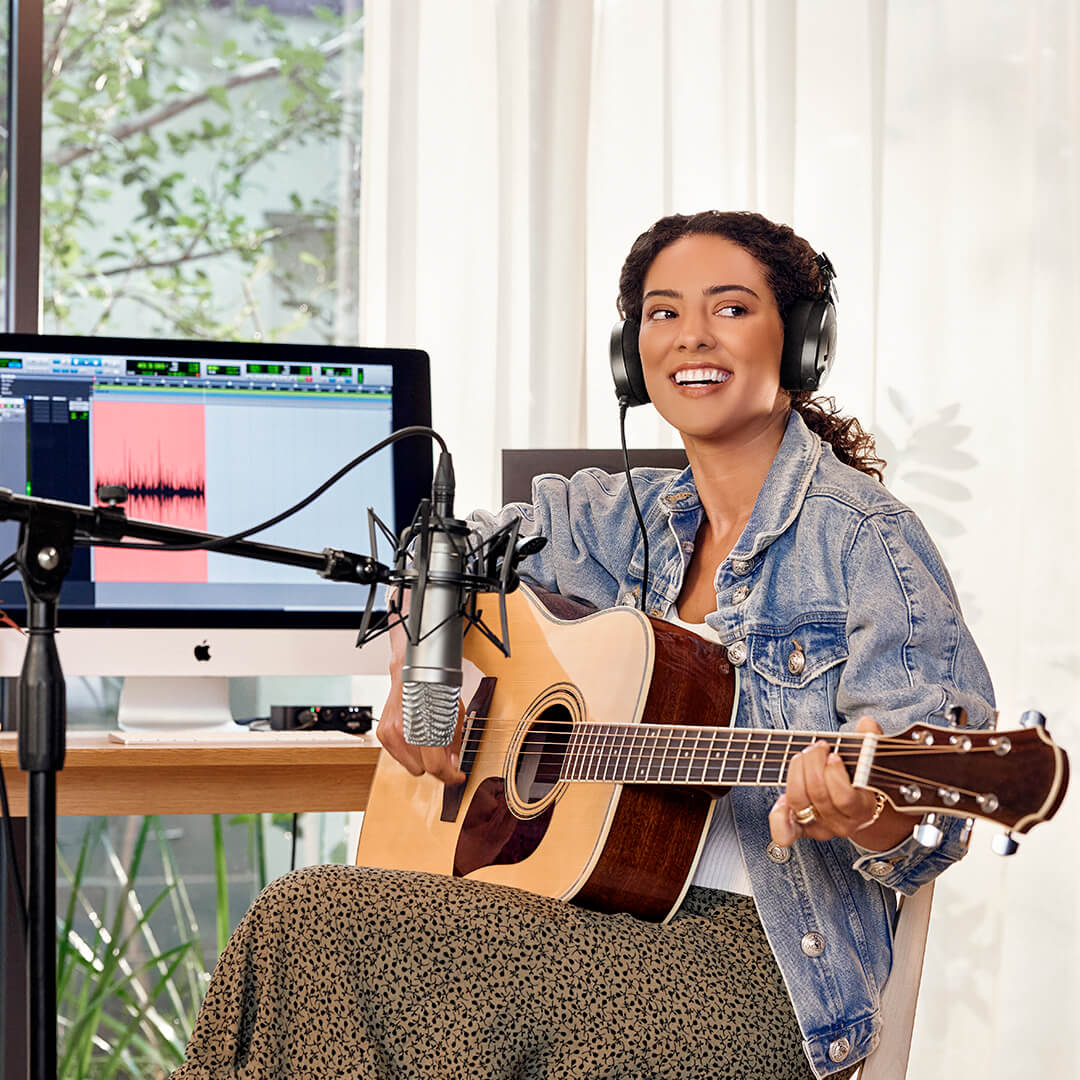 Gold-sputtered Capsule
The heart of the NT1-A is its 1-inch gold-sputtered capsule. Precision manufactured to sub-micron tolerances at RØDE's state-of-the-art facility in Sydney, Australia, it delivers the legendary warmth of classic studio microphones without compromising on frequency response or SPL handling. Its tight cardioid polar pattern helps to reject unwanted sounds and its controlled proximity effect delivers a rich, intimate sound that is always balanced.
Extremadamente silencioso para un sonido superior
El NT1-A es uno de los micrófonos de estudio más silenciosos del mundo, con un ruido propio de solo 5 dB(A). Esto garantiza que todas las grabaciones sean excepcionalmente limpias, incluso cuando se capturan fuentes de sonido débiles.

Kit completo de grabación vocal
El NT1-A se suministra con el SM6 de RØDE, un soporte antivibraciones con suspensión de gran calidad que proporciona aislamiento de factores físicos externos que pueden causar ruidos y vibraciones no deseados en el micrófono. Incluye un protector antipop desmontable con dos ejes de ajuste y un brazo telescópico para hacer que su utilización sea muy versátil. También se suministra un cable XLR de alta calidad.

NT1-A User Guide
Discover everything you need to know about using your NT1-A here. This comprehensive user guide covers everything you need to know from getting set up to an overview of all included features and accessories, ensuring you can get the most out of your microphone.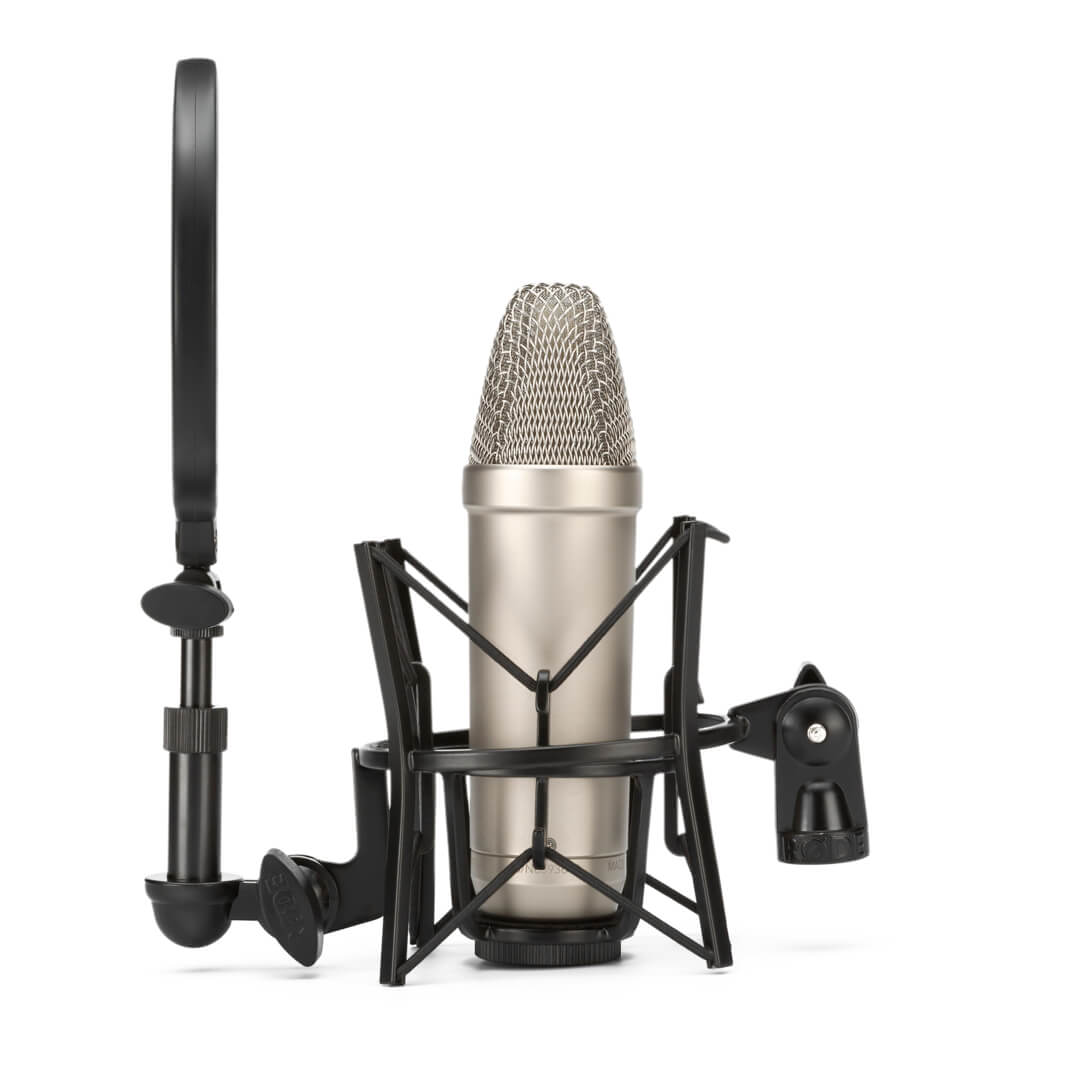 Preguntas frecuentes
Q.
Can the PSA1 arm handle the weight of the NT1-A microphone?
A.
Yes, the PSA1 is strong enough to handle the weight of the NT1-A and SM6.
Q.
I have what is supposed to be a matched pair, but the serial numbers aren't sequential. Is this correct?
A.
Matched pairs from RØDE aren't necessarily (and in almost every case aren't) sequentially serialised.
The serial numbers are engraved at the end of the machining process, prior to assembly of the electronics, acoustics and quality assurance. Following these processes, a certain percentage of microphones (depending on model) are matched together to make the matched pair kits. Each matched pair is supplied with a signed and dated certificate listing the two matched serial numbers.