Streamer X
Audio Interface and Video Capture Card
La Streamer X est une carte d'acquisition vidéo professionnelle, une interface audio et une surface de contrôle intégrées dans un seul appareil compact qui rend incroyablement facile la création de contenus incroyables. Connectez et contrôlez un microphone XLR, un instrument, un casque ou un émetteur sans fil et contrôlez votre audio à l'aide d'un casque. Capturez en toute transparence une source vidéo HDMI telle qu'une caméra, un PC de jeu ou une console de jeu jusqu'à 4 K 30 et transmettez le signal sans latence à 4 K 60. Connectez la Streamer X simultanément à deux ordinateurs et libérez de puissantes capacités de routage, de traitement et de mixage audio grâce au logiciel UNIFY inclus.

Principales caractéristiques
Une carte d'acquisition vidéo professionnelle, une interface audio et une surface de contrôle intégrées dans un seul appareil compact et facile à utiliser
La capture vidéo 4 K 30 et la transmission 4 K 60 via HDMI
La Revolution Preamp™ de qualité studio avec prise jack combo Neutrik® pour microphones XLR ou instruments de niveau ligne
Une entrée TRRS 3,5 mm pour connecter des casques
Un récepteur sans fil intégré pour connecter les périphériques sans fil de la série IV de RØDE (y compris le Wireless GO II et le Wireless ME)
Une double interface USB-C pour la connexion de deux ordinateurs ou de périphériques mobiles
Quatre pads SMART pour déclencher des sons, des effets vocaux et d'autres actions sur un ordinateur
Elle est également entièrement compatible avec les logiciels RØDE, y compris UNIFY et RØDE Central, pour une fonctionnalité étendue et une flexibilité inégalée.
Conçue et fabriquée dans les sites de production à la pointe de la technologie de RØDE à Sydney, en Australie
Professional audio interface, video capture card and control surface integrated in one compact, easy-to-use device
Up to 4K30 video capture and 4K60 pass-through via HDMI
Variable Refresh Rate (VRR) support
Neutrik® combo jack for connecting XLR microphones or instruments, with an ultra-low-noise, high-gain Revolution Preamp™ for pristine audio quality
3.5mm TRRS input for connecting headsets and 1/4-inch headphone output for zero-latency monitoring
Integrated wireless receiver for connecting RØDE Series IV wireless microphones, including the Wireless PRO, Wireless GO II and Wireless ME
Internal DSP for advanced audio processing powered by APHEX®
Four fully customisable SMART pads for triggering sounds, voice effects and MIDI commands
Dual USB-C interfaces for connecting to two computers or consoles
Easy configuration and control via RØDE Central desktop companion app
Compatible with free UNIFY streaming software for advanced audio routing, mixing and configuration
Designed and made in RØDE's precision manufacturing facilities in Sydney, Australia
Solution de streaming
tout-en-un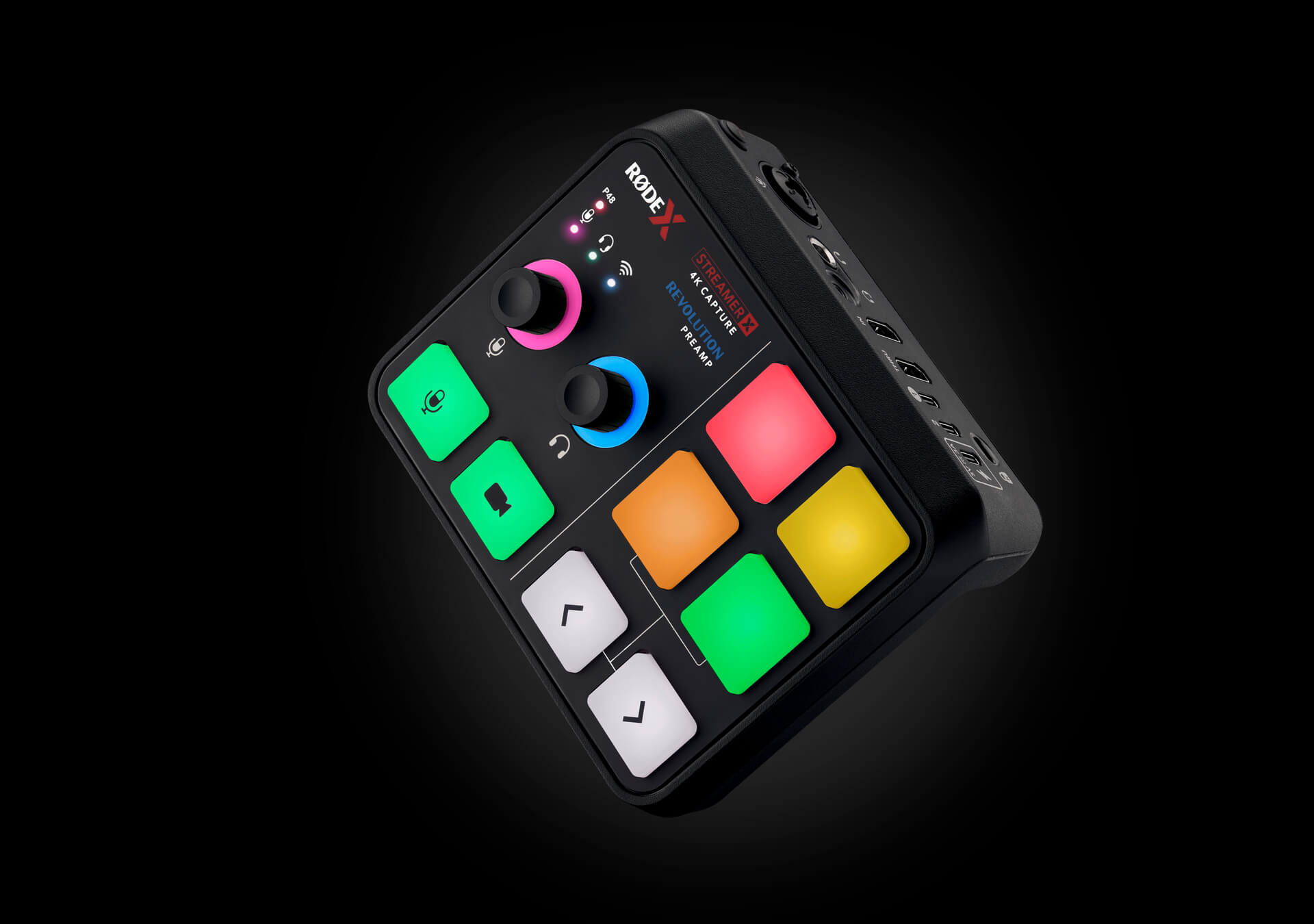 Améliorez votre flux avec une qualité audio et vidéo irréprochable
Ne faites pas de compromis avec votre audio ou votre vidéo. Avec une acquisition vidéo jusqu'à 4 K 30 et une transmission HDR 4 K 60 sans latence, la Streamer X offre une qualité vidéo incroyable pour vous et votre public. Elle est également équipée de notre Revolution Preamp™ à gain élevé et à bruit ultra-faible pour capter un son pur de qualité studio, sans recourir aux boosters ou aux lifters, grâce à son traitement audio avancé embarqué, vous pouvez donner à votre voix l'éclat et la richesse de la diffusion.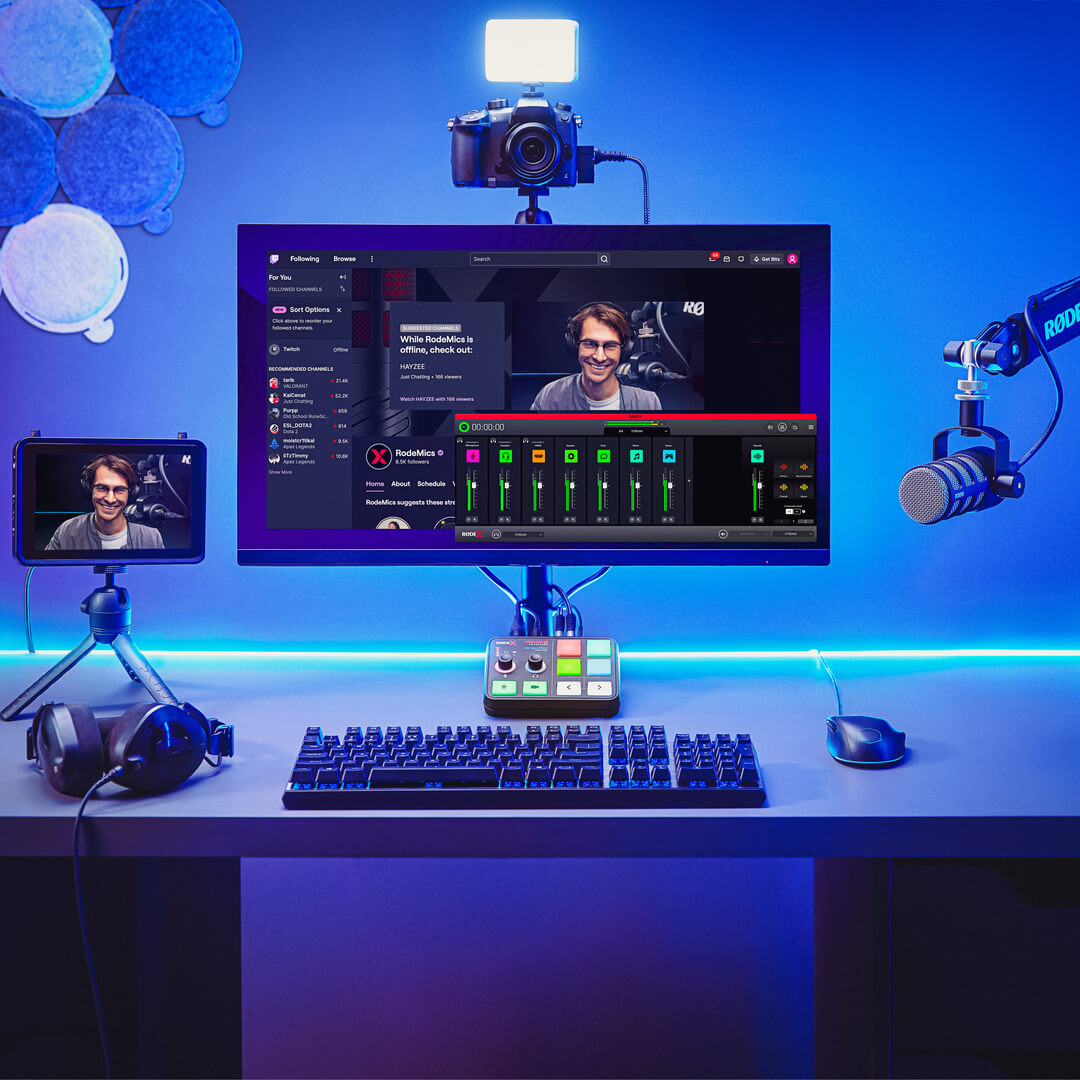 Microphone professionnel, casque et connectivité sans fil
Avec la Streamer X, vous pouvez connecter un large éventail de périphériques audio pour la diffusion, y compris un microphone XLR, un instrument, un micro-casque ou même un émetteur sans fil RØDE série IV comme le Wireless GO II ou le Wireless ME. Vous pouvez régler les niveaux d'entrée et de sortie et changer la source d'entrée en toute simplicité grâce à l'interface de contrôle pratique, ou vous pouvez même utiliser toutes les entrées simultanément grâce au logiciel UNIFY inclus.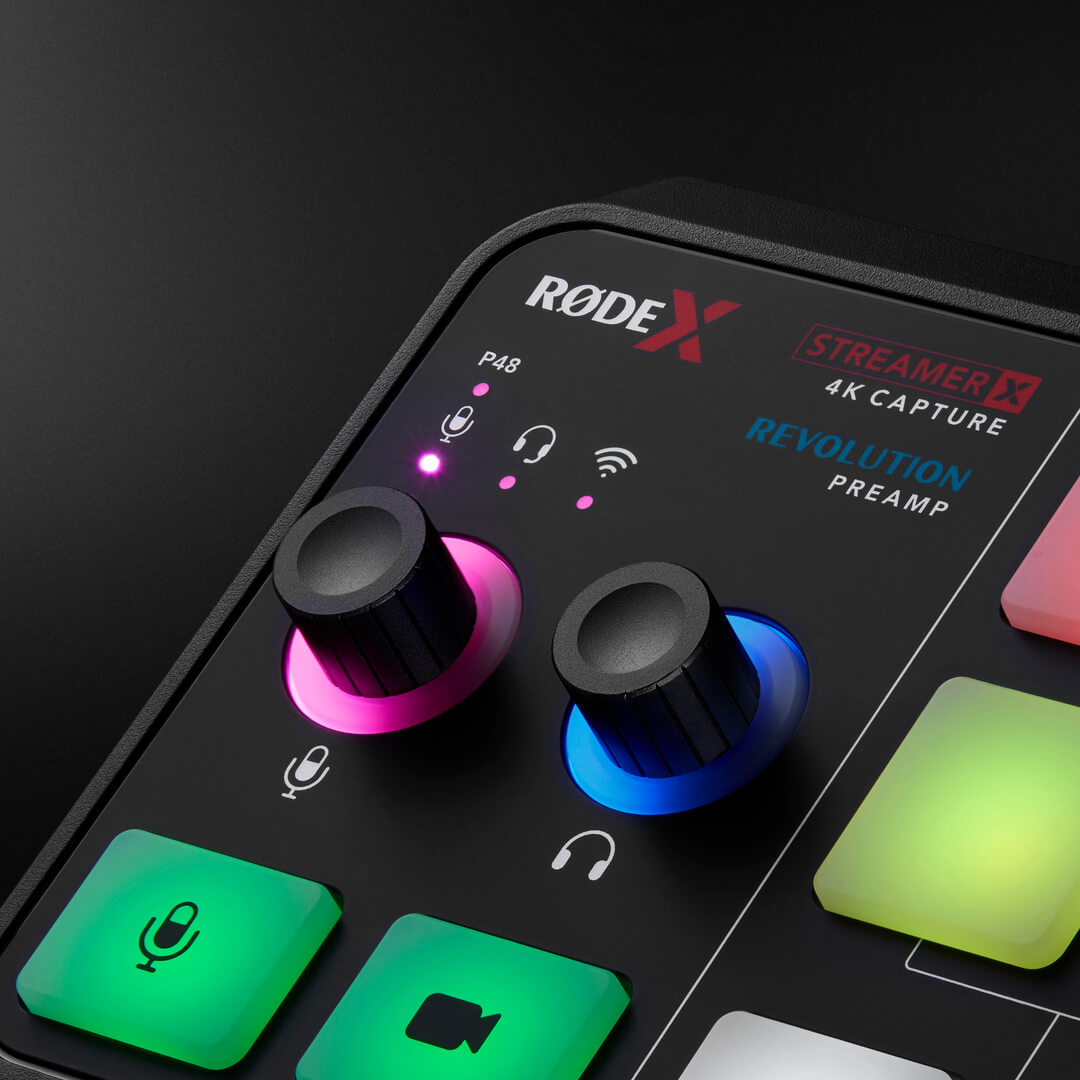 Streaming et enregistrement vidéo polyvalents
Quel que soit le contenu que vous créez, quelle que soit votre configuration, la Streamer X vous permettra de passer à la vitesse supérieure. Qu'il s'agisse de capturer une image nette d'un jeu à partir d'un PC ou d'une console, de connecter un DSLR pour capturer d'incroyables streams IRL, des réunions ou des présentations, ou de créer une installation compacte pouvant être emportée partout, la Streamer X est la solution parfaite.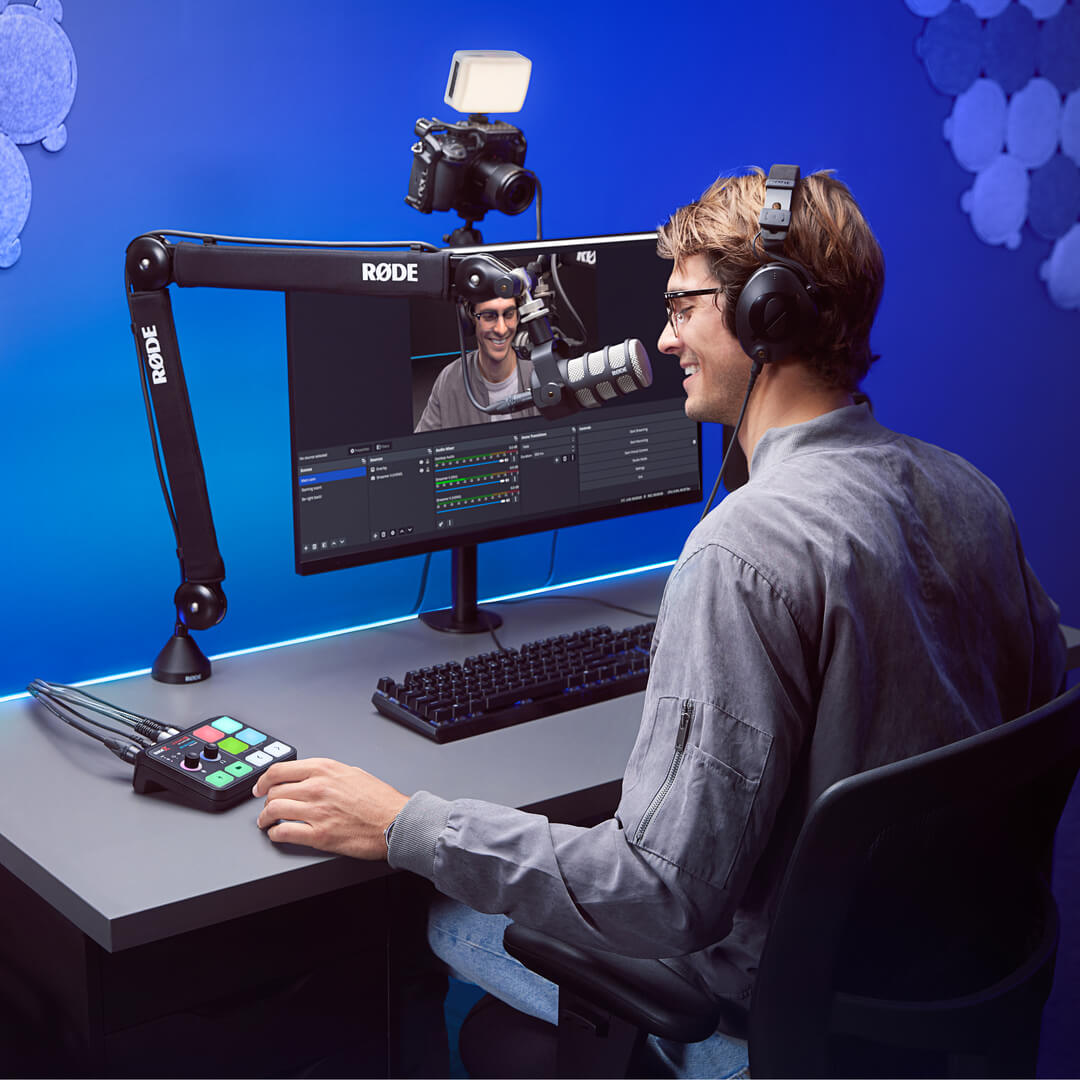 INPUT FORMATS

4K60 HDR
4K60
1440p120
1440p144
1440p60 HDR
1440p60
1080p240
1080p120
1080p60 HDR
1080p60

CAPTURE OUTPUTS

1080p60
1080p60 HDR
1080p120
1440p60
4K30
Contrôle polyvalent sans interruption
La Streamer X vous offre un contrôle polyvalent et sans interruption de votre vidéo et de votre audio. Elle comporte des commandes dédiées aux niveaux du micro et du casque, ainsi que des boutons mute de grande dimension pour l'audio et pour la vidéo. Elle comprend également quatre pads SMART entièrement personnalisables, avec jusqu'à 64 pads accessibles par commutation de banque. Ils peuvent être configurés pour déclencher la lecture audio, ajouter des effets vocaux et même envoyer des messages MIDI à votre ordinateur, ce qui vous permet de déclencher n'importe quel raccourci clavier d'une simple pression sur un pad. Ceci est très utile pour de nombreuses applications, du changement de diapo lors d'une présentation jusqu'au changement de scènes au sein de votre logiciel de streaming.everything from changing slides on a presentation to switching scenes in your streaming software.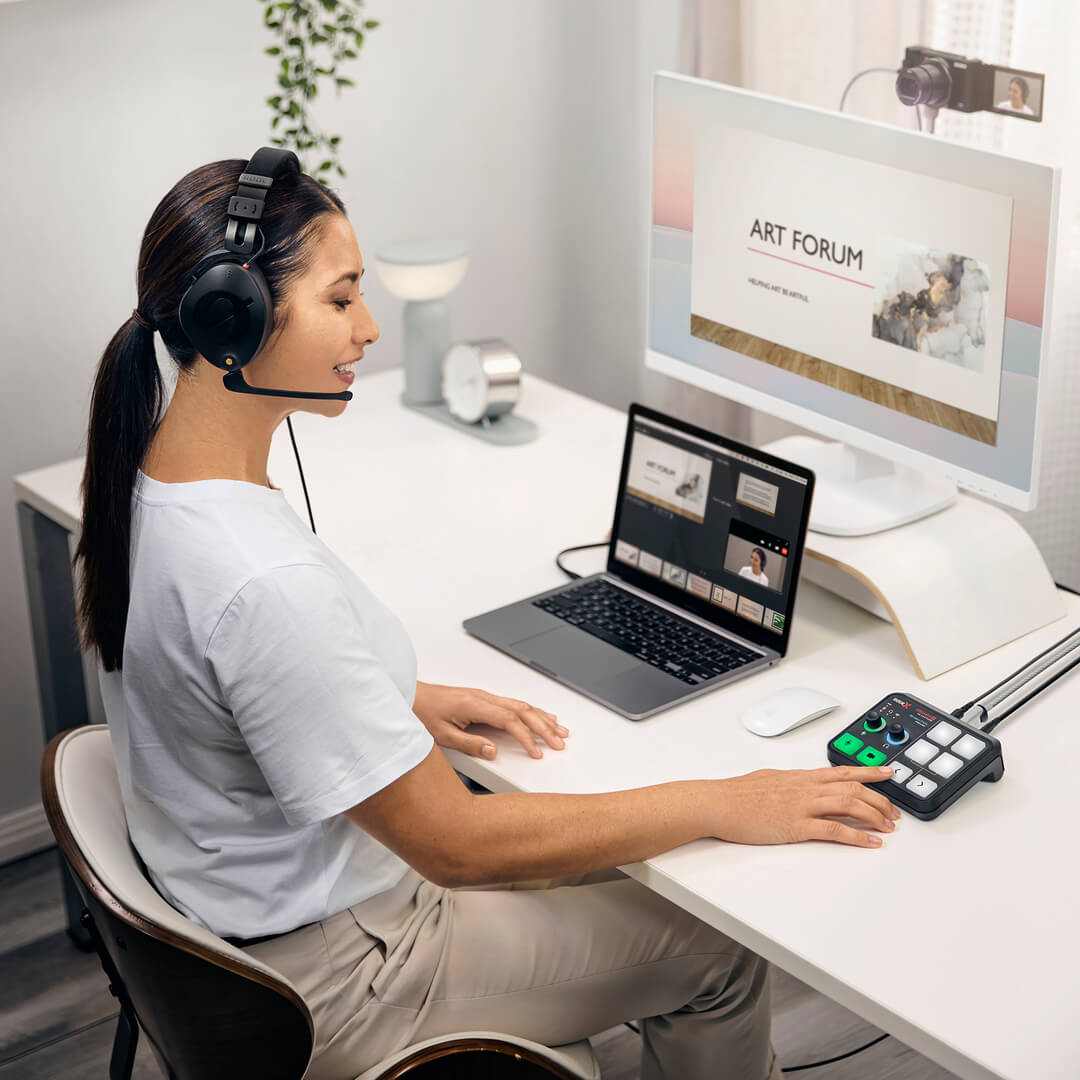 Simple, élégant et tout ce dont vous avez besoin
Remplacez une installation compliquée, composée de plusieurs périphériques, par un seul périphérique compact qui offre une meilleure qualité avec beaucoup moins de complexité. Dès sa sortie de la boîte, vous pouvez connecter des microphones XLR, des casques, des instruments et même des systèmes sans fil RØDE, ainsi que des caméras, des ordinateurs et des consoles pour lancer votre flux en quelques minutes. Avec un design intuitif qui offre un contrôle total tout en prenant très peu de place sur le bureau, la Streamer X est une nouvelle façon de diffuser de l'audio et de la vidéo.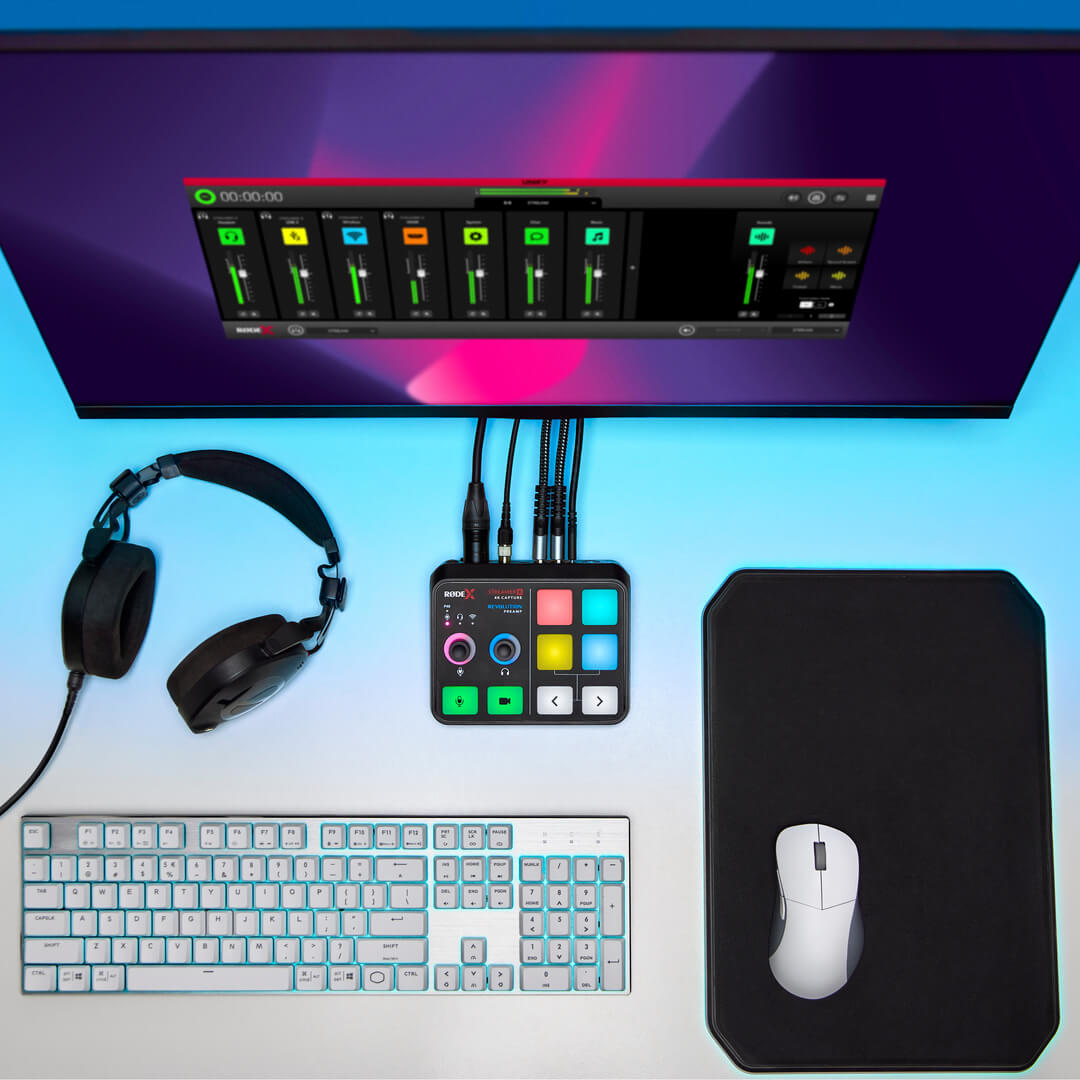 RØDE CENTRAL
RØDE Central est une application complémentaire à la Streamer X qui vous donne accès au traitement audio embarqué, à la personnalisation des pads SMART, à la configuration de la table de mixage, aux mises à jour du firmware et à d'autres paramètres avancés de l'appareil.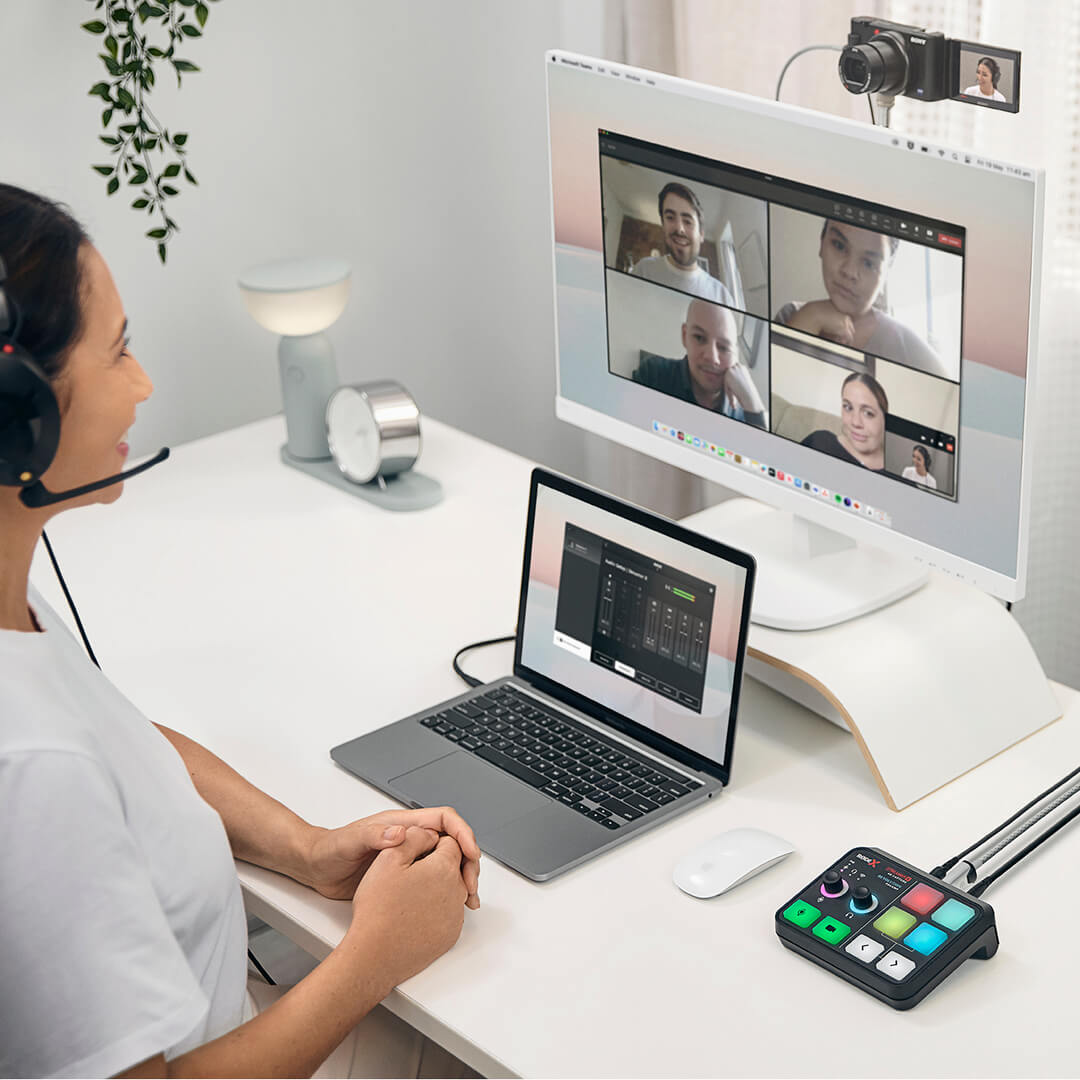 UNIFY
La Streamer X s'intègre parfaitement à UNIFY, la solution de mixage virtuel ultime pour le streaming qui offre tout, du traitement audio au mixage et au routage avancés.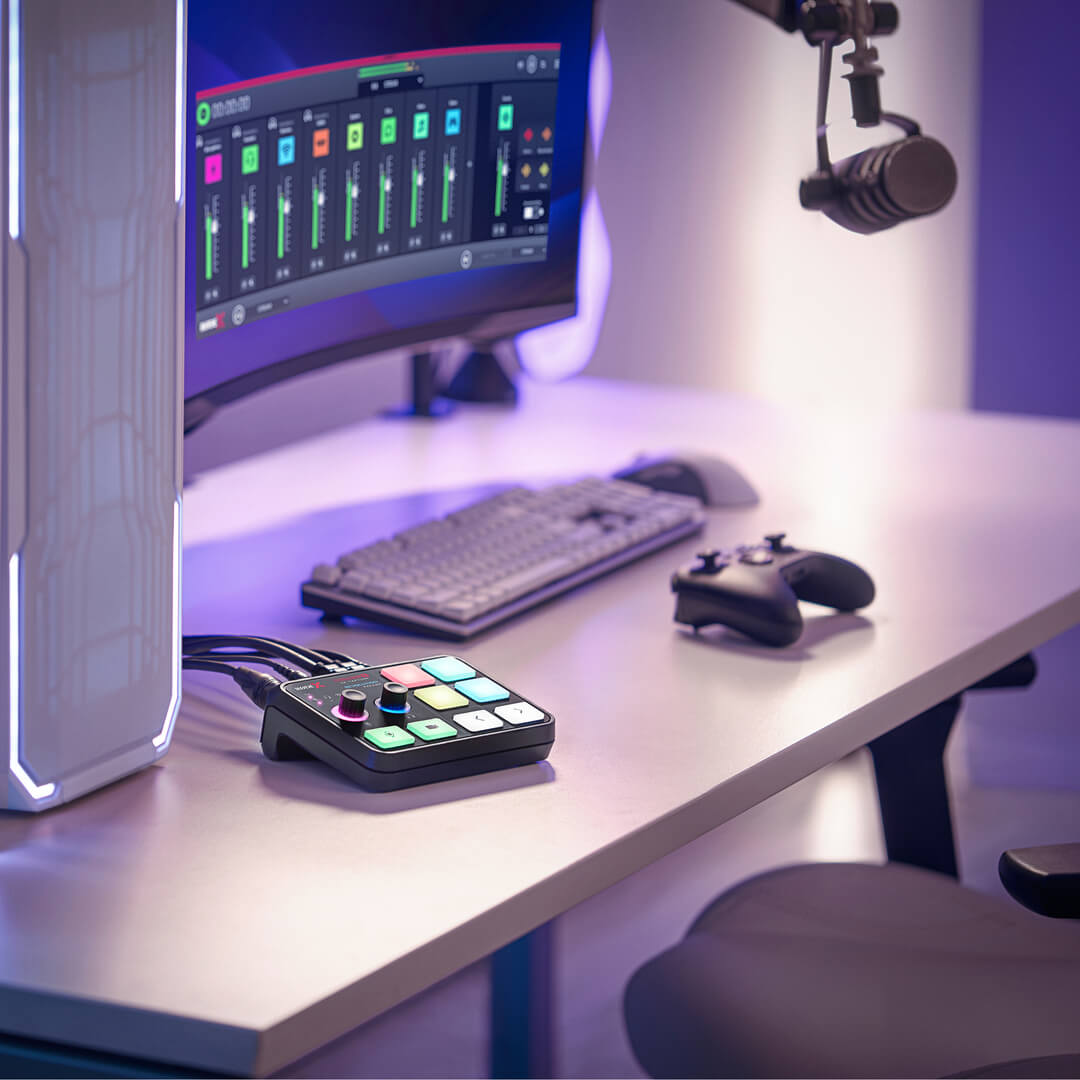 Guide de l'utilisateur de la Streamer X
Découvrez ici tout ce que vous devez savoir sur votre interface audio et votre carte d'acquisition vidéo Streamer X. Ce guide de l'utilisateur complet couvre tout ce que vous devez savoir sur l'installation, la capture et le passage de la vidéo, le mixage et le traitement de l'audio et l'utilisation de la surface de contrôle.