PodMic USB
Versatile Dynamic Broadcast Microphone
Le PodMic USB est un microphone dynamique ultra-polyvalent idéal pour le podcasting, le streaming, les jeux, les doublages et autres utilisations vocales lors de la création de contenu. Il offre un son riche et corsé, et dispose d'une sortie XLR ainsi que d'une prise USB pour se connecter à une interface audio ou à une table de mixage comme un microphone de diffusion classique, ou bien encore directement à un ordinateur pour un enregistrement « plug-and-play ». La sortie numérique USB est dotée de la Revolution Preamp™ à gain élevé et à très faible bruit et d'un puissant traitement du signal numérique APHEX® pour capter facilement un son de qualité studio, ainsi que d'une sortie casque sans latence avec contrôle de niveau, pour un enregistrement sans accrocs. Pour encore plus de polyvalence, le PodMic USB est également entièrement compatible avec les appareils mobiles iOS et Android, offrant ainsi une solution portable de podcasting ou de streaming de haute qualité.
Principales caractéristiques
Microphone de diffusion dynamique et de qualité professionnelle
Connectivité XLR analogique et USB-C numérique
Entièrement compatible avec les ordinateurs Windows et Mac, ainsi qu'avec les appareils iOS et Android
Un DSP intégré pour le traitement audio avancé APHEX®
Une sortie casque intégrée avec contrôle de volume dédié, mise en sourdine et contrôle de la latence zéro
Compatible avec la suite de logiciels RØDE : RØDE Connect, RØDE Central, RØDE Capture et UNIFY
Un support pivotant intégré pour un repositionnement simple et sûr
Un filtre anti-pop interne pour minimiser les plosives et un support anti-choc interne pour réduire les vibrations
Un filtre anti-pop externe de qualité studio inclus
Une construction robuste, entièrement métallique, incroyablement résistante et durable
Conçue et fabriquée dans les sites de production à la pointe de la technologie de RØDE à Sydney, en Australie
Broadcast-quality dynamic microphone
Analog XLR and digital USB-C connectivity
Fully compatible with Windows and Mac computers, and iOS and Android devices
On-board DSP for advanced APHEX® audio processing
Ultra-low-noise, high-gain Revolution Preamp™
Built-in headphone output with volume control and zero-latency monitoring
Compatible with RØDE's suite of software – RØDE Connect, RØDE Central, RØDE Capture and UNIFY
Integrated swing mount for simple and secure positioning
Internal pop filter for minimising plosives and internal shockmount to reduce vibrations
Studio-quality external pop filter included
Robust, all-metal construction – incredibly rugged and highly durable
Designed and made in RØDE's precision manufacturing facilities in Sydney, Australia
Microphone tout terrain
Le PodMic USB est un microphone dynamique très polyvalent qui permet de capter un son riche et de qualité broadcast dans tous les scénarios possibles. Grâce à sa double connectivité XLR et USB, il est aussi à l'aise dans un studio d'enregistrement connecté à une table de mixage analogique que branché directement sur votre ordinateur, ou vous pouvez même le connecter à votre smartphone pour un système d'enregistrement ultra-portable. Le PodMic USB est parfait si vous voulez un microphone polyvalent qui donnera à votre contenu un son incroyable dans n'importe quel contexte.
Un son pro lorsque la créativité s'impose
Doté d'une capsule néodyme haute puissance, le PodMic USB délivre un son chaud, très détaillé et d'une clarté incroyable, ce qui le rend exceptionnel pour les applications vocales. Il est doté d'un filtre anti-pop interne pour minimiser les plosives, d'un support anti-choc interne pour réduire les vibrations et d'un filtre anti-pop externe de qualité studio pour vous assurer de capter un son clair et net à chaque fois.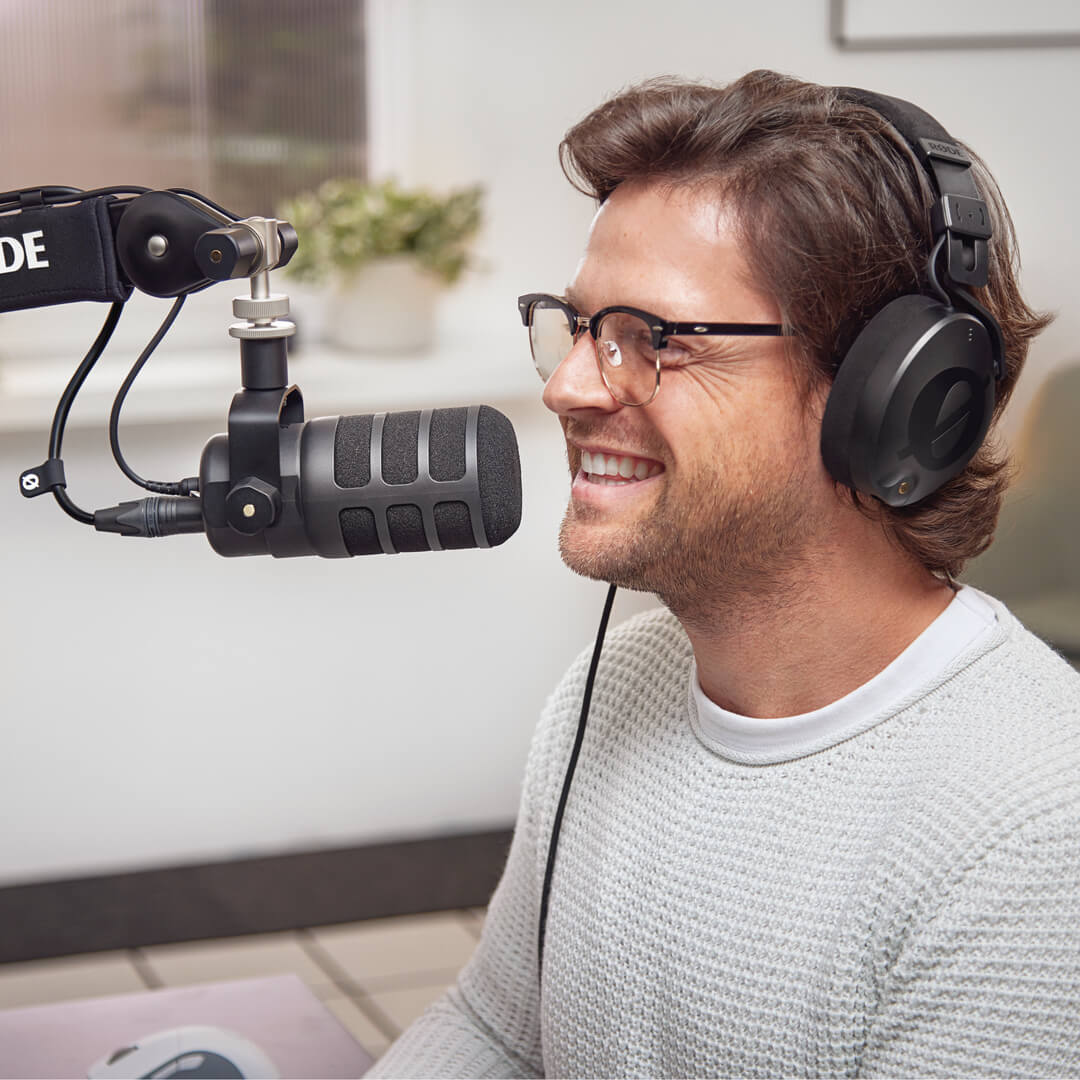 Solution d'enregistrement tout-en-un
Le PodMic USB est doté d'un puissant DSP (Digital Signal Processing) intégré, alimenté par APHEX®, qui facilite la prise d'un son professionnel. Utilisez VoxLab™ pour trouver rapidement le son parfait, ou plongez dans les contrôles granulaires du filtre passe-haut, du noise gate, du compresseur et des légendaires Aural Exciter™ et Big Bottom™. Contrôlez votre audio avec zéro latence grâce à la sortie casque, dotée d'un réglage de niveau intégré pour contrôler le volume de votre audio. La solution d'enregistrement parfaite tout-en-un.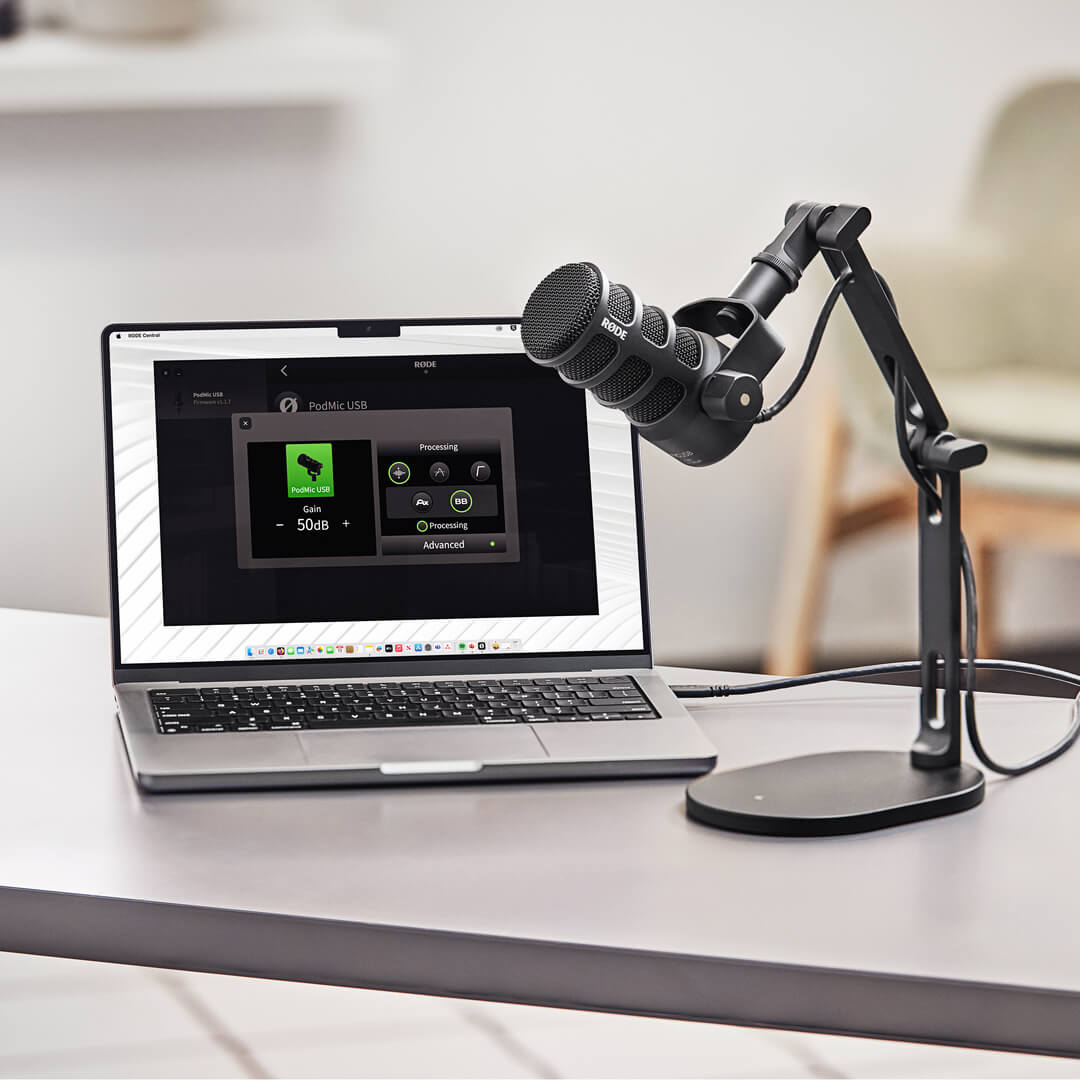 Emportez votre studio sur la route
Vous pouvez non seulement connecter le PodMic USB à votre interface audio, table de mixage, ordinateur portable ou ordinateur préféré, mais il se connecte également facilement aux smartphones et aux tablettes iOS et Android. Le PodMic USB est donc l'outil idéal pour capter un son de qualité professionnelle lorsque vous n'êtes pas en studio, ou si vous souhaitez simplement une installation plus compacte - c'est un système d'enregistrement professionnel et portable pour la route.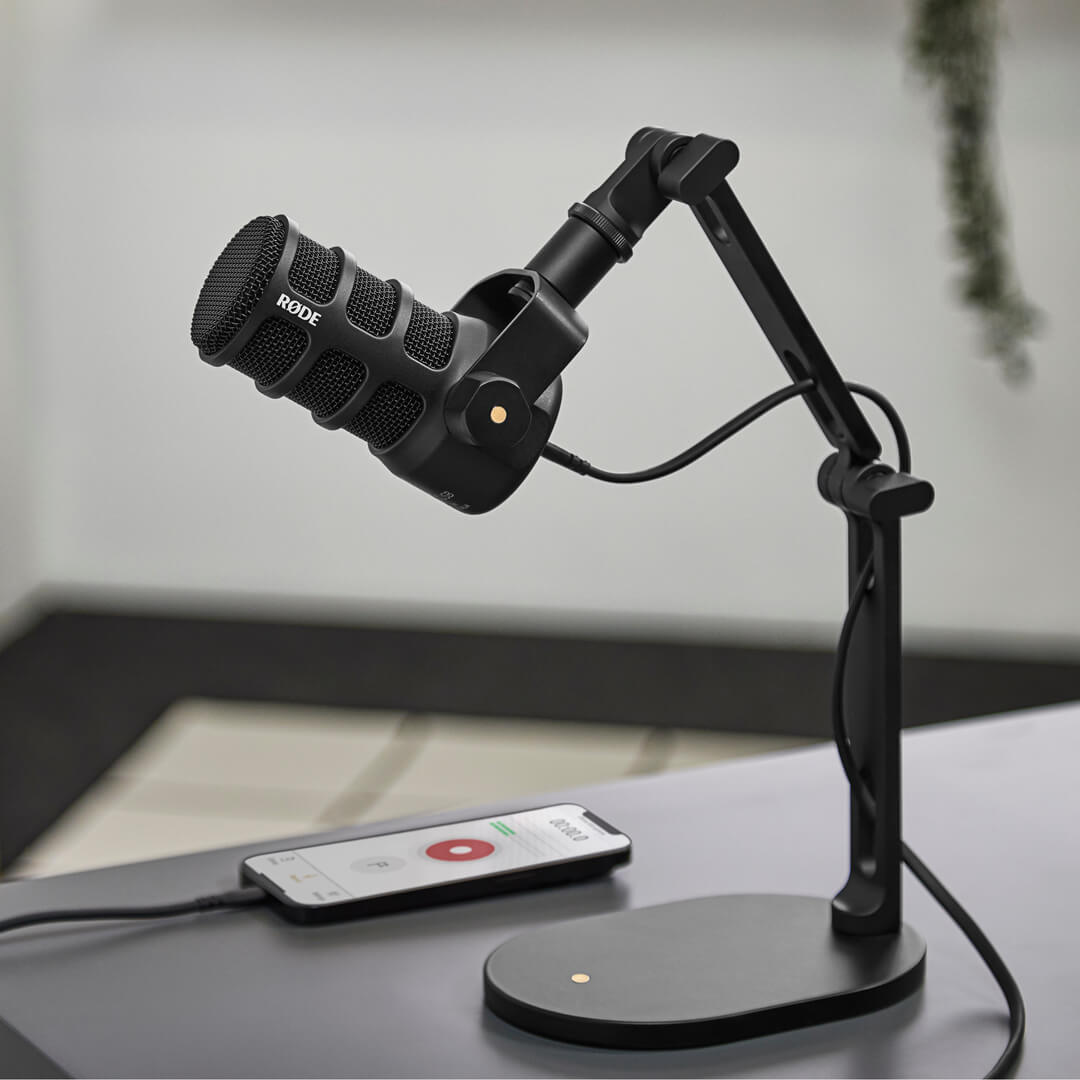 Un look épuré, conçu pour durer
Avec son esthétique classique de microphone de diffusion et sa finition noire mate élégante, le PodMic USB respire la classe, mais il est aussi incroyablement robuste et conçu pour durer. Le PodMic USB est construit à partir de composants de haute qualité logés dans un boîtier très résistant, plus que capable de survivre aux rigueurs de l'enregistrement quotidien à la maison, en studio et sur la route, et il est assorti d'une garantie de cinq ans, la meilleure du secteur.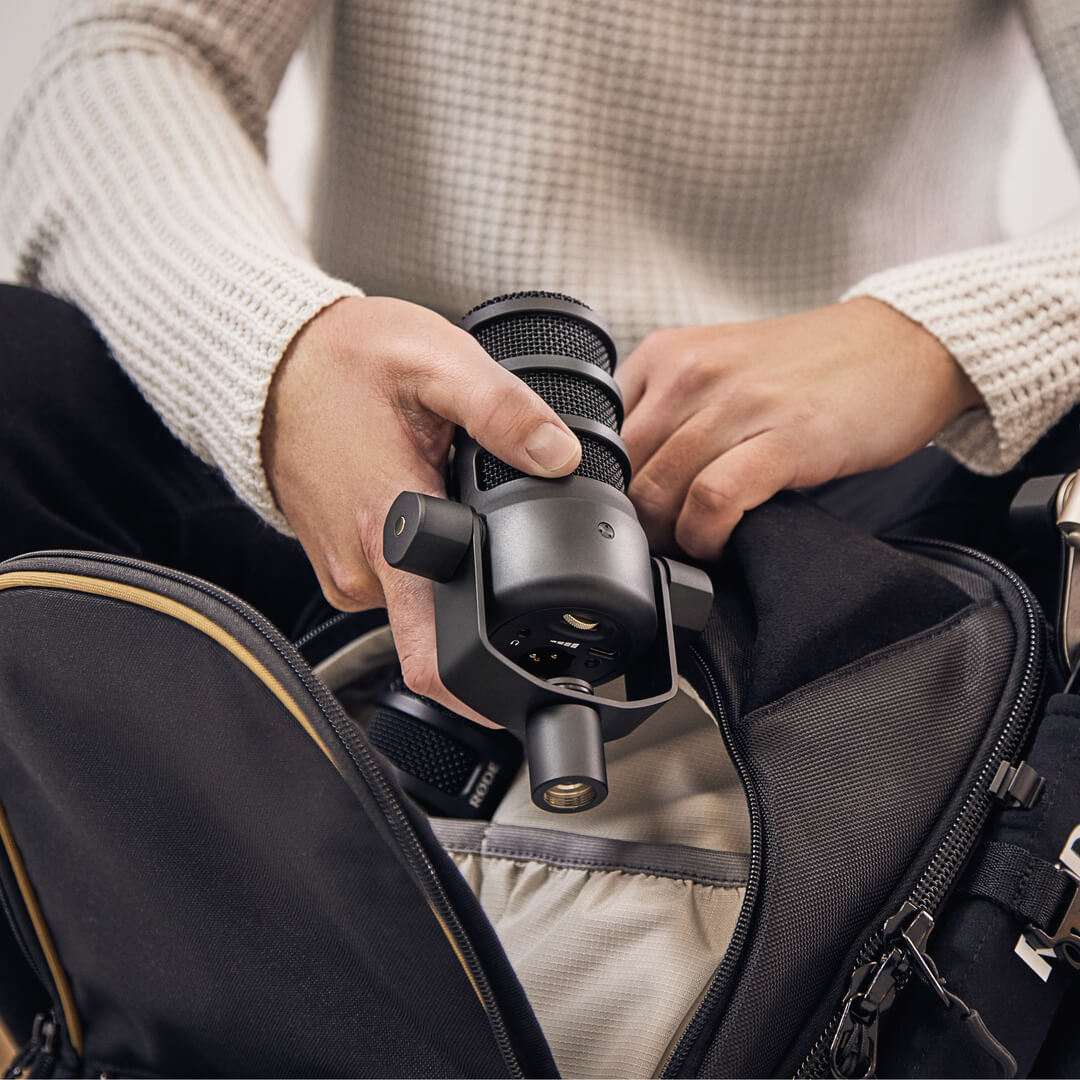 Libérez votre potentiel créatif avec la suite d'applications RØDE
Guide de l'utilisateur PodMic USB
Découvrez tout ce que vous devez savoir sur l'utilisation de votre PodMic USB dans ce guide d'utilisateur complet, y compris la façon d'enregistrer avec les connexions analogiques et numériques, l'utilisation du DSP avancé et plus encore.