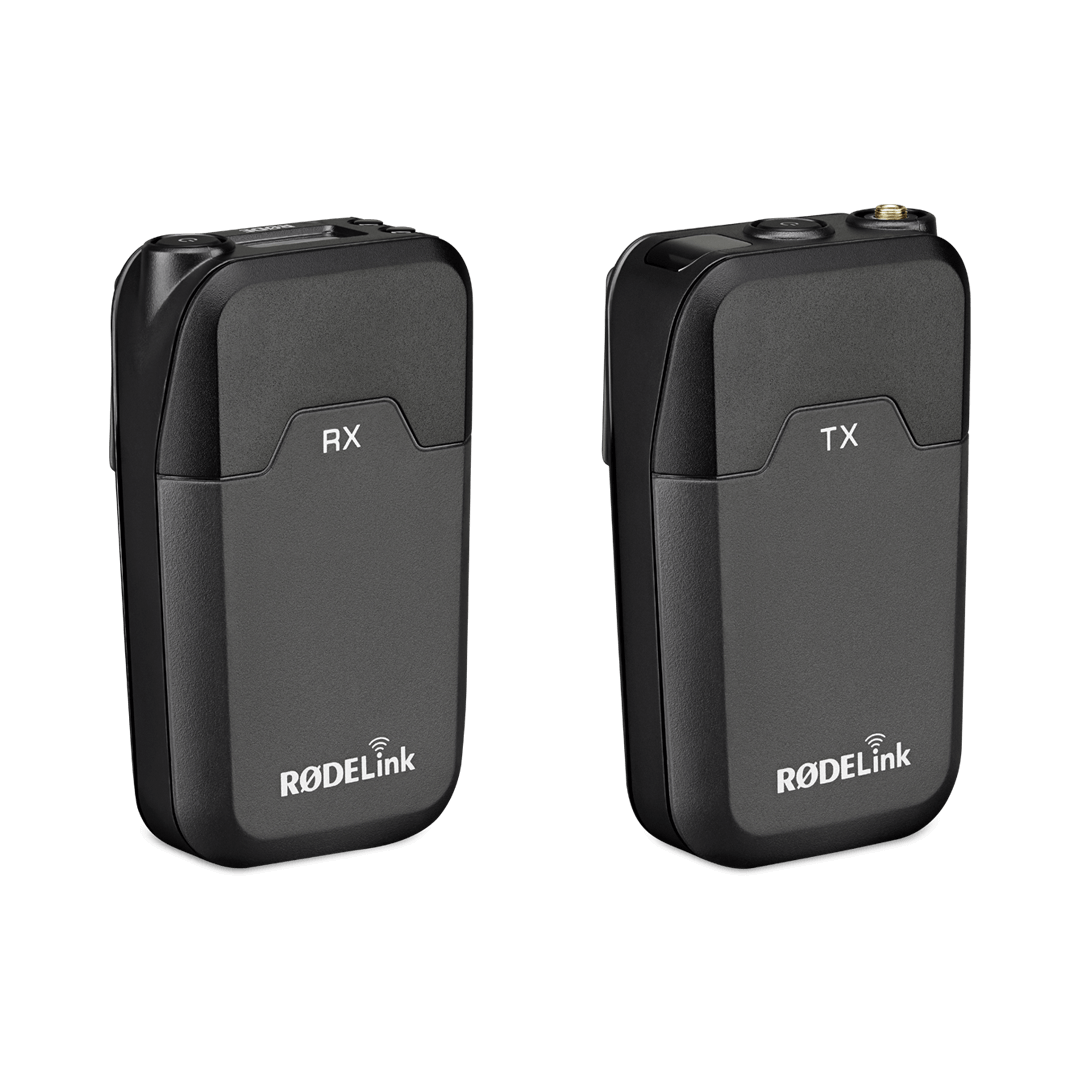 RØDELink Filmmaker Kit
Système numérique sans fil pour les réalisateurs
RØDELink représente une gamme de systèmes numériques sans fil. Utilisant une transmission numérique 2,4 GHz de la série II avec un cryptage de 128 bits, il est capable de surveiller et de sauter d'une fréquence à l'autre pour maintenir le niveau de signal le plus fort possible sur une portée allant jusqu'à 100 mètres* (plus de 100 yards). Le Kit RØDELink Filmmaker contient tout ce dont vous avez besoin pour commencer à tourner des vidéos en mode sans fil, y compris un récepteur, un émetteur et un micro-cravate de qualité professionnelle. Le récepteur (RX-CAM) est doté d'un écran OLED qui affiche des informations sur le niveau et l'état de la batterie (récepteur et émetteur), la désactivation du son et la sélection de canaux. L'appareil peut être monté sur un sabot standard pour caméra, un filetage de 3/8 de pouce ou un clip de ceinture. Pour plus de polyvalence, le sabot peut être placé dans deux positions. L'émetteur léger (TX-BELT) peut être fixé à une ceinture ou à un vêtement et dispose d'un fil de verrouillage pour garantir que la connexion du microphone soit aussi sécurisée que possible. RØDE a inclus un microphone lavalier omnidirectionnel dans le kit afin de fournir la meilleure qualité de reproduction audio possible.
Foire aux questions
Q.
Is the lavalier microphone supplied with the Filmmaker Kit the same as RØDE's Lavalier microphone?
A.
No, the lav mic included is a different microphone and does not have a removable adaptor but rather a fixed 3.5mm connector with locking thread. While both are broadcast-grade in performance, the Lavalier supports the MiCon adaptor system for a wide range of compatibility with popular audio devices.
Q.
Can I connect the output of the RØDELink Filmmaker Kit receiver (RX-CAM) to an XLR input?
A.
Yes you can, using a 3.5mm to XLR adaptor such as the RØDE VXLR Pro.