How To Record A Video Interview on iPhone
If you're looking to capture a two-person interview on camera, it typically takes quite a bit of equipment and effort – two cameras, two microphone systems, and a lot of syncing and editing in post production. But what if we told you that instead you could use your iPhone and a RØDE mic to do the same job? Let's take a look at how it's done.
First off, we recommend downloading our free pro video and audio iOS app, RØDE Capture. It's designed specifically with content creators in mind and brings your video and audio control into one neat app. Alongside an intuitive interface that gives you quick access to all your iPhone's key video settings, it has two critically important features for recording interviews – dual camera mode and comprehensive RØDE microphone control.
Learn more about RØDE Capture.
RØDE Capture Dual Camera Mode
The app's unique dual camera mode offers a great deal of creative freedom by allowing you to record both the primary and selfie camera simultaneously, which is perfect for a two-way interview. Simply place the camera on a tripod between you and your guest, or hold it up if you're conducting a street interview, and you can film you and your subject at the same time.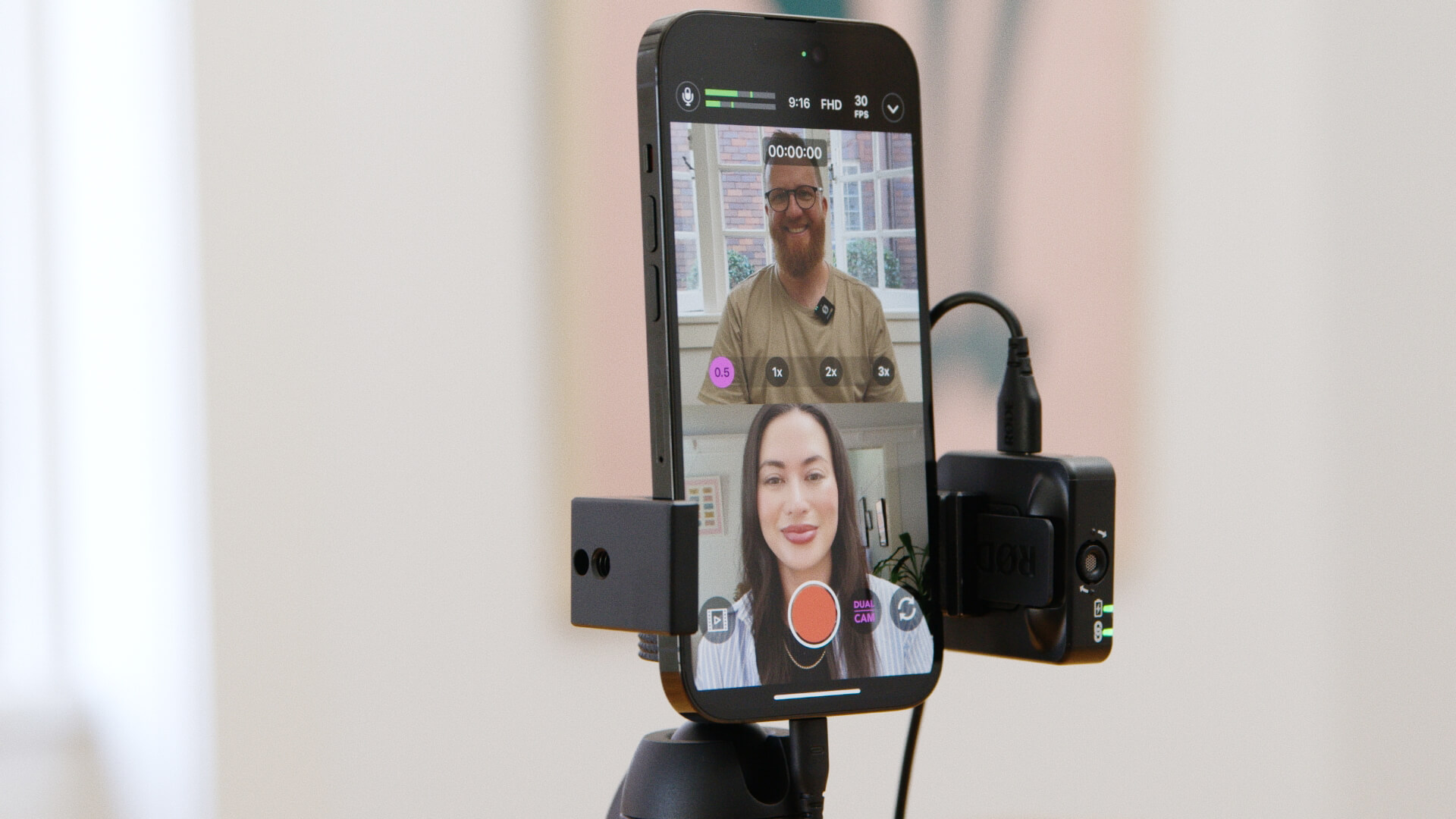 RØDE Capture's dual cam mode allows you to capture video from your iPhone's primary and secondary camera at the same time, to one combined file or two separate files.
Dual cam mode has both split screen and picture-in-picture configuration options. Split screen divides the screen in half, in either portrait or landscape, while picture-in-picture mode places one of the frames as a smaller window in the corner of the larger frame (you can drag this smaller picture to whichever corner you please).
What's more, you can save both these videos as two entirely separate files if you want to edit them later on, or record as a combined file ready for uploading directly to Tik Tok, Instagram, YouTube, or your media platform of choice.
Upgrade Your iPhone's Audio With a Wireless Mic System
To capture the interview audio itself, the built-in microphone in your iPhone won't quite cut it – it's not the best in terms of sound quality, and crucially, it also won't be able to capture both you and your subject's voices clearly and separately. Thankfully, a compatible RØDE microphone connected to your iPhone via USB solves this issue by bringing professional, broadcast-grade audio to your interview.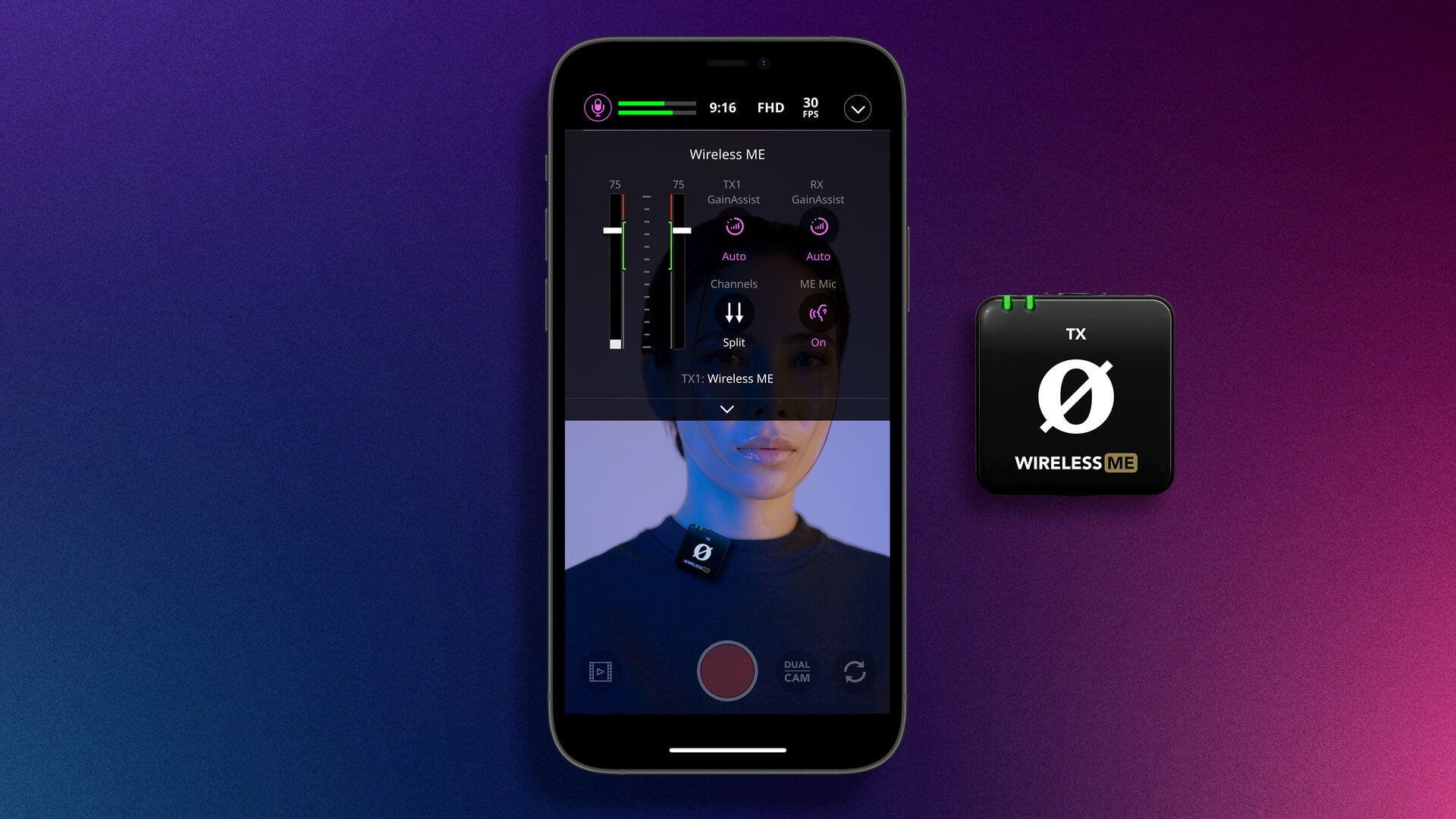 RØDE Capture gives you control over a number of settings for your compatible RØDE microphone.
RØDE Capture allows you to access settings such as input gain, audio processing and operation modes for your connected RØDE microphone from directly within the app, giving you in-app control over both your video and audio settings in one tidy place.
Wireless ME and Wireless GO II
For an interview, the Wireless ME and Wireless GO II microphone systems are both ideal solutions, allowing you to capture two channels of audio from a distance. The transmitters have a built-in microphone that, when clipped to your subject, records consistent and clear audio even when they move closer to, or further away from your phone.
Both microphone systems also offer the ability to record both interviewer and interviewee separately, allowing you to edit and refine each audio track further in post-production – this is especially handy if you and your subject generally speak at different volume levels, for instance.
The Wireless ME features a microphone built into both the transmitter and receiver, so you can record audio from in front of and behind the camera at the same time.
The Wireless ME pairs especially well with the dual camera mode featured in RØDE Capture as the receiver also has a built-in microphone. This means that, when you connect the Wireless ME receiver to your iPhone (via the included SC21 Lightning Accessory Cable) you can aim this microphone at the person behind the camera and clip the transmitter to the person in front of the camera, allowing you to capture both audio and video from both people at once.
Find out more about the Wireless ME.
For even more flexibility, the Wireless GO II offers a number of professional features, including a pair of transmitters for recording two distant subjects at once and on-board recording on each transmitter so you can be certain your recordings are safe and backed up.
Find out more about the Wireless GO II.
To record a video interview on your iPhone, get yourself the free RØDE Capture app and pair it with one of our compatible RØDE microphones.