Streamer X
Audio Interface and Video Capture Card
La Streamer X è una scheda di acquisizione video professionale, un'interfaccia audio e una superficie di controllo integrate in un unico dispositivo compatto che rende estremamente facile la creazione di contenuti incredibili. Collega e controlla un microfono XLR, uno strumento, una cuffia o un trasmettitore wireless e monitora l'audio con le cuffie. Cattura senza problemi una sorgente video HDMI come una videocamera, un PC o una console di gaming fino a 4K30 e passa il segnale con latenza zero a 4K60. Collegati a due computer contemporaneamente e sblocca potenti funzionalità di routing, elaborazione e mixaggio audio con il nostro software gratuito UNIFY.

Caratteristiche principali
Scheda di acquisizione video professionale, interfaccia audio e superficie di controllo integrate in un unico dispositivo compatto e facile da usare
Acquisizione video 4K30 e passaggio 4K60 tramite HDMI
Revolution Preamp™ di livello studio con presa combo Neutrik® per microfoni XLR o strumenti a livello di linea
Ingresso TRRS da 3,5 mm per il collegamento delle cuffie
Ricevitore wireless integrato per il collegamento di dispositivi wireless RØDE Serie IV (compresi Wireless GO II e Wireless ME)
Doppia interfaccia USB-C per il collegamento di due computer o dispositivi mobili
Quattro pad SMART per l'attivazione di suoni, effetti vocali e altre azioni su un computer
È inoltre pienamente compatibile con il software RØDE, compresi UNIFY e RØDE Central, per una maggiore funzionalità e una flessibilità senza eguali.
Progettato e realizzato nei centri di produzione di precisione di RØDE a Sydney, Australia
Professional audio interface, video capture card and control surface integrated in one compact, easy-to-use device
Up to 4K30 video capture and 4K60 pass-through via HDMI
Variable Refresh Rate (VRR) support
Neutrik® combo jack for connecting XLR microphones or instruments, with an ultra-low-noise, high-gain Revolution Preamp™ for pristine audio quality
3.5mm TRRS input for connecting headsets and 1/4-inch headphone output for zero-latency monitoring
Integrated wireless receiver for connecting RØDE Series IV wireless microphones, including the Wireless PRO, Wireless GO II and Wireless ME
Internal DSP for advanced audio processing powered by APHEX®
Four fully customisable SMART pads for triggering sounds, voice effects and MIDI commands
Dual USB-C interfaces for connecting to two computers or consoles
Easy configuration and control via RØDE Central desktop companion app
Compatible with free UNIFY streaming software for advanced audio routing, mixing and configuration
Designed and made in RØDE's precision manufacturing facilities in Sydney, Australia
Soluzione di streaming
all-in-one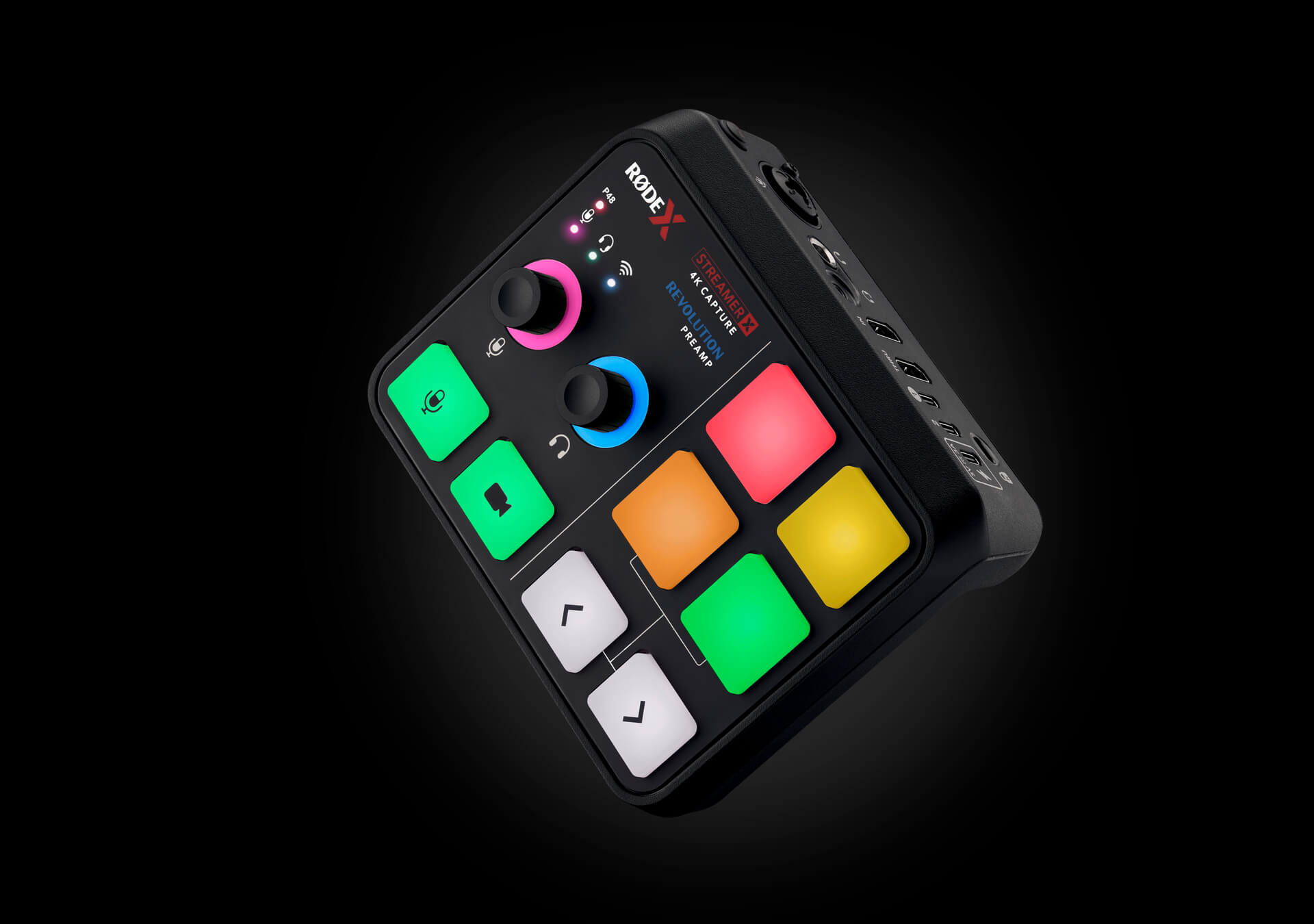 Potenzia il TUO streaming con un audio perfetto e video impeccabili
Non compromettete l'audio o il video. Grazie all'acquisizione video fino a 4K30 e al pass-through a latenza zero 4K60 HDR, la Streamer X offre una qualità video incredibile per te e per il tuo pubblico. Inoltre, è dotata del nostro Revolution Preamp™ a bassissimo rumore e alto guadagno per catturare un audio incontaminato e di qualità da studio, senza la necessità di booster o lifter, e grazie all'elaborazione audio avanzata integrata, potrai regalare alla tua voce quella brillantezza da broadcast.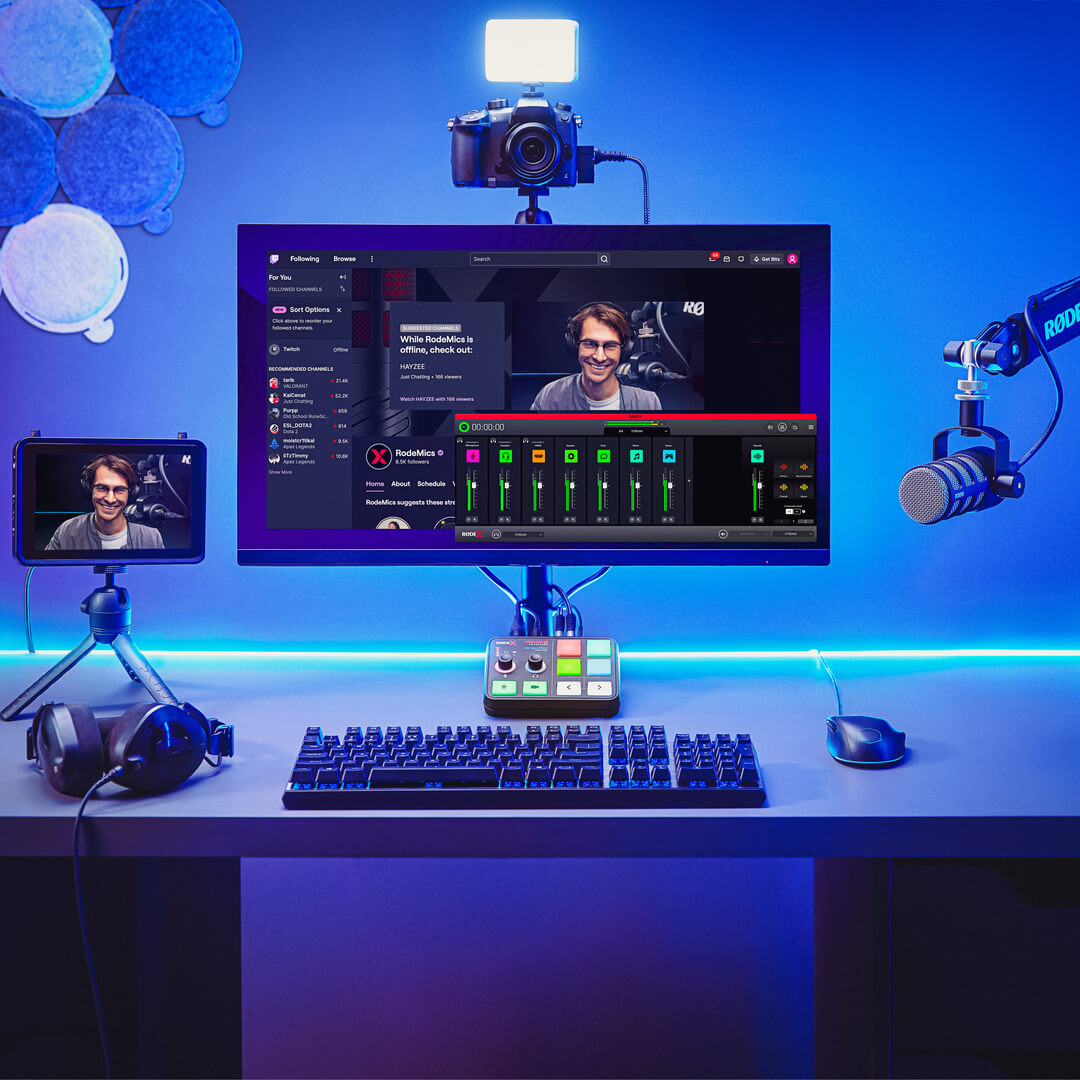 Microfono professionale, cuffie e connettività wireless
Con la Streamer X è possibile collegare un'ampia gamma di dispositivi audio con i quali effettuare lo streaming, tra cui un microfono XLR, uno strumento, un microfono per cuffie o persino un trasmettitore wireless RØDE Serie IV come Wireless GO II o Wireless ME. È possibile regolare i livelli di ingresso e di uscita e commutare le sorgenti di ingresso con facilità grazie all'interfaccia di controllo pratica, oppure utilizzare tutti gli ingressi contemporaneamente tramite il software UNIFY in dotazione.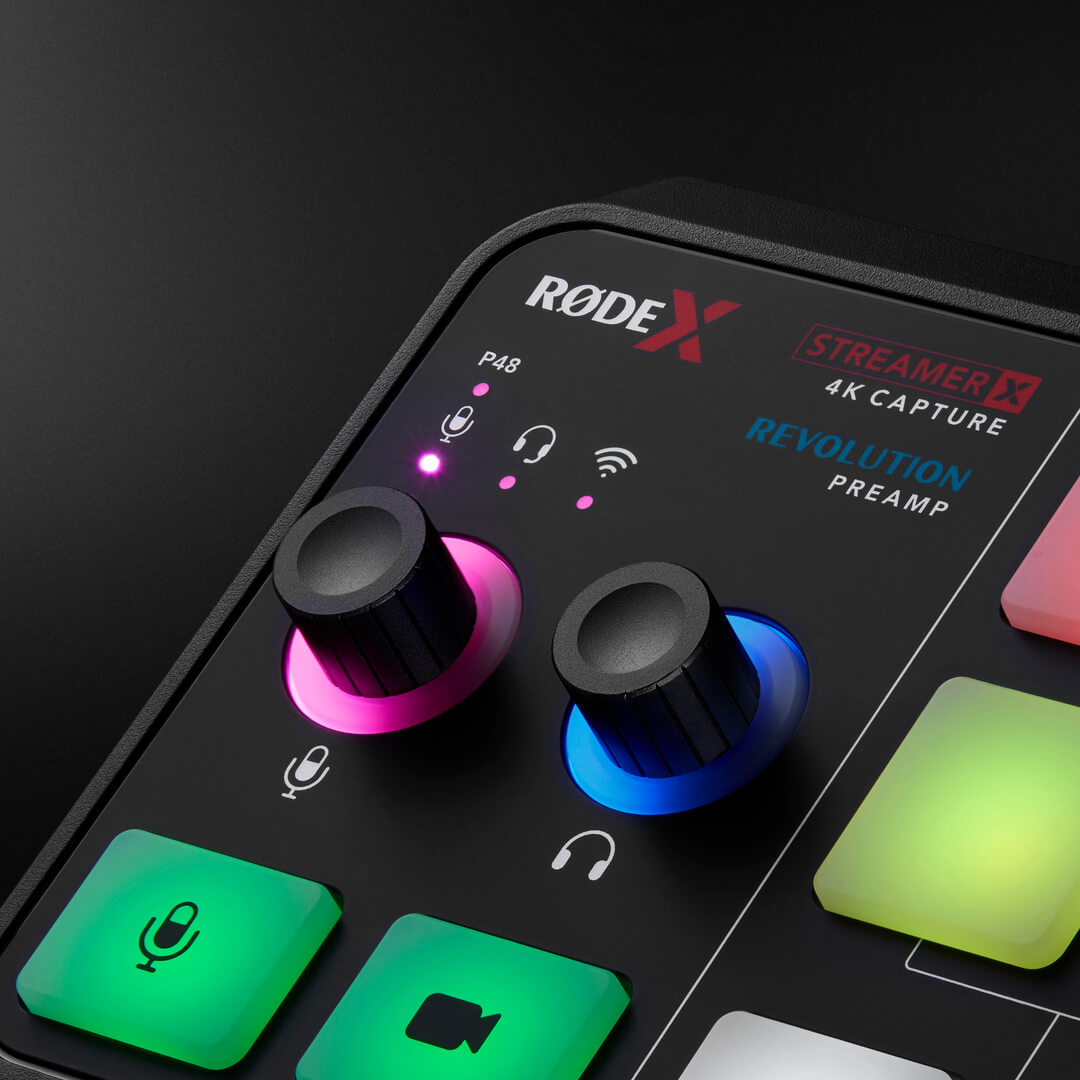 Streaming e registrazione video versatili
Qualunque sia il contenuto che stai creando, qualunque sia la tua configurazione, Streamer X lo porterà a un livello superiore. Che si tratti di catturare un gameplay nitido da un PC o da una console, di collegare una DSLR per catturare incredibili stream IRL, riunioni o presentazioni, o di creare un set-up compatto da portare ovunque, Streamer X è la soluzione perfetta.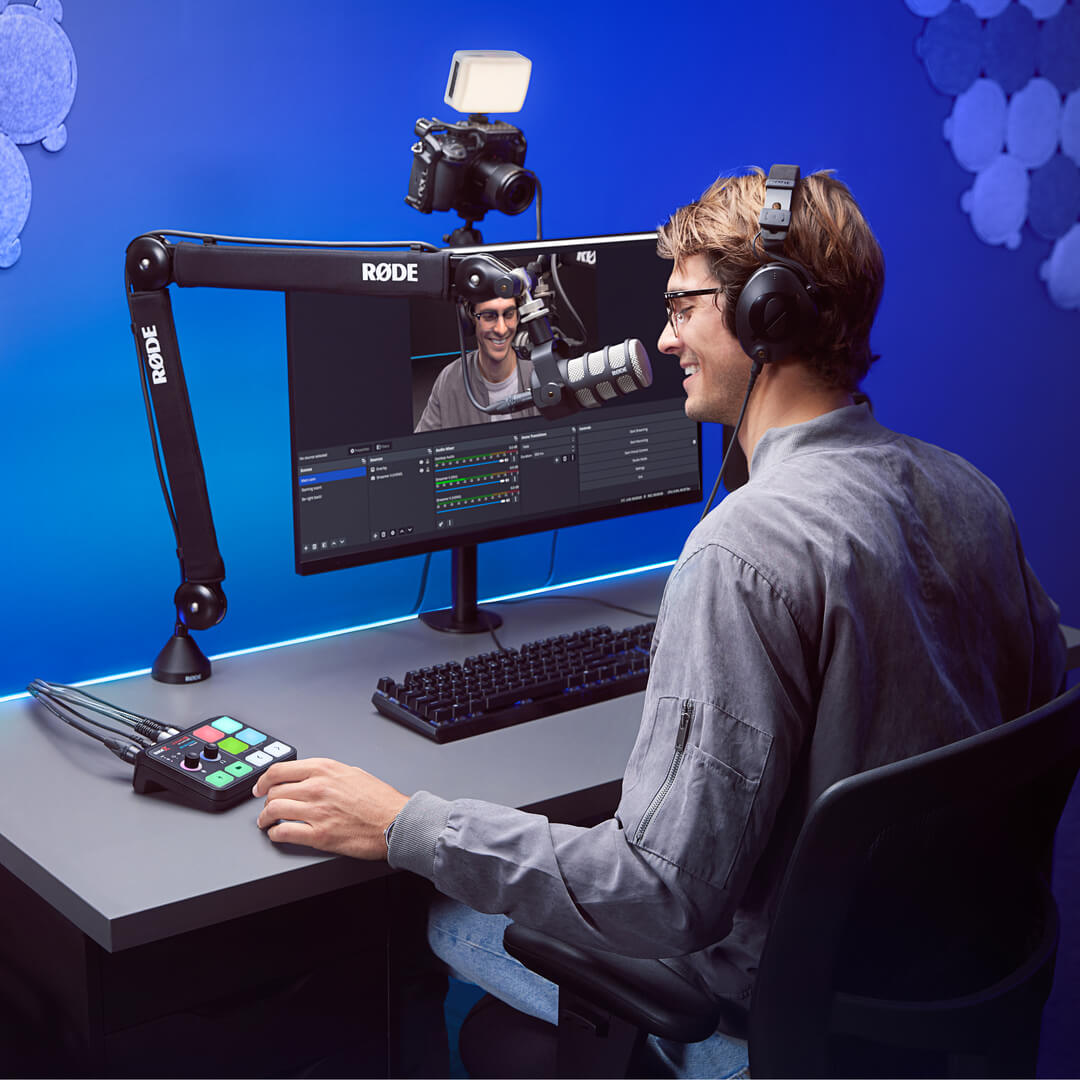 INPUT FORMATS

4K60 HDR
4K60
1440p120
1440p144
1440p60 HDR
1440p60
1080p240
1080p120
1080p60 HDR
1080p60

CAPTURE OUTPUTS

1080p60
1080p60 HDR
1080p120
1440p60
4K30
Controllo flessibile e immediato
La Streamer X offre un controllo flessibile e immediato di video e audio. È dotato di controlli dedicati per i livelli del microfono e delle cuffie e di ampi pulsanti di esclusione audio e video. Dispone inoltre di quattro pad SMART completamente personalizzabili, con un massimo di 64 accessibili tramite la commutazione delle file. Questi possono essere configurati per attivare la riproduzione audio, aggiungere FX vocali e persino inviare messaggi MIDI al computer, il che consente di attivare qualsiasi scorciatoia da tastiera con la sola pressione di un pad, qualsiasi cosa dal cambiare una slide su una presentazione alla commutazione di scene nel tuo software di streaming.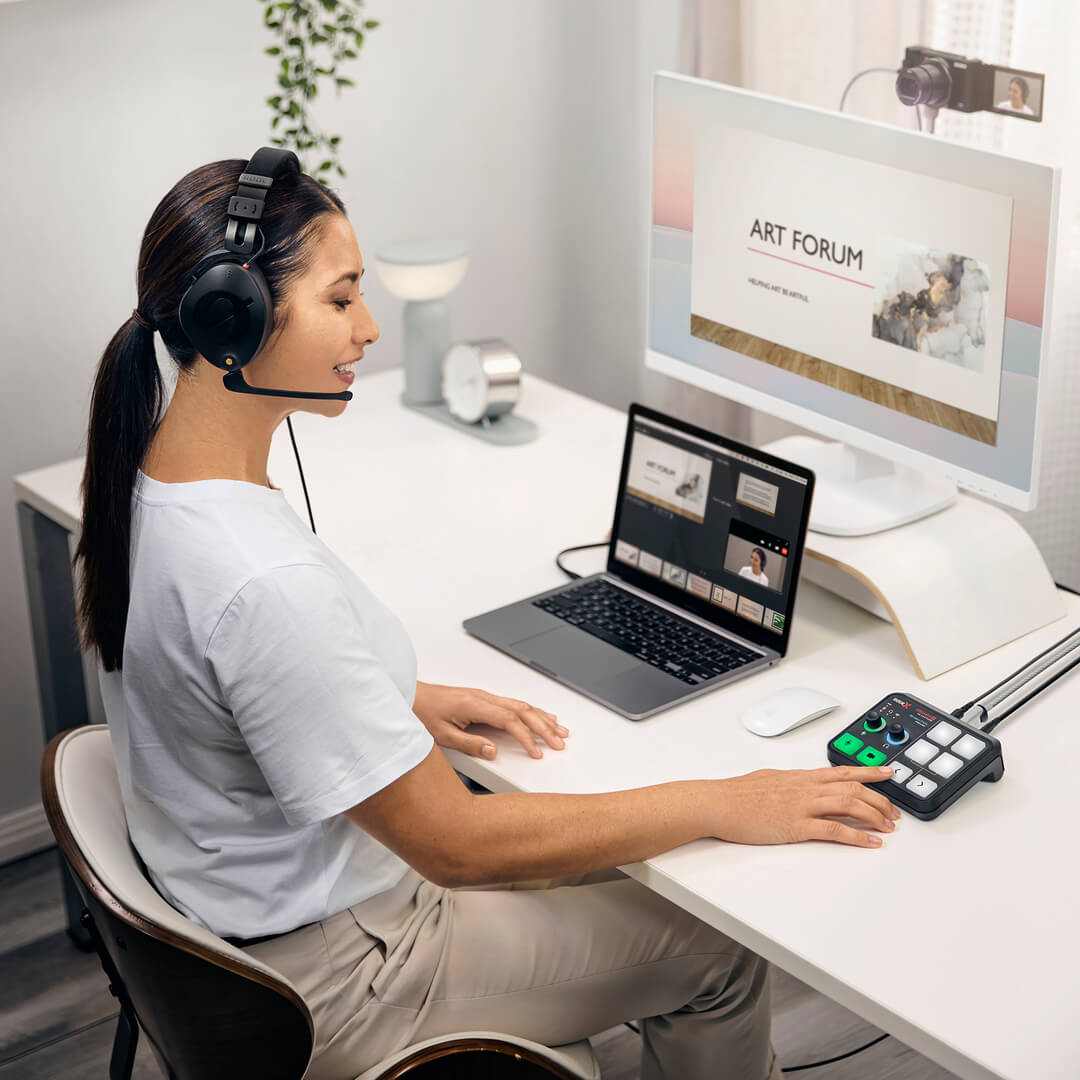 Semplice, elegante e tutto ciò che ti occorre
Sostituisci una complicata configurazione a più dispositivi con un unico dispositivo compatto che offre una qualità migliore con molta meno complessità. È possibile collegare microfoni XLR, cuffie, strumenti e persino sistemi wireless RØDE, oltre a videocamere, computer e console per avviare lo streaming in pochi minuti. Con un design intuitivo che offre un controllo completo pur occupando pochissimo spazio sulla scrivania, la Streamer X rappresenta un nuovo modo di fare streaming con audio e video incredibili.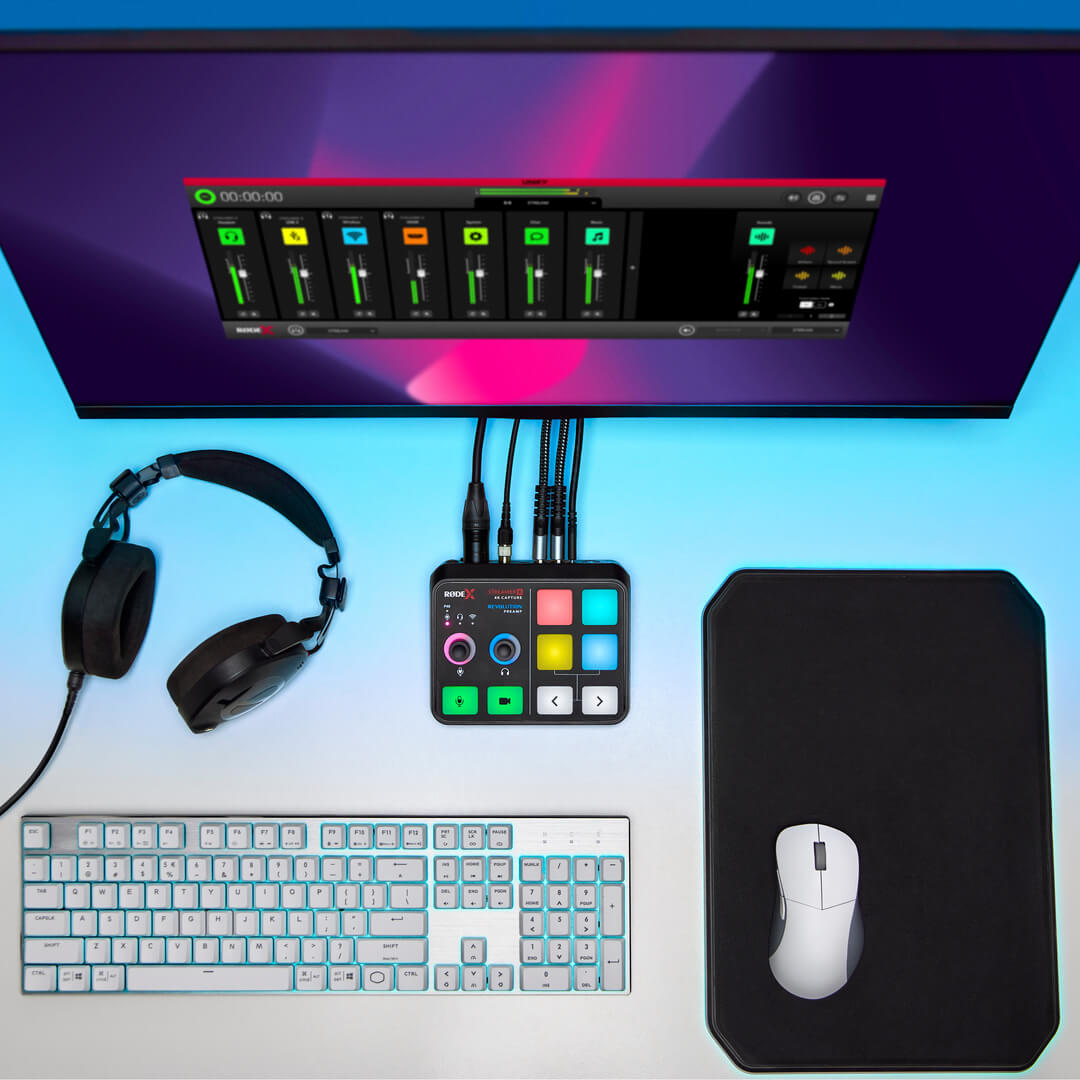 RØDE CENTRAL
RØDE Central è un'applicazione per la Streamer X che consente di accedere all'elaborazione audio integrata, alla personalizzazione dei pad SMART, alla configurazione del mixer, agli aggiornamenti del firmware e ad altre impostazioni avanzate del dispositivo.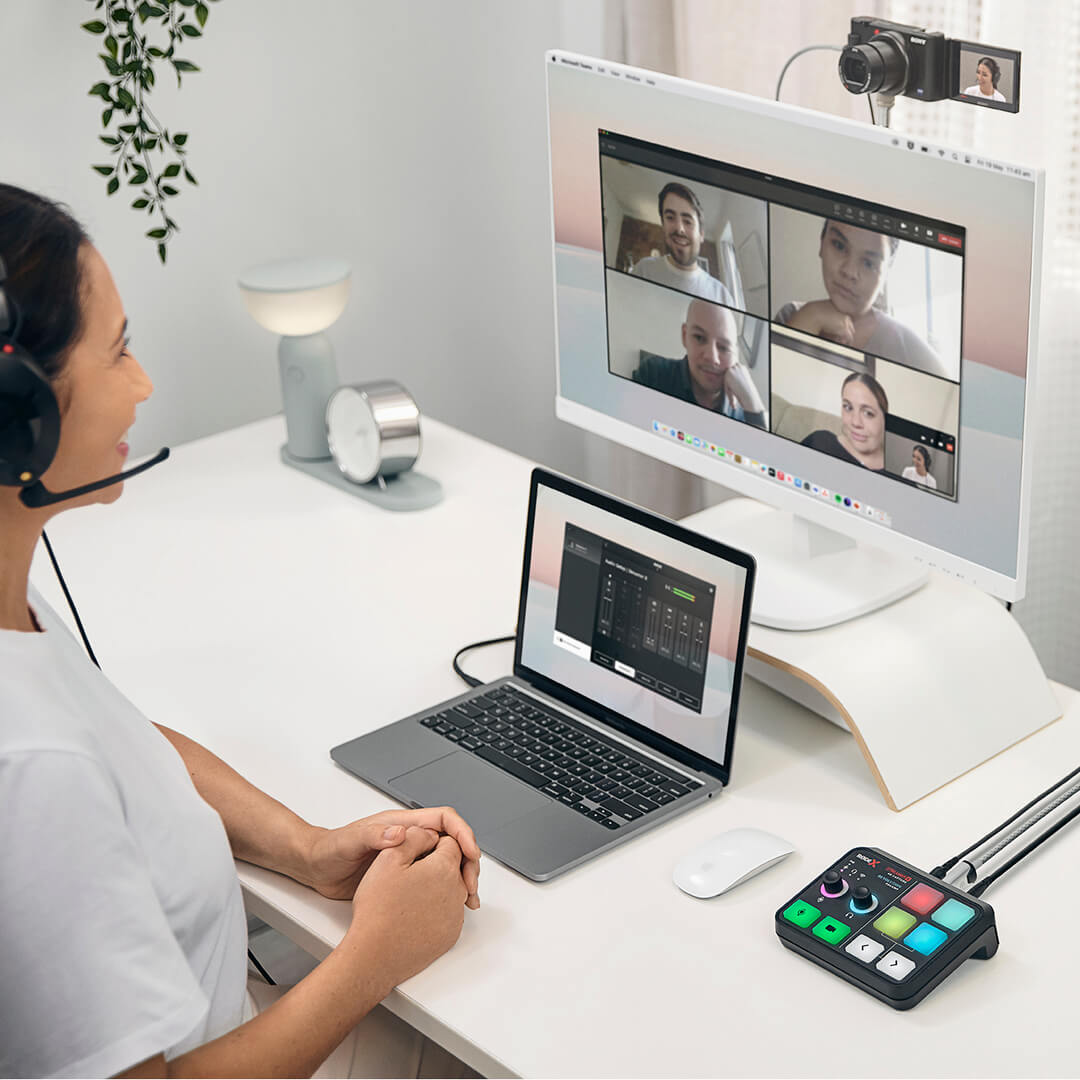 UNIFY
La Streamer X si integra perfettamente con UNIFY, la soluzione di missaggio virtuale più avanzata per il livestreaming che offre tutto, dall'elaborazione audio al missaggio avanzato e al routing.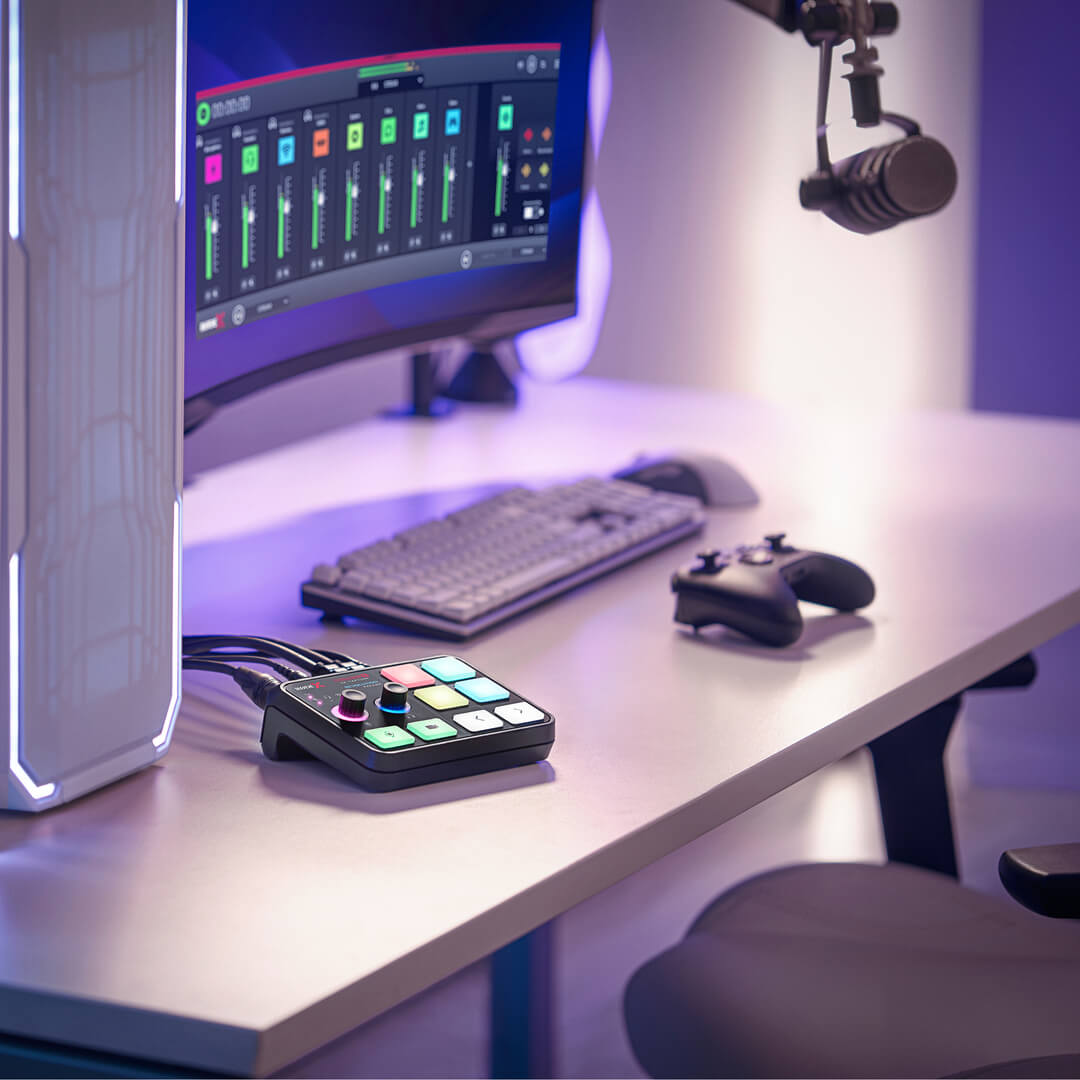 Guida all'uso di Streamer X
Scopri qui tutto quello che c'è da sapere sull'interfaccia audio e sulla scheda di acquisizione video Streamer X. Questa guida completa contiene tutto quello che devi sapere sulla configurazione, l'acquisizione e il pass through di video, il mixaggio e l'elaborazione dell'audio e l'uso della superficie di controllo.