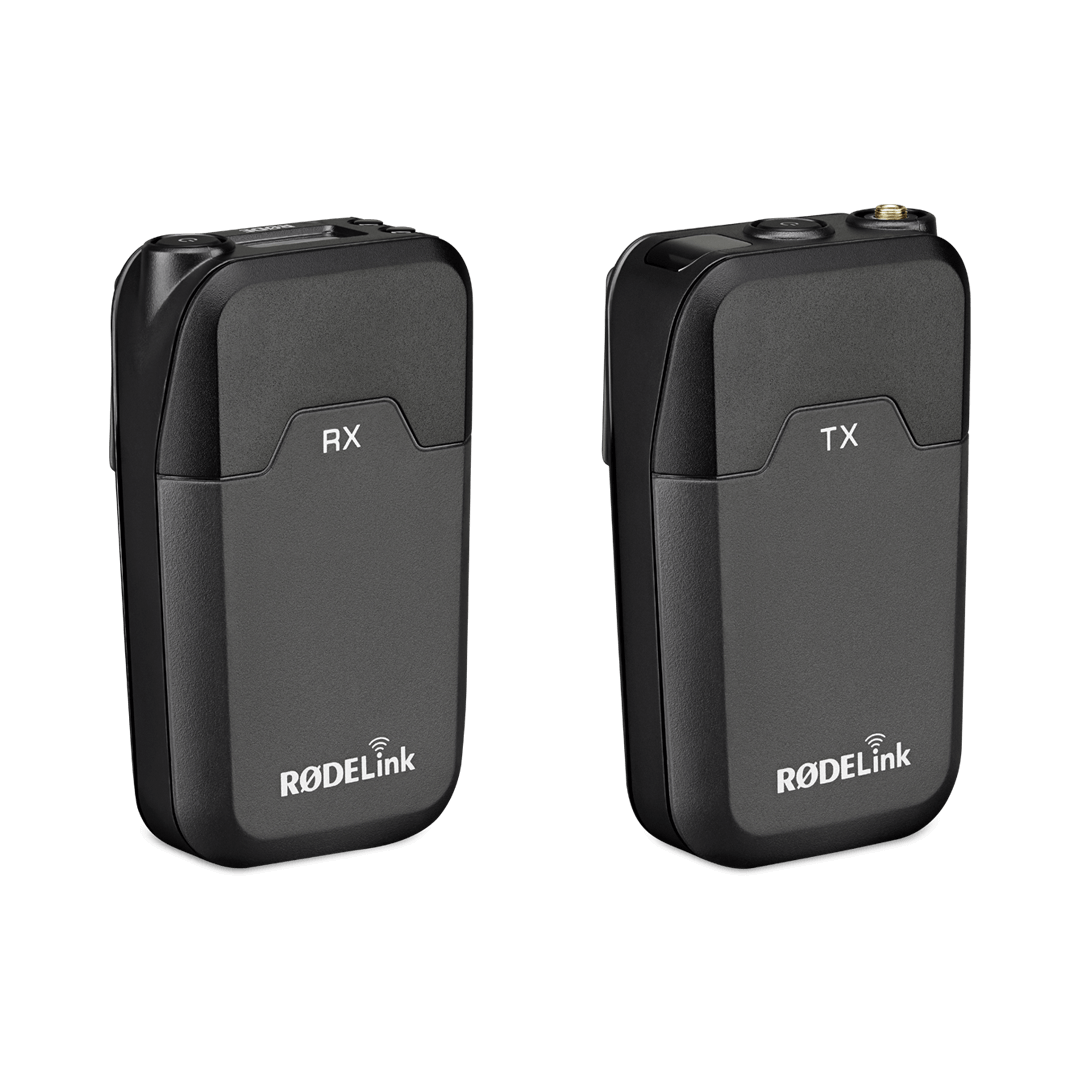 RØDELink Filmmaker Kit
Sistema digitale wireless per la produzione cinematografica
RØDELink rappresenta una gamma di sistemi digitali wireless. Utilizzando una trasmissione digitale Series II a 2,4 GHz con crittografia a 128 bit, è in grado di monitorare costantemente e passare da una frequenza all'altra per mantenere il livello di segnale più forte possibile a una distanza fino a 100 metri* (oltre 100 iarde). Il RØDELink Filmmaker Kit fornisce tutto il necessario per iniziare a girare video in modalità wireless, tra cui un ricevitore, un trasmettitore e un microfono Lavalier di livello broadcast. Il ricevitore (RX-CAM) è dotato di un display OLED con informazioni sul livello, lo stato della batteria (ricevitore e trasmettitore), il muto e la selezione del canale. L'unità può essere montata su un attacco a slitta standard della fotocamera, su una filettatura da 3/8" o su una clip da cintura, e per una maggiore versatilità l'attacco a slitta può essere posizionato in una delle due posizioni. Il trasmettitore leggero (TX-BELT) può essere montato su una cintura o su un indumento, e dispone di un filo di bloccaggio per garantire la connessione del microfono nel modo più sicuro possibile. RØDE ha incluso nel kit un microfono Lavalier omnidirezionale, per fornire la massima qualità di riproduzione audio possibile.
FAQ
Q.
Is the lavalier microphone supplied with the Filmmaker Kit the same as RØDE's Lavalier microphone?
A.
No, the lav mic included is a different microphone and does not have a removable adaptor but rather a fixed 3.5mm connector with locking thread. While both are broadcast-grade in performance, the Lavalier supports the MiCon adaptor system for a wide range of compatibility with popular audio devices.
Q.
Can I connect the output of the RØDELink Filmmaker Kit receiver (RX-CAM) to an XLR input?
A.
Yes you can, using a 3.5mm to XLR adaptor such as the RØDE VXLR Pro.