1 Microfono per cuffie NTH-Mic
2 Presa per microfono destra
Spingere l'attacco a baionetta del microfono in posizione e ruotare in senso orario per bloccarlo
3 Presa del cavo sinistra
Utilizzare questa presa per il cavo TRRS in dotazione
4 Forma ergonomica del padiglione auricolare
5 Cuscinetto dell'archetto in Alcantara®️ rimovibile
6 Verriegelungslaschen für Kopfpolster
Far scorrere le linguette di bloccaggio verso il basso su entrambi i lati per rilasciarle
7 Linguetta di bloccaggio FitLok™
Ruotare per bloccare e sbloccare la regolazione della dimensione dell'archetto
8 Indicatore rosso per il padiglione auricolare destro
9 Cuscinetto delle cuffie in Alcantara®️ rimovibile
Tirare per rimuovere
Collegamento del cavo TRRS alla cuffia
Il cavo fornito con l'NTH-100M o l'NTH-Mic presenta un tipo di connettore diverso su ciascuna estremità. Inserire la spina del jack con il connettore a baionetta e il simbolo del lucchetto nel padiglione auricolare sinistro delle cuffie e ruotare in senso orario per bloccarla saldamente in posizione. Per rimuoverla, è sufficiente ruotare in senso antiorario per sbloccarla ed estrarla.
Nota: Affinché il microfono funzioni correttamente, è necessario utilizzare il cavo TRRS in dotazione con l'NTH-Mic o l'NTH-100M.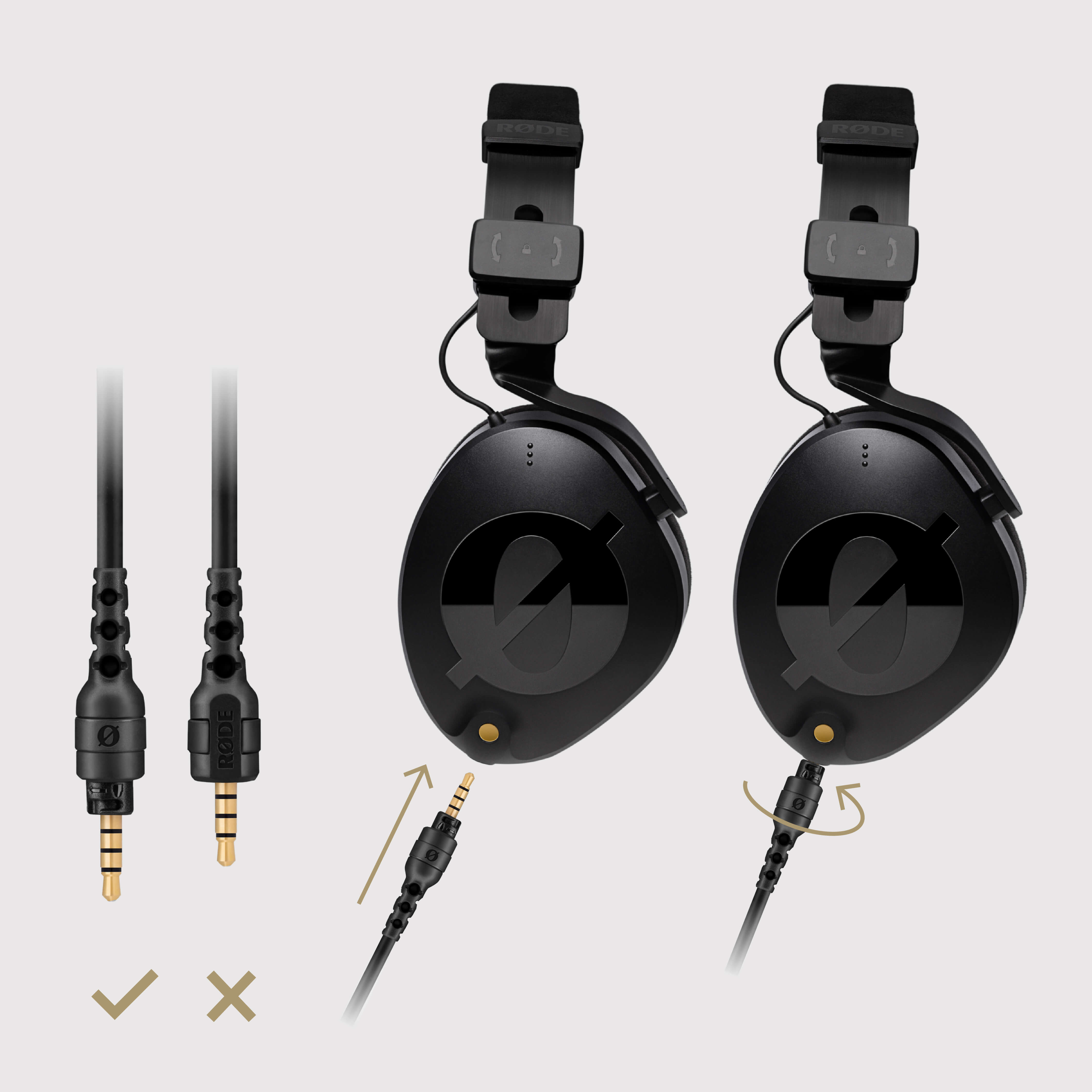 Collegamento e utilizzo dell'NTH-Mic
Per collegare l'NTH-Mic alle cuffie NTH-100 o NTH-100M, è sufficiente inserire l'estremità a baionetta in plastica nella presa del padiglione auricolare destro e ruotarla in senso orario per bloccare il microfono in posizione, proprio come si farebbe con un cavo. Per staccare il microfono, ruotarlo in senso antiorario per sbloccarlo e quindi estrarlo.
Quando è collegato, il microfono è posizionato in modo ottimale per catturare chiaramente la voce e respingere i suoni occlusivi (brevi e acuti soffi d'aria prodotti quando si pronunciano alcune sillabe, come la "p").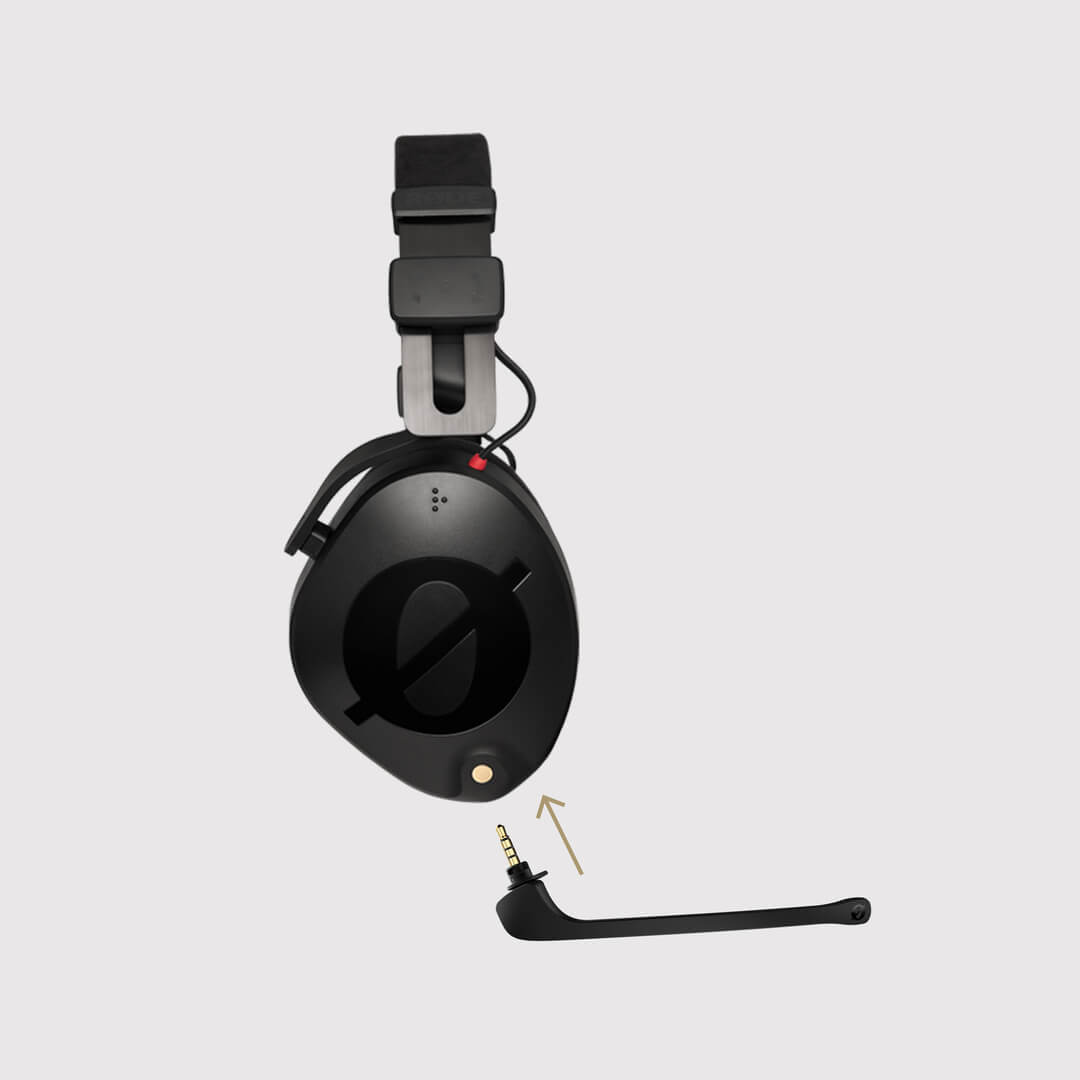 Collegamento delle cuffie al dispositivo
Il cavo TRRS in dotazione è dotato di una spina jack standard da 3,5 mm per il collegamento a dispositivi con uscita da 3,5 mm, come smartphone o laptop. È incluso anche un adattatore da 1/4 di pollici 3,5 mm per il collegamento ad apparecchiature audio professionali, come mixer e interfacce audio.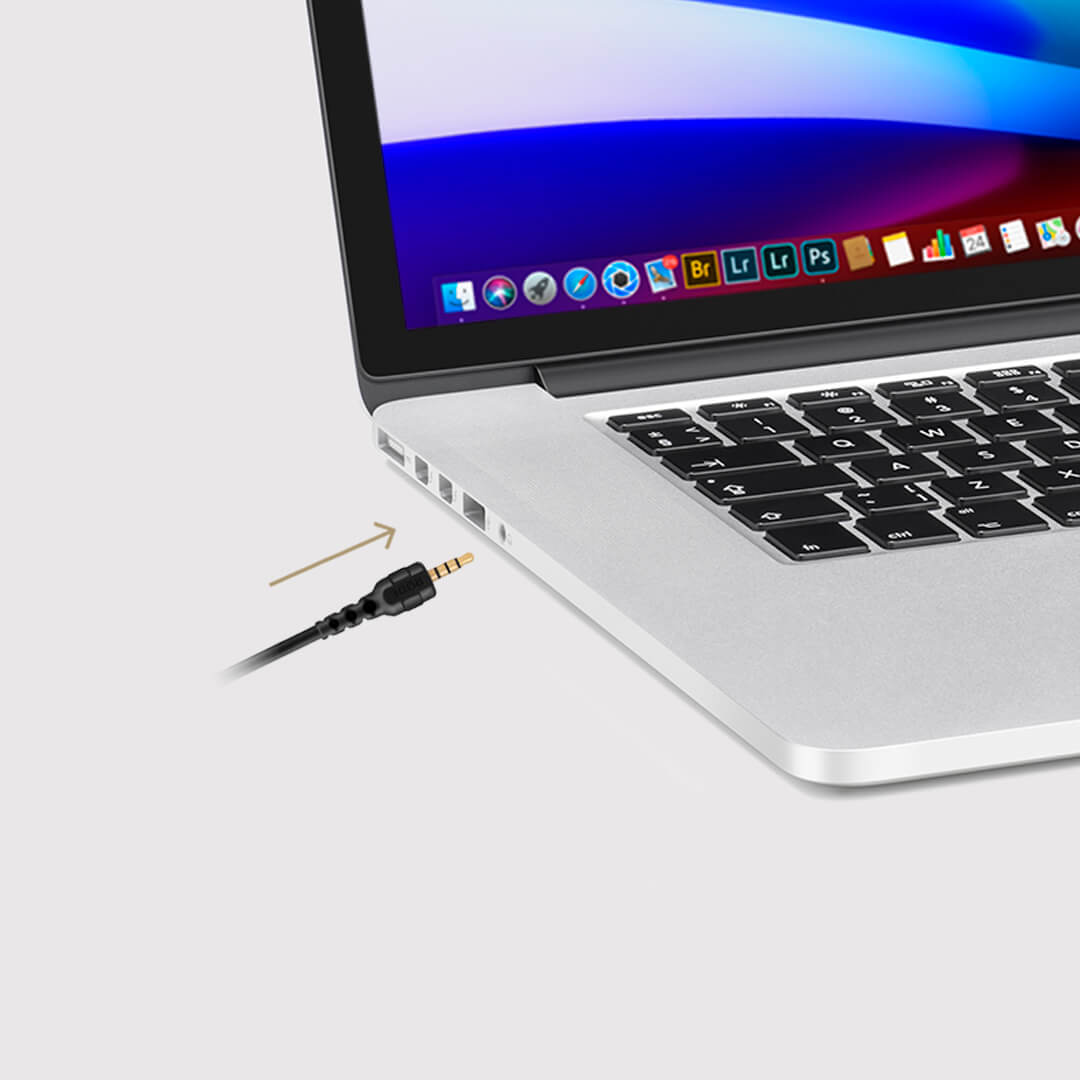 Suggerimento professionale
L'NTH-100 è una cuffia a bassa impedenza e alta sensibilità. Questo significa che il suono può essere molto forte, anche se il volume del dispositivo collegato è basso. Si consiglia di abbassare il volume a zero prima di collegare le cuffie e di alzarlo gradualmente fino al livello desiderato.
Impostazione dell'NTH-100M come dispositivo di ingresso e di uscita
Una volta collegato, l'NTH-100M dovrebbe essere automaticamente riconosciuto e assegnato come dispositivo di uscita e di ingresso audio, ma se così non fosse, andare a "Preferenze audio" (su Mac) o "Impostazioni audio" (per Windows) e selezionare "Cuffie esterne" e "Microfono Esterno" come dispositivo di uscita e di ingresso, rispettivamente.
Se si utilizza l'NTH-100M con un'applicazione per videochiamate, come Zoom, Teams, Skype o Discord, assicurarsi che sia impostato come dispositivo di ingresso (chiamato anche microfono) e di uscita (chiamato anche altoparlante/cuffie). Assicurarsi inoltre di disattivare la regolazione automatica del guadagno all'interno dell'applicazione. Questa opzione avrà un nome diverso a seconda dell'applicazione:
Zoom: "Regola automaticamente il volume del microfono" > off
Discord: "Determina automaticamente la sensibilità di ingresso" > off
Skype: "Regola automaticamente le impostazioni del microfono" > off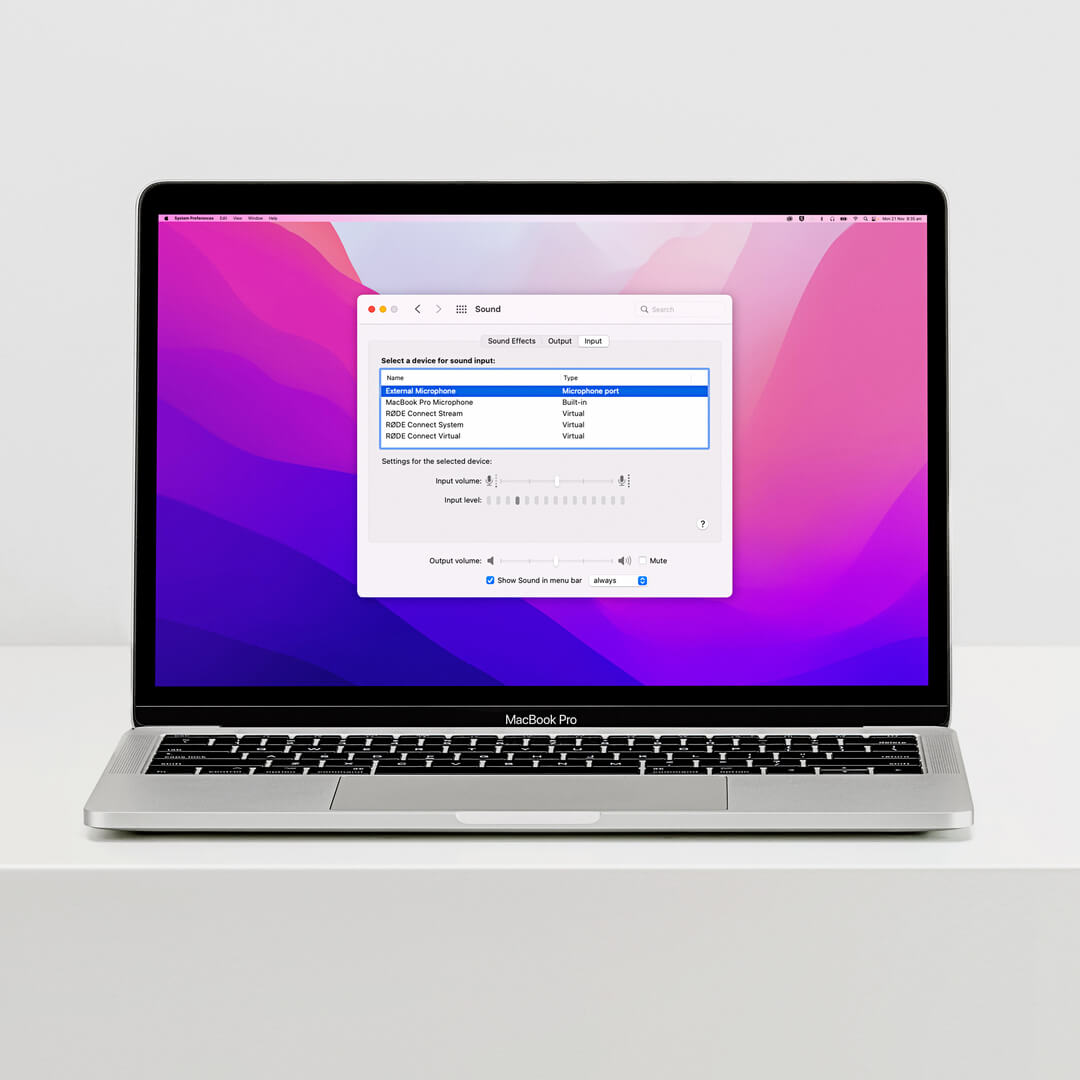 Impostazione dei livelli di guadagno del sistema
Se si desidera modificare il livello del microfono, ad esempio se si nota una distorsione durante l'uso, un volume troppo alto o troppo basso, è possibile farlo accedendo a "Preferenze audio" (su Mac) o "Impostazioni audio" (per Windows) e regolando il cursore del volume di ingresso verso l'alto o verso il basso.
Se si utilizza un computer Windows, assicurarsi che il driver audio o la scheda audio non abbiano attivato impostazioni aggiuntive per il guadagno del microfono. Ad esempio, il pannello di controllo Realtek presenta un'opzione per il "Microphone Boost" che si desidera impostare a 0 dB piuttosto che a +10 dB o +20 dB, ecc. Vi si accede navigando su Impostazioni audio > Pannello di controllo audio (o Altre impostazioni audio) > Registrazione > Microfono (Realtek).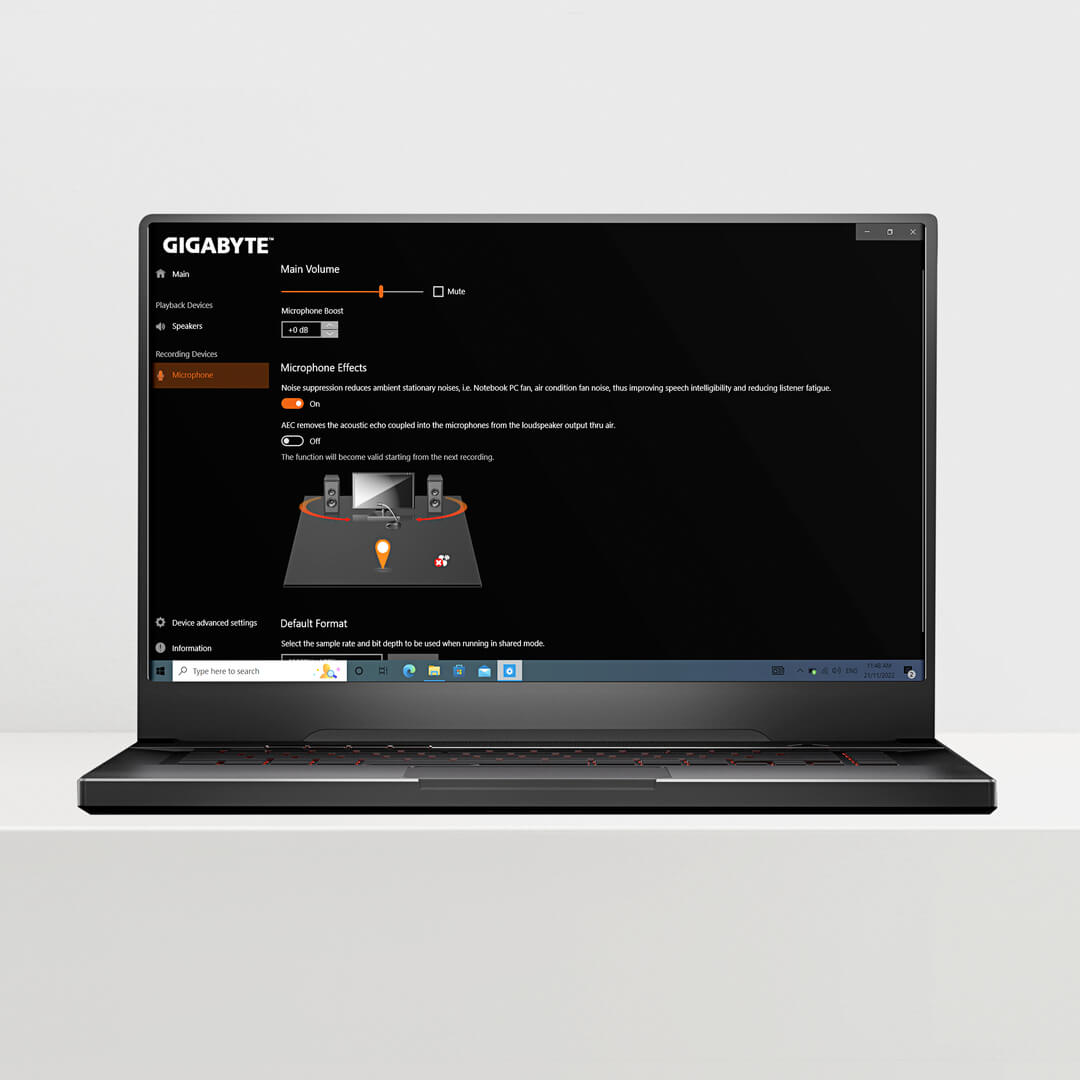 Using the Splitter Cable
Both the NTH-100M and NTH-Mic come with a splitter cable adaptor that you can use with older laptops and desktop computers or other devices such as the RØDECaster Pro II that feature a separate microphone input and headphone output. Simply plug the single end of the adaptor into your TRRS headset cable, plug the end that features a microphone symbol and black rings into your device's microphone input, and the end that features a headphones symbol and green rings into your device's headphone output. To connect your NTH-100M to the RØDECaster Pro II, you'll need to use a 1/4-inch adapter (such as the HJA-4) to connect the headphone cable and a VXLR+ or VXLR Pro for the microphone cable.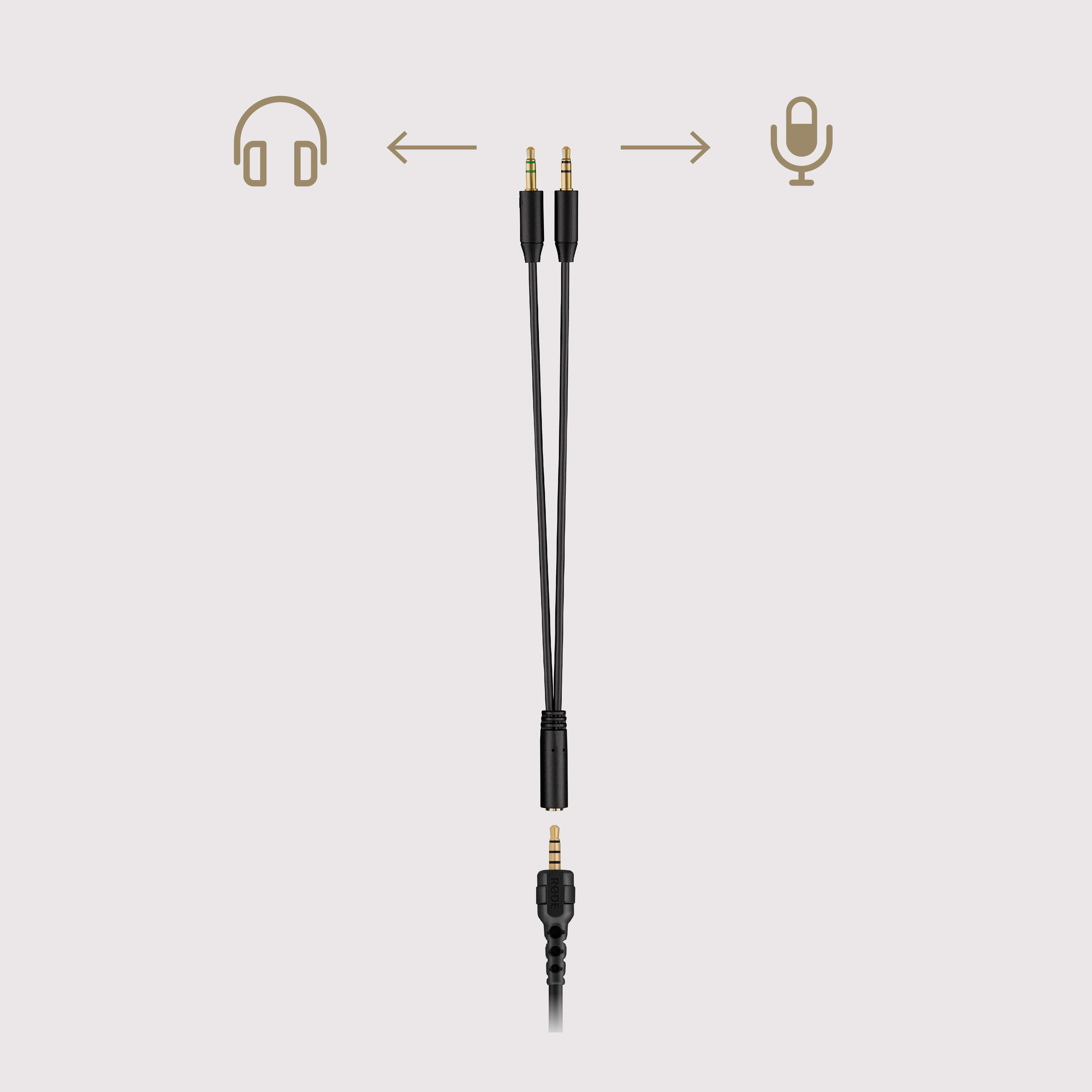 Utilizzo del sistema di bloccaggio FitLok™
Il sistema FitLok™ consente di impostare la dimensione dell'archetto NTH-100M in base al comfort preferito e di bloccarlo in posizione, in modo tale da non doverlo più regolare. Per sbloccare la regolazione dell'archetto, ruotare la camma di bloccaggio sul padiglione auricolare destro in senso orario e la camma su quello sinistro in senso antiorario. I padiglioni auricolari ora scorrono liberamente, il che consente di impostarli nella posizione preferita. Una volta che ci si sente a proprio agio, è sufficiente ruotare le camme nella loro posizione originale per bloccare i padiglioni auricolari in posizione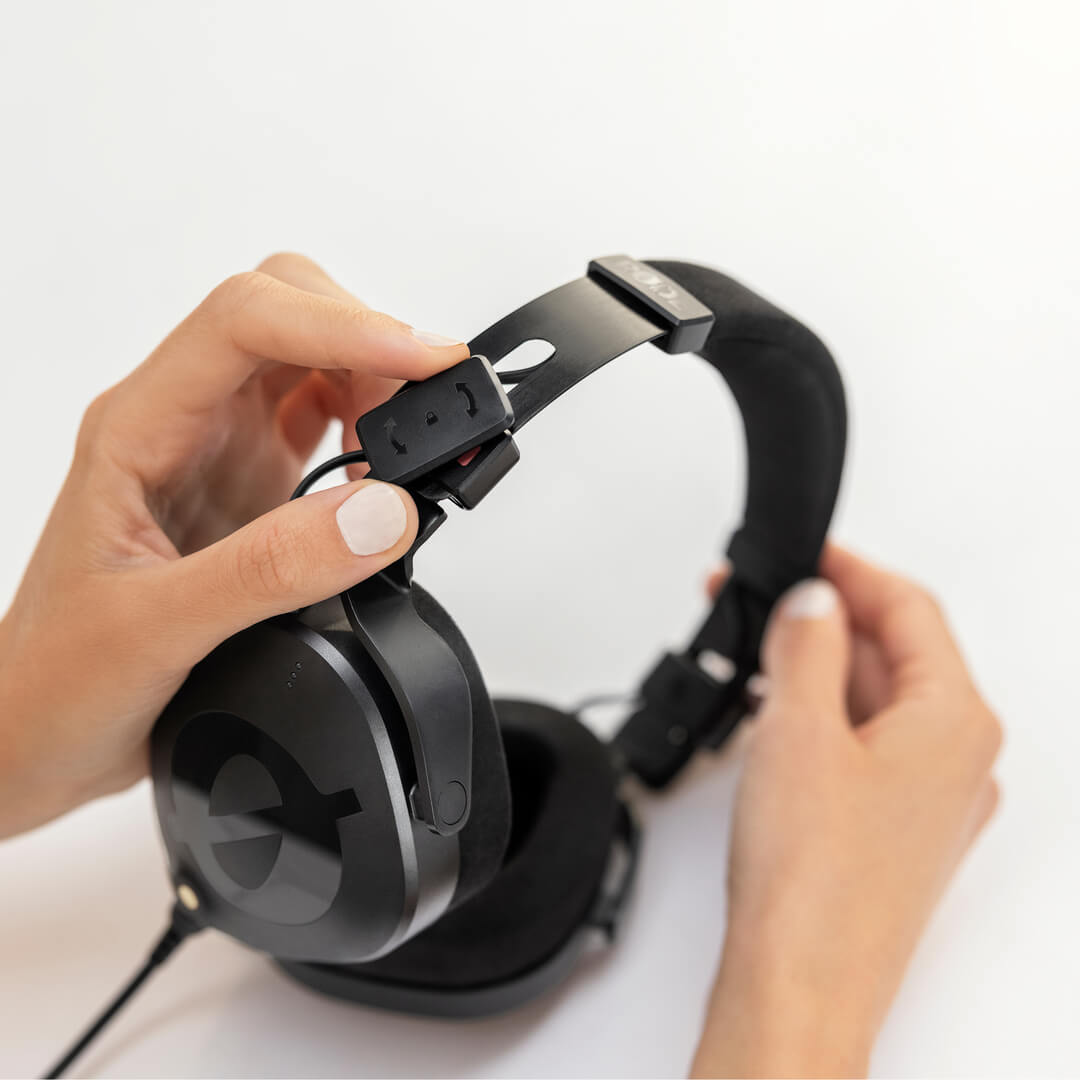 Suggerimento professionale
È possibile sbloccare e bloccare la regolazione Fitlok™ mentre si indossa l'NTH-100M per ottenere una vestibilità ottimale, perfetta per le lunghe ore di creazione di contenuti.
Utilizzo della guarnizione di gomma
Nella confezione degli accessori è inclusa una guarnizione in gomma per chiudere la presa del padiglione auricolare quando l'NTH-Mic non è in uso. Si consiglia di utilizzare questa funzione quando il microfono non è collegato. Non solo impedisce l'ingresso di sporcizia e detriti nella presa, ma assicura anche che la risposta in frequenza si adatti perfettamente ai padiglioni auricolari destro e sinistro per un monitoraggio critico.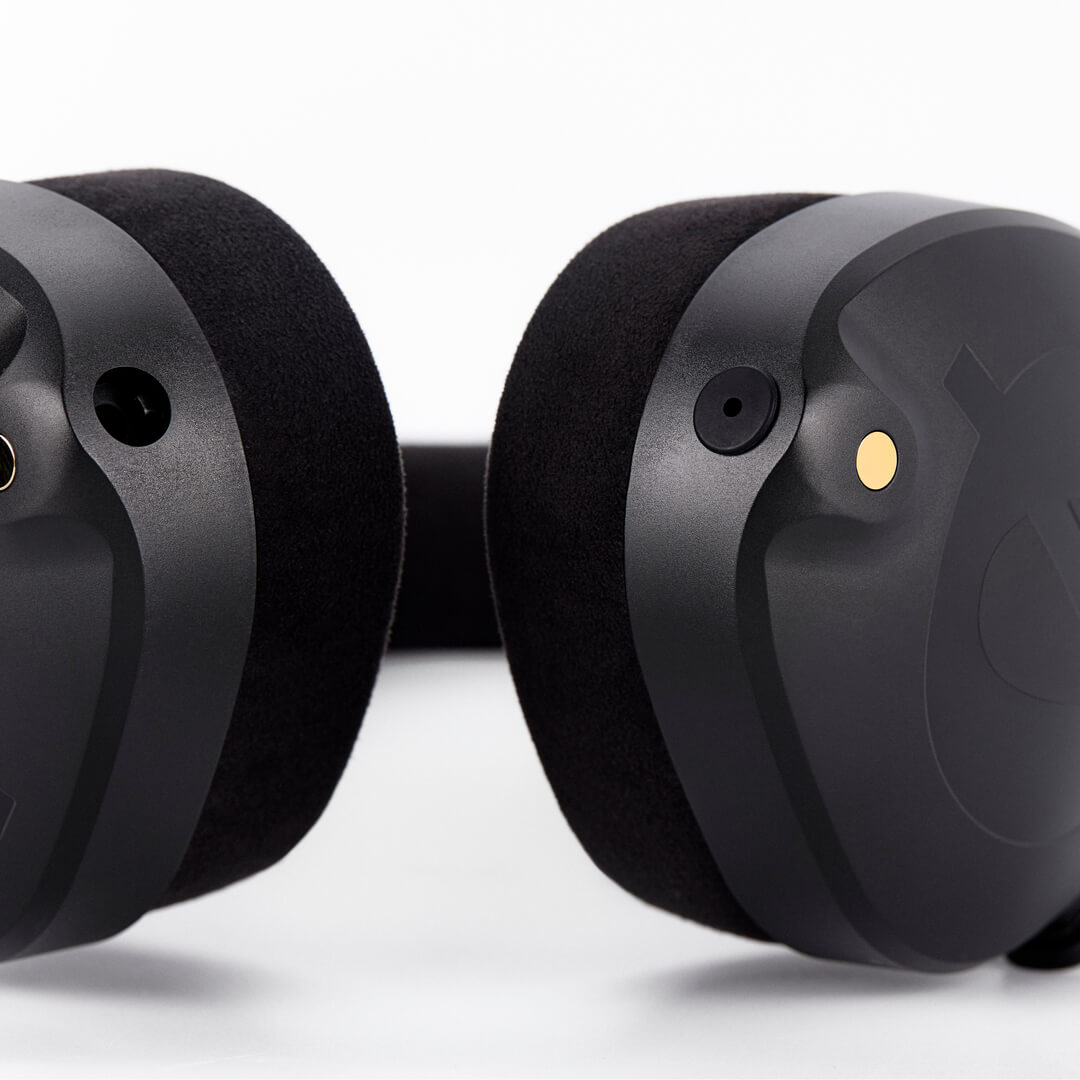 Utilizzo degli anelli con colori identificativi
L'NTH-100M viene fornito con un set di otto anelli con colori identificativi. Possono essere utilizzati per una rapida identificazione nelle configurazioni in cui si utilizzano più cuffie. Per utilizzarli, rimuovete l'anello identificativo nero che si aggancia al corpo delle spine alle due estremità del cavo delle cuffie e sostituirlo con quello del colore preferito. Si noti che i colori corrispondono a quelli dell'ID del canale utilizzato da RØDECaster Pro II e RØDE Connect.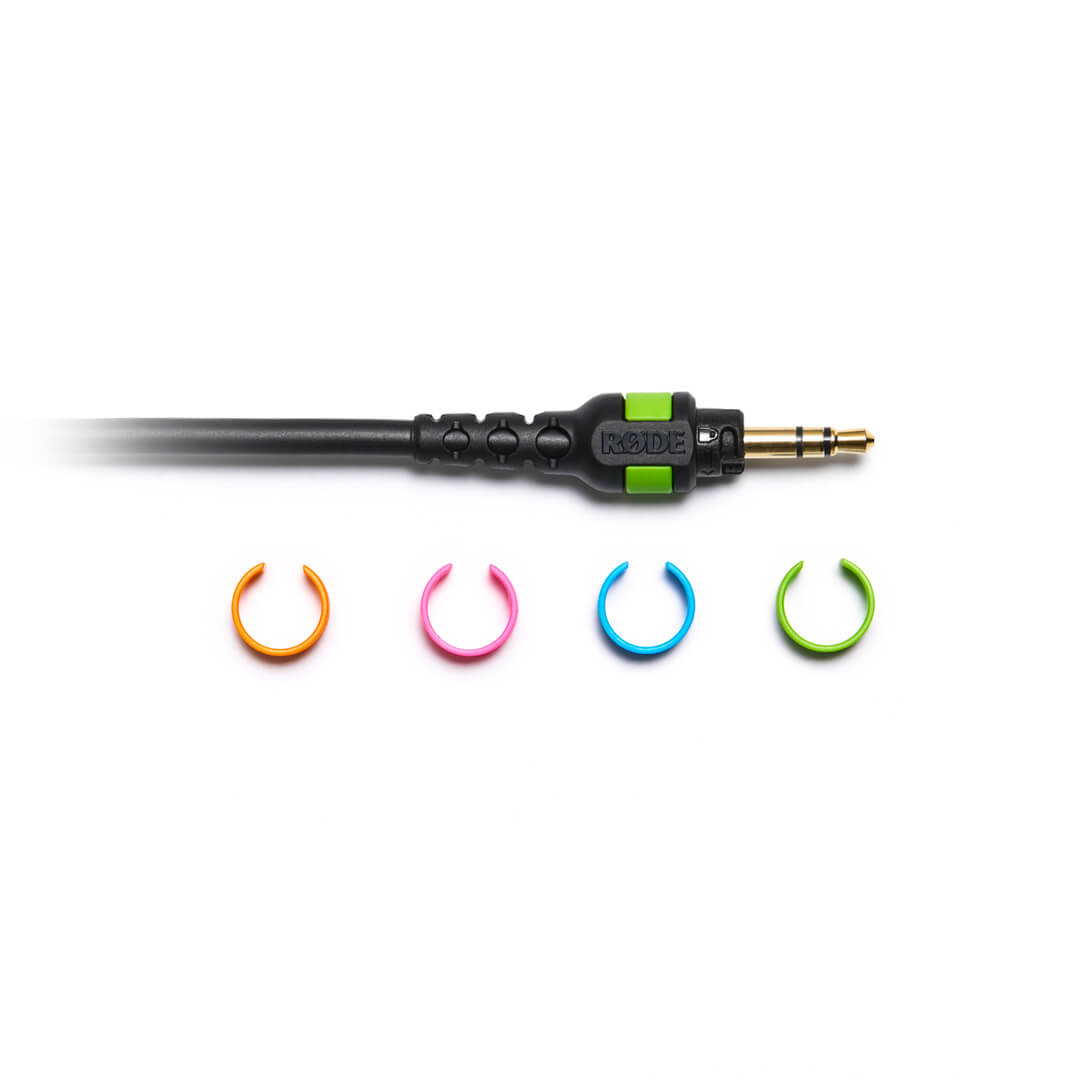 Rimozione e pulizia dei cuscinetti dei padiglioni auricolari e dell'archetto
Per rimuovere i cuscinetti dalle cuffie, è sufficiente staccarli dal padiglione auricolare. Per sostituirli, spingerli di nuovo in posizione, lavorando lungo il perimetro per assicurarsi che tutte le linguette siano bloccate in posizione.
Per rimuovere il cuscinetto dell'archetto, far scorrere le linguette di bloccaggio su entrambi i lati dell'archetto allontanandole dal cuscinetto. Per facilitare l'operazione, potrebbe essere necessario spingere la linguetta di bloccaggio dal basso. Estrarre la parte inferiore del cuscinetto (tenuta in posizione dal velcro), quindi sfilare quella superiore. Per sostituirli, invertire i passaggi, assicurandosi che le clip di bloccaggio siano posizionate correttamente sulla parte superiore delle estremità dei cuscinetti prima di farli scorrere in posizione, quindi assicurarsi che scattino quando si bloccano in posizione.
Per pulire i cuscinetti, è sufficiente passare un panno umido. Non immergere i cuscinetti in acqua né utilizzare prodotti per la pulizia della pelle o del camoscio, perché potrebbero danneggiarli. Sono disponibili cuscinetti di ricambio: contattare il nostro centro assistenza nel caso in cui occorrano ricambi.