How To Back Up Your Wireless GO II Recordings When Updating Your Firmware
One of the star features of the Wireless GO II is its on-board recording, allowing you to make backup recordings directly on the transmitter itself. This not only ensures you have a backup audio file if something goes wrong, but also transforms each transmitter into its own miniature field recorder.
Another of the Wireless GO II's standout features is the wide array of new features and improvements we introduce through firmware updates. In this article, we're going to show you how to securely back up your on-board recordings when updating your Wireless GO II firmware.
Backup Recordings with RØDE Central
First off, install the latest version of RØDE Central for desktop and open the software. Now, connect your Wireless GO II units to your computer. If you can't connect all of your units at once, be sure to repeat the update process for each unit.
When connecting your transmitters, you'll be given a prompt to either 'Update' or 'Backup & Update' (if you're already running the latest beta firmware, you'll only see the 'Update' prompt – your files won't need backing up and you can simply update to the full public release.). Choose the latter and follow the prompts to safely transfer your on-board recordings to a newly created folder on your desktop and update your units.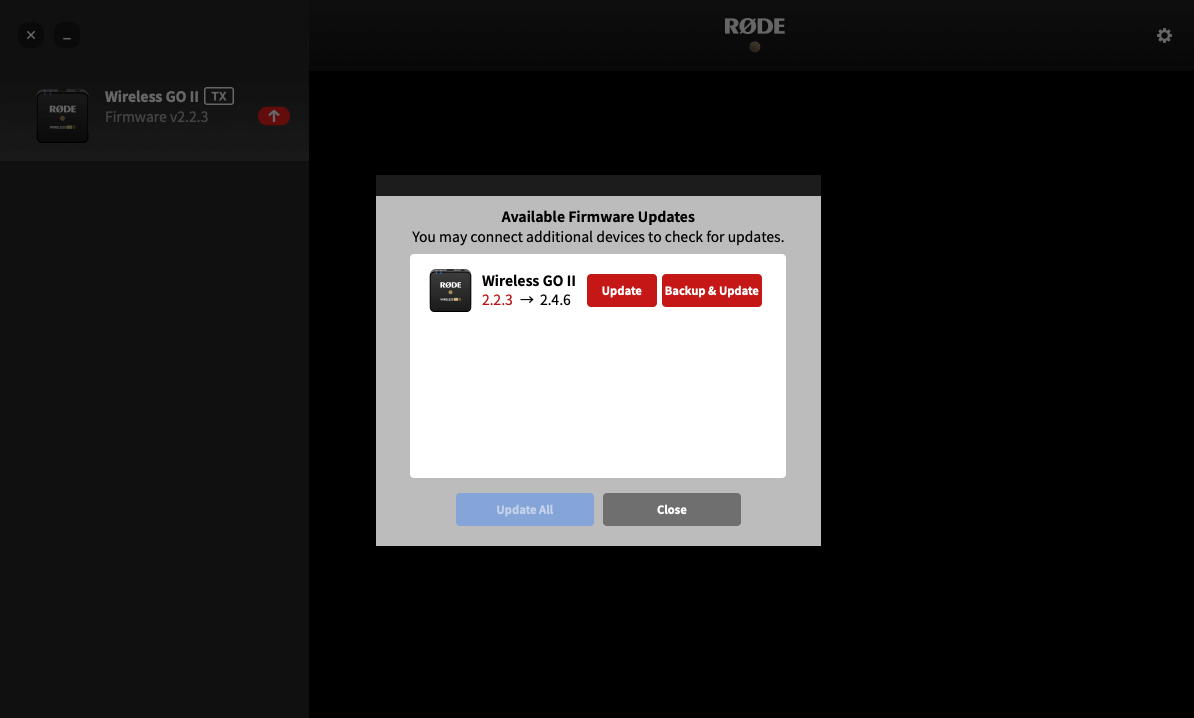 It's important you repeat this process for all of your Wireless GO II transmitters, and to also update your receiver to the latest firmware – your system may not function correctly if it's running on mismatched firmware. Should a problem arise during the update, we have included a special diagnostic tool that will fix any errors and get your units working properly.
Access and Export Recordings with RØDE Central
In order to access and export the recordings you've just backed up, open RØDE Central and click on the settings cog in the top-right corner. Here you will see a setting for "Local Recordings" – click this and select the folder on your desktop you just created in the previous steps. Exit the settings menu.
Now, on the left-hand side of the RØDE Central, you'll see an item called "Local Recordings". Click on this and you will see all of the recordings you've backed up, just as you would on a Wireless GO II transmitter. From here, you can export your audio as WAV or MP3 files with a number of customisation options.
For more information, be sure to visit the Wireless GO II user guide.