What You Need
Before you get started, let's make sure you have everything you need:
At least one NT-USB Mini - RØDE Connect can support up to four!
Accessories for your microphone. The DS-1 or the pictured PSA-1 are super helpful in getting your microphone in the ideal position - six inches or less from your mouth!
You will also need a pair of headphones for monitoring your audio. Make sure your headphones have a 3.5mm jack so you can plug them into the back of your NT-USB Mini.
Lastly, you'll need a computer – either a Mac or a PC – with RØDE Connect installed. In the walkthrough below, we'll be using a PC.
Now you're ready to go.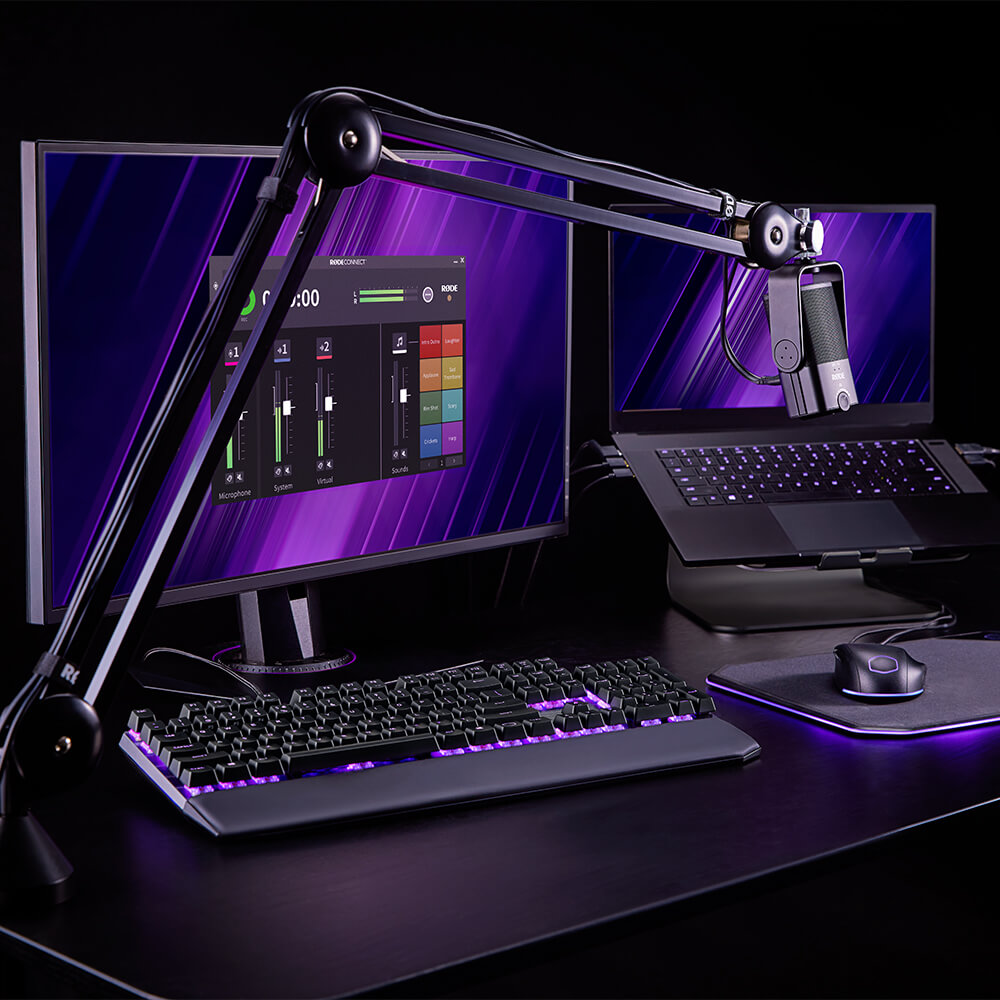 Getting Started
To get started, launch RØDE Connect and plug your NT-USB Mini into your computer, then plug your headphones into your microphone and hit 'Get Started'. Follow the steps in the Setup Assistant to get your microphone and virtual channels activated.
Note: If you're using RØDE Connect for the first time, you will be prompted to update the firmware for your NT-USB Mini. Running this update will update all NT-USB Minis that are connected to your computer.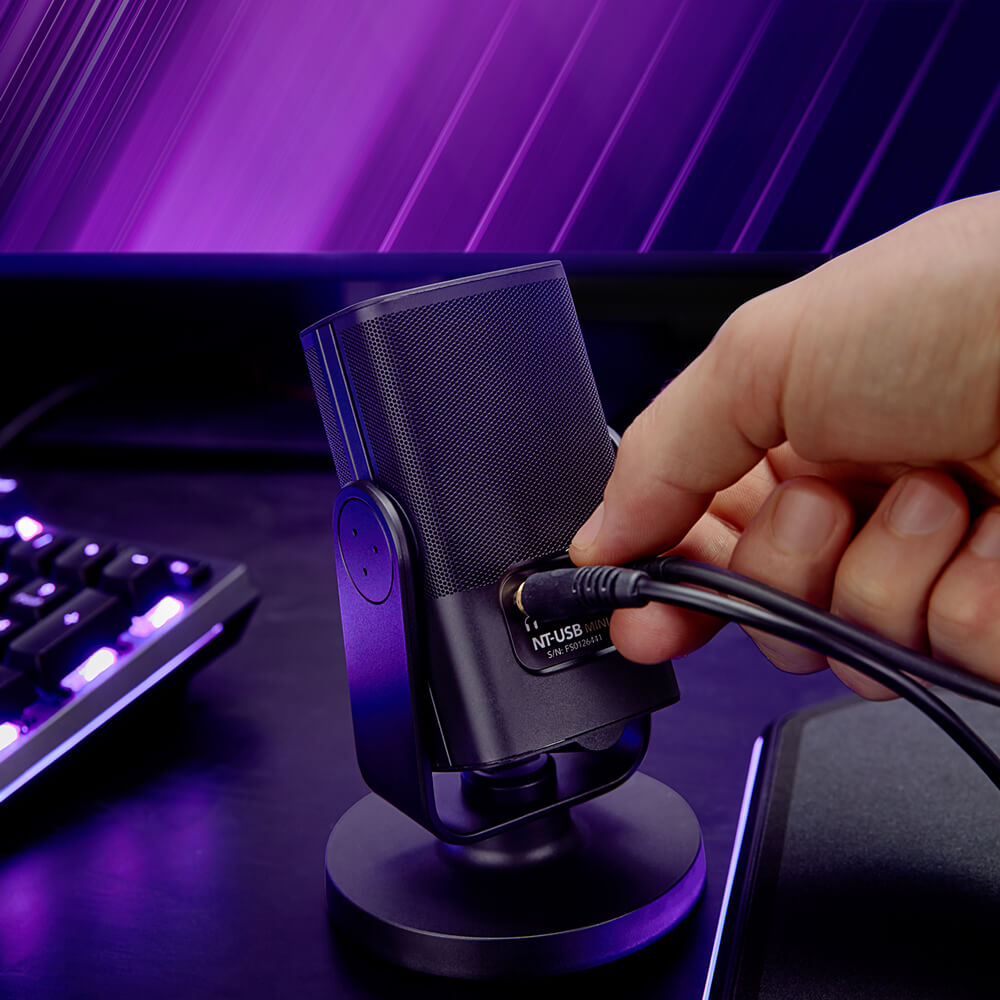 Setting Up Your Microphone
Before recording, it's a good idea to check your gain settings to ensure you're getting a decent level of audio from your NT-USB Mini. To do this, click the microphone icon above the channel you are using. Start talking into your microphone at a natural level and watch the meter while you speak. You want your level to be sitting around the green section of the meter. Use the '+' or '–' buttons to adjust your gain if required.
You will also notice you have access to toggles for several audio processors here. RØDE Connect unlocks powerful digital signal processing available within each NT-USB Mini. This is only accessible when you connect your microphone to the app and is an incredibly simple way to give your podcast a polished, professional quality. To find out more about these processors, head to the RØDE Connect Learning Hub Home page.
Now that your microphone is set up, let's look at routing other audio sources for your livestream into RØDE Connect.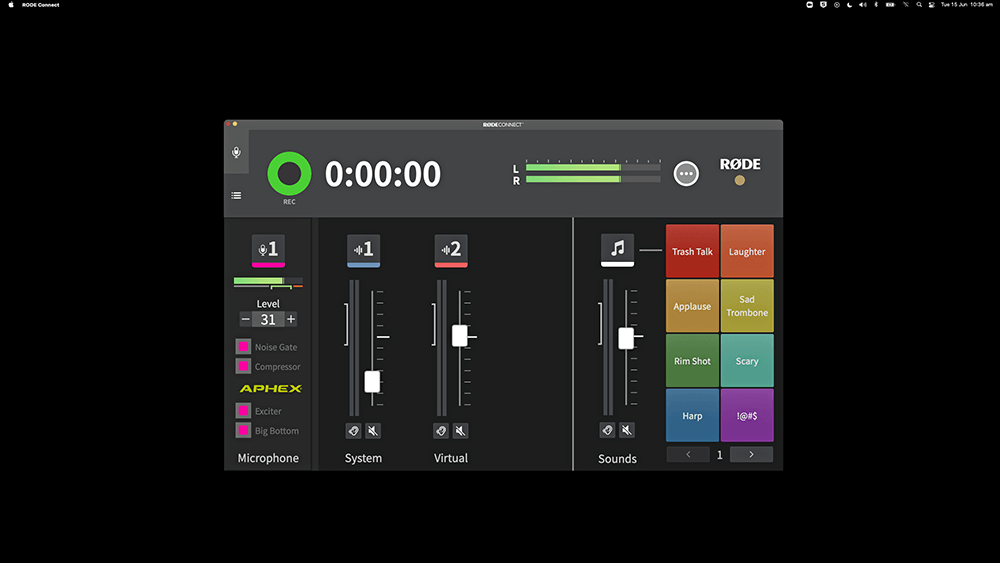 Routing Game Audio to RØDE Connect
There are a few steps to ensure that the various streams of audio you are using are routed to RØDE Connect. Within your game's preferences or settings, there should be an audio output option for you to select where your game audio goes. Here you'll want to select 'RØDE Connect System'. If your game doesn't have an audio preference option, go into the audio settings for your computer and select RØDE Connect System here. Now, your gameplay audio will be routed to the System channel and can be heard through your headphones.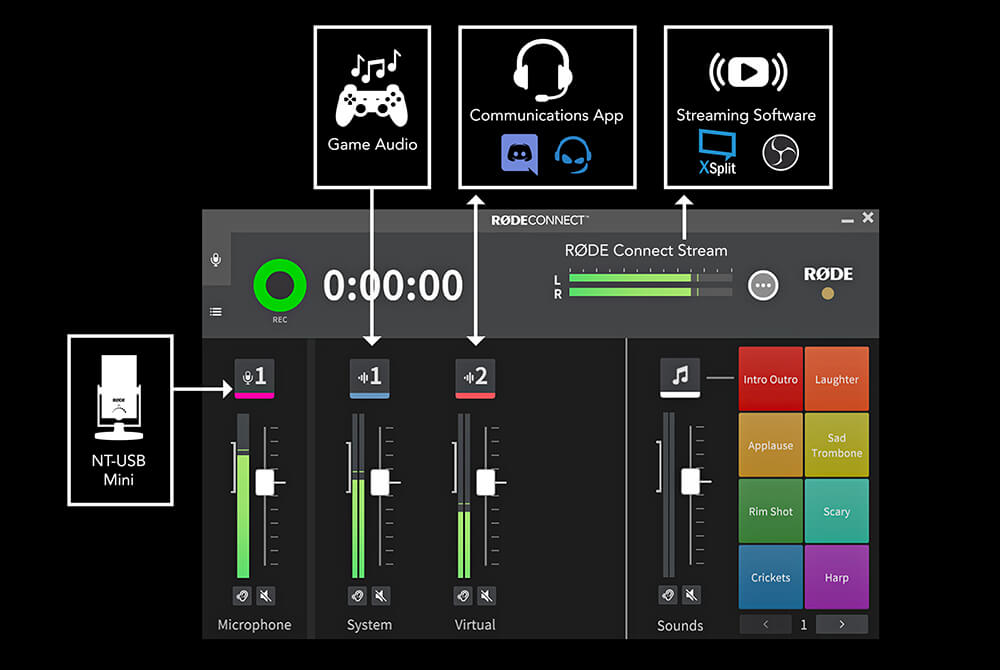 Routing Chat Audio to RØDE Connect
If you are chatting with teammates on Discord, TeamSpeak or Skype, this can also be routed in and out of RØDE Connect. The process will differ slightly depending on the app you are using but the process will remain the same.
Open up the audio preferences or settings within the comms app you are using and change the audio input and output to 'Virtual Input (RØDE Connect)'. This will enable the audio from your microphone to reach the app and the chat audio from the comms app will be routed back onto the Virtual channel.
RØDE Connect applies an automatic mix-minus to each channel, so once routed properly, you'll be able to communicate with your teammates without any echo. Routing the chat audio to a separate channel also means that you can control its volume independently and even record it as a separate stream of audio.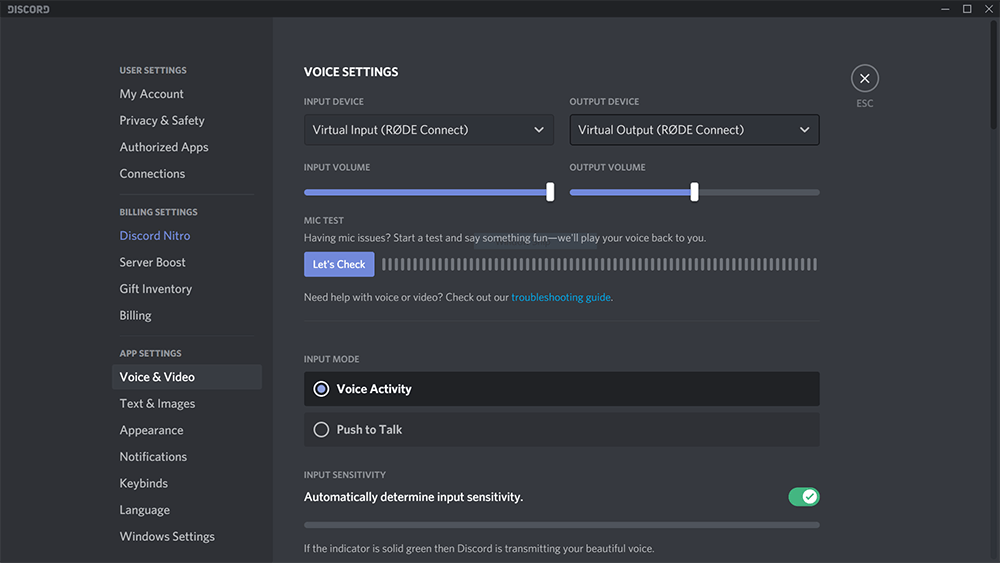 Using the Wireless GO II to Livestream with RØDE Connect
You can also use the Wireless GO II with RØDE Connect. Simply turn on your WIreless GO II and make sure your receiver and transmitters are paired, then connect the receiver to your computer and launch RØDE Connect. Older versions of RØDE Connect are not compatible with Wireless GO II, so ensure you are using the latest software.
Run the Setup Assistant, you will now be able to allocate the Wireless GO II transmitters to separate channels in RØDE Connect, allowing you to record four microphones in total. This is handy for livestreaming scenarios where you need the freedom of a wireless microphone.
Note: Audio playback is not possible via the Wireless GO II receiver. Audio can only be monitored using an NT-USB Mini or another audio output on your device.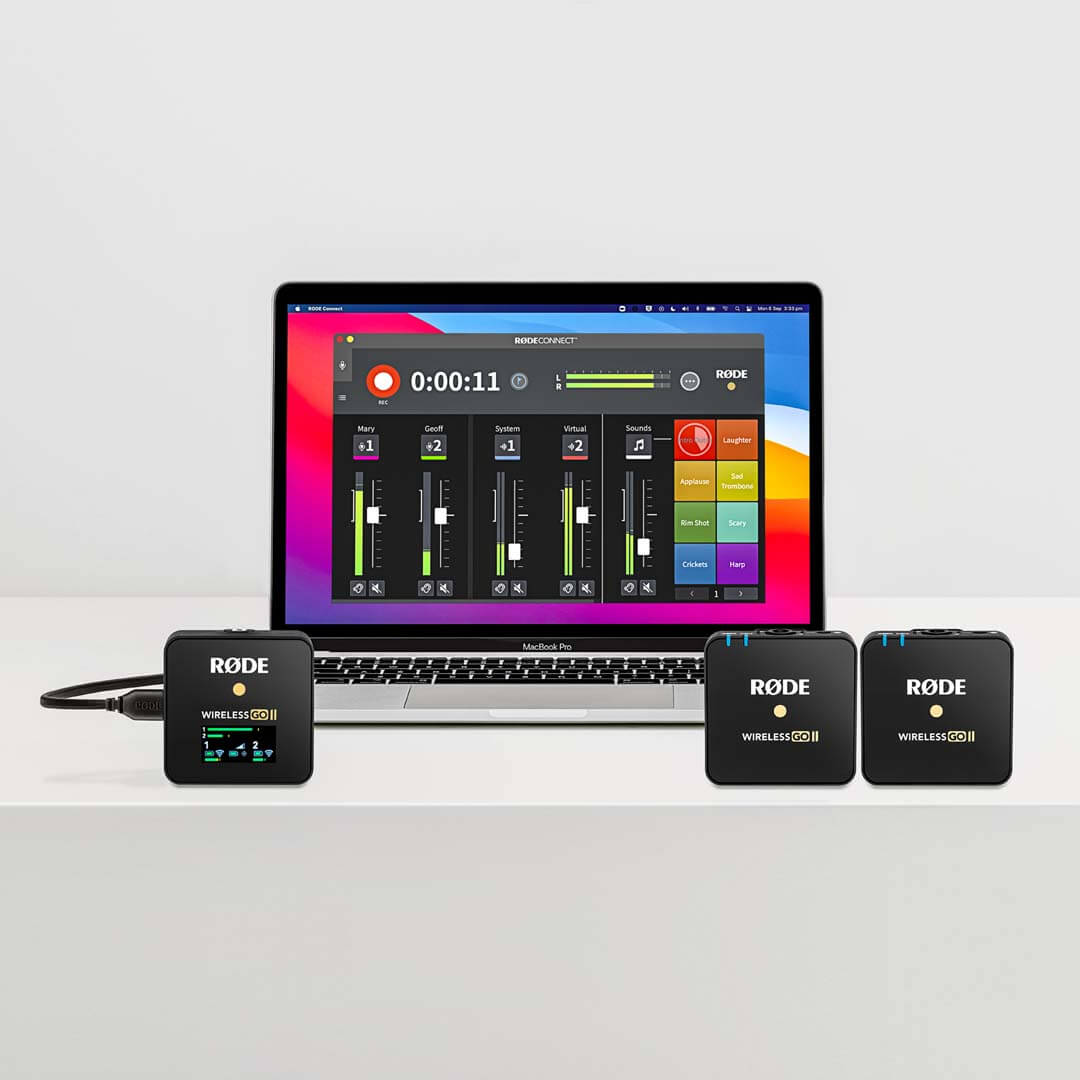 Output RØDE Connect to Streaming Software
Once all audio sources are routed into RØDE Connect, the last thing to do us output the complete mix to streaming software such as OBS. To do this, open OBS and select 'Add New Audio Input Device'. Now you can select RØDE Connect Stream as your audio input device. This will send the complete audio mix including microphone, game audio and chat audio from RØDE Connect to OBS ready for your stream.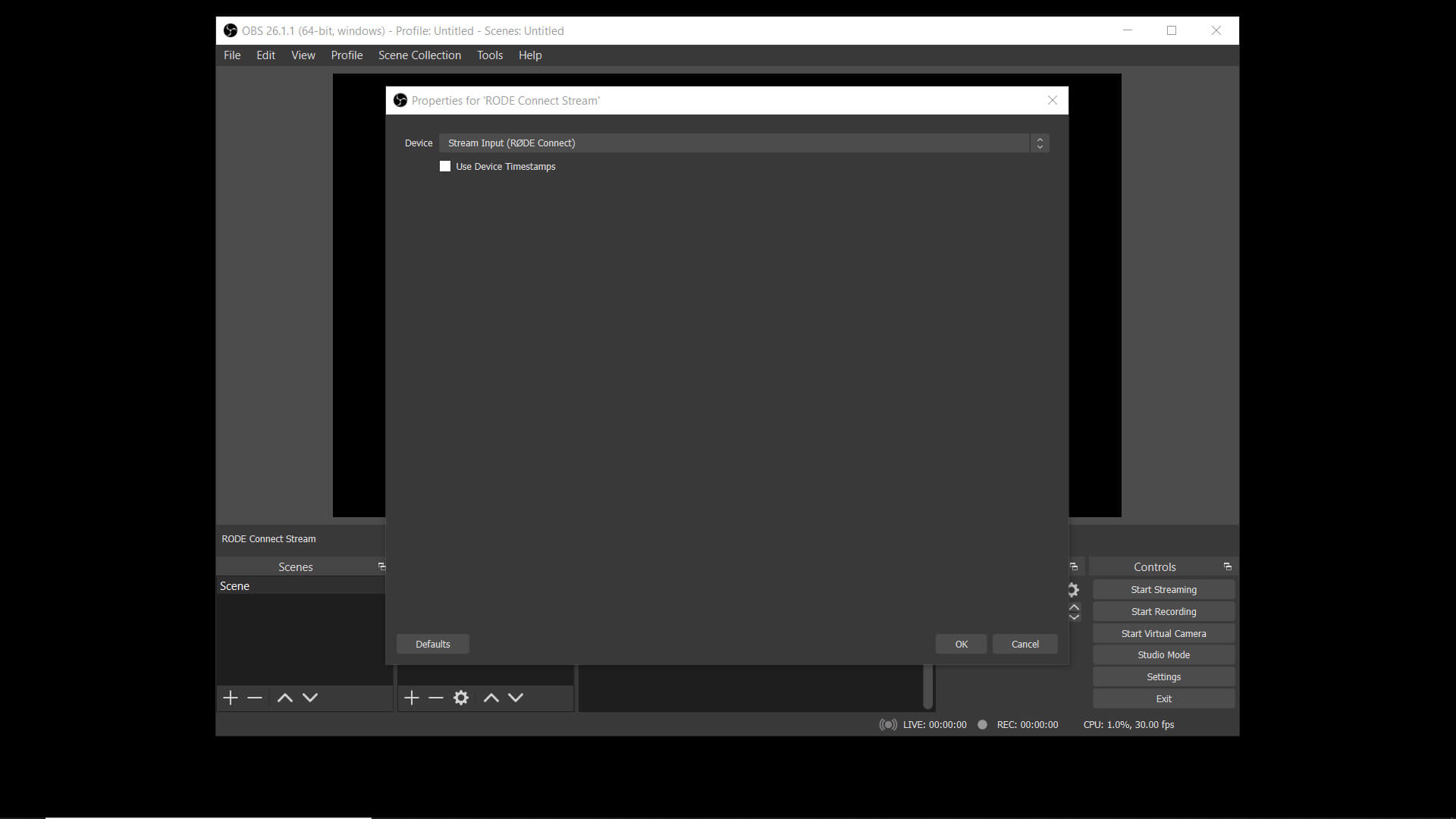 Final Tips on Streaming with RØDE Connect
If you plan on playing the audio from your computer through speakers or outputting to another piece of hardware, RØDE Connect has the capability to handle this.
By going to 'Preferences' and selecting a device from the drop-down menu under 'Monitor Out', you can route your game audio through speakers. If you're going to do this, it is a good idea to change the setting in 'Monitor Mix' to 'Microphones Excluded'. This will ensure that you avoid any feedback loops.
Now that you have all of your channels set up, you are ready to start streaming! Remember, with RØDE Connect, you can easily control all of your audio from one application. If you need to adjust anything, use the channel faders in RØDE Connect to adjust your mix!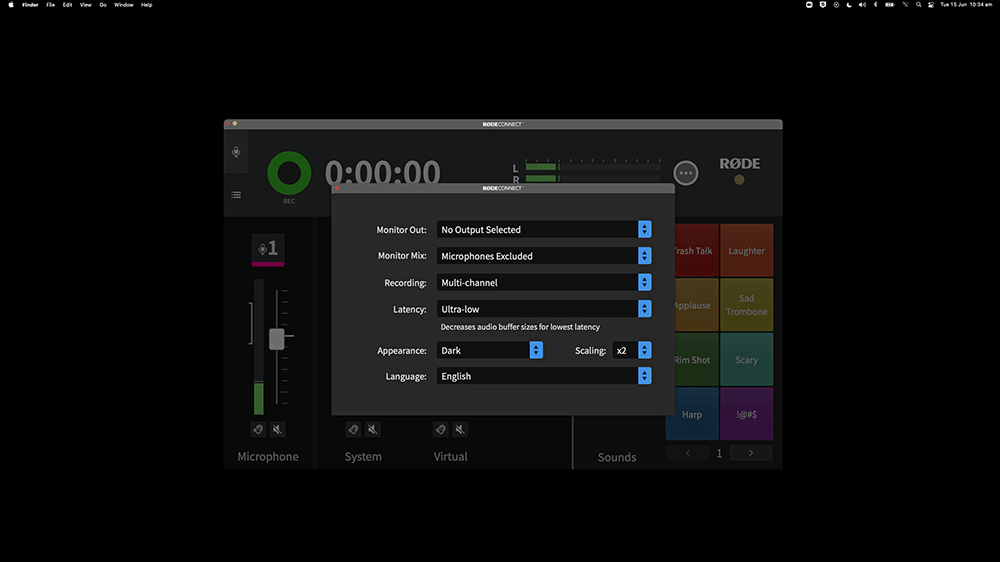 ×